Pheonix Fellington Announces Departure From Studio Porn, Citing Pay Gap Between Studio Owners And Models
While it's not an official retirement by any means, gay porn star Pheonix Fellington has announced that he's leaving the porn industry and taking a break from performing, and his reasoning has to do with the pay gap between studio owners and models like himself.
Fellington—whose performances, physique, incredible cock, and gorgeous good looks made him a fan favorite over the last few years—explained his departure in a series of tweets last night and this morning, telling fans, "I am no longer a part of the porn industry. I'm moving into my own world. I had fun creating with everyone. It's now time to see what Pheonix Fellington can do on his own."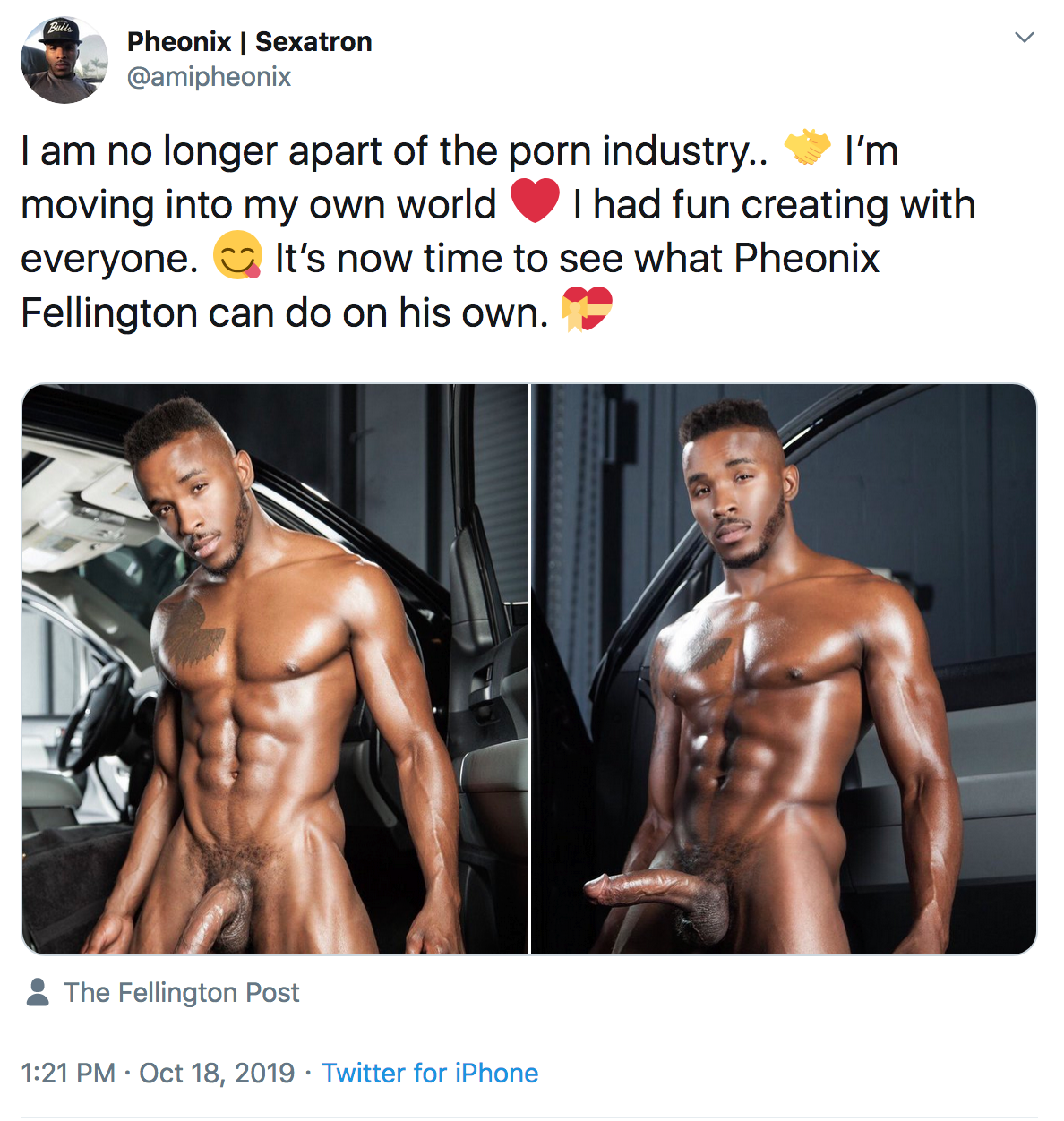 Fellington made his gay porn debut nearly three years ago and went on to perform in dozens of scenes at over a dozen studios, including Helix, where he was an exclusive before his announcement last night. And that announcement, Fellington clarified, is not a retirement.
"Retired means I didn't cut it," Fellington explained, adding, "That's not what's happening here. I've been procrastinating starting my own site for a while now. I'm taking a break and I'll return with Fellington Post. I want things on my own terms. I didn't want to film porn, dance, strip, run a JustForFans, escort, and find sugar daddies just to make a living. I don't want that."
With regard to that pay gap (which all American workers in any industry have to contend with, thanks to capitalism run amok), Fellington went on to say, "Working at one studio didn't cut it, working for them all didn't cut it. I loved working for most of them, but I've always wanted to get paid more. I don't want several side jobs. [I'm] not a fan of the CEO pay ratio present in most of porn. The pay gap that exists between models and CEOs on average is ridiculous to me. I'd like to make it all make sense. For the first time, I'd like the studio owners and directors to provide the ratio of what they earn each year compared to the pay for their median or midpoint employee (the model)."
Fellington went on to further clarify his issues with working in the industry, telling another fan that he's "no longer going to work for any other porn studio," and that no studio "pays enough" or provides models with enough work. "You're a number no matter who you are or where you work," Fellington said.
While many models faced with the same economic issues have found great success and financial freedom by filming their own content on the various performer-produced clip sites, Fellington isn't a fan of those platforms.
"I am not interested in the tacky OnlyFans/JustForFans stuff. A majority of them lie about how much they're paid and the content is lackluster," Fellington wrote, adding, "I personally think working for scraps on JustForFans/OnlyFans is stupid."
On the one hand, Fellington makes an interesting—if not contentious—point: There's a lot of tacky amateur porn (just like there's a lot of tacky studio porn) that probably isn't making any money. On the other hand, there are many performers making six figures a year off their own high quality videos and clip sites, and they'd no doubt disagree with Fellington's opinion of their work and those platforms.
More from Fellington's announcement to fans last night: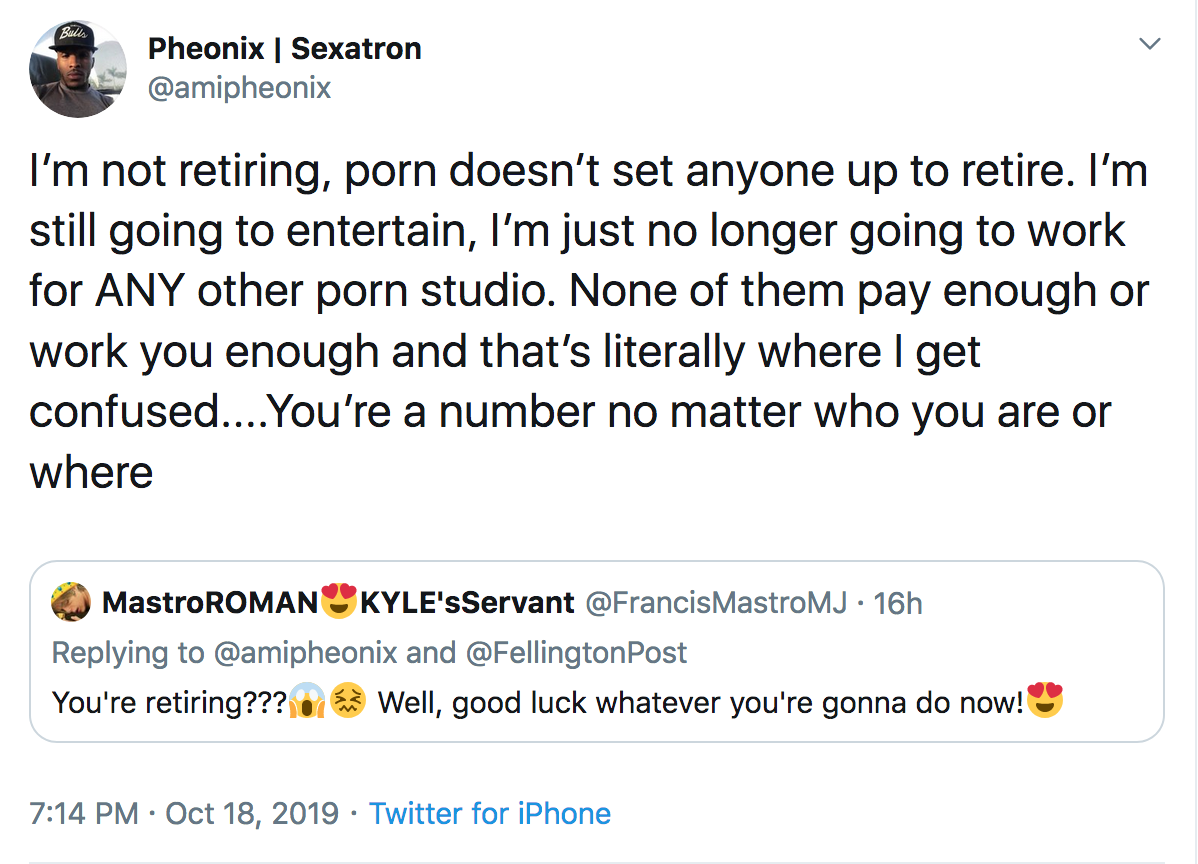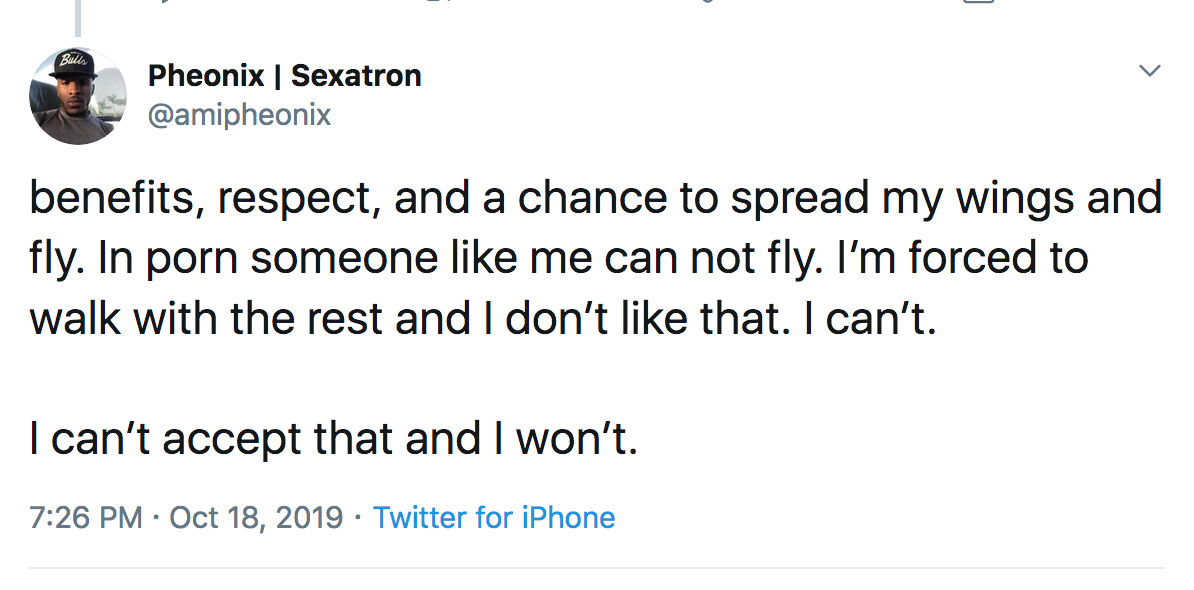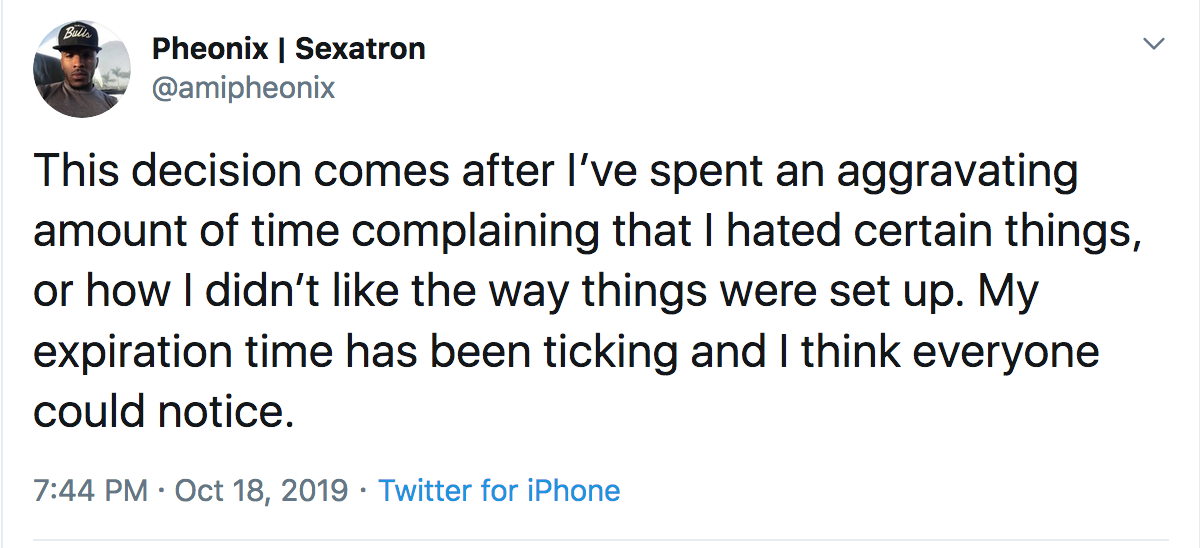 As disappointing as it is to not see Pheonix Fellington in any new scenes anytime soon, fans should be supportive of the fact that the star is taking time off to do things his way and on his terms. And, all those fans should still be there when and if Fellington returns, perhaps running his own studio and/or producing his own content.
In the meantime, fans can always re-watch his best studio scenes over and over and over again during his absence, like this duo with Andy Taylor:
[
Helix: Pheonix Fellington Fucks Andy Taylor Bareback
]