Sebastian Young Shock: "Monster" Michael Lucas Sexually Harassed Me, Then Begged Me To Fuck An HIV-Positive Model Bareback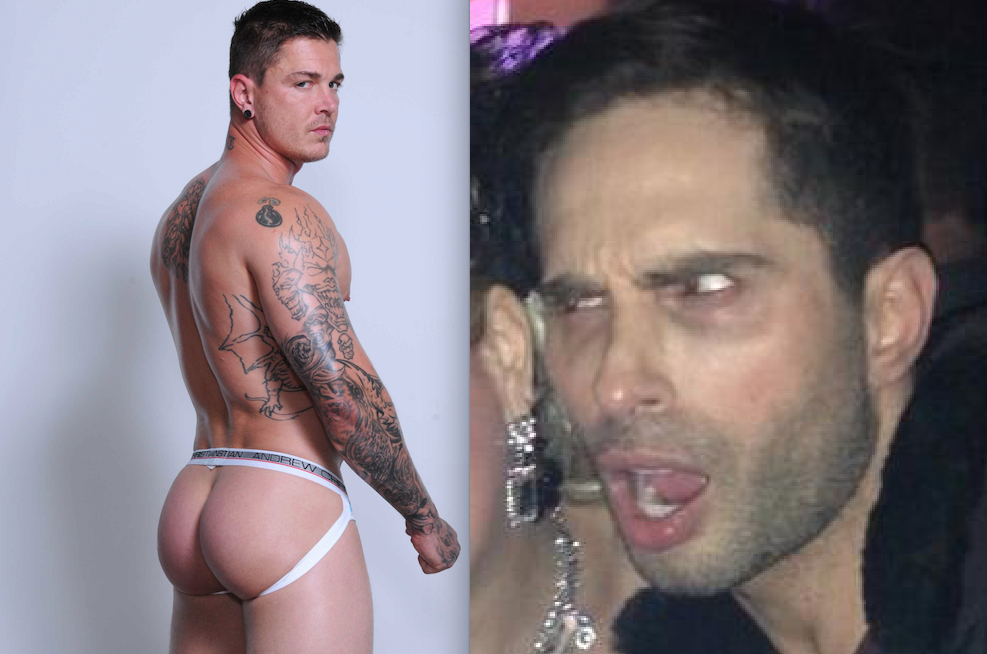 The horror stories from people who have worked for Michael Lucas and Lucas Entertainment are endless. Just look at the "2014 Michael Lucas Year In Review" if you need a reminder. And it's hard to believe, but none of those 2014 entries can compare to what gay porn star Sebastian Young is coming forward with today.
Over the weekend, Sebastian Young approached Str8UpGayPorn to apologize for his hostile tweets last week, and he also wanted to share what happened to him while working on a recent Michael Lucas bareback movie in Fort Lauderdale, Florida. From sexual harassment and bizarre behavior to non-payment and pairing of serodiscordant models in bareback scenes, what Michael Lucas and his increasingly troubled studio did to Sebastian Young, if true, isn't just a horror story, it's potentially illegal.
What follows is a slightly edited (for grammar and clarity) transcript of Str8UpGayPorn's chat with Sebastian Young yesterday.
Str8UpGayPorn: Hi Sebastian. Why don't you start from the beginning. You were hired to perform in a movie for Michael Lucas and Lucas Entertainment in Florida, right?
Sebastian Young: Yes, I recently filmed for him in Fort Lauderdale. We worked out a price, and since it's my home state, I decided to drive, and he agreed to pay for my travel expenses.
What was the scene rate?
I can't get into that for legal reasons and his contracts, but before I left to drive down there he asked the most stupid question ever. He asked, "Will you film with a positive model?" Of course I declined, but he was so persistent about this. Nothing against positive people, but it's not a chance I want to take.
Michael Lucas routinely tries to pair positive and negative models together in bareback scenes, even when they don't want to. So what happened next?
I drove down there and met up with him, and then had to indulge him and his whole make-believe life. I listened to his boring stories, his lame opinions, and I fought hard to keep my mouth shut. The more I listened to him, I soon found out that he was pairing models with different statuses for this movie.
But I thought you had already told him you preferred to work with a negative model? What were you thinking or feeling at this point?
How do you think I was feeling about this idiot I had to deal with? I was fighting so hard to hold it all back, because I had a lot riding on this trip, and I invested so much time and money. I didn't want to mess it up. Michael Lucas made broken promises to other models to get them to sign on for the movie, and they fell for it. But my scene partner was negative. I saw his test results for myself, and they were up to date.
You had tweeted earlier that Michael Lucas tried his "damnedest" to "get his way." What did you mean?
The first night of my arrival, Michael had me stay at this dirt bag house where he was staying, too. I tried to do my own thing that night and keep to myself, and he knew I was not into him at all, but he was really pushing himself on me.
Physically?
Yeah, Michael tried to fuck me. I wasn't having it, but he kept trying over and over, and so finally I just let him jack off. I felt like a victim of harassment. He actually wanted me to tuck my cock between my legs and repeatedly yell the words, "Fuck my pussy!" Gay or not, that was weird. It ended with him cumming all over himself. And then after, he kept sneaking back into my room acting like he forgot something. He is a real creep.
Was that all that happened that night?
He was still really trying to convince me that I couldn't contract HIV from topping or bottoming bareback. That's bullshit! He really wanted me to believe it though.
And then the next day you did your scene?
Yeah, I completed my scene as usual and requested my payment. But he didn't even have checks to pay his models. He said, "The check will be in the mail." As an old school model, I know it doesn't work like that. Eventually he agreed to pay me while I was in town, but later that night he pulled me to the side and asked if he could pay me some now, then mail me the rest. I felt bad for him. The way he approached me was like a sad puppy. I gave in and asked for a small amount to travel back home with, and I'd wait on the check.
Did the check come?
He really made me bug him about over emails, but finally a check came in the mail. And just as I thought, I was shorted the money for my travels, which he had promised to pay.
So, I take it you won't be working for Michael Lucas and Lucas Entertainment again?
Being in the industry for almost 11 years, I have encountered a lot of different souls. Never in my life have I encountered a creature like Michael Lucas. He is a a narcissist who has sold his soul to the Devil. And the reason I am writing this is to save as many people as possible from this MONSTER.
Thanks for coming forward.
Thank you for taking the time to listen. And to all my fans, thank you for being loyal.
If you've been a victim of sexual harassment involving Michael Lucas, or if you'd like to share what your experience was like working with Lucas Entertainment, please get in touch.