Spikey Dee Buys A Car With His Mom, Sucks His Own Cock While Riding Reese Rideout
If gay porn has taught us one thing in 2023, it's that Spikey Dee is gonna suck his own dick.
Gay porn's own human pretzel is back to show off his oral gymnastic skills in another Men.com scene, and just like in his last one, Spikey Dee is once again blowing himself. There's an added twist today, because Spikey is sucking himself while simultaneously bouncing up and down on his co-star's cock.
Granted, Spikey Dee is flexible, but if he didn't have such a huge cock, would he be able to do this so well? If his dick were the average size of 5 or 6 inches, he might have a tougher time reaching it, so being well-hung certainly gives him an advantage. Either way, self-sucking Spikey is the gay porn gift that keeps on giving.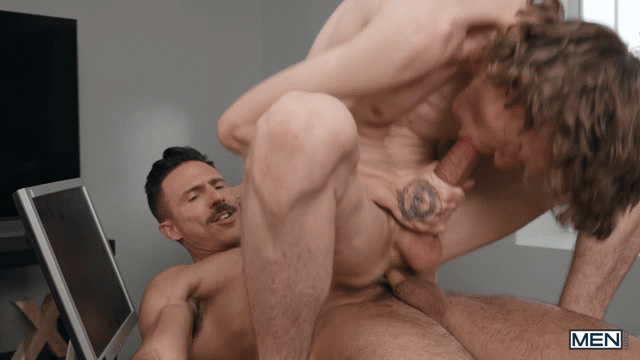 As noted above, Spikey's mom is buying him a car in this scene (don't worry, she's not involved in the fucking and doesn't see her son being railed), and the used car salesman is of course gay porn legend Reese Rideout, who fucks the cum out of Spikey before drenching him with his own load. Photos and trailer:
Please pray that Spikey Dee has access to affordable health care that includes good physical therapy for any back pain or disc degeneration in the coming years. Trailer (watch full scene here):
[
Men.com: Reese Rideout Fucks Spikey Dee Bareback
]