Steve Peña Confirms Split From Husband Brent Everett: "We're Parting Ways"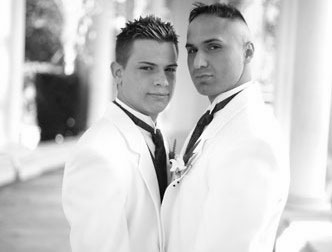 One of gay porn's most famous power couples—featuring one of gay porn's most iconic stars—is officially calling it quits, as Steve Peña announced on his Facebook today that he and his husband Brent Everett are "parting ways." The couple were married in October of 2008, but nine years later, it's over:

Hints of the couple's split have been dropped all year long, most recently in September, when Everett launched a $20,000 GoFundMe campaign for an underwear line (which is still up, after raising $415), and one angry Facebook user left a comment indicating that Peña and Everett were separated. In March of 2016, Everett and Peña's former partner Jayson Smith announced that he was leaving the "throuple" (the trio were in a three-way relationship), making allegations of drug abuse in the process. A year prior to that, Smith and Peña bludgeoned each other during an alleged "drugged up brawl," and posted photos of injuries on social media.
After nine years, Everett and Peña lasted longer than most gay porn couples, let alone regular gay couples, or straight couples. Str8UpGayPorn wishes them both the very best.