Steven Angel Annihilated Bareback In TimTales Triple Top Gangbang Orgy
Is Steven Angel having the best summer ever? Hell yes:
Steven Angel is the lucky TimTales bottom today, and he's being obliterated bareback by three horse-hung powertops on the TT roof, with King Caio Veyron, tattooed top Axxl Martin, and Brazilian twink newcomer Davi Neto taking turns on Angel's ass in a relentless raw gangbang.
Highlights from this scene include Steven Angel being draped with donkey dicks during the oral:
Nothing better than a poke in the eye with a sharp cock.
Living the dream…
Later, Steven Angel swivels from cock-to-cock like a lazy Susan (lazy Steven?), which proves he is actually anything but "lazy":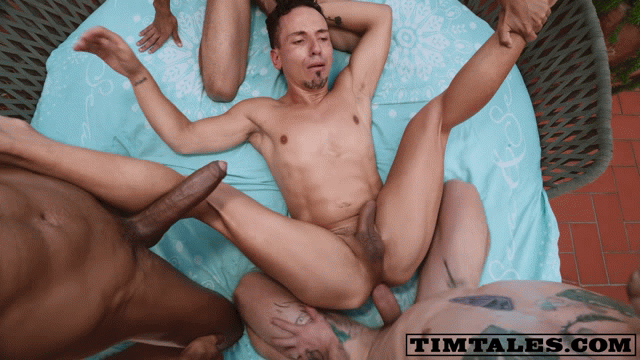 Having already starred in the season's best DP scene just last month, Steven Angel secures his spot as perhaps the best powerbottom of 2023 with this fourgy today, titled "Steven's Summer Special." Here's more:
I just realized that cutie Davi Neto kind of looks like a young Barack Obama? Trailer (watch full scene here):
[
TimTales: Steven Angel Gangbanged By Caio Veyron, Davi Neto, And Axxl Mart Barerback
]