Surprise: Gay-For-Pay Porn Star Ricky Larkin Un-Un-Retires Again After Trashing Gay Porn Industry In 2013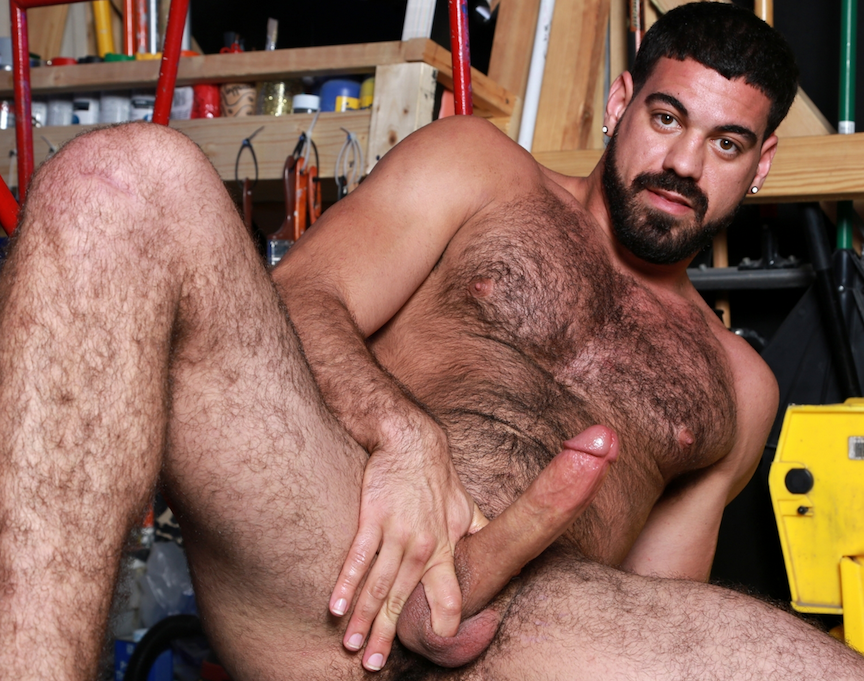 Remember when gay-for-pay porn star Ricky Larkin retired in 2013 with that open letter, trashing his co-stars, directors, agents, and the gay porn industry as a whole? If you're bored (or, if you're new around here and are lucky enough to have never heard of Ricky Larkin), here's a reminder of the open letter that Ricky Larkin wrote before his first retirement in 2013:
I may not be the most well known performer, but my resume includes shoots for PRIDE studios, Gamma Ent, Kink.com, Venetian, HPMen, Falcon Studios, Men.com, Gay Room, Raging Stallion Studios, Channel 1 Release, and Rock Candy Films.  Although I have met a few great people in the adult industry with a lot of quality behind their character, unfortunately the majority have been egomaniacs, "bad apples," and fakes.  Having quickly recognized this, I never looked at the porn lifestyle as glamorous. I became a gay performer out of financial necessity; not because I thought it was cool or it boosted my ego.

In fact, like many performers I've suffered permanent psychological damage from my years in the sex trade. Porn almost always leads its young performers down a path of prostitution and moral self-destruction. I view the sex trade as similar to the war in the Middle East: a bunch of young, ignorant to-the-facts men and women being used as pawns for corporate gain. Big dollars are being made at the physical, mental and emotional expense of men and women who more often than not turn to drugs and alcohol to mask their hatred of themselves and what they're doing. Or, in a growing number of tragic cases, who decide their problems have become too overwhelming and suicide is the only escape.

[…]

I want to apologize in advance if I offend anyone for what I'm about to say. But I find it outrageous and disturbing to see the number of HIV+ gay porn performers who, by using privacy laws designed to protect against social and workplace discrimination, avoid disclosing their HIV status to their sex scene partners. Yes porn is a "workplace" too, but it's a workplace that involves having sex, so your partners are entitled to know if you are putting them at risk for a life-threatening disease.

If I had a common cold, before you shook my hand I would tell you that there's a chance I could pass the cold to you –  just as there's a chance you won't catch the cold at all. When I hear numbers like "70-80% of gay porn performers are HIV+" but they don't have to reveal their status to their scene partner, it horrifies me. I don't think HIV+ performers should be excluded from performing, but I feel strongly that their scene partners should be informed and given the chance to decide whether they want to do the scene.

I see gay performers tweet daily that HIV is "nothing to be ashamed of," but if that's the case why conceal your status from your scene partner? Despite that many performers are HIV+ there are many others who still view HIV as their worst nightmare. We're forgetting how many lives this virus has claimed and continues to claim on a daily basis.

Unless having sex on camera is something you truly enjoy doing, either don't do it, or get out NOW, before its ill effects descend on you and crush your spirit. I'm haunted by memories of how I sold myself short so many times, and risked my life for no gain other than a mediocre-at-best paycheck. Not to mention the fact that I'm viewed as a gay-for-pay prostitute by my entire family and hometown. My power-lifter friends wouldn't be so friendly if they knew about my double life, but more than likely they'll eventually find out, too. My career in porn is not going to go away because I'm retired; the movies I made will be available for years to come. This is something I will struggle with both internally and in my community for the rest of my life.
Well, I hope that you are sitting down, because Ricky Larkin's new scene is coming out this week. Surprise:
Two years after writing that open letter above, Larkin (of course) returned to gay porn in a handful of scenes before (of course) retiring again back in 2015. Now, three years later, Ricky Larkin is (of course) returning to porn again. And while his delusional and bigoted viewpoints about HIV, performers, and the industry in general might make him the perfect co-star for an equally idiotic performer like Sergeant Miles, Larkin's co-star at Pride Studios this week is none other than Dax Carter, whom you might remember from that bisexual scene last week.
Who's more pathetic: Ricky Larkin having to come back to gay porn for a few hundred bucks, Pride Studios for hiring him and letting him represent their studio, or someone who actually spends their money joining Pride Studios to watch this scene? Either way, all you can really do is laugh (and, of course, wait for Ricky Larkin's inevitable retirement/un-retirement all over again).