Taylor Reign Apologizes To CockyBoys For Accusing Them Of Non-Payment: "We Talked Things Out, And Our Family Quarrel Is Over"
After spending two weeks making accusations that they owed him over $18,000 for past due payments on scenes, commissions, and other revenue, Taylor Reign has just announced that he has resolved his issues with CockyBoys, and he and the studio's "family quarrel is over." While he didn't disclose how, exactly, a resolution was met, Reign does admit that there was "miscommunication" between him and the studio, and that they have "talked things out." Reign's full statement on the matter was shared in two Twitter videos, both of which are embedded below.
Surprisingly, Reign also states that he and CockyBoys are "going to continue to work with each other," now that "everything has been hashed out and taken care of." As a fan of Reign's performances at CockyBoys, this is excellent news, and we can look forward to seeing more Taylor Reign scenes at CockyBoys in the near future. I will never forget his DP with Josh Moore and Ricky Roman, as seen below.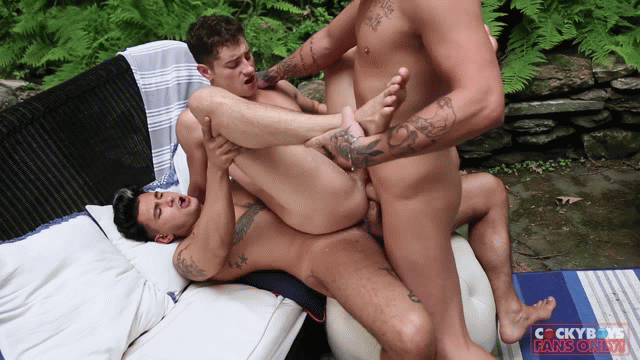 Here are the two videos Reign released today announcing the resolution, in which he apologizes for his past allegations against CockyBoys, saying, "I want to apologize for taking an aggressive stance."
Thankyou @Cockyboys and specifically Jake Jaxson, for taking the time to reach out to me, going over everything and coming up with the best solution to move forward.

1 of 2 pic.twitter.com/bhjZ4QyyNQ

— TAYLOR REIGN (@TaylorREIGNXXX) July 3, 2019
2 of 2 pic.twitter.com/sdQqbuylbz

— TAYLOR REIGN (@TaylorREIGNXXX) July 3, 2019
Following the videos, CockyBoys owner and director Jake Jaxson replied to Reign publicly for the first time today, writing, "Thank you Taylor. To me there is no better measure of a man, than his ability to work to find a breakthrough from a breakdown —and you are the very measure of that proud confident man that I have had the pleasure of working and creating with for the last 3 years. Love Always, JJ."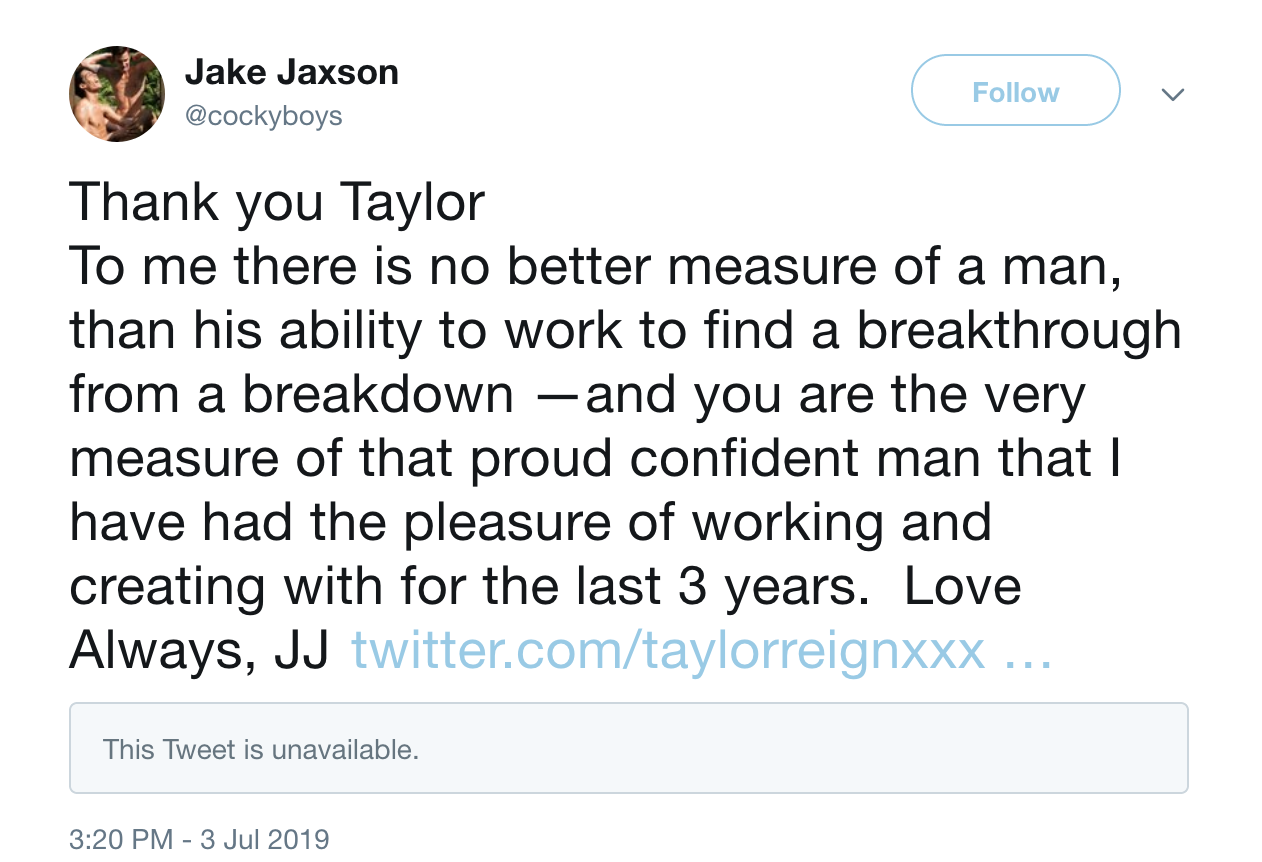 ICYMI, that iconic DP scene (watch full scene here):
[
CockyBoys: Ricky Roman And Josh Moore Double-Penetrate Taylor Reign Bareback
]