Donald Trump Supporter Colby Keller Busts A Nut In Hillary Clinton Supporter Ryan Rose's Mouth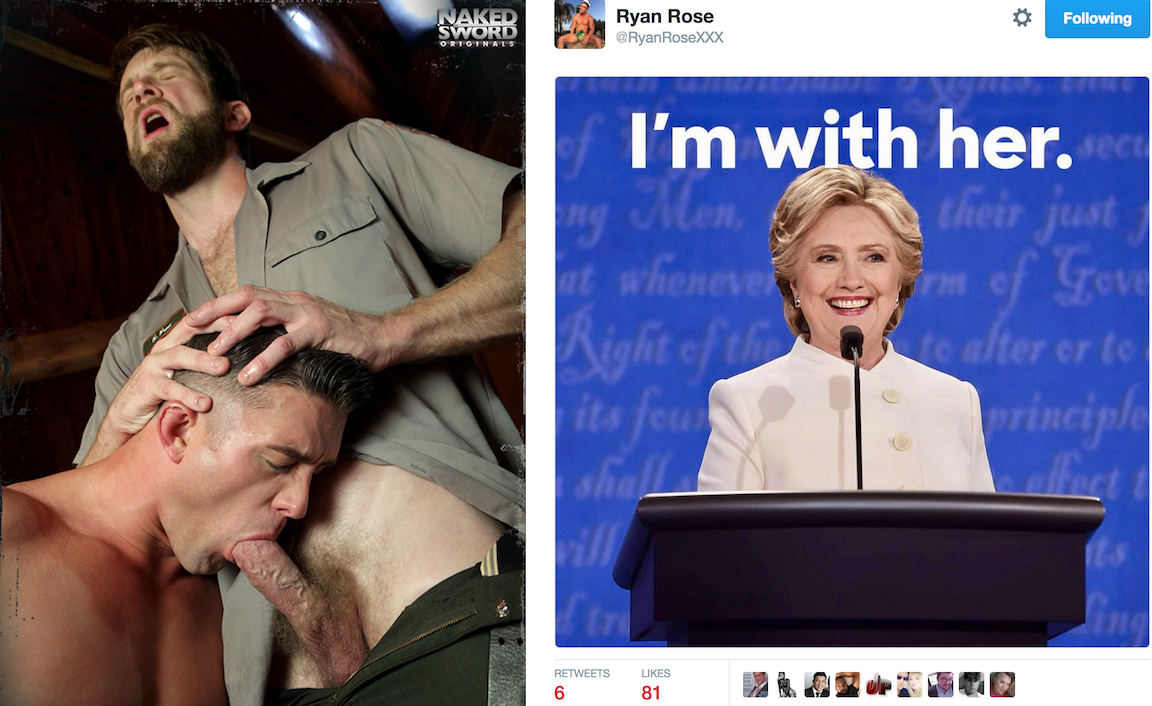 Last month, Colby Keller somewhat surprisingly announced that he'd be voting for Donald Trump in this year's election (which, thank god, is now less than a week away). A few days after that, Ryan Rose announced that he'd be voting for Hillary Clinton, and that Donald Trump "represents everything we're against." Today, these two gay porn superstars have been paired for the first time ever in NakedSword's Scared Stiff.
Racist and misogynist egomaniacal pig (not to mention accused child rapist) Donald Trump would probably love nothing more than to blow a load of cum in Hillary Clinton's mouth. Thank Christ we don't have to see that, and instead it's Colby Keller busting a nut in Ryan Rose's mouth.
Political views aside, Rose Rose and Colby Keller are two of gay porn's biggest stars, so their pairing should be an historic event. But, sorry, it's not. For whatever reason, NakedSword has them in an "oral only" scene, meaning the whole thing feels worthless. Not sure what (if anything at all?) the NS people or director Chi Chi LaRue were even thinking. What a waste of what could've been a legendary fuckfest.
Trailer (watch full scene here):
[
NakedSword: Ryan Rose And Colby Keller Blow Each Other
]