Exclusive: Viktor Belmont On Becoming A Gay Porn Star, Being An Inspiration To The Trans Community, And How He Popped Justin Brody's Cherry
As teased here earlier this month, Viktor Belmont makes his NakedSword debut today in The Devil's Deal, and Str8UpGayPorn had the chance to chat with Viktor upon the release of his scene, co-starring Justin Brody. Below, he reveals how he became a performer, what kind of responsibility he might have being one of the only mainstream transmen working in gay porn today, what it was like working with Justin Brody and mr. Pam, and much more.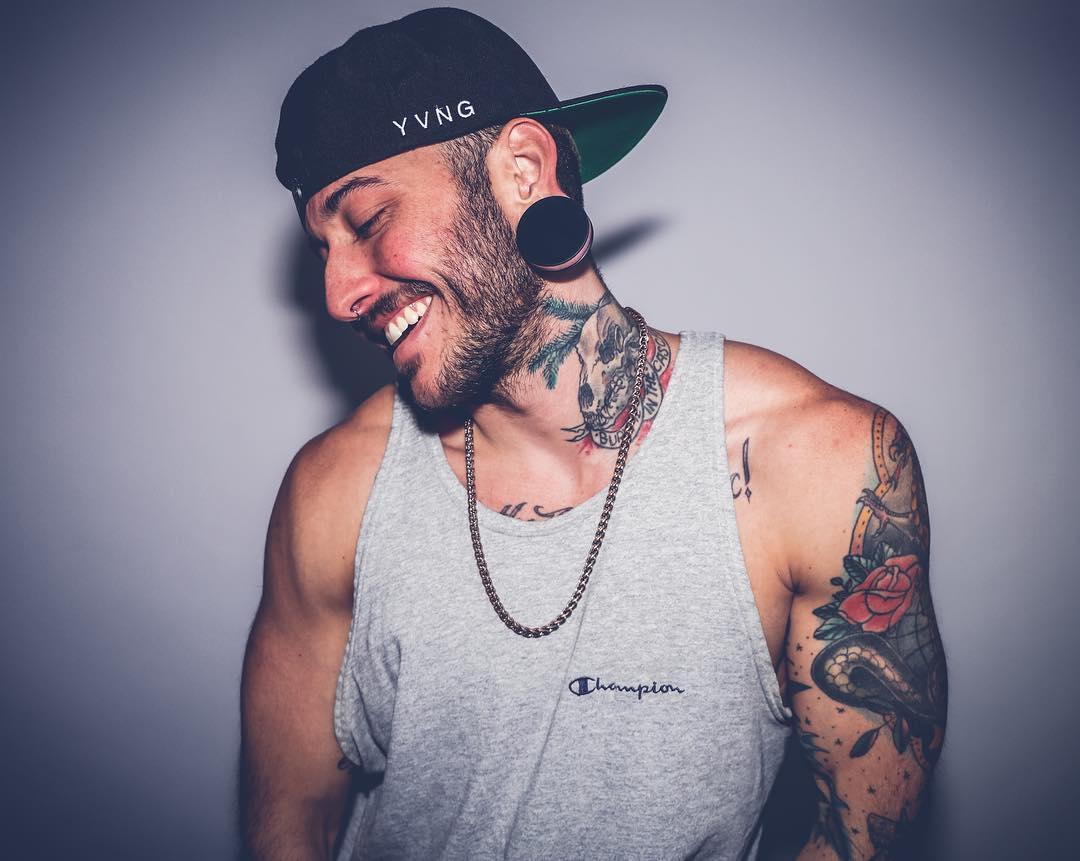 Str8UpGayPorn: Hi Viktor! We've seen you working in adult films for the last couple years, but let's start by going back to before you became a performer. What led to that decision, and how did you get started?
Viktor Belmont: I've been escorting since my late teens, but hadn't been cast in a production until I was approached by Cyd. St Vincent, who runs the studio BonusHoleBoys. I hadn't seen a lot of mainstream porn that featured gay transmen, it was an exciting opportunity, and I needed the cash, so I shot my first scene there.
What was the filming experience like, that first time?
It was honestly a really wonderful experience. I then gained a following through different online platforms and continued to produce amateur content. I love sharing my body and experiences with others, so creating content on my terms gave me ownership, and honestly felt really liberating for me.
Everyone's experience is obviously different, and people get into porn for different reasons, but did your gender identity play a role in becoming an adult performer?
I think my gender identity played a huge part in becoming an adult performer. I started doing sex work for survival as a teen. I couldn't get a [regular] job and was discriminated against for my appearance and identity. I couldn't get an apartment because I had no money or credit, and people were uncomfortable with my gender identity. This is the dialogue for a lot of trans folks. We are forced into survival sex work because we have no other capital besides our bodies. We are discriminated against and have little to no protections in the workplace and housing market.
And all you're doing is just being yourself, which is something most people take for granted, or don't even have to think about or struggle with.
We don't have the same level of access as our cis counterparts. It was my only option to survive. I was living in the park, working a retail store part time, and turning tricks as best I could to try and make it. I gave up every creature comfort I knew, I lost so many people in my life for pursuing my gender identity. But, it was the best decision of my life. Being affirmed in my identity, I'd rather be true to myself and try my best to be happy with what I had. I learned what I had to do to survive, and I started to thrive.
You mentioned that becoming a performer was your "only option" and a sort of "survival," but then it became something more, something better for you?
Becoming a performer initially started as a way to feed myself for a couple days, and hopefully land me some more clients. But then I had folks reach out to me and say my visibility helped them. That, by putting myself out there, I was being vulnerable, but it might help someone feel more comfortable. That I was holding space. A space that trans people deserve to be in.
By becoming so visible in adult entertainment, do you feel any responsibility to be a role model for the trans community?
Well, there are several other transmen actively making content with different studios, but I do recognize that this is the first time since Buck Angel in Cirque Noir that a transman has shot for a mainstream gay studio. I feel like any time you have a platform and people are looking to you as a point of contact or reference, there's responsibility. I do have a responsibility to advocate for my community. I have a chance to help make space for those who don't have the same privileges I have. When I first came out, there wasn't anyone who I saw in mainstream media who I could identify with. I didn't see a future for me. I didn't know I could exist and be trans. I think when you make space, you can help elevate those around you to inspire change.
What obstacles have you faced as a transman becoming a gay porn star? Any issues with being hired at studios?
I haven't been hired at any gay studio besides Nakedsword or BonusHoleBoys, and it isn't for a lack of trying. I get shut down, and I get no response. It's obvious to me that a lot of gay studios don't want to book or hire transmen. Hopefully, this release might inspire studios to be more inclusive and hire transmale performers.
What differences are there between working on a trans set and the NakedSword set? Or, is filming pretty much the same at any studio?
It was the first shoot I've done where I'm the only trans person on set. But, mr. Pam and I have known each other for years, and she made me feel so comfortable. I loved my experience working with her and will gladly shoot again with NakedSword!
When did you first meet Pam?
I met her at the Hookies [in 2015], and since that night she's always been such a supporter of my hustle. I couldn't have made it this far without her positive energy and influence. She really believes in me. And, she knows exactly how to shoot a perfect pop shot, so obviously she's the best.
How was working with Justin Brody, and what was the best part about performing with him?
I loved how tender he was. He's such a wonderful combination of sweet and sexy. When we were getting ready for the shoot, we had an almost schoolyard romance. I felt like my heart was pounding out of my chest! His frame felt so good pressed against mine, and he's so damn sensual. I'm naturally a very dominant person. I took control from the second the cameras were rolling. But we flipped roles half way through the scene and he really took me there. I think I came twice? Three times?
Sounds like you really connected with him.
During the shoot, we took a break and chatted outside for a while. He waxed poetic about small towns and gas station hook ups. There was a charm about him that made me feel like I could trust him. Our connection was nothing less than incredible. He has an open invitation to be in my bed any time he chooses.
How do you feel about viewers who say they don't like to watch trans porn, because they say it's not stimulating for them? Is someone who dismisses trans porn like this transphobic?
I think that people love to condemn and point fingers with one hand and jerk off with another. I don't know what goes through everyone's mind when they need to get off, but I do know dismissing someone's gender because of their anatomy and invalidating someone's existence is transphobic.
What do you try to do in your scenes that you know will get viewers off and be well-received? In other words, what do you do to make your performances so good?
I genuinely love having sex. I love my body. I love exploring it with folks. I adore facilitating pleasure for anyone and everyone, sexual or not. I can't fake chemistry. I try to connect with whoever I've shooting with and lose myself in it. I like to feel their heart, find a hot scene to play out, and make it a moment they'll never forget.
When I'm watching something, it always comes back to that connection, and the performers having real chemistry, that can make a scene great.
And you can catch a glimpse of something so sexy if it's a performer's first time. I pop a lot of cherries in my porn shoots. For someone to have their first time be on camera? How incredible that I guide them through that! That first kiss. The first time I hear them moan my name. How hot is that to watch? It's intimate and it's real.
For gay porn viewers who may not have watched a scene like yours before in Devil's Deal, what would you tell them to expect?
First of all, the whole production is smokin' hot. As for my scene with Justin Brody? Know that every moment of that whole scene is raw and real. He had never been with a trans guy before, and I had never been with him before.
I didn't realize it was his first time—that's great.
We met a couple hours before and couldn't stop kissing, cuddling, and having such crushes on each other.
What are some of the issues that trans men and women face as adult entertainers, and have these issues improved over the years?
I think the biggest issue trans folks still face is getting coin and fair treatment. There are strides being made in the industry, but studios need to continue to book us, pay us, and treat us with respect. Same goes for viewers and consumers! Paying for your porn is so important, so we can continue to make the quality content that our fans love.
Working openly as an adult entertainer and coming out as trans, your ability to be yourself is an inspiration to people, regardless of what they do for work or how they identify. Have you always been this strong and courageous, and where does that strength come from?
A couple years ago, I had a moment that really changed my life. I was in a tough spot and recently moved to San Francisco. I was sleeping in Golden Gate Park and working at a hat shop on Haight Street. I turned tricks in the park for extra cash, and I ate out of trash cans once all the shops closed—a shout out to all the tourists who left half-eaten sandwiches in the garbage outside Haight Street Market!—but I lied to my friends and co-workers about being homeless.
It was freezing deep in the park. I was shivering and the fog rolled in. I tried to bury myself in my jacket and pass out into a whiskey-induced coma. I had given up so much in my life to live in San Francisco. I had lost parts of my family. I had lost lovers. Friends. I had lost jobs. I had given up so many creature comforts to live in the Bay.
But, I knew I could be free there. I had nothing left to lose. I could get hormones. I could meet other trans people. I could try to make a life for myself. I could live life as the man I knew I was. I cried so hard that night, but it wasn't tears of fear or sadness, it was tears of relief. I was so happy that night, because for the first time in my life, I truly believed in myself. If I could make it through that night—and through all the hurt, the bruised lips and bloody knuckles, the hate speech, the teenage boys' fists into my gut—if I could make it through all that, I wanted other people to know that they could make it too.
Thank you for opening up and sharing your story, which I know resonates with so many in the LGBT community. Before I let you go, any plans to perform in more productions like this one from NakedSword?
NakedSword can of course have me any time they want. As for any other studio that wants to book me, I'm available! I'm versatile, sensual, sweet and I show up on time, ready to work! They can email me here!
The Devil's Deal trailer (watch full scene here):
[
NakedSword: Justin Brody Fucks Viktor Belmont
]