[UPDATED] Will Wikle Makes Gay Porn Debut Being Fucked By Colby Keller
[Updated with extended video preview below.]
The gay porn event that's been hyped and teased by every hyperbolic blogger (including me—sorry) for literally all of 2016 is finally being released today, and I have the first photos of that event's star—Will Wikle—having gay sex on camera for the very first time. Thankfully, it appears that the hype was not in vain, and this could be among the best series of the year.
Unless you've been living under a rock (or in the Big Brother house) since February, Will Wikle's gay porn co-star is Colby Keller, and the series is called The Stillest Hour, from CockyBoys. The first scene from The Stillest Hour is live on CockyBoys today, starring Colby Keller and Levi Karter.
This scene also features glimpses of Keller and Will Wikle (his very first interview regarding his move into gay porn is here) having sex in that same stairwell: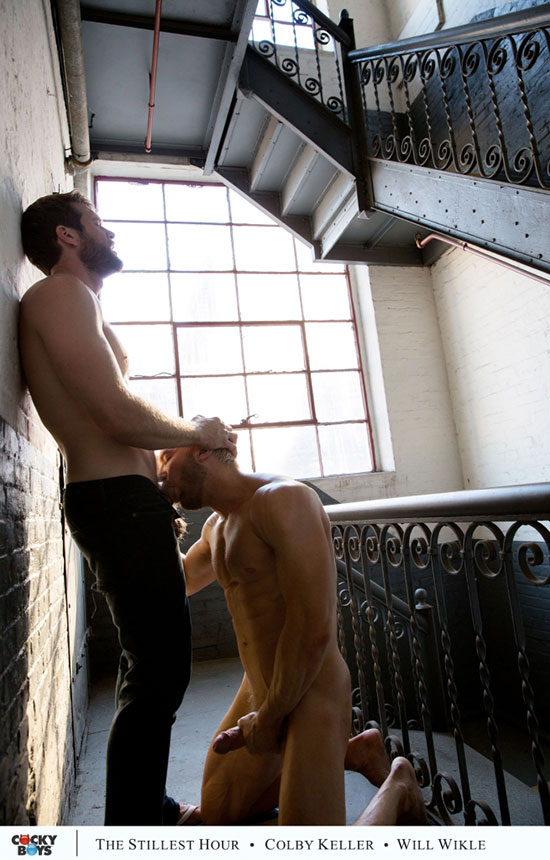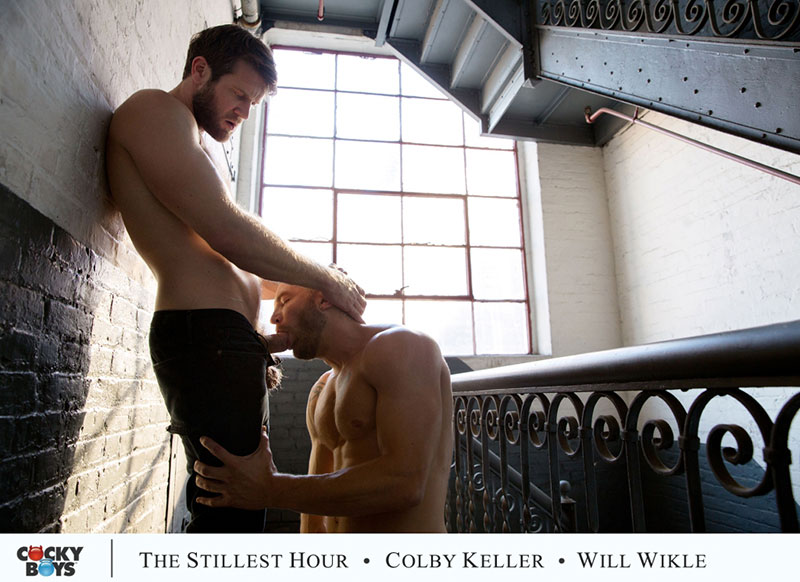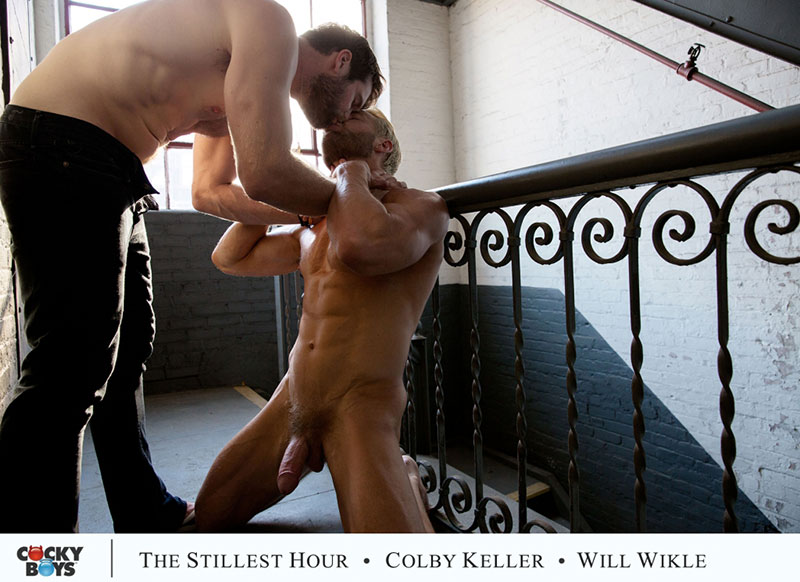 As you can see, Will Wikle deep-throats Colby Keller while stroking his own fat cock. Then, like Levi Karter, Wikle gets his big bubble butt eaten out and is also fucked by Keller in the stairwell. This is a fantasy scenario that plays out briefly at the very end of the scene, but Colby Keller and Will Wikle have a separate fuckfest in a different location, in a second full scene being released on Christmas eve.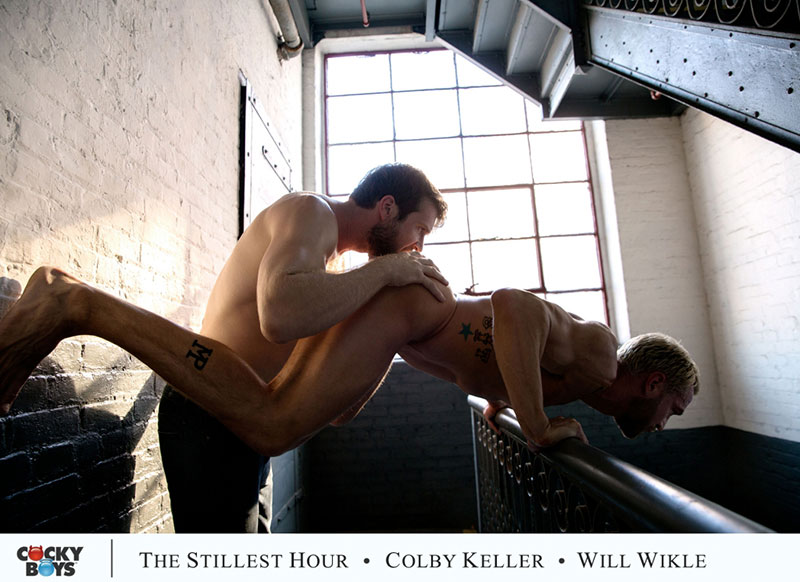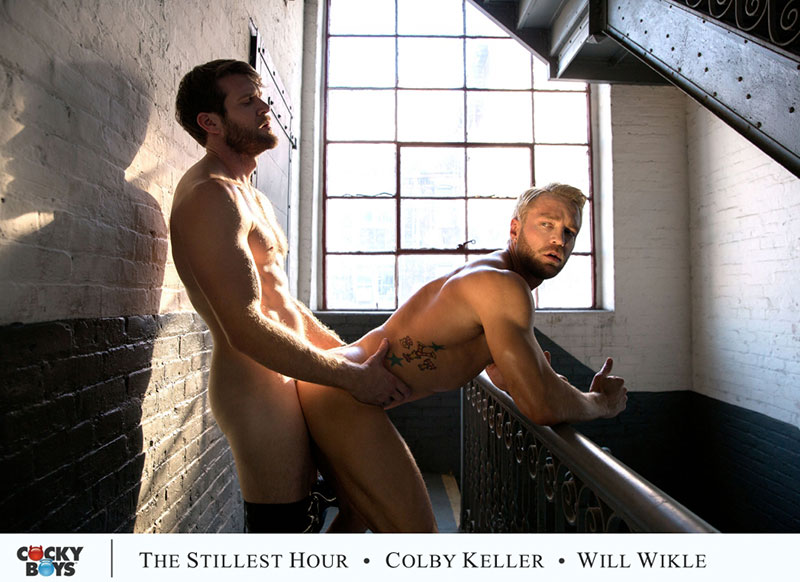 This looks like a tight squeeze, as both Colby Keller and Will Wikle are really big guys. I'm glad no one was hurt while hanging precariously on that railing.
UPDATE:
I've watched the first episode of The Stillest Hour, and saying that the wait was worth it would be the understatement of the year (which is funny, since we've been waiting to watch this for literally the entire year). Will Wikle is without a doubt the star of this feature, commanding your attention every second that he is on camera.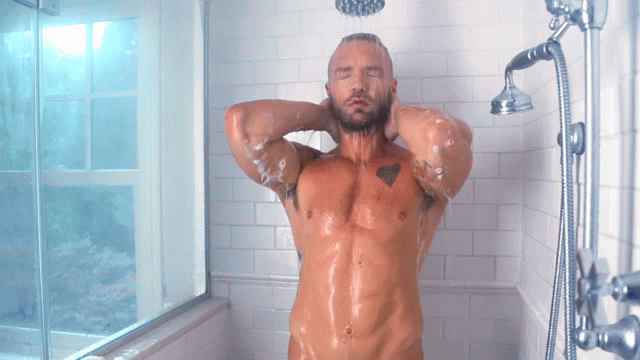 Yes, he's hot and looks incredible with all of his clothes off, but his performance here proves how much he can really act. And yes, there are a few minutes of acting and dialog sprinkled into what is, don't worry, predominantly a sex scene. Speaking of the sex, it's some of the best that CockyBoys has filmed, with Colby Keller and Levi Karter doing some of their best work in a wild stairwell fuckfest.
This scene features deep-throating, a hands-free cum shot from Levi Karter while he's being slammed, and, of course, one of Colby Keller's signature loads.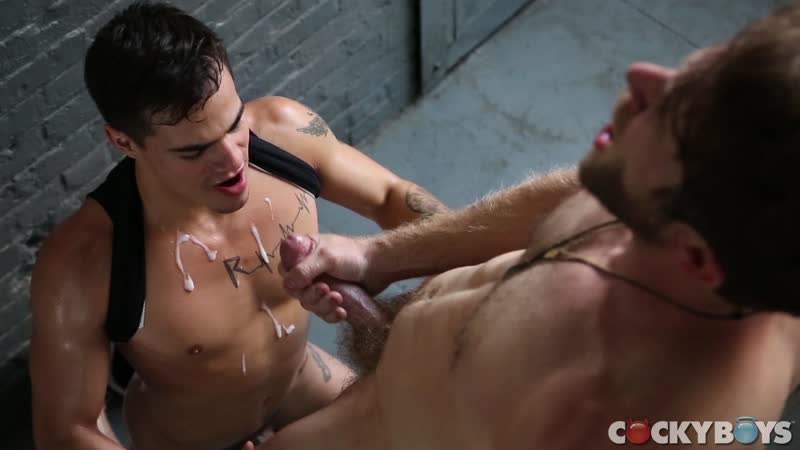 For those wondering, this first episode is a 33-minute long scene, with the first 11 minutes (which you can see down below) being the non-sex portion featuring all three models, and nearly all of the remaining 22 minutes being the sex scene between Levi Karter and Colby Keller.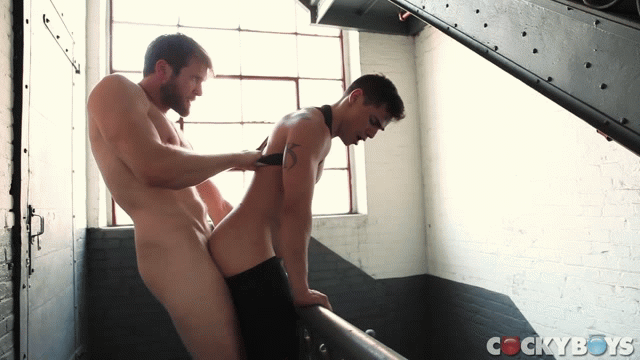 Without giving anything away, The Stillest Hour is like Westworld meets Dressed To Kill meets Black Swan, and after this first installment, I'm not sure who (if any of them?) is the crazy bad guy? Will Wikle, however, pulls off a rare gay porn feat by creeping me out and turning me on at the same time. Watching Colby Keller fuck him in a couple days might be too much to handle. Here's an extended look at the first 11 minutes of the first episode (full scene here):
[
CockyBoys The Stillest Hour: Colby Keller Fucks Will Wikle; Colby Keller Fucks Levi Karter
]