Will Wikle Exclusive: Who Ate His Ass Best, What He Thinks Of Commenters, And Why He's Shooting Gay Porn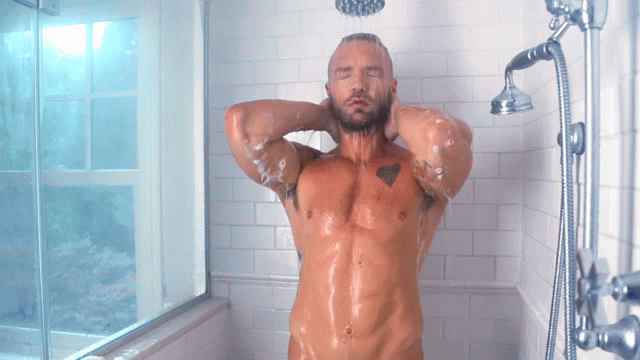 As reported here in February, model and Big Brother star Will Wikle is set to make his gay porn debut alongside Colby Keller and Levi Karter in CockyBoys' upcoming feature, The Stillest Hour (and yes, I'm told it really is coming very soon, finally). Str8UpGayPorn caught up with Wikle the last time he worked with Keller on a photoshoot in 2013, and on the eve of his hardcore debut, it's time to check in with him once more.
Below, an introspective and humble Will Wikle—seen in exclusive photos courtesy of Exterface—reveals why he decided to have sex on camera, who his favorite gay porn stars are, what it was like having Colby Keller eat his ass, and what he really thinks of blog commenters.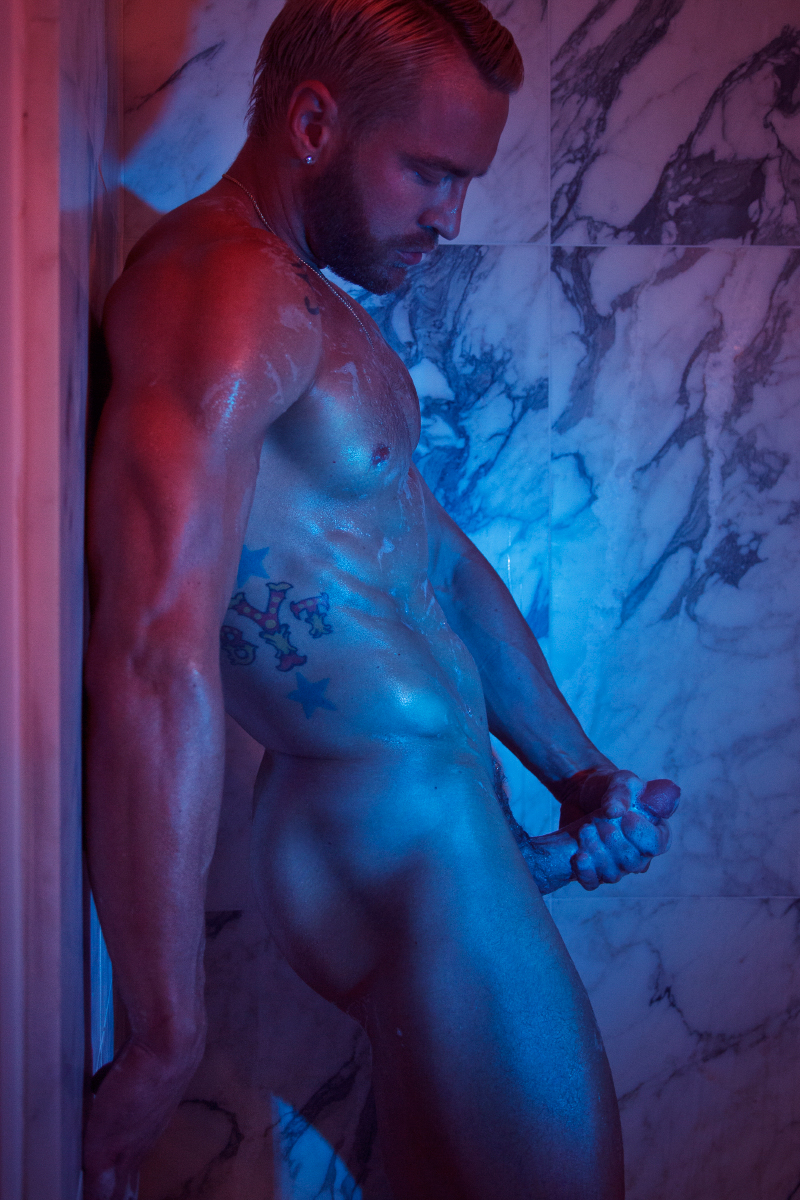 Str8UpGayPorn: So, your official gay porn debut is finally almost here. I feel like you've known all along—at least since your photo shoot with Colby Keller back in 2013—that you were going to take the leap and film a hardcore scene, but you were waiting to strike at just the right time and with just the right project. Was The Stillest Hour and CockyBoys that strategic, or am I totally off base?
Will Wikle: Strategy would imply expectations, and the more life experience I have, the more I understand that I can't make many decisions based on what might happen. So, no, there is zero strategy. I would say that I aggressively pursue situations that allow me to try on different identities and have iconic cultural experiences. As RuPaul says, "I've never been interested in being part of the matrix".
Why CockyBoys then, and why now?
I've got a real admiration for artists who've proven that explicit sex is a viable brush in the toolkit, Mapplethorpe being one of the most easily recognized examples. I also found Charlotte Gainsbourg's performance in Nymphomaniac particularly inspirational at the time all this was coming together. After my first meeting with CockyBoys, the personal challenge of shooting the explicit sex became just as stimulating to me as the psychosexual themes I'd initially gone into the project wanting to explore.
How much did you discuss filming this project with your boyfriend—former gay porn star Mason Star—and did he have any input? Also, please tell him hello!
Of course! "The artist formerly known as Mason Star" continues to be super supportive of this entire journey. As you know, he left the industry for personal reasons, but doesn't harbor any regrets or resentments. He doesn't love it when I say this, but some of the only porn that I can consistently get off to is his. His scenes make me so hard! I relied on Mason Star heavily during shooting and so, in a way, his sexuality is threaded throughout the entire film.
Are you at all concerned that the negative aspects of the industry—drugs, over-inflated egos, relationship trouble, sexual performance issues, money problems—will affect you? If not, what grounds you?
I think age has helped out a lot. The longer I live, the more I realize the less I will ever really know, and that makes me feel very chill about a lot of shit. I do have an ego, but it's filled out by the pride I take in being sensitive, unique, and cerebral. After the collection of bizarre experiences that has been my life, I can't imagine losing connection with myself and suddenly self-medicating my pain. I think a balanced life is one that embraces every emotion on the scale, from sadness to happiness. I'm here to feel it all, dick out and ass out.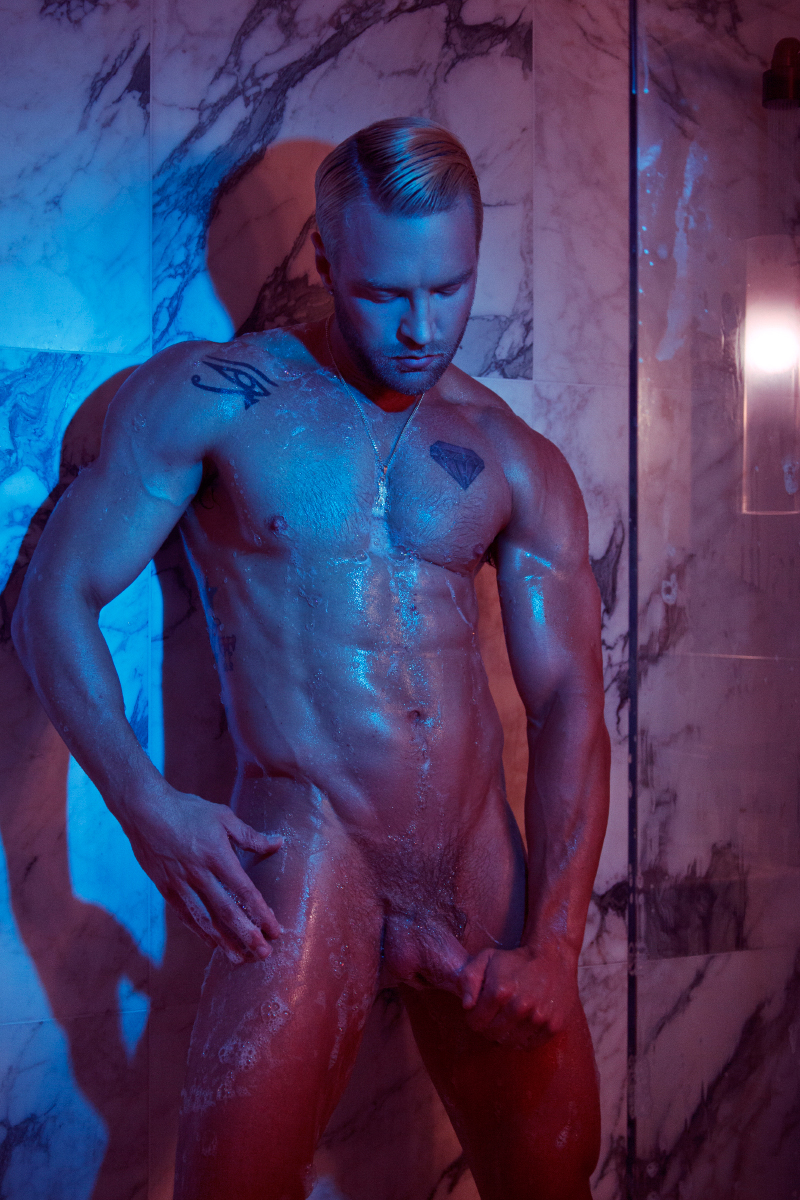 Do you know how long or to what extent you'll continue filming? Six months? One year?
I didn't go into this wanting to become a porn "star" as much as wanting to do something that requires me to engage my own sexuality on a public level. Sex for me is actually super emotional and private, and so the challenge of doing something like this in my late 30's intrigued me. I signed on to The Stillest Hour trusting that it would illuminate the right next step and it's done just that even faster than I'd hoped.
So, there will be more?
I can't officially announce yet, but I can say it's another short film celebrating queer sexual identity, although it's got a completely different tone and vibe. We're shooting in August and it will be ready for both gay and mainstream 2017 film fests. Since I'll need to have my body ready to be naked again for that and I had such a good experience with The Stillest Hour, I'll likely do more work with CockyBoys. It's going to be a very sexy summer.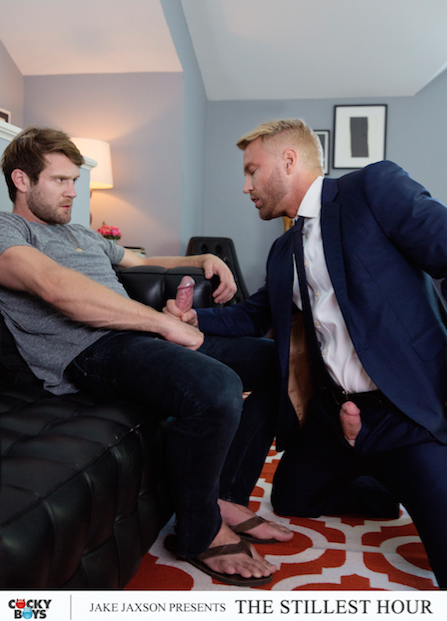 You've known Colby Keller for several years before you shot The Stillest Hour. Had you ever had sex with him before, off camera?
Being 100% honest, we never had any sex prior to this. We established a certain sexual chemistry at that photo shoot [in 2013] and shortly thereafter, he went out into the world to make "Colby Does America."
You look so natural and comfortable together.
Colby is the ultimate professional, and he's been in the game long enough to know exactly what he needs to do to show up and deliver a successful performance. I think he would tell you that when he's working a lot, he reserves a fair share of his sexual energy for the camera. How do you think he bakes those signature loads? I was glad we waited and left it all on the floor—and coffee table, couch, stairwell, etc.
You've expressed interest in shooting with CockyBoys' Carter Dane, but who else, outside of CockyBoys, would you love to film with?
We'll see. If I do more adult work, it will be because I have a visceral connection with both the concept and the guy. CockyBoys and I are definitely in active discussions. I can tell you that it could include at least two current CockyBoys exclusives and one long term non-CockyBoy real life crush. At least one of the CockyBoys shouldn't be too hard to figure out. We've already had some intense practice off-camera and are looking to recreate a true story. I think it's more fun to leave their identities a secret for now. Any guesses?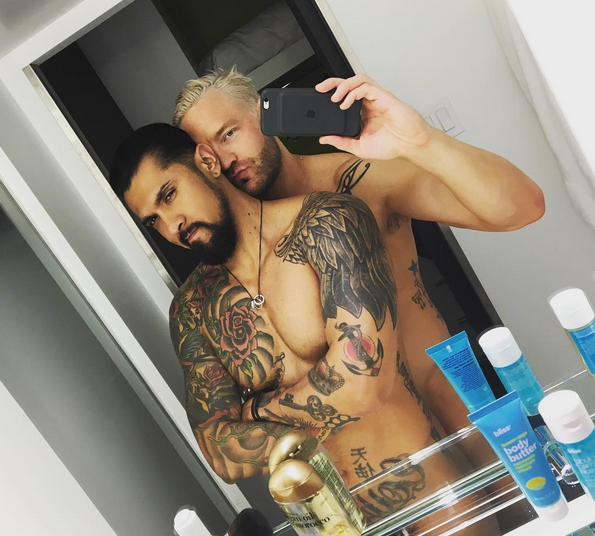 Maybe Boomer Banks? Who fascinates you the most, regardless of whether or not you'd want to work with them?
To be honest, I've never been a voracious gay porn consumer, but I follow the blogs because I find the characters and players deeply fascinating. Who isn't here for a tortured Twitter meltdown? I'm a sucker for a pathological narcissist with a nuanced public platform I guess.
That's been part of my approach to blogging—like there's this cast of characters in this insane porn soap opera, and each week their storylines play out or intersect. Who are your current faves?
My current Str8UpGayPorn fantasy football team is probably Ryan Rose, Nica Noelle, Billy Santoro, Killian James, Paul Canon, Vadim Black and obviously Jarec [Wentworth]. All for different reasons, but I find each one fascinating. You know Brent Corrigan and I have had a complicated past, but your most recent interview with him hints at some growth and insight. I still got love for BC even if he trips on me for no reason. On the positive side, I have to shout out my baby Liam Riley. He's the only one who I feel has perfected the art of slaying comment trolls. I seriously think his comment reply essays deserve a GLAAD award.
Are anonymous commenters on porn blogs better or worse than anonymous commenters on mainstream entertainment or news sites?
I just stay off comment boards in general. I will never read a single comment associated with CockyBoys or Stillest Hour. I've been at this long enough to know that you'll never be at peace if you place any value on superficial opinion, number of followers or likes, Google alerts, or any of that mess. I'm good at staying in my lane.
Did you know what The Stillest Hour was about before you decided to shoot with CockyBoys? You are also a co-writer and producer of the film.
No plot spoilers, but at the foundation of The Stillest Hour is the concept of control. Who has it? What are you willing to sacrifice for it? Is control even real? A dark, personal period inspired the initial story. At the time, I realized I was being generally irresponsible with the hearts of people I loved and selfish in a way I wasn't fully owning up to. Putting this story on paper helped me work through everything. I knew if I brought it to CockyBoys, it would mean giving up control over the final product, and in a sense, the public's perception of my ultimate intentions. Edgy or desperate, brave or pathetic? That challenge terrified and exhilarated me in the intense way that lets you know you gotta do it.
How did the collaboration end up? Close to what you thought it would be?
It's actually quite a bit darker and even more twisted than I'd initially envisioned. The final product will be Jake's realization of my initial concept, and there are pieces of RJ, Colby, and Levi in it as well. The production was very dynamic and alive throughout filming.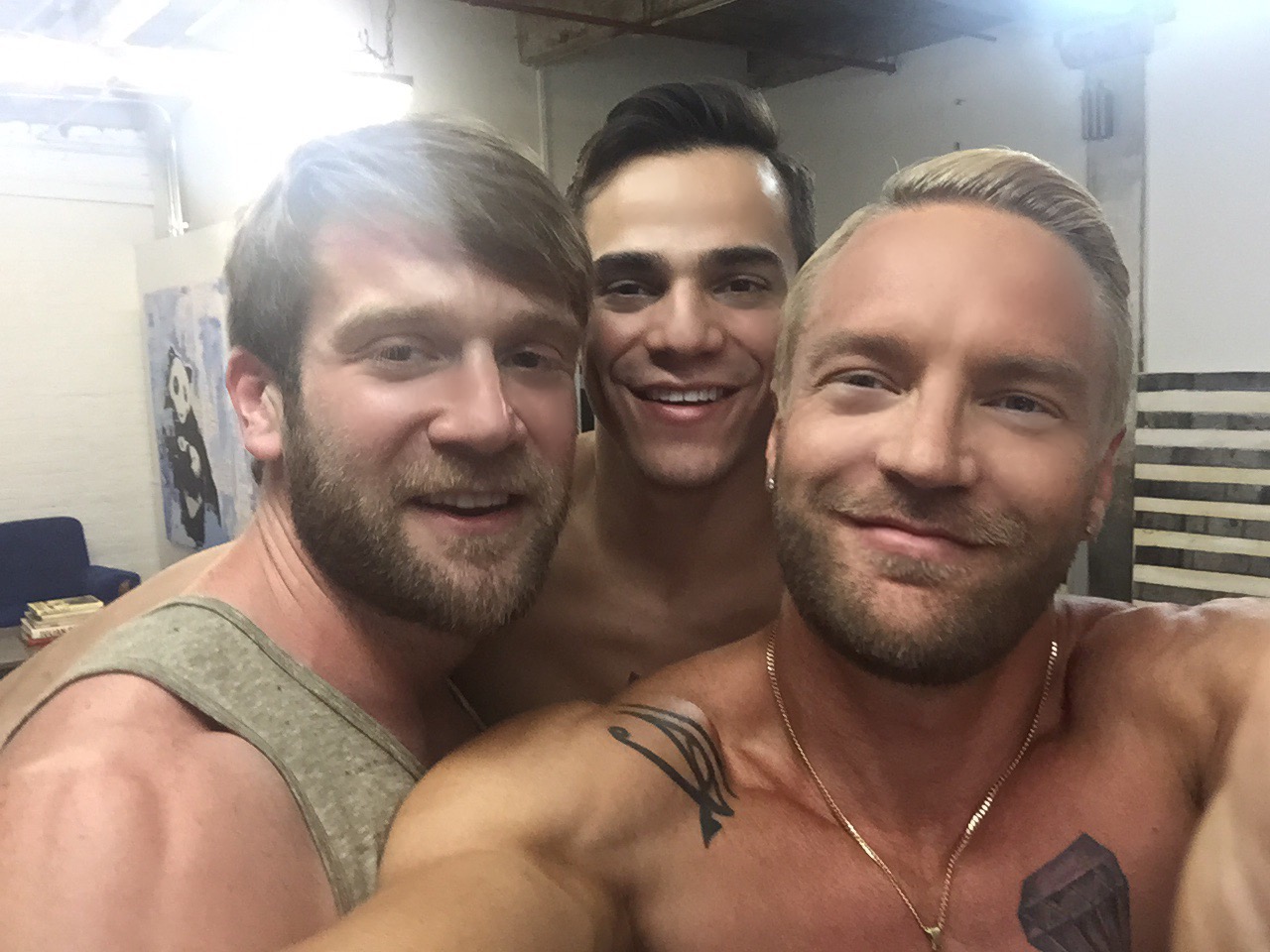 Which was more challenging: The dialog scenes or the sex scenes?
I'm gonna go ahead and say neither. RJ and Jake are very particular about their shots, which can translate into long days of filming, but when you're all actually friends, it doesn't seem like work at all. Of course, it's even better during the summer when you can go chill out on an alligator raft in their luxurious pool between shots. Working for CockyBoys in the summer time is the perfect mix of sunshine, margaritas, and hot dicks.
Keeping the hot dicks hard for long periods of time can be a challenge though?
For me, staying hard will always be a complete function of who I'm working with. Filming sex and making sure it's hot and beautiful requires a major investment of time and energy. I could never imagine doing this with someone I wasn't attracted to because then it would just be flat out painful. I now have a new respect and sympathy for guys who have to fuck assholes or basics because they really need the cash. In The Stillest Hour, I learned how to channel the sexual chemistry into personal endurance in a way that is completely different from regular sex.
And I presume Colby had no issues—he topped you, right?
Colby fucks hard, and he held it down. Even though it was a long process, there were so many times he made it feel so good that I was able to reconnect and forget the cameras. Being completely honest, Colby ate my ass better than anyone in my entire life. I'm so glad it was caught on camera. I almost couldn't contain myself, the moans are all coming from my spot. We also kept fucking between takes and that was very helpful for me in terms of keeping it real.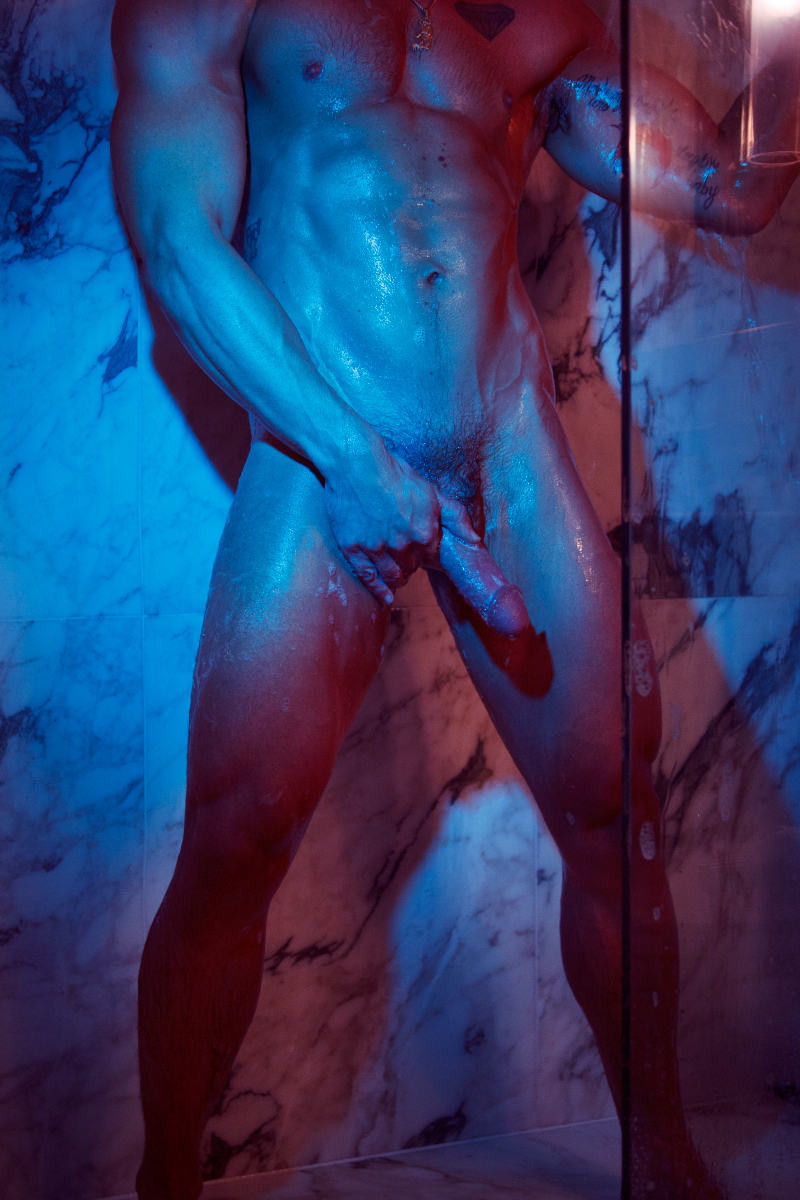 You've been a public figure for over 10 years now, but never quite like this. What do you say to anyone who might criticize your decision to make this move into gay adult film?
I'm not one of those neck poppin' "I DON'T HAVE TIME FOR THE HATERS" queens giving you a blanket defensive posture. At some point, you gotta learn how to press mute and live with feedback coming from your gut and people you trust. Of course, I was initially reticent to sign on to work with a porn company, but I realized the "fear" I had was actually the final remnants of gay sex shame that were repressed down deep in my subconscious.
And porn actors have a whole other kind of additional shame to contend with.
There is still an obvious stigma to sex work that varies in intensity depending on race, class, gender, orientation, etc., and that needs to come to an end immediately. I am only one voice, but via my participation—and using my legal name—in this industry, I want to communicate my unrestricted pride in explicit sexual performance, and stand with the community of people who share this part of themselves with the world on a regular basis.
You also have a day job in New York, right?
I work in healthcare, but don't talk about my career much in this sphere because I like to keep the two worlds separate. Having a day job where I'm unselfish and completely asexual is a welcome escape from being out here jumping these vanity hurdles.
And you do volunteer work, too?
Working for Animal Haven is my ultimate zen and my guaranteed happy place. I'm of the opinion that there's no brand of hurt that kisses from a dog can't make better. Pets make people kinder, gentler and generally happier. If someone has a pet they adore, don't you immediately trust them a little bit more? Connecting animals with their humans is one way that I know I can absolutely make the world a better place.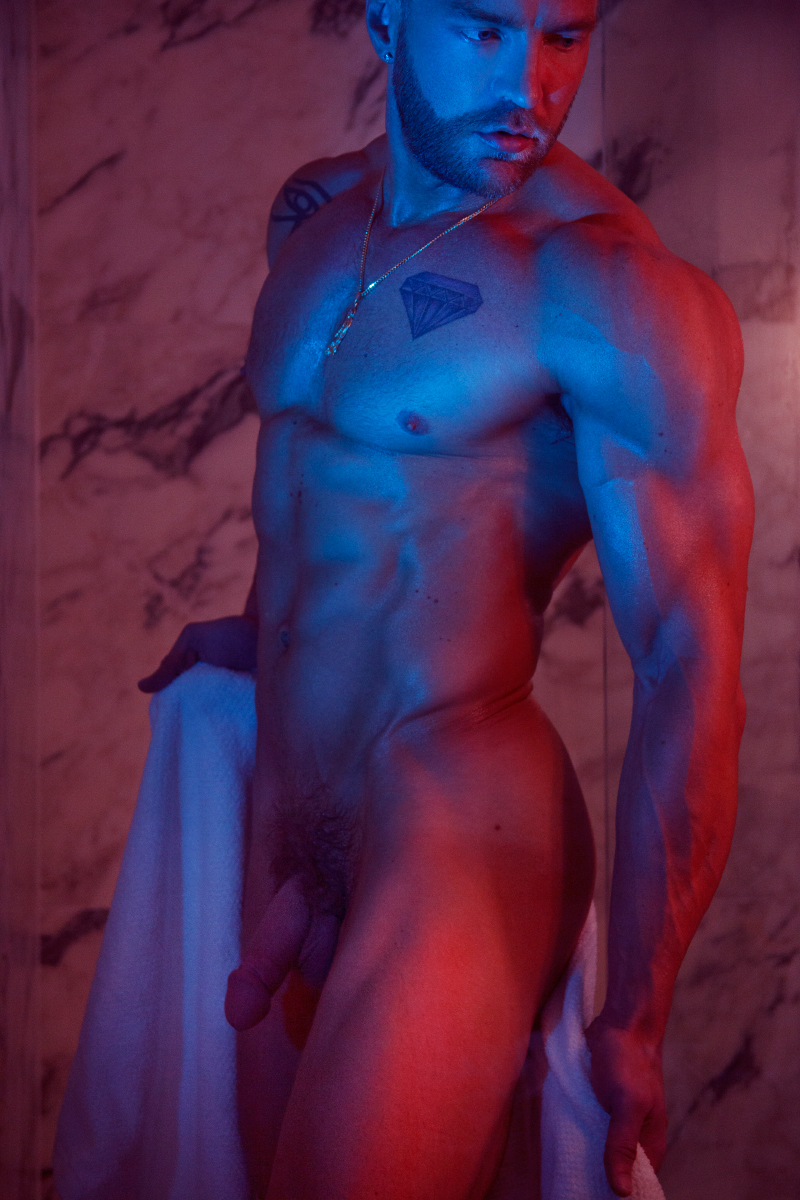 Finally, a purely superficial question: How did you get so hot? Your body is insane.
The body dysmorphia convo. That's the inherited trauma and ghost in the fucking machine for most of us, right? The short answer is, I put a lot of work into it, but am coming to the end of my rope staying on top of the shit. The next big project I'm filming in August is opposite the Beyoncé of gay bodies so I'll continue sippin' on Skinnygirl until then. After that, I would like to dip into a dad bod and let that inspire something new. Some literal gut inspiration sounds good.
It was great catching up with you. One more question. Fuck, Marry, Kill: Johnny Rapid, Sean Cody's Brandon, and Vadim Black.
Kill Sean Cody's Brandon because, all T no shade, I just don't know who he is. Marry Johnny Rapid because he would take 200 more dicks just to keep food on the table. Fuck Vadim Black because he is my guilty pleasure, and we'd have access to his gym bag full of "this stuff, they call it poppers or whatever."
[CockyBoys: The Stillest Hour]