BelAmi's Zac DeHaan Makes His Bottoming Debut Being Fucked Bareback By Hoyt Kogan
It was first teased last month, and fans have been waiting over six years to see it happen. Today, it's finally here: Zac DeHaan is making his official BelAmi bottoming debut, and his top is none other than Hoyt Kogan.
After one attempted bottoming sometime in 2016 or 2017 with Christian Lundgren, this is the real deal for Zac, and if you're gonna get fucked up the ass for the first time, you might as well get fucked up the ass by one of the hottest men on earth, right?
Hoyt Kogan sliding his cock into the blond muscle hunk and then Zac thrusting back and forth provides us with one of the hottest gay porn visuals of 2019:
I can't believe this is really happening? Scene description via BelAmi:
Today we have a unique episode for you with Zac DeHaan bottoming for Hoyt Kogan. This is not the first time we tried filming Zac bottoming, but it was the first and only time that we managed to get a complete scene. We're not sure why Zac was so reluctant, as in the end he quite enjoyed the experience. Maybe he was just saving himself for the right guy and when Hoyt came along, the temptation was too great!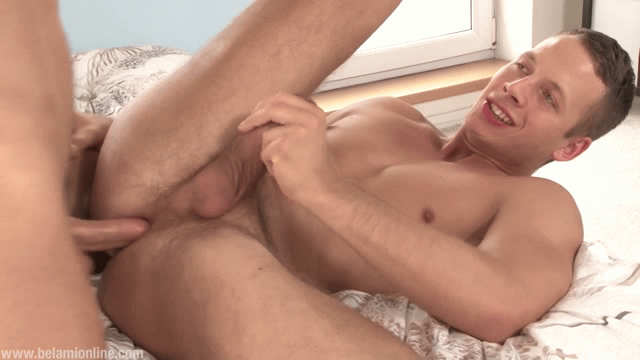 Given how good Zac looks being fucked (and how much he really does appear to enjoy it), it would be a travesty if he never got fucked again. Pray that BelAmi finds another top worthy of being inside Zac's hole.
This scene features FOUR cum shots, with both Zac and Hoyt cumming during the oral portion in the first part of the scene, and then two more loads at the end of the scene, with Hoyt cumming onto Zac's hole, and Zac shooting his cum into Hoyt's mouth. Trailer (watch full scene here):
[
BelAmi: Hoyt Kogan Fucks Zac DeHaan Bareback
]