[UPDATED] Mike Dozer Tweets Nude Photo While On Trial For Rape, Reveals New Charges Filed Against Him
[4/14/14 1:23 a.m.—This story has been updated below.]
As exclusively reported here last month, bareback gay porn star Mike Dozer was released on bail and is awaiting trial on statutory rape, reckless endangerment, and a variety of other felony charges stemming from his encounter with a 14-year-old boy last year. The next pre-trial action (see summary above) is scheduled for May 7th.
As you'll recall, Mike Dozer (legal name Christopher Steele) met his alleged victim after trading nude photos via social media. So, what's the first thing Dozer is doing now that he's out of jail? Using social media to post more nude photos of himself, of course. From this afternoon:
"A kick off of what's to come"? I'm sure everyone—including prospective jurors—can't wait to see what Mike Dozer will do next.
Hopefully Dozer's lawyer won't be too upset that his client is behaving so brazenly on social media, because after all, what else is there to do while waiting to go on trial for raping a 14-year-old boy than post nude pics of yourself on Twitter?
Also, Mike Dozer really appreciates your support.
AND:
Here are some people who responded to Mike Dozer's tweet. They seem great.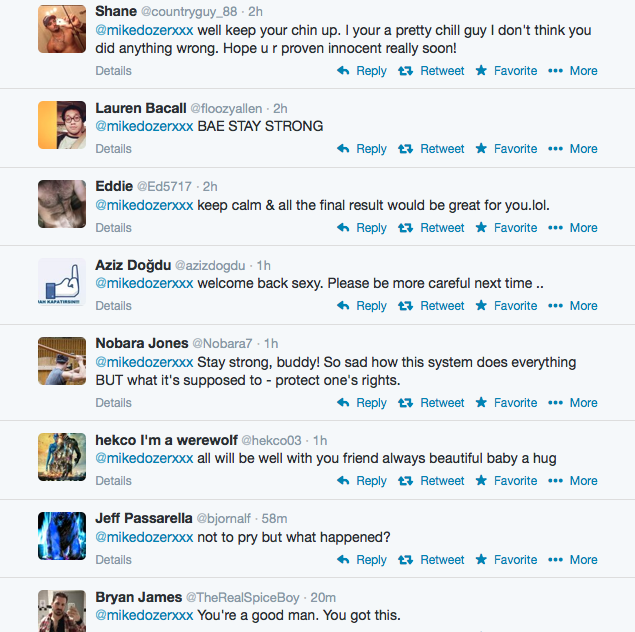 Be more careful next time!
UPDATE:
Late last night, Dozer (or someone speaking on behalf of him, since the tweets are all in 3rd person) took to Twitter again and announced that separate federal charges have been filed against him. These are in addition to the state charges in Pennsylvania, and it now appears that Dozer will be facing two trials.
While the state of Pennsylvania is prosecuting Dozer on rape and reckless endangerment charges, the United States will be prosecuting him in federal court on different charges. Given what we already know about the case, Dozer being charged under a federal law like the Mann Act means that he (allegedly) transported the minor across state lines for the purpose of illegal sexual acts. As you'll recall, Dozer lives in Delaware and the 14-year-old boy was in Pennsylvania.
As far as the child porn, the FBI undoubtedly did a search of Dozer's home and computer after his arrest in December, at which point they must have found something to constitute the charge.
The federal trial is set for June 2nd, while the state trial is set to proceed on May 7th. Based on my limited understanding, the state and the feds usually coordinate so that the trials aren't running concurrently, don't they? What if he's found guilty by both courts and given two separate sentences? If any of you are lawyers, feel free to explain how this is going to play out.
Oh, and if any of you have money, Mike Dozer would like some.