MindGeek Launches Bisexual Porn Studio "Why Not Bi?" With Wesley Woods, Pierce Paris, Michael Del Ray, Dante Colle, Justin Matthews, And More!
Good news for fans of bisexual porn, and even better news for fans of gay porn who don't like seeing bisexual scenes on the gay porn sites they subscribe to: MindGeek has launched their first bisexual porn studio, and it's called "Why Not Bi?" This presumably means that the conglomerate's main gay porn studio, Men.com, won't need to feature bi scenes anymore (they experimented by releasing one last year, which left many angry gay porn fans in complete shock), since they now have an entire separate studio devoted to bisexual porn.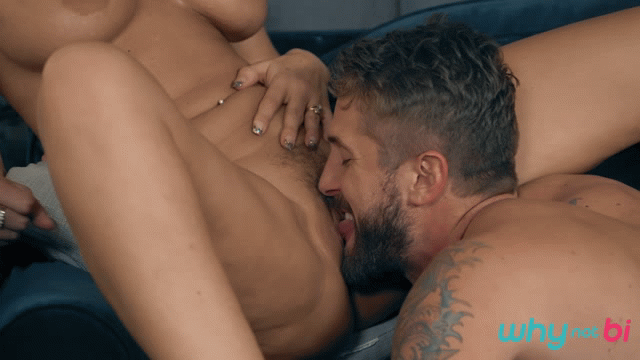 WhyNotBi.com says its scenes will "focus on the men," and it features the industry's most popular male porn stars, including: Dante Colle, Michael Del Ray, Pierce Paris, Lance Hart, and in his bisexual debut, Wesley Woods. Here's the trailer for Wesley's bi three-way, in which Wesley fucks Syren De Mer bareback while he's fucked bareback by Pierce Paris at the same time:
[
WhyNotBi: Pierce Paris, Syren De Mer, And Wesley Woods Fuck Bareback
]
It's my understanding that Wesley Woods is 100% gay in his personal life, so I guess this scene makes him straight-for-pay!
Seeing Wesley having sex in so many different genres (gay, bi, trans) with so many different types of models is a testament to his skills as a performer (and the reason why he's won so many industry awards, including Best Actor at last year's Str8UpGayPorn Awards).
Also making their bisexual debuts on the site are Jackson Traynor and Justin Matthews, with Justin getting fucked bareback by Jackson's huge cock (and his girlfriend's strap-on), and then both Justin and Jackson fucking the girl: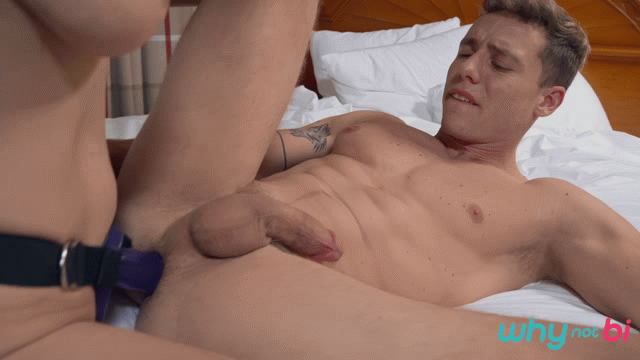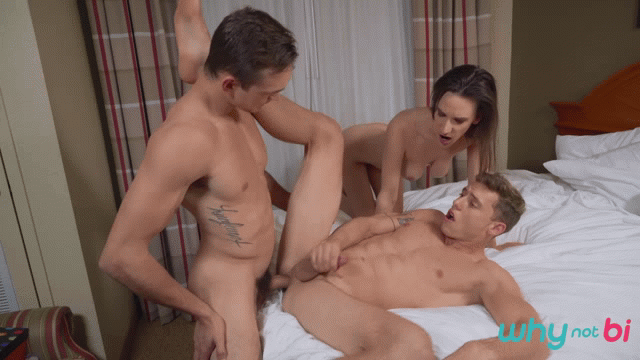 Luckiest girl ever, tbh:
Trailer (watch full scene here):
[
WhyNotBi: Justin Matthews, Jackson Traynor, And Alora James Fuck Bareback
]
Bi porn isn't normally something I watch, but some of these scenes obviously feature hot guys who I love to see fucking, so I know I'll be watching at least a few of these scenes, including the ones above, and including this one, with Dante Colle and Michael Del Ray:
[
WhyNotBi: Dante Colle And Michael Del Ray Fuck Bareback
]
Here's a trailer for several of the scenes from WhyNotBi. Unfortunately, you will see racist and Trump-supporting porn star Sergeant Miles in at least one of these scenes, but that scene won't be covered here. (And, hopefully his scene was filmed a very long time ago, and he won't be appearing in any future scenes from this studio.)
[
WhyNotBi
]