CockyBoys And Bruce LaBruce Launch Diablo In Madrid, Featuring Allen King's Cemetery Blowjob
Happy Halloween!
CockyBoys and director Bruce LaBruce have partnered for a four-part anthology launching today, and this first episode, Diablo In Madrid, features gay porn stars Allen King and Sean Ford. A note from CockyBoys' Jake Jaxson about the collaboration:
Working with Bruce on this anthology has been a dream come true. Bruce has been a huge inspiration to me, and his "take no prisoners" approach to filmmaking has greatly influenced my work, as he is constantly pushing past the boundaries imposed on gay culture and queer cinema. A few years ago we met at The Museum of Modern Art in New York, during a retrospective of his work, and at that time I was just a fan excited to see The Raspberry Reich. So, you can imagine my surprise when earlier this year, he suggested we might consider working together (thanks to Tayte Hanson for reintroducing us), and I was even more excited once I read the scripts he sent me. It was everything I have always loved in his work—irreverent, satirical, funny, and sexy—so wrong that it was right. And once we added our performers to the mix, I was all in.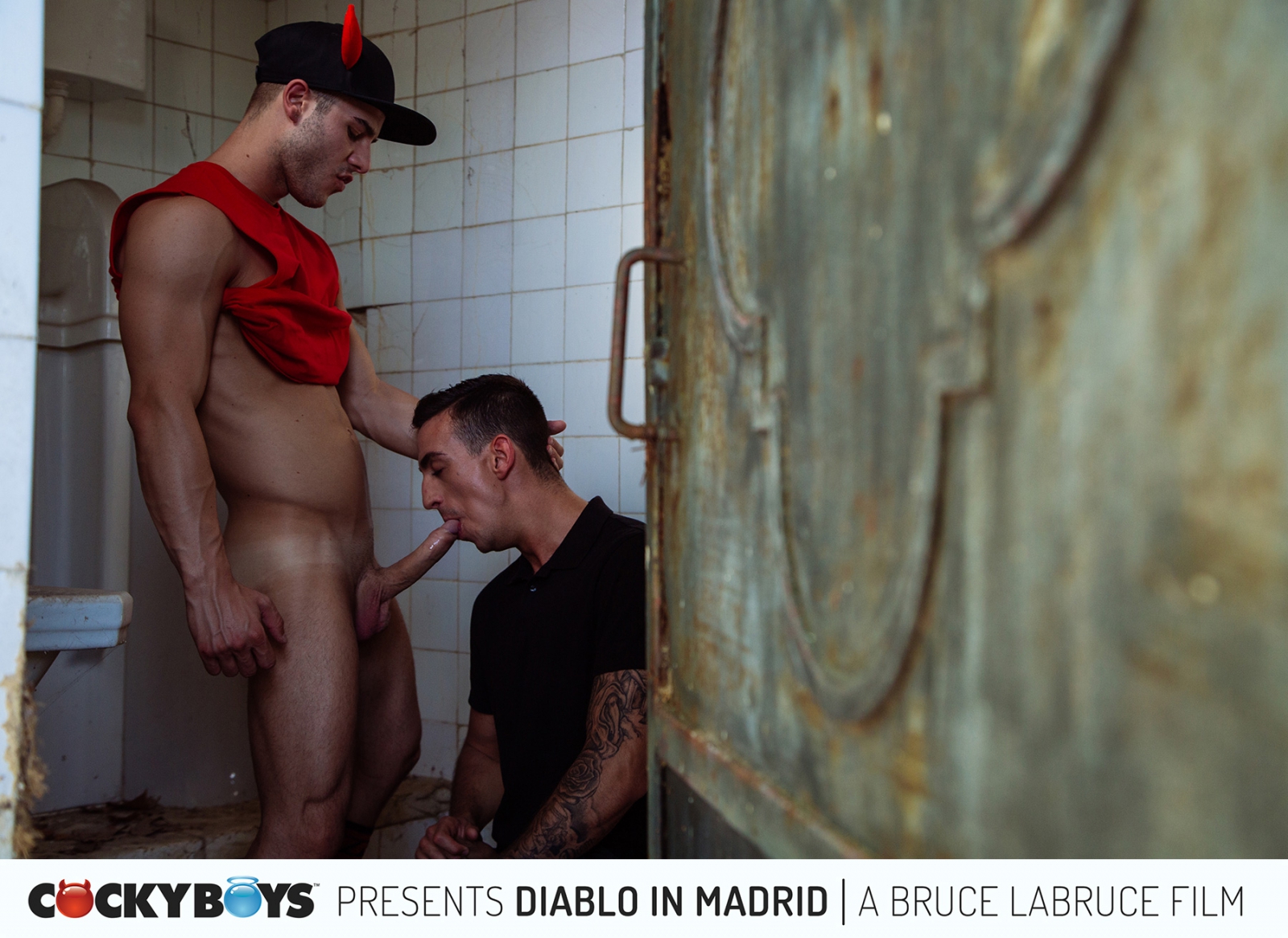 Allen King, playing an "underworld demon," is excellent here, and he pretty much steals every scene he's in. He pees and jerks off on graves, receives blowjobs from people visiting graves, and he even convinces one mourner to suck his cock right in the middle of the cemetery. Nice:
Right in front of my tombstone?
Later, King seduces another visitor at the cemetery, played by Colby Keller, into another blowjob session, and Keller cums in the devil's mouth:
For those who aren't fans of Colby Keller, don't worry. This scene was filmed last spring (prior to Colby Keller's repeated attempts to explain his Donald Trump vote), and it only features a few minutes of Keller. For those who are still fans of Colby Keller, you're in luck! He'll be back in a bigger role later in the anthology.
Sean Ford eventually joins Allen King, and the majority of this episode is about them:
Allen is unaware of the presence of angel Sean Ford and he moves on, still full of lust and mischief. Allen finds another mourner to tempt but this time angel Sean intervenes and tries to wrestle him away. The diablo's lust for the angel grows intensely and he tries to kiss him as they wrestle and fight from the cemetery to the city streets and into an occupied apartment. Unseen by the tenant they continue to brawl as clothes come off and Allen forces himself on Sean. The angel keeps struggling until Allen's cock is shoved into his mouth and the taste of foreskin breaks down the last wall of resistance. Sean sucks Allen's cock, they kiss passionately and Sean returns to sucking Allen who smiles with demonic glee. Eventually Allen takes off the rest of Sean's clothes to suck and rim him, and his true nature is revealed triumphantly as Allen finally fucks Sean.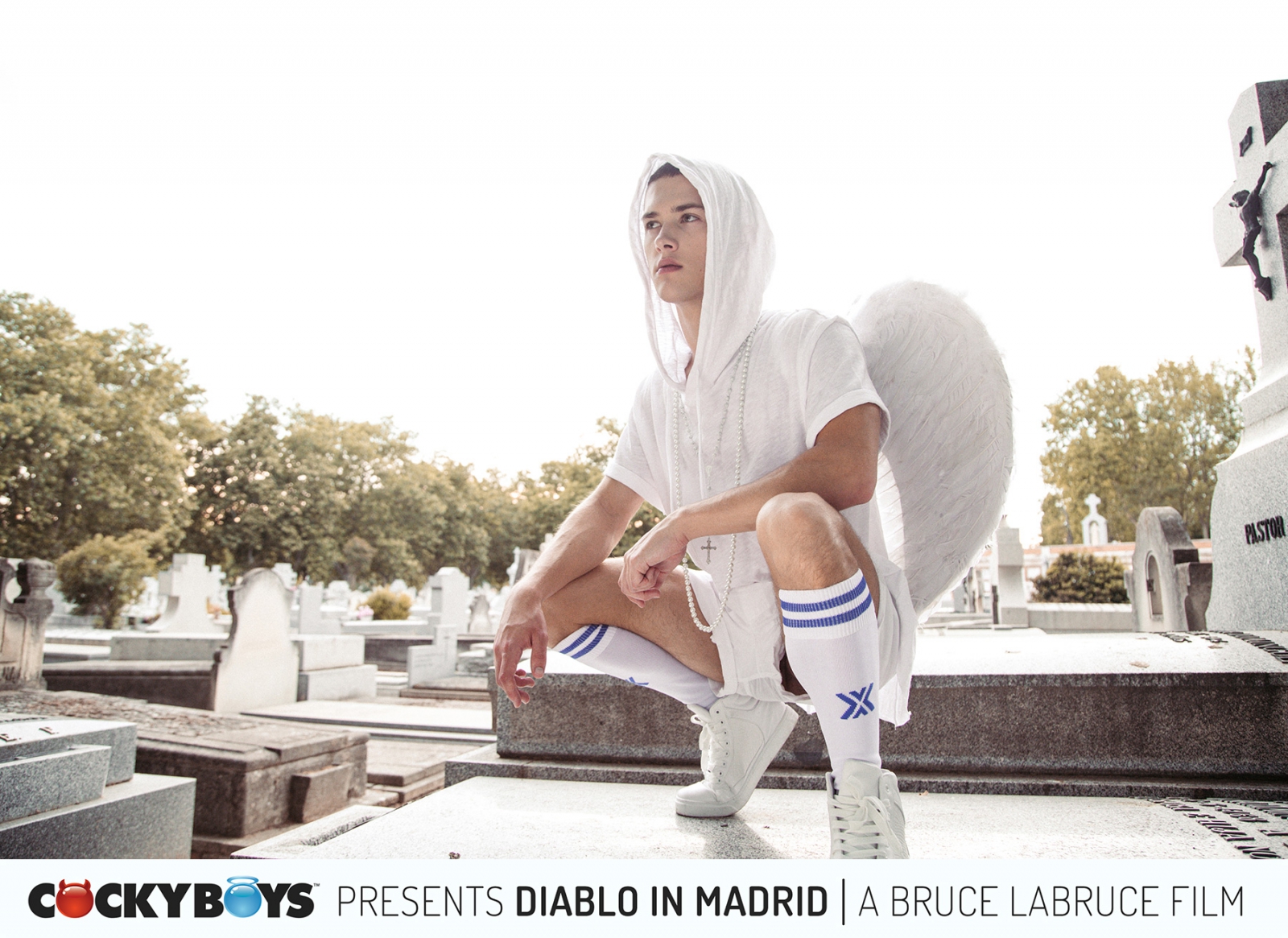 Sean Ford is actually angelic IRL, so his character here makes perfect sense. And Allen and Sean, obviously, look incredible together: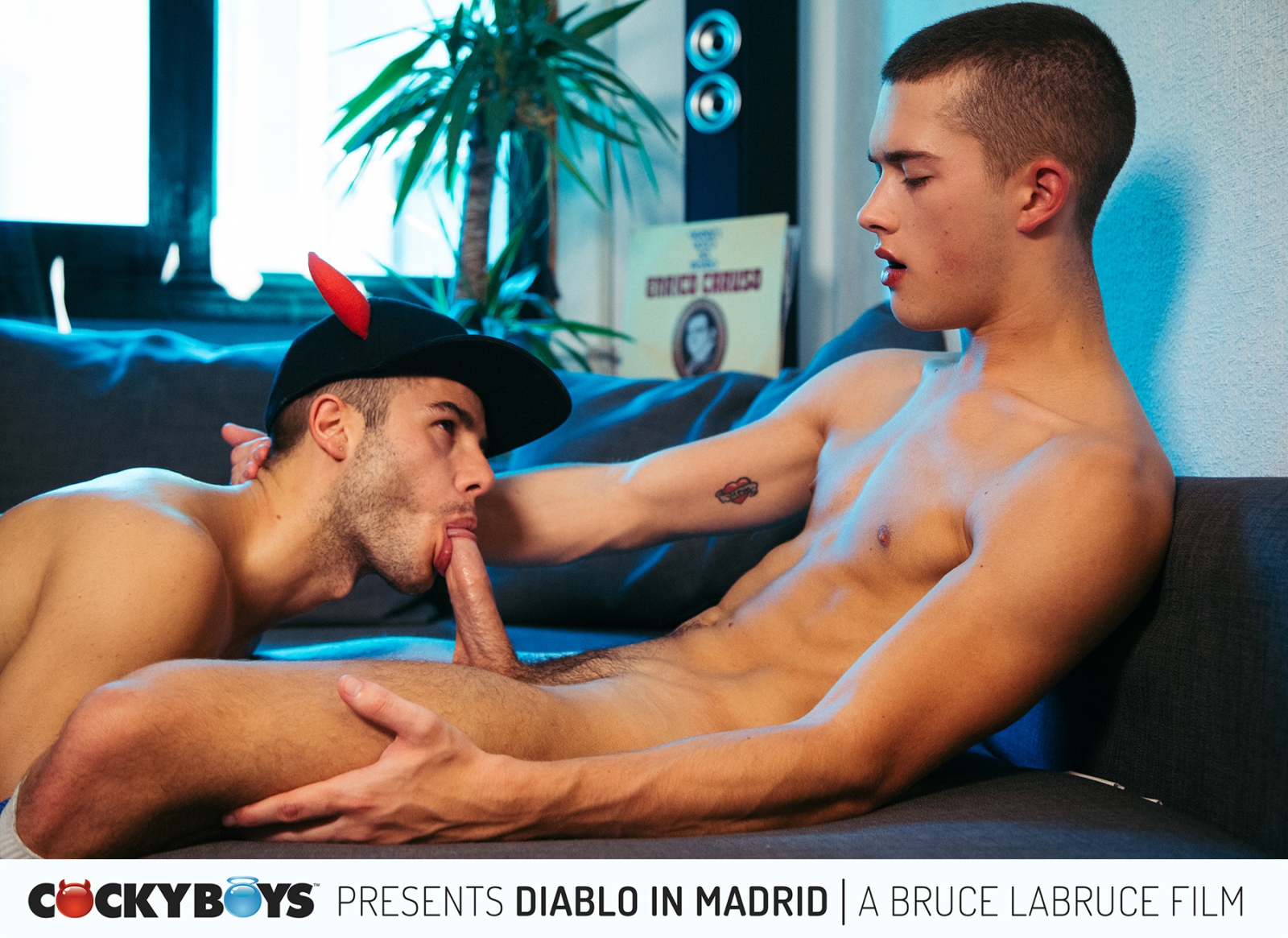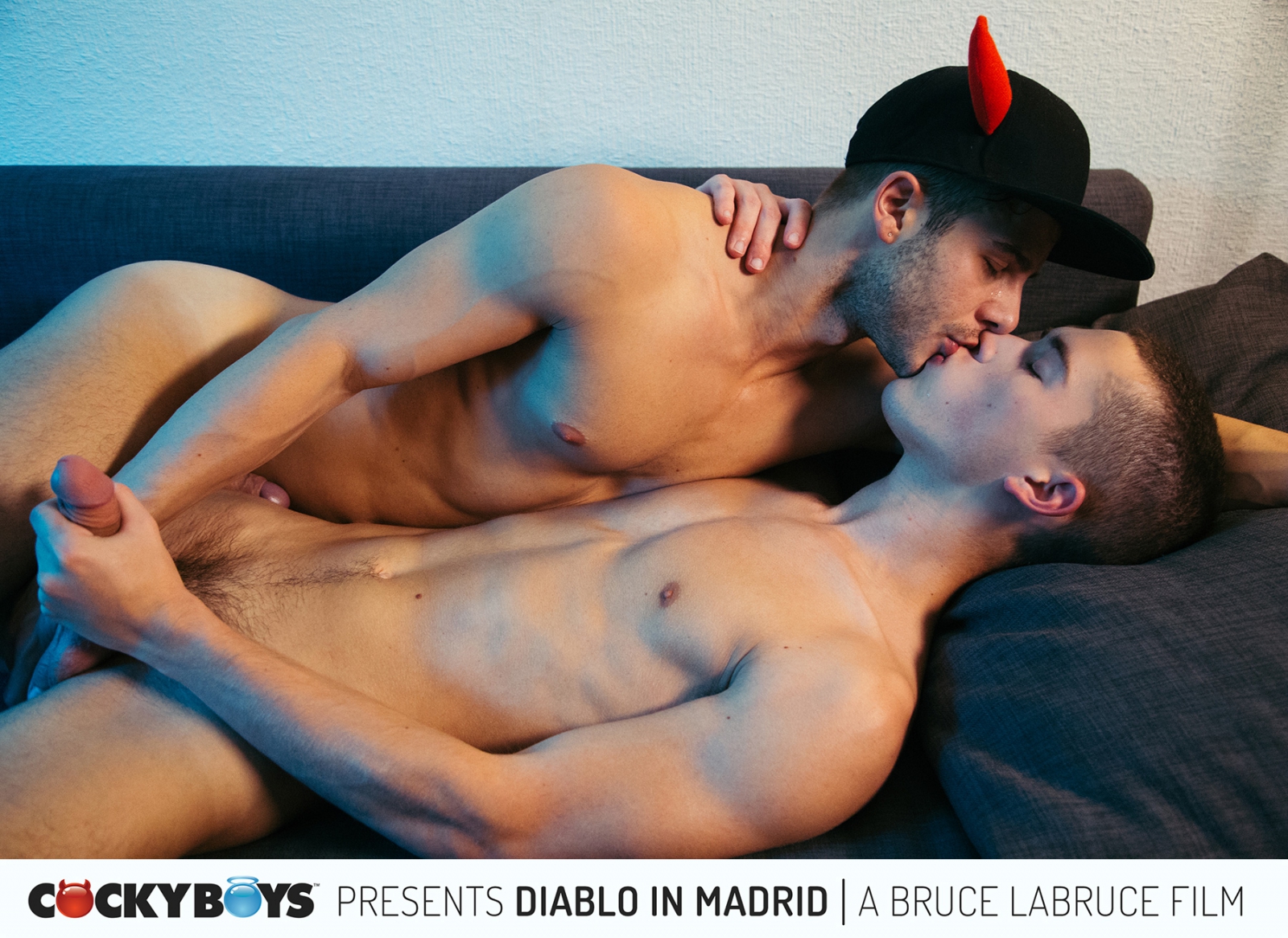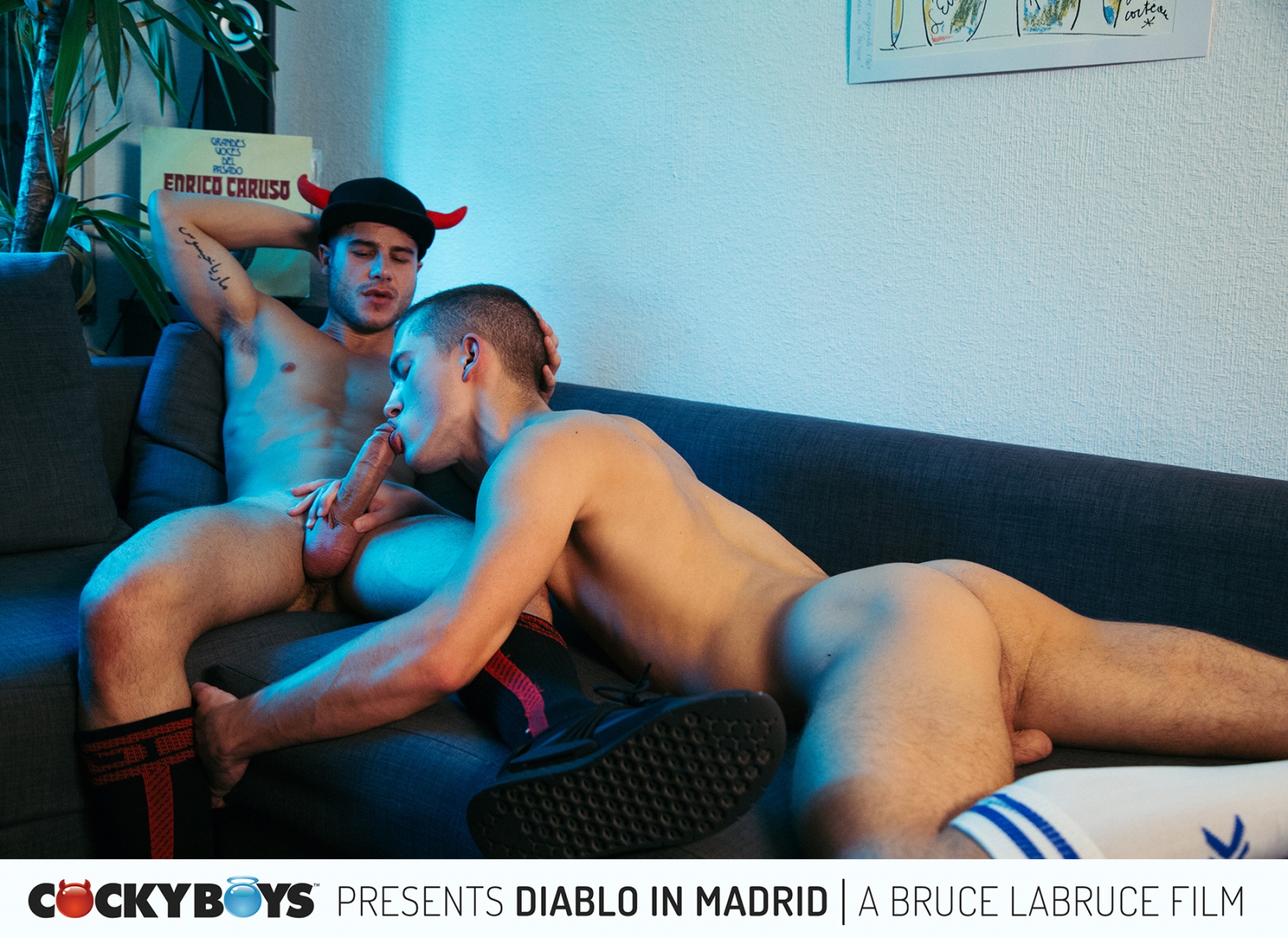 As great as their sex scene is (Allen's topping and Sean's bottoming are equally strong), the build up, drama, and fight they have in the cemetery is just as fun to watch. Clip (watch full scene here):
[
CockyBoys' Diablo In Madrid: Allen King Fucks Sean Ford
]