Colt Rivers Exclusive: Jarec Wentworth Used Str8UpGayPorn To Threaten Donald Burns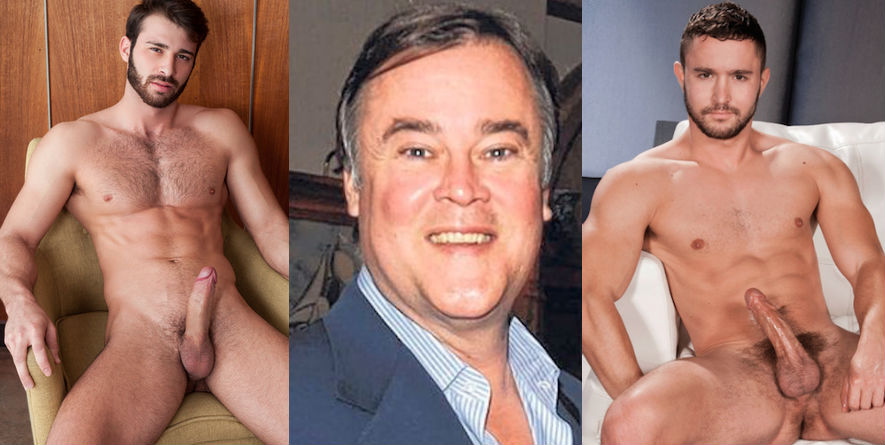 On Monday, Str8UpGayPorn published text messages from telecommunications executive, philanthropist, and political activist Donald Burns, in which the registered Republican and multimillionaire offered money to multiple Sean Cody gay porn stars in exchange for "private meetings." In one of those messages, Burns references "Teo" (a.k.a. Teofil Brank/Jarec Wentworth) as someone assisting him in arranging these meetings. While I was obviously able to tie Burns to Brank in the context of those messages and the solicitation of Sean Cody models, I was not able, at the time, to confirm (publicly) that Burns was also Brank's alleged extortion victim known as "D.B." in court documents. Now, I can finally confirm that D.B. is in fact Donald Burns, as many of you already suspected. While Burns' lawyers have filed a motion to keep his name out of the court record, the outcome of those proceedings does not apply here.
Earlier today, I chatted with Teofil Brank's close friend and gay porn co-star Colt Rivers about his knowledge of the extortion case, whether he had ever been solicited, and what exactly Teo was threatening to expose about Donald Burns.
Str8UpGayPorn: Hi Colt. So you've been friends with Jarec/Teo for years, and you live right down the street from him now. Did you ever meet Donald Burns?
Colt Rivers: No. He was always just "Don" to me. I only learned his last name through your original story on him with Ashton.
And that was before I broke the Jarec/Teo story. So you knew "of" Donald Burns, but you never met him?
Right. He used to send Teo about $2,500 a week, for nothing. I think Teo was referring boys to him and getting him contacts.
@justinmatthewsx rolling through palm beach causing traffic. Yee:) pic.twitter.com/DNXVjaNEjU

— Jarec Wentworth (@JarecWentworth) November 6, 2014
I've been told that Burns solicited at least 10 different Sean Cody guys. Does that number sound right?
Yes. The picture of Teo and [Taylor/Justin Matthews] on Twitter was of them doing a job with Don.
In Palm Beach?
Yeah.
Did Donald Burns ever try to get to you?
No, he wanted the Randys and the Teos. He wanted nothing to do with little Ryan.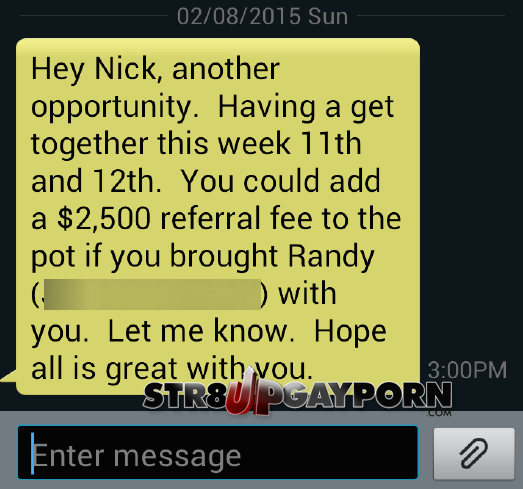 Yesterday you said the FBI was going to question you. Has that happened?
They rescheduled it to next week, which means I'm probably not facing jail time, ha ha.
Ha! Hopefully not! Do you think Teo will take a plea deal?
Yes. He will take it and run.
The Grand Jury indictment says that Teo was threatening to distribute embarrassing, sexually explicit information and photos of Donald Burns. What do you think the photos showed?
I don't think any photos exist, man.
Really? So this whole thing is based on empty threats?
The threats were like "I'll expose you…" but that was it. I'm pretty sure there's nothing. Teo had nothing.
Wow.
Actually, Teo used your blog as a threat though, ha ha.
What?!
He literally said, "I will contact Str8UpGayPorn," verbatim.
As if Teo would come to with me information on Burns, and I would just publish it?
Yes.
Well, I guess it's kind of inadvertently turned out that way.
It has.
Developing…