Exclusive—Killian James Threatens Kurtis Wolfe Over Steroid Sale: "I'll Make Sure You Suffer"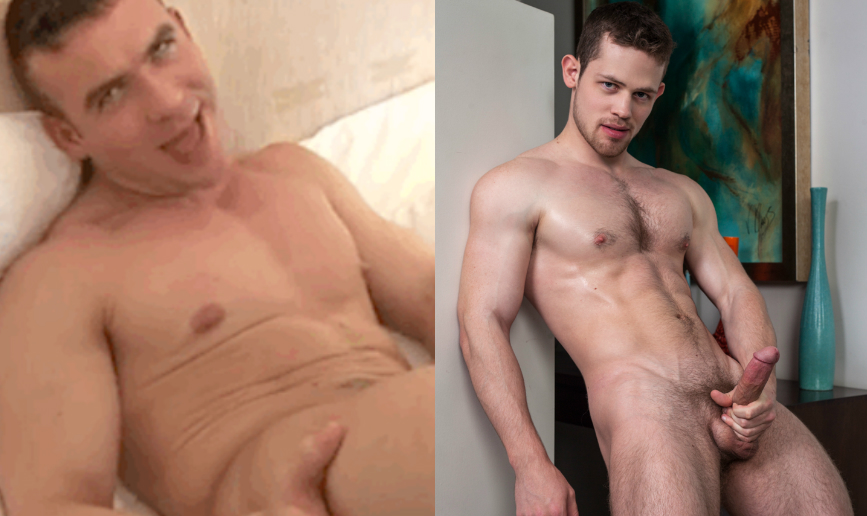 Last month, Str8UpGayPorn reported on gay porn actor and escort Killian James' attempt to have a story published about how another performer sold him "fake" steroids. At the time, Str8UpGayPorn was unable to confirm whether or not Killian James bought any steroids, let alone fake ones. Now, thanks to the posts below obtained by Str8UpGayPorn, it's clear that Killian James did in fact buy something over the internet, and the gay porn star on the other side of the transaction was former Randy Blue model Kurtis Wolfe.
The sale (of what I'm presuming was some sort of supplement or steroid) did not go over well for Killian James, who took to the Daddy's Reviews message board last month to accuse Kurtis Wolfe of stealing from him by selling him "fake shit." When reached for comment, Kurtis Wolfe denied selling anything fake to Killian James. All of the posts below were deleted shortly after being published on Daddy's Reviews (which is a really weird place for something like this to play out?), but here's what was saved and forwarded to Str8UpGayPorn.
First, Kurtis Wolfe's response to Killian James' initial accusation and threat, which references James' attempt to have a story published on Str8UpGayPorn. (Wolfe also references some questions he answered on this site following the Rentboy shutdown last August. Killian James and several other escorts were asked the same questions, but Wolfe was the first to respond with substantive answers.)
Killian James then barraged Kurtis Wolfe with a series of delusional, self-aggrandizing responses, threatening to end Wolfe's career as a porn star and an escort (though it's not clear how he would accomplish that), and predicting that Wolfe will "soon fear [him]."
"I'm Killian James," he boasts.
Kurtis Wolfe then reminded Killian James that everything he was saying could eventually be used against him: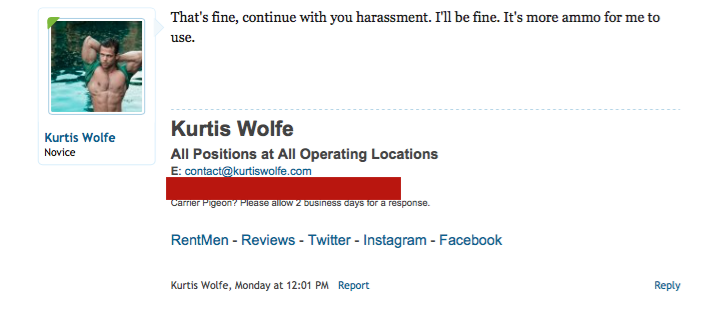 Undeterred, Killian James responded again. And in this reply, Killian James makes the first of several violent threats against Kurtis Wolfe:
Killian James then alludes to more violence, telling Kurtis Wolfe that he has something "coming" to him, and then explicitly threatening, "I'll make sure you suffer."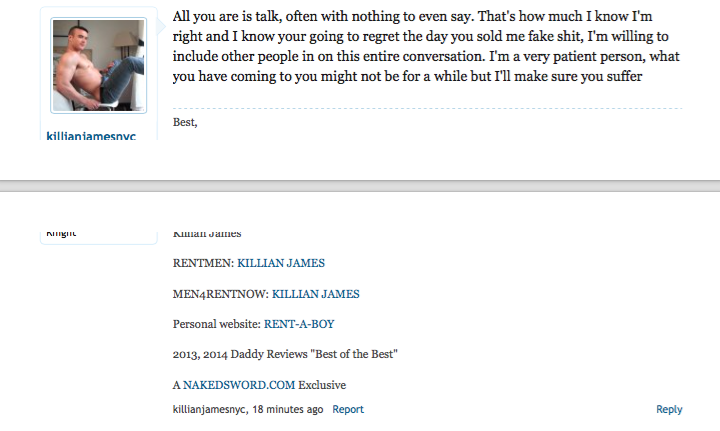 In an even more direct and more disturbing follow-up threat, Killian James informs Kurtis Wolfe that, actually, he'll just hire a Puerto Rican to physically attack him instead: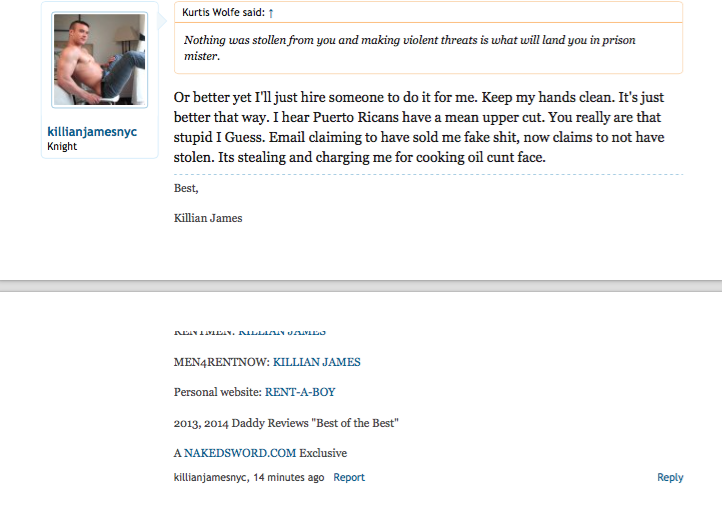 Less than a minute later, yet another ominous threat from Killian James: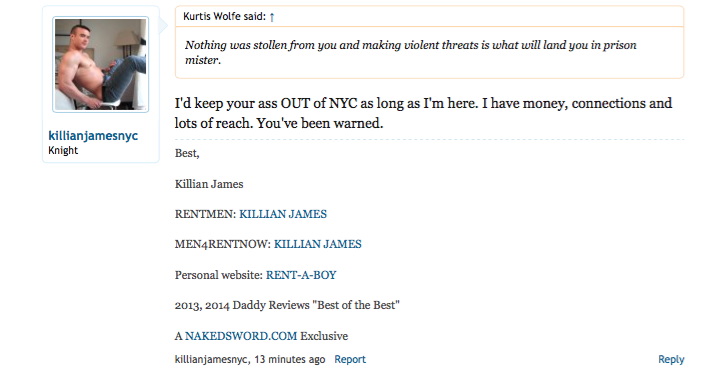 Unfortunately, Killian James' erratic and disturbing behavior doesn't end or begin with the threats against Kurtis Wolfe. In the past year alone, the highly unstable escort has sought revenge against his own clients by posting their phone numbers on social media, been accused of rampant drug use by his ex-boyfriend, and threatened to quit his job with NakedSword because—according to him—one of his club appearances wasn't promoted properly.
Kurtis Wolfe tells Str8UpGayPorn that Killian James' ongoing harassment and threats of violence have been reported to the FBI.