The FamilyDick Son Gets Barebacked By His Dad (Again) And A Neighbor While Trick-Or-Treating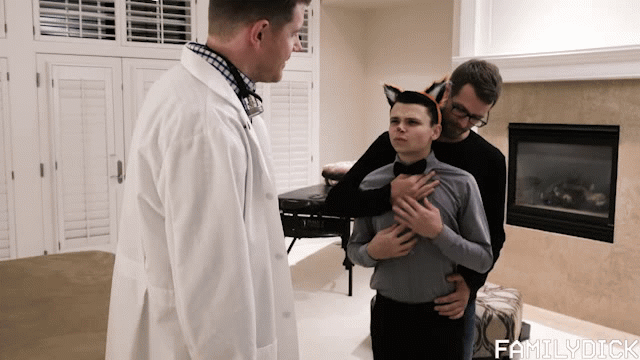 It looks like we have a brand new gay porn powercouple on our hands, as this infamous "Family Dick" father/son duo are back to fuck bareback again, for at least the fourth time. This time, the dad shares his son's ass with a neighbor passing out Halloween candy. How generous!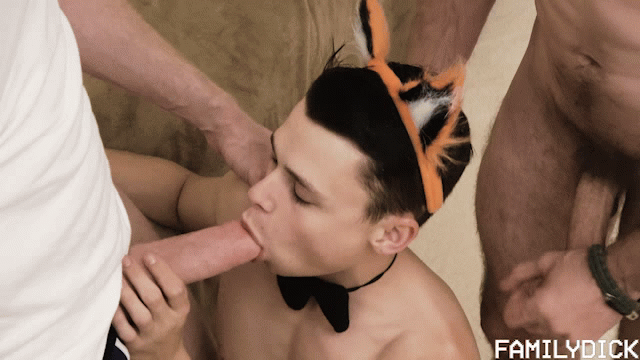 Halloween ended two days ago, so Family Dick is obviously late with this release. Of course, it's never too late to fuck your son bareback at a neighbor's house, I guess. Via FamilyDick:
For most people, trick-or-treating ends when you're still a kid. But what's the fun in that? This dirty dad can't deny how cute is son is whenever he dresses up and loves bringing him around town to show him off. Luckily for Austin, he still looks very young and no one thinks twice about giving him a bag full of candy. When it comes time for the night to end, his dad brings him to one final house to close out the night. Surprise, surprise! It's the doc's house!
Wait, this big-dicked doctor—who discovered that the dad was fucking the son in a previous scene, and then blackmailed the dad into letting him fuck his son, too—is also the family's neighbor? This is literally the most fucked up neighborhood in America.
The handsome man brings them inside and says the boy is the real doorstep treat! Ever since he fucked his tight hole in his office, he'd been dying to see the dad fuck his little boy. And how could he not be? The tall doctor towers over Austin as he takes off his costume and strips him down with the same hungry look kids have when they unwrap their favorite piece of candy.
The two men absolutely devour the boy's butt before fucking him raw! The neighbors might think those howls are werewolves, but it's just the sound of a good little boy getting stuffed on daddy dick!
Oh my God, with the holiday season approaching, things are only going to get worse. To celebrate Christmas, the dad will probably have his son fucked bareback by their other next door neighbor, the local mall Santa. Trailer (watch full scene here):
[
FamilyDick: "Trick Or Treat"
]