Florida White Supremacist Porn Stars Defend Sergeant Miles Following Jan. 6 Conviction: "He's A Patriot!!!"
The Florida white supremacist porn community is not well.
Following gay-for-pay porn star Sergeant Miles' guilty plea last week for attempting to overthrow the government on Jan. 6, several of Miles' former co-stars are speaking out on Twitter in defense of the violent convicted felon. Thankfully, they didn't direct their rage at me (my tweet is above, and I don't allow replies from people I'm not following), and instead targeted straight porn site Xbiz, who tweeted about the story the day after Str8Up was first to report it. The Xbiz tweet:
The first reply to Xbiz came from a porn couple who call themselves "Danza Duo," and they insisted the insurrectionist was actually a "patriot":
Later, a self-described "bisexual content creator" named Anthony Peacock replied and told Xbiz that they only posted the story to "get a bunch of SJW dicks hard and pussies wet." Peacock added, "We support and love [Miles] and it disgusts me to be part of an industry that cucks for the establishment." Peacock's reply to Xbiz, followed by some of his other replies both to Xbiz and to other Twitter users:
Another reply came from another Tampa-based (of course) woman named Andi Peacock (Anthony Peacock's wife?), who admitted to supporting and loving Proud Boy Miles. She then said it was "tacky" of Xbiz to tweet about Miles pleading guilty, and opined that it was "pretty low if you ask me":
After seeing Ms. Peacock's loyalty to Miles, several other Twitter users began angrily replying to her, with one writing, "Pretty low to watch your wife have sex with your dog as well." It's not clear if this user was referencing the rumors that Miles has engaged in bestiality with his dog, or if he's implying that Anthony Peacock has watched Andi Peacock having sex with a dog: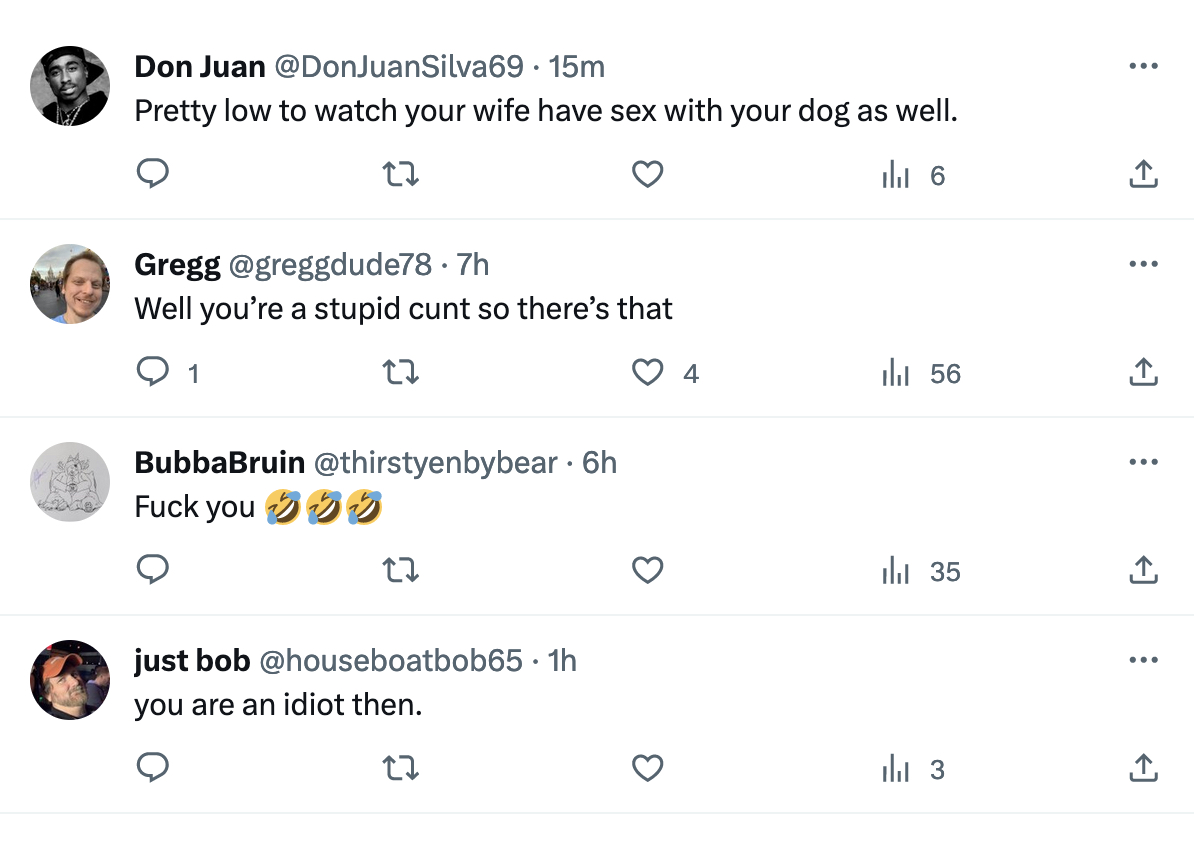 Sergeant Miles, who stands 5'6″ and can be seen in the below photo wearing a mask while attempting to hit a police officer in the face, but appears only to have been able to reach up to the officer's abdomen, is expected to be sent to prison for at least two years when he's sentenced in February:
While Miles is incarcerated, his girlfriend and fellow bigot Misty MissDemeanor will have to fend for herself, and she's begun filming mainstream studio work to do just that. As seen below, the fiancée to the convicted domestic terrorist revealed last week that she was hired by Brazzers, whose parent company is MindGeek (also the owner of Sean Cody, MEN, etc.), which recently changed its name to Aylo after being bought by a private equity firm in Canada. MindGeek/Aylo has been in full damage control mode for nearly three years after the Pornhub disaster and all the legislation attempting to ban the conglomerate's sites in multiple states, and now they're shooting with a white supremacist's bride? Yikes…
Finally, despite some of the tweets to Xbiz in support of Miles, the majority of the replies condemned him and his racism. The one below, for example, is from someone who worked in production at Kink, and she reveals that Miles told the studio he refused to work with black women: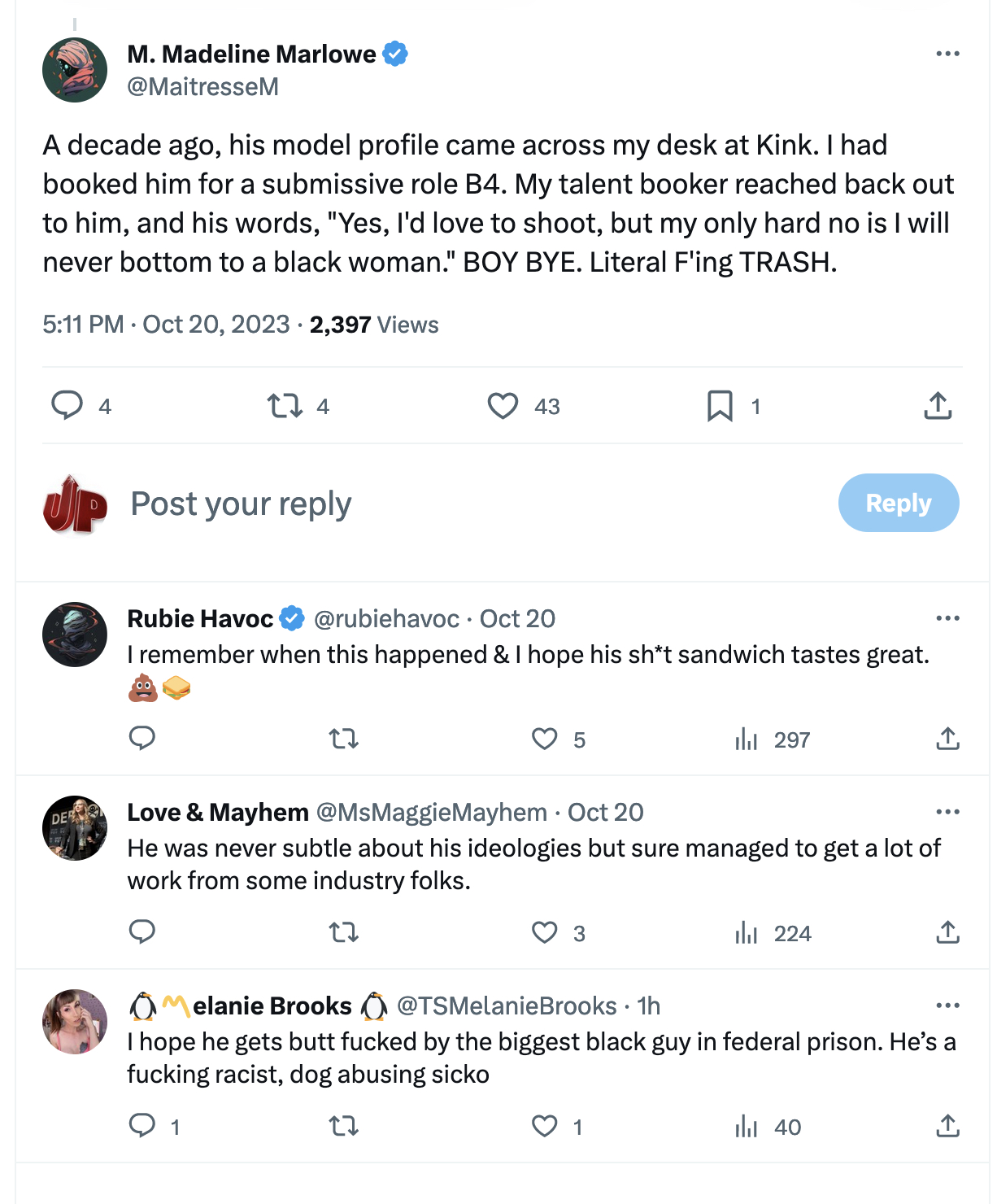 And again, as seen in that last tweet above, there's yet another reference from someone else to the rumors that Miles engages in bestiality with his dog.
Last November, Str8Up received several tips that "Sergeant" Steven Miles was seen having sex with his dog during a shoot with a trans studio a couple of years ago, prior to his arrest. I reached out to the director but never heard back…