Jarec Wentworth Trial Day 2: Tearful Donald Burns Grilled Over Sex With Sean Cody Models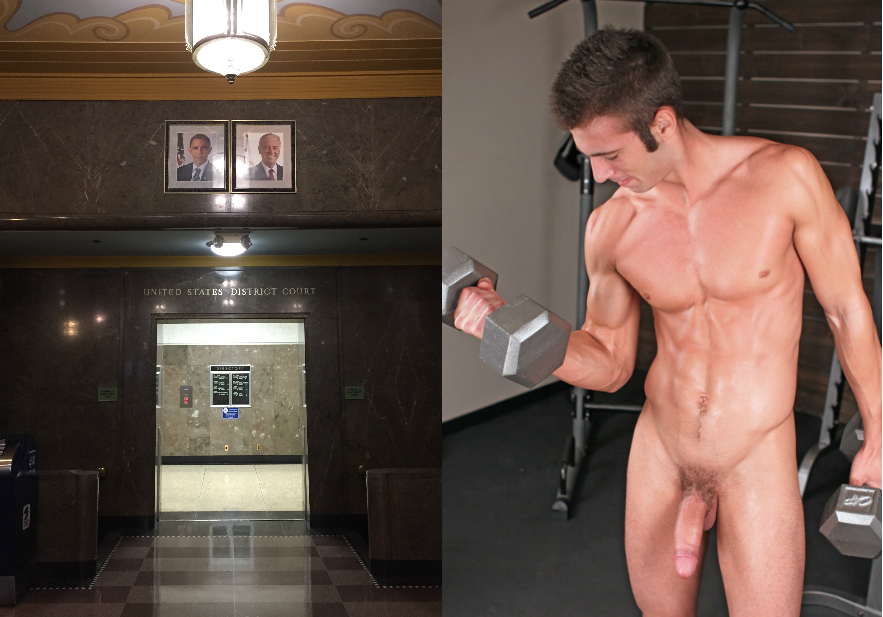 The second full day of the Jarec Wentworth extortion trial has just concluded at U.S. District Court in downtown Los Angeles. I'll be recapping the day's events each night this week in detail here, and in shorter observations on Twitter, as time permits during court recesses. The prosecution and the defense have now called all of their witnesses, and things are running a bit ahead of schedule. Tomorrow morning, both sides will present their closing arguments and the case will be handed over to the jury. I don't expect the jury to deliberate for very long, so we could have a verdict back by lunch time tomorrow. For those of you who have no idea who Jarec Wentworth is or why he's on trial, you'll find a comprehensive recap here. And, here's a recap of everything that happened yesterday.
Here's a recap of the second part of Donald Burns' testimony during Day 2 of the Jarec Wentworth trial (a recap of testimony from other witnesses today is forthcoming):
Prosecution Witness #3: Donald Burns (continued from yesterday)
The prosecution picked up where they left off with Burns, asking about the prostitutes he hired, how often he hired them, and how much he paid them. There were specific questions about Justin Griggs (a.k.a. Sean Cody's Taylor, a.k.a. Justin Matthews), and Burns revealed that he helped Griggs with "small amounts of money" over the course of a year, totaling approximately $4000. This was in addition to the separate payments for sex and referral fees that Burns paid Griggs.
Then, the prosecution asked Burns about Mackinzie Amadon (a.k.a. Sean Cody's Ashton, seen above with Burns on his private jet), and Burns provided a wealth (pun intended) of information:
—Burns has been providing continual financial support to Amadon from 2013 through today.
—Burns gives Amadon $4000 to $5000 every single month to pay for Amadon's "rent, school, and living expenses."
—While Burns and Amadon's relationship started with a pay-for-sex meeting, it eventually became a "friendship," according to Burns.
—In total, Burns has given Amadon approximately $200,000.
—"Traveling with [Amadon] was a pleasure," Burns told the court while appearing to fight back tears (which was just more theatrics, IMHO). Burns went on to explain that Amadon's friendship had helped him to get over a 17-year relationship that ended shortly before their meeting.
—Amadon was not compensated for his trip to Paris with Burns (where he was introduced to an American Ambassador, seen below), other than the free travel, hotel, dining, etc.
Drama Queen Don wasn't done with the waterworks yet, as he appeared to be on the verge of tears a second time when the prosecution asked him to read more text messages between him and Wentworth. As Burns began to read one of the messages (which, like yesterday, included demands from Wentworth and stalling tactics from Burns), his voice became shaky and he hesitated, at which point the prosecution asked him if he needed to "take a moment." He took a deep breath and continued.
The prosecution then played a recorded phone conversation with Burns instructing Wentworth on how/when/where to pick up the $1,000,000 from his "associate" (who was actually an undercover FBI agent).
Finally, before concluding, the prosecution asked why Burns went to the FBI, and he explained that "there was no other way" he could have stopped Wentworth. He also told the court that, for nearly 50 years, he had maintained an "impeccable reputation," and that being exposed by Wentworth would "change [his] life forever."
The defense's cross-examination of Burns began by asking him if he knew that the prostitution he was engaging in was illegal. "Yes, I certainly do," he replied. Then, the defense introduced an email that Burns had sent to Wentworth in December, 2014. The subject line: "Guess This Dude Is Top Of The List." Burns went on in the email to identify that "dude" as none other than Sean Cody's Peter (above), whom Burns had tracked down on Facebook using Peter's real name. Burns admitted that Peter was someone he was highly interested in paying for sex, though it wasn't revealed if that pay-for-sex meeting ever occurred. Also in the email to Wentworth, an apparently jealous Burns insulted Peter's girlfriend by calling her fat (Burns was able to see/identify the girlfriend by viewing Peter's Facebook page).
The defense then brought up another email from Burns to Wentworth, which contained the names of 11 different Sean Cody models Burns wanted to pay to fuck. The defense characterized the email as Burns' "sexual shopping list," and revealed two names from the list: Sean Cody's Jamie and Sean Cody's Stu—both of whom had already told Burns "no," but he still included them on his list for Wentworth, calling them "guys that nobody has ever cracked."
The defense then spent time on Mackinzie Amadon (Sean Cody's Ashton), and it was revealed that Burns—in addition to giving Amadon $4000-$5000/month—had recently hired a lawyer for Amadon specifically to fight the defense's subpoena of him in this case. (Amadon was scheduled to testify today for the defense, but they decided not to call him after all, and he was dismissed.) Then, the defense introduced multiple photos of Burns and Amadon at a variety of social events, all of which you've seen here on Str8UpGayPorn. They even used this collage I made!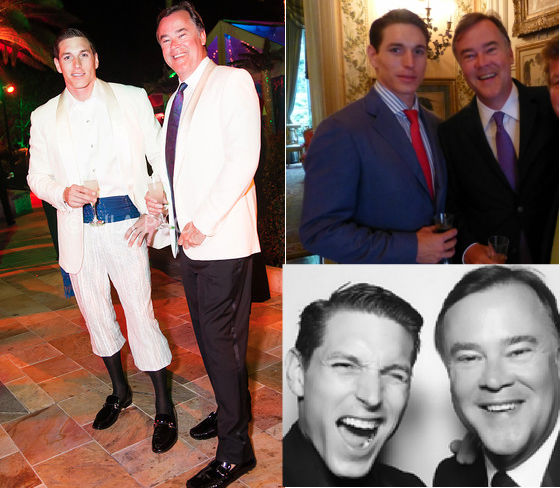 Burns was asked repeatedly about where he had brought Amadon, to whom he was introduced, if Burns knew that he'd have his picture taken with him, and whether or not Burns' friends knew that Amadon was a porn star involved in a pay-for-sex relationship with Burns. This all seems to point to a big part of the defense's strategy: If Burns was so concerned about his reputation, why was he parading around a gay porn star at all of these events? According to Burns' testimony, "some" of his friends knew that Amadon was a gay porn star, but none of them knew that Burns had hired Amadon as a prostitute.
Finally, the defense got Burns to admit that he had contacted Sean Cody in 2012, at which time he asked them if they'd like to film gay porn movies at his infamous "Razor House" in La Jolla (featured in the video above). As the defense put it, Burns' friends "would get a kick out of" porn movies being filmed at his home. All Burns wanted from Sean Cody in exchange for rental of his home? Ten dollars. And, of course, the ability to be on set so he could watch the movies being filmed, up close and personal.
Back to the defense's strategy once again: If Donald Burns was so worried about his reputation, why was he inviting a gay porn company to film movies in his world famous home?
During redirect questioning, the prosecution asked Burns how he was able to easily locate and identify the real names and Facebook profiles of so many Sean Cody actors. Burns explained that it was all thanks to a Sean Cody employee he was following on Facebook. This Sean Cody employee, according to Burns, was "foolishly" becoming Facebook friends with various Sean Cody models, who were using their real names on the social networking site. Burns was able to ID them all by going through the Sean Cody employee's friends list.