At Which Studio Do You Think Joey Mills Is Filming Right Now?
[image of Joey Mills via BoyCulture]
He hasn't been in a studio scene since he was DP'd in the orgy finale to Helix's "Vegas Nights" all the way back in January, but now, nearly seven months later, award-winning gay porn star Joey Mills is set to make his return to gay porn. But at which studio, and with who?
Joey teased his return on Twitter yesterday: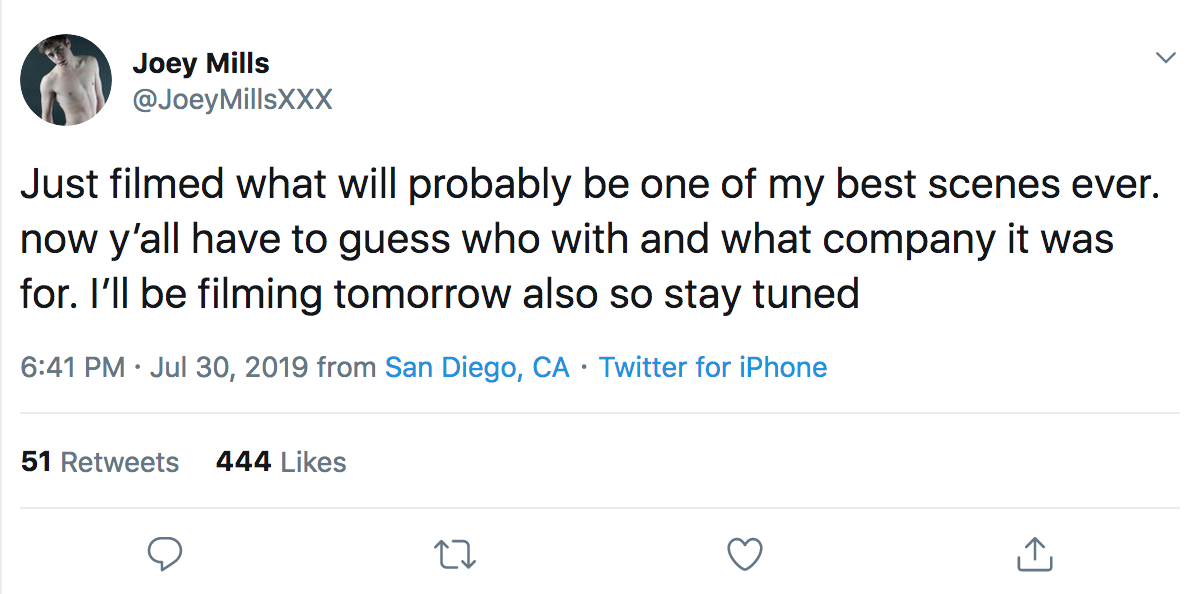 Str8UpGayPorn can confirm that Joey Mills is in fact in San Diego, as indicated in his tweet above, where he filmed one scene yesterday and is scheduled to film another scene today. That gives us a few possibilities in terms of the studio (there are hundreds of possibilities in terms of a co-star, so I'm not gonna try and narrow that down), as there are at least six different ones that shoot in San Diego. Which one do you think it is?
Given that Sean Cody doesn't shoot established gay porn stars of Joey's caliber, it's highly unlikely that he's filming there, but I put them in the poll just for fun. (Plus, given all the changes and casting issues that Sean Cody continues to go through, who knows, maybe they'll start filming more bankable and well-known stars?)
While we wait for Joey's return, here was the scene that won him two awards (one for Best Bottoming Performance and one for Best Group Scene) at last year's Str8UpGayPorn Awards, Helix's "Splash':
[
Helix: Joey Mills, Corbin Colby, Josh Brady, Cameron Parks, Angel Rivera, And Luke Wilder's Bareback 6-Way
]