WATCH: Big-Dicked Josh Brady Fucks The Cum Out Of Tristan Adler
Josh Brady fucked Tristan Adler once before during their three-way with Ashtin Bates, but now they get to enjoy each other one-on-one in Helix's new duo scene out today, and it's called "Hunk Spunk".
Note that Helix has changed their release schedule this week and released three scenes instead of two: Johnny Hands fucked Pheonix Fellington back on Tuesday night, Max Carter and Andy Taylor's fisting scene was released on Thursday night (instead of the normal Friday night release), and now there's this extra third scene being released on a Saturday.
For some reason, Josh Brady's dick looks even bigger than usual today. Maybe fucking Tristan's ass just got him extra hard in this scene.
All the fucking positions in this scene were good, but I think the best one has to be this sideways position. The way it was shot, you get a full view of Josh, Tristan, and the penetration. Perfection: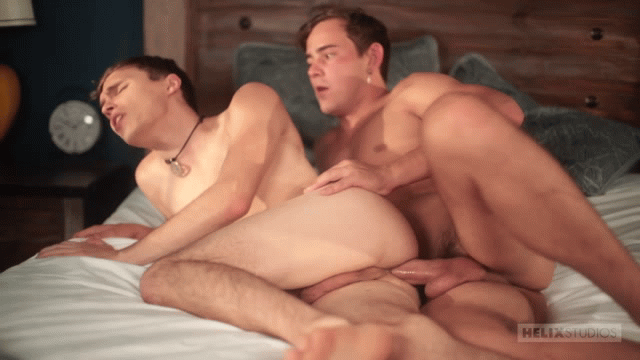 Josh fucks the cum out of Tristan at the end of the scene, and then he cums all over Tristan's hole while sliding his cock in and out. As mentioned above, these two have fucked before, but it's great to see them together again, and given the natural chemistry between them, it's obvious why Helix paired them up one more time. Trailer (watch full scene here):
[
Helix: Josh Brady Fucks Tristan Adler Bareback
]