[UPDATED] Michael Lucas And 10 Other Gay Porn Stars Sued For Fraud And Trespassing After Allegedly Filming Porn And Defecating In Airbnb Rental
Christmas has come early for all of us by way of an absolutely fantastic lawsuit filed last week in Ventura County Superior Court. The plaintiff, Kristina Knapic, is suing Michael Lucas, Lucas Entertainment, and Lucas Distribution for fraudulently shooting gay porn in her Airbnb vacation rental, located in Ojai, California. [Update 11/24/15: Knapic's full complaint against Lucas has been added to this post down below, and it indicates that up to 10 other gay porn stars will be named as defendants.]
It really doesn't get much better than this:
The owner of a historic mansion in Southern California sued a movie company, claiming it used her home to make pornographic videos and left it in such a filthy state it had to be decontaminated.

Kristina Knapic, owner of the Acacia Mansion in Ojai, says she advertised her property as a vacation rental through Airbnb.com.

According to her complaint in Ventura Superior Court, Michael Lucas, of Lucas Entertainment, rented the mansion under the guise of a person named "Anna" for a vacation with friends. She claims the defendants then filmed gay porn scenes without permission, leaving a disgusting mess to clean up and damaging her reputation and that of her home.

Lucas Entertainment is a Delaware corporation, co-defendant Lucas Distribution a New York Corporation. Michael Lucas, CEO of the companies, is also known as Anna TpeHbac and Andre Treivas, according to the Nov. 19 lawsuit.

Knapic says she bought the mansion in 2004: a walled estate close to downtown Ojai, once surrounded by orange groves.

A room for a night costs $600 to $720 today. According to the website, Knapic's motto is "fun and formal," but apparently not this kind of fun and certainly more formal.
Actually, wait, it gets better:
Michael Lucas and his crew were at the mansion for five days, Knapic says in the complaint. She claims that after they left she found enema kits throughout the house – "on the floors, in the beds, in [a] nightstand drawer and in the trash; various sexual devices were found in the beds and in the trash; the hot tub water was brownish in color; and the linens were strained brown," according to the complaint.

She also found a business card for Lucas Entertainment in the trash, Knapic says. She says Michael Lucas' Facebook page showed "that he is a pornographic film producer, and that he had been filming 'on location' in her property."

Knapic says she went to the Lucas Entertainment website, and found "that many of the films Lucas Entertainment produces depicts men urinating on each other and giving each other enemas. These activities were not being conducted in a bathroom, but rather on beds, floors, and furniture."

Alarmed, Knapic says, she photographed her home with a black light, which "revealed the presence of bodily fluids throughout the property."

"Urine, semen and fecal matter were found on the linens, carpets, upholstery, walls, ceilings and in the hot tub," the complaint states. Knapic says she had to bleach and paint all the walls, bleach the hot tub, steam clean the carpets and upholstery, and simply get rid of some stuff.

She seeks punitive damages for fraud, conversion, negligence, trespass, breach of contract and unjust enrichment, lost income, and emotional distress. She also seeks a permanent injunction to stop the video or videos from being released.
It's not clear how much Ms. Knapic is seeking in damages, but at the end of the day, no amount of money could ever really make up for Michael Lucas shitting all over your house.
In case Ms. Knapic needs any additional evidence, here are photos of Lucas and his crew in and around her historic mansion, as posted to Lucas's Instagram account three months ago:
This is, of course, a sweet bit of karmic justice for the notoriously litigious bareback gay porn xenophobe, who's filed (or threatened to file) more frivolous lawsuits in the past decade than he's taken raw loads, and that's saying something. And coincidentally, this isn't the first time Lucas has been accused of fraud or other potentially illegal behavior. The next court date isn't until April of 2016, but here's hoping Ms. Knapic sees this through to the very end and wins herself a nice payout.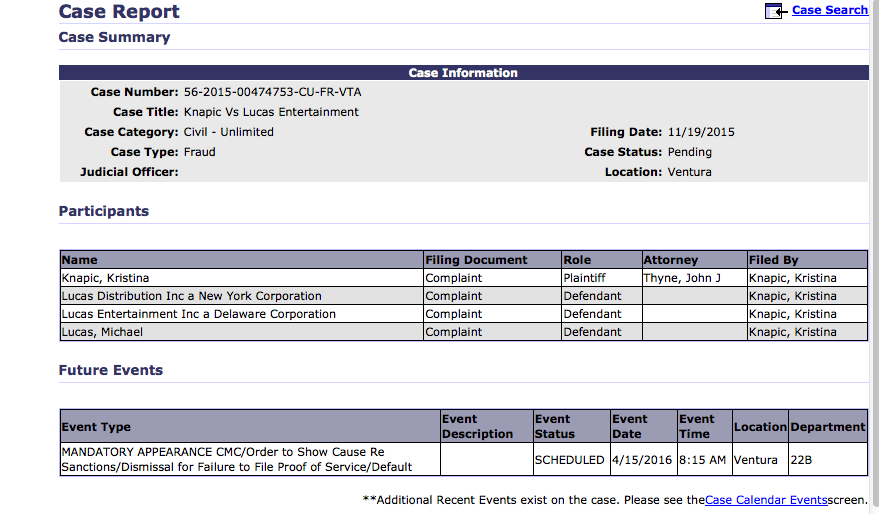 (TheSword via CourtHouseNews)
UPDATE: Here's Knapic's full complaint. Unless Lucas can prove that he had permission to film and operate his business on the property, he's going to have an uphill battle fighting this. Also, it appears that up to 10 more people ("Does 1-10") will be named as defendants in the suit, including some of the gay porn stars who were at the Airbnb rental. Those gay porn stars are: Dylan James, Hugh Hunter, Rafael Lords, Alex Mason, and several others yet to be identified. This is, unfortunately, what happens when you go to work for Michael Lucas and Lucas Entertainment.