The Very Best Of Sean Cody's Noel: See All His Pics And Videos HERE!
You undoubtedly read all about his suspension and subsequent un-suspension from a Florida high school, but are you familiar with all of Noel's Sean Cody movies? Enjoy each of the trailers and the best photos from Noel's five Sean Cody movies below, including the now infamous Mountain Getaway Bareback Orgy, wherein Noel and four other tops consecutively dump their raw loads into a pass-around gangbang bottom (remember: it's the orgy I considered to be the best thing Sean Cody did in 2013).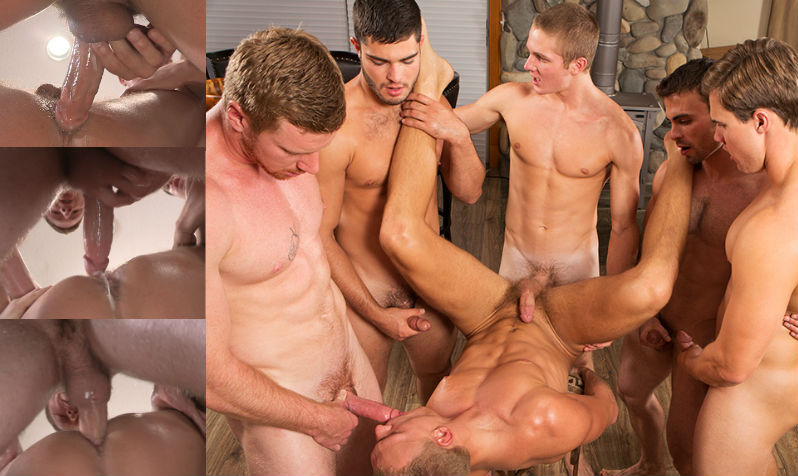 It's highly unlikely that Noel will ever return to Sean Cody (the notoriously private studio shies away from controversy), so unless he has additional movies that were filmed before the high school controversy, these five Sean Cody movies starring Noel can be considered "collectors' items," I guess.
[UPDATE: Surprise! Noel actually did come back to Sean Cody. See his new videos here.]
First up, Noel's Sean Cody solo:
Then, Joshua fucked Noel bareback:
[Sean Cody: Joshua Fucks Noel Bareback]
Then, Jordan fucked Noel bareback:
[Sean Cody: Jordan Fucks Noel Bareback]
Then, Noel got to put his huge cock to work when he fucked Andy bareback in Mountain Getaway Day 3:
[Sean Cody: Mountain Getaway Day 3—Noel Fucks Andy Bareback]
Finally (and what a way to go out if this is in fact his last Sean Cody movie), Noel fucks and gets fucked bareback in the Mountain Getaway Bareback Orgy conclusion:
[Sean Cody: Mountain Getaway Bareback Orgy—Noel, David, Bryce, Tanner, Andy, and Coleman Fuck Bareback]