Oscar Predictions: CODA, Will Smith, Jessica Chastain, And More
The likely worst Academy Awards telecast of all time will be held on Sunday, and GoldDerby has aggregated various critics and "experts" to show that, unfortunately, the schmaltzy and poorly made CODA will be taking home Best Picture. I have no interest in watching it, as everyone I trust who's seen it says it's corny and no better than a Hallmark movie.
If CODA does in fact win, it'll be a slap in the face (a theme this week!) to poor Netflix, who've been dying for a Best Picture win for years now, and may have thought they finally had one with The Power Of The Dog. Turns out, Apple (which bought CODA for $25M after Sundance) could be taking home the prize after their first year in the game. But, if I had to make one prediction, I'd say TPOTD will still win. After Nomadland last year and Parasite the year before, it's clear that voters have been going for the more artful and thought provoking films, so why would they stop now? It's not like naming CODA Best Picture will do anything for ratings or make the Oscars any more relevant, given that literally no one has seen it: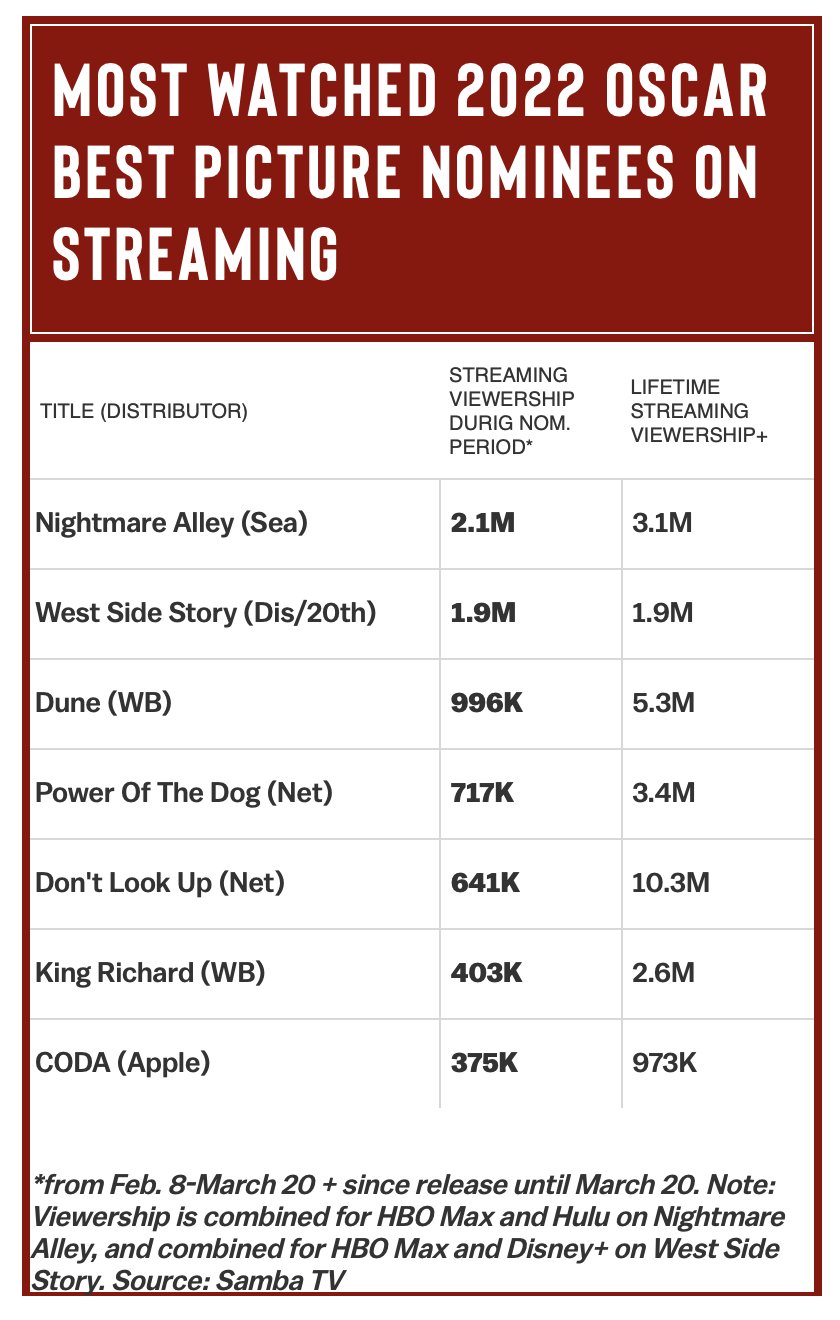 In terms of the other main categories, Will Smith is presumed a Lead Actor lock for King Richard (again, no interest in this one), but in a perfect world, this would far and away go to Benedict Cumberbatch, who pulled off one of the greatest performances I've seen in years in TPOTD. I like what critics Christy Lemire and Alonso Duralde had to say about this category:
For Lead Actress, I think it's a true toss-up, but GoldDerby says it's Jessica Chastain: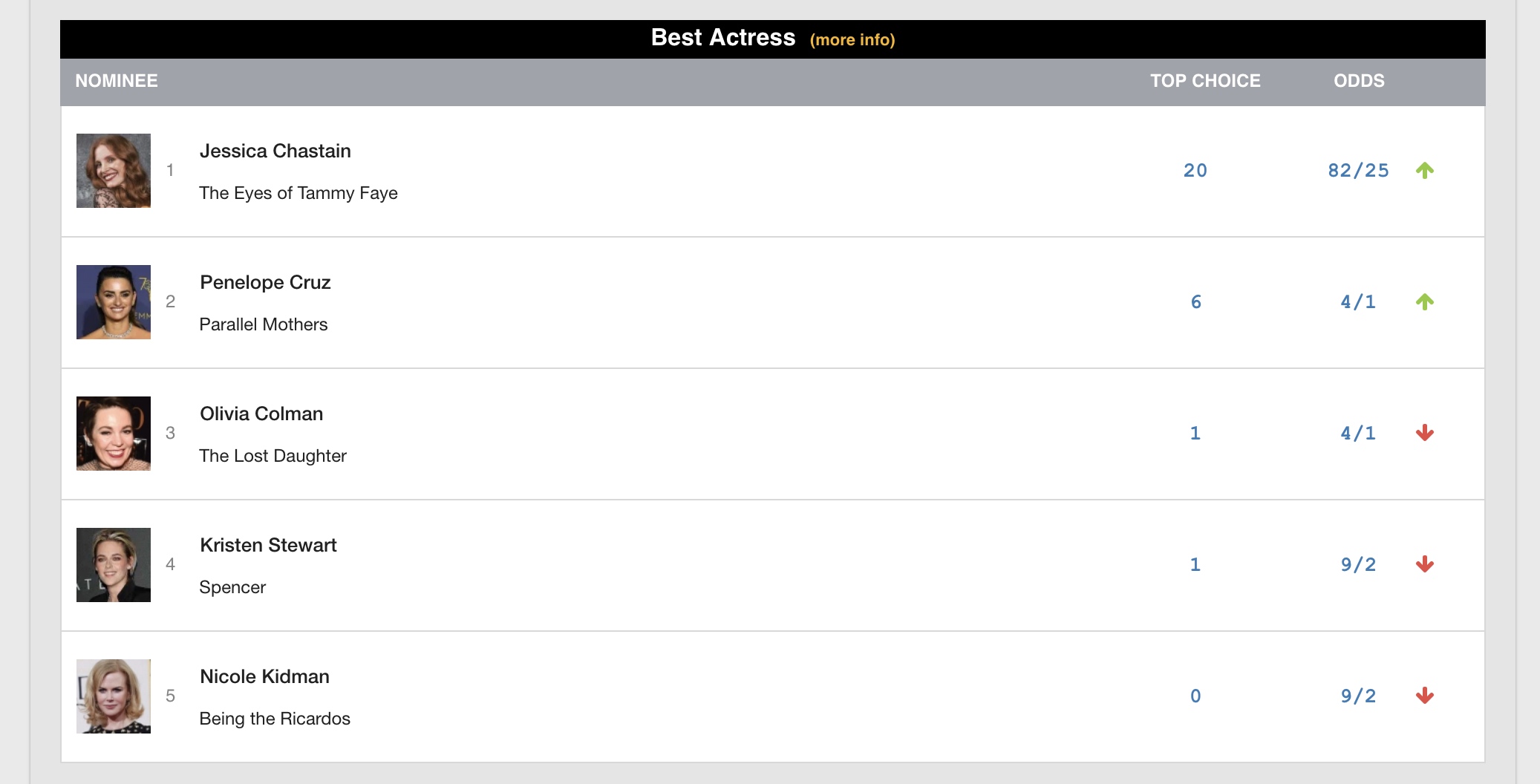 My heart is with Kristen Stewart, but it'd be cool to see Penelope Cruz—who's having a last minute surge as a possible upset—win her second Oscar, the first time in the lead category.
Best Director should go to the very deserving Jane Campion, and the supporting actor/actress categories are locks as well (for Troy Katsur in CODA and Ariana DeBose in West Side Story), per GoldDerby. Here's more from YahooEntertainment breaking down the Best Picture drama:
At least there's still a little bit of drama in Best Picture, too. While Campion's Netflix Western The Power of the Dog has been considered the frontrunner for nearly six months now, the Oscars are all about momentum, and CODA suddenly has all of it. Apple+'s Sundance sensation pulled off major coups in recent weeks, winning top prizes from both the Producers Guild and the Screen Actors Guild. The gorgeously filmed Power of the Dog is a stirring mediation on masculinity with a whopper of a climax, but Sian Heder's CODA – the irresistibly entertaining crowdpleaser about a musically talented child (Emilia Jones) of deaf adults (Kotsur and Marlee Matlin) – has been proving that voters are appreciating its feel-good vibes after two long dark years.)
[Side note: Good god, will people please stop calling CODA a fucking crowdpleaser?! "Crowd" indicates a large audience, and again, no one has seen this movie!]
Either way, it's extremely likely Best Picture goes to a streamer for the first time. (Maybe the biggest threat for an upset? Kenneth Branagh's autobiographical Belfast, which would mark the first Best Picture win for Focus Features). A Best Picture loss would mark yet another stinging defeat for Netflix, which has poured mega-resources and money into awards lobbying in recent years and has already seen a few other one-time frontrunners (Roma, The Irishman, Mank) fail to get them past the finish line.
[Yahoo: 2022 Oscars: All about the controversies, co-hosts, shrinking ratings, protests and predictions in every category]