[UPDATED] Sean Cody's Deacon, Asher, And Derick Do Some Fake Bareback Fucking In Wyoming
Note: This post has been updated down below, as it's come to my attention that this scene features fake fucking.
***
Sean Cody's "Wyoming Getaway" continues today with a three-way, and while it's a solid scene, it's pretty uneventful.
Real-life couple Asher and Deacon are joined by newcomer Derick, and despite the dried out and desolate scenery behind them (no offense to Wyoming readers, but the state looks pretty bleak), the outdoor portion of this scene is gorgeous, thanks in large part to the models' good looks, big muscles, big butts, and big cocks.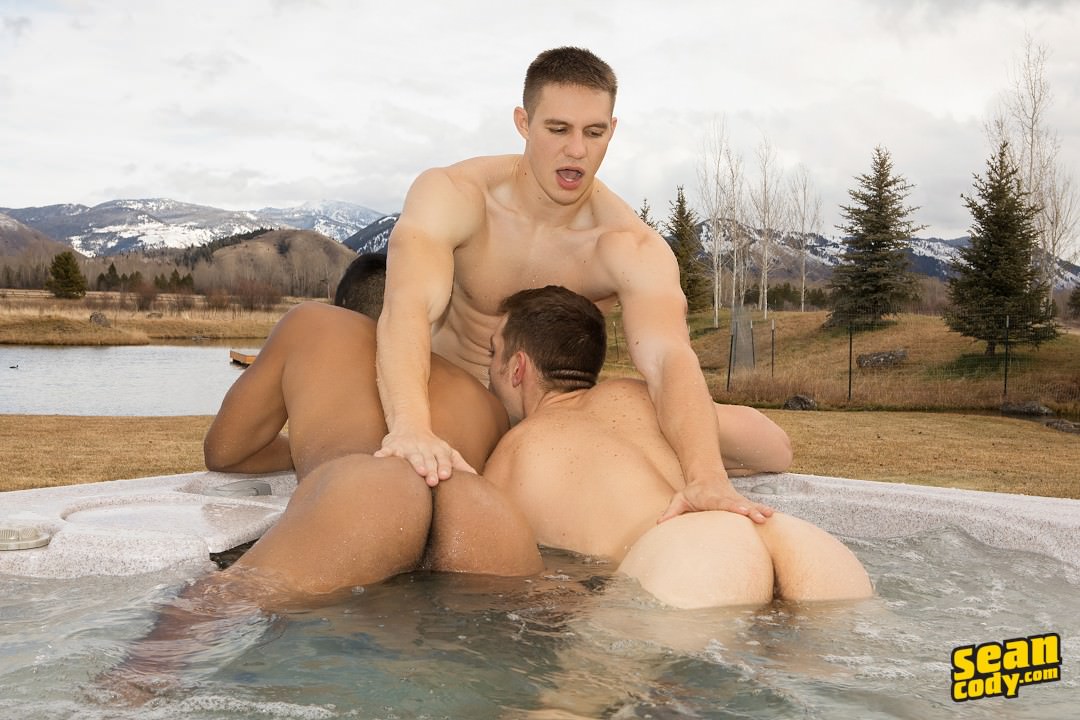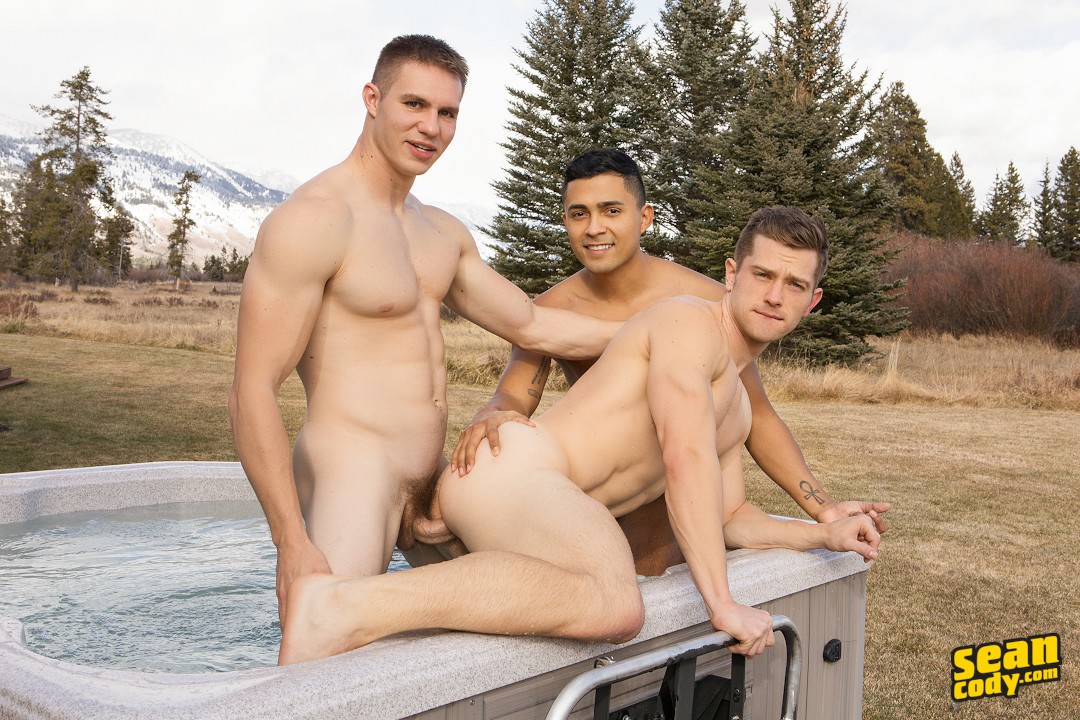 This is beautifully shot, and all of their hotness really stands out thanks to crystal clear picture quality. (We've only really seen nice visuals like this one other time this year, when Brysen fucked Blake near Las Vegas.)
This was filmed in early November, so it wasn't quite freezing cold yet, as evidenced by the hard cocks present during most of the outdoor fuckfest. While I'm not a fan of Derick's performance skills (or lack thereof), he's decent enough here. Asher and Deacon do most of the hard work, as Derick fucks them both raw.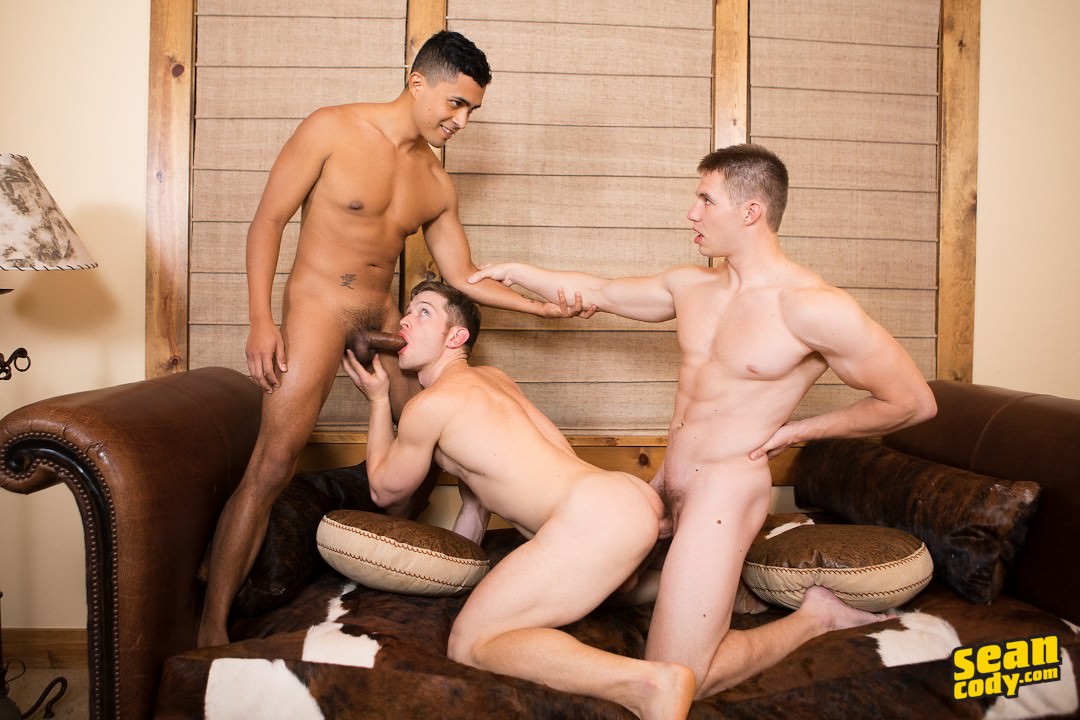 Once they move inside, there are two additional parts to the fuckfest. First, there's a brief shower session with oral between all three, and then Deacon fucking Asher for a few minutes. Then, they move to a couch where Derick fucks both of them some more.
What happens near the final few minutes of the fuckfest is the most interesting part of the nearly 54-minute scene. While Asher is riding Deacon's cock bareback, Derick slides in to fuck Deacon bareback for a couple minutes:
This is the only real switch to any of the fuck positions (redundantly, Derick is fucking either Asher or Deacon throughout most the rest of the scene), and it would've been a great opportunity for Asher to be DP'd. Sadly, they don't explore that option. There isn't even any train fucking here, which would've been nice.
Overall, this is fairly routine with no surprises and no crazy moments. But, the filming is perfect, the cum shot footage is great (we see all the loads being shot from two angles), and the guys look incredible. Trailer (watch full scene here):
[
Sean Cody: Deacon, Asher, And Derick Fuck Bareback
]
UPDATE:
Thanks to commenters below—who did a better job watching this scene than I did—I'm sorry to report that this scene features fake fucking. And, it's not just a quick flash of fake fucking or a dick slipping out for a second. The fake fucking is clearly visible and in plain view for nearly THIRTY SECONDS.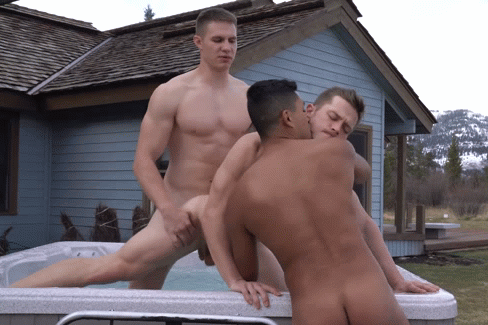 Whenever something like this happens (and, this is an annual tradition at Sean Cody, as their previous Winter Getaway featured fake fucking, too), it's always fun to wonder who's more to blame: The crew filming the scene, or the editor who left it in the final cut? At the end of the day, an editor should've caught this, so he/she is ultimately to blame. Here's the fake fucking, with Derick's limp dick and balls swinging back and forth underneath Deacon as he pretends that he's being fucked.
Deacon's repeated use of the phrase "give it to me!" as Derick's limp dick flops around behind him is particularly hilarious, and I say give this man an Oscar! (Or, at least a Str8UpGayPorn Award for next year's inevitable "Best Fake Fucking" category). As noted up above in my initial review, this scene didn't have much going for it and was fairly unremarkable, but at least now it'll be remembered for something?