Sean Cody's Nine-Man Bareback Orgy Is A Hot Mess (And Where's Rowan?)
Sean Cody is making major gay porn history on several fronts with today's nine-man bareback gay orgy. It's the fifth day of their endless "Winter Getaway" series, and there are still two more days to go.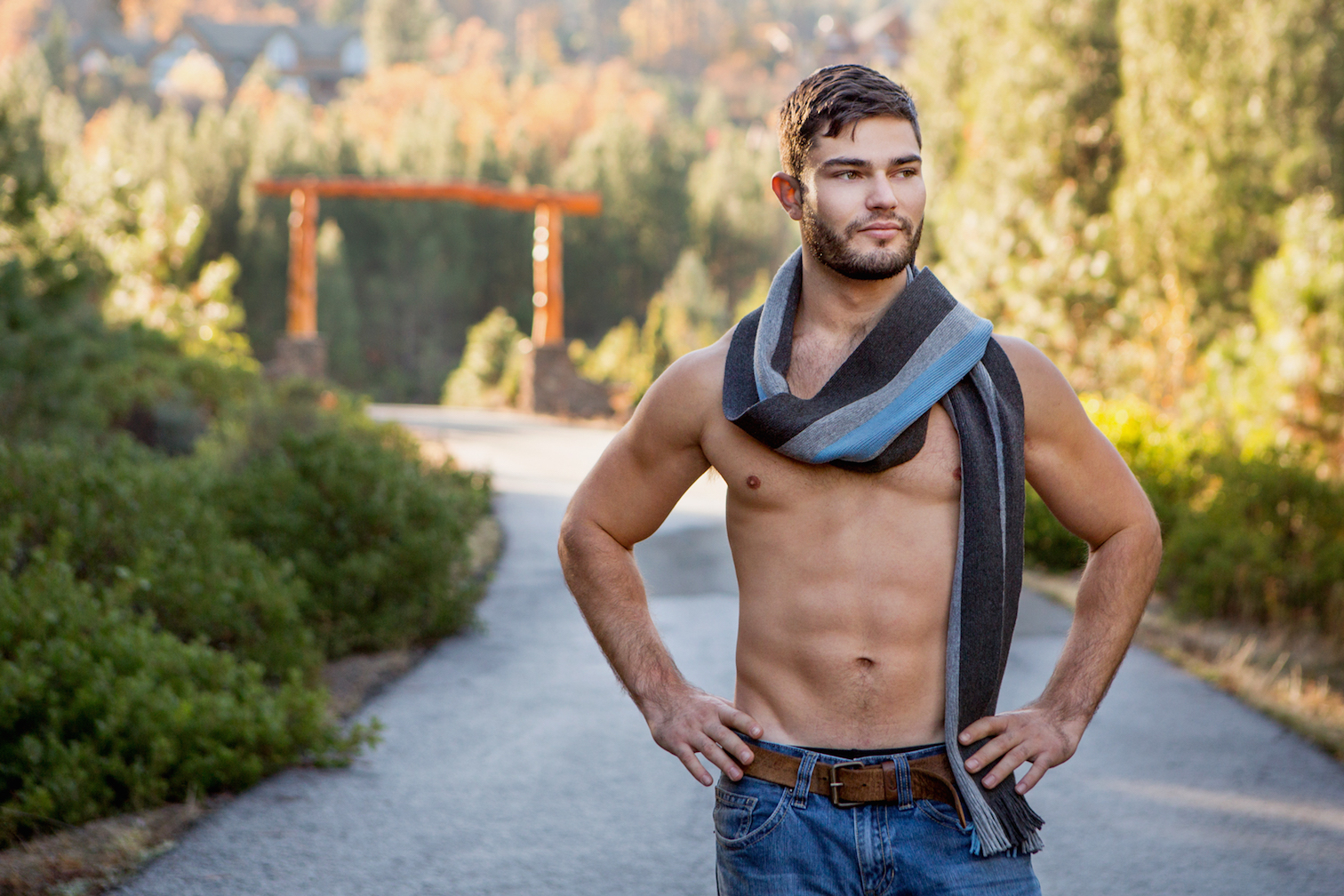 For starters, this is Tanner's 36th Sean Cody scene, which means he's now eclipsed Curtis (who has 35 scenes after his epic raw fuckfest with Robbie) as the most prolific Sean Cody model of all time. Congratulations, Tanner! (Of course, stay tuned: Curtis could easily come back and tie/surpass Tanner's record in 2016.)
The most obvious piece of history: This nine-man bareback orgy is the largest Sean Cody orgy of all time, surpassing last year's legendary six-stud "Mountain Getaway" orgy. As you can tell from the pics (or maybe you can't tell, because a lot of these guys aren't memorable in any way), the "Winter Getaway" nine-man orgy stars Tanner, Joey, Brodie, Lane, Robbie, Atticus (who?), Porter (ugh), Brendan (meh), and Blake (whatever). The presence of bigoted, Donald Trump-supporting idiot Porter unfortunately makes this orgy an automatic boner-killer, but I love watching big-dicked Robbie so much, I'm willing to tolerate the awful racist clown just this once. Here's my advice: Whenever oompa loompa Porter appears on screen, just close your eyes and pretend he's not there. (Everyone in the scene probably did the same thing while they were having sex with him.)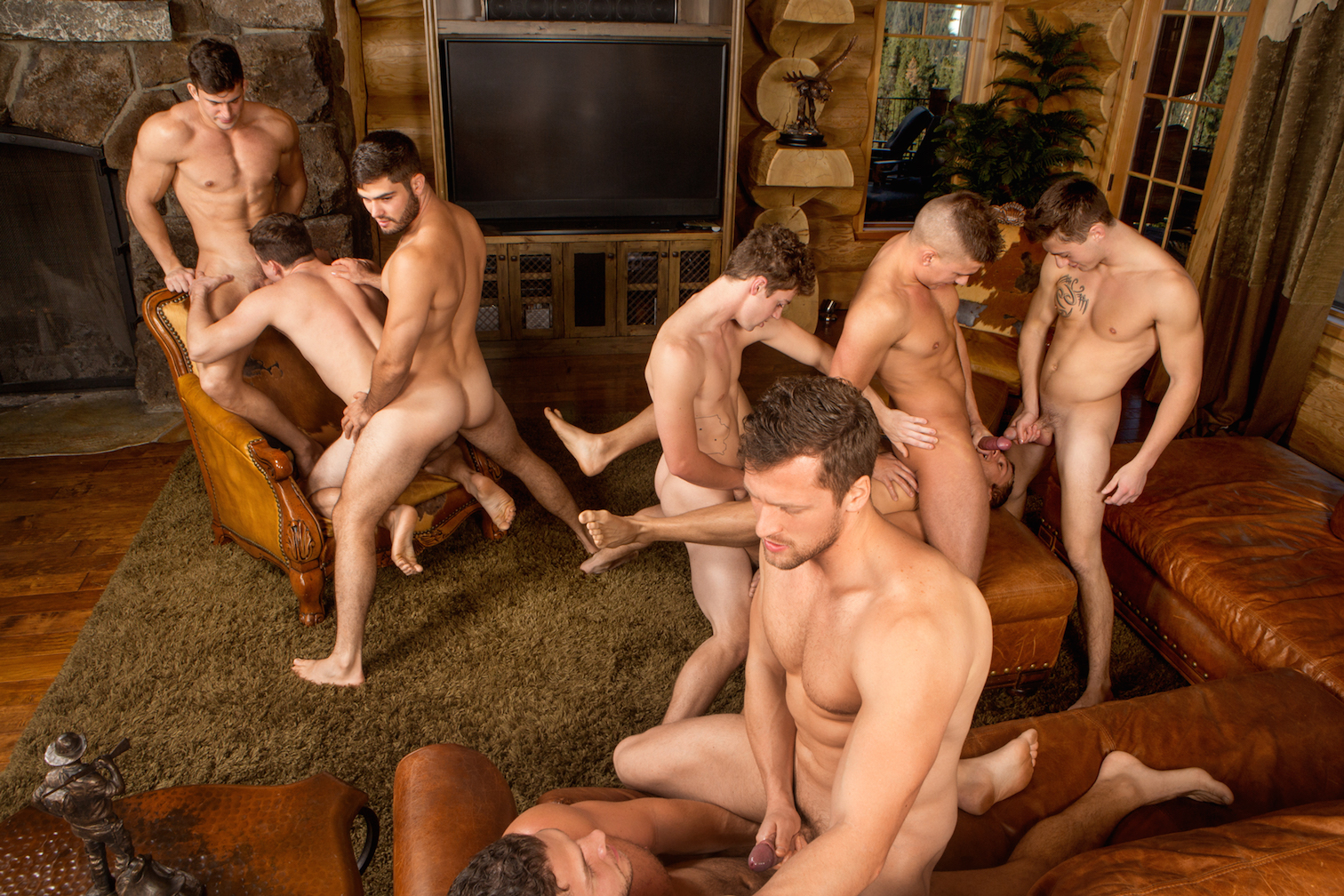 The other bit of gay porn history that Sean Cody is making with this scene: It's the largest gay porn orgy with the least amount of tops. Other than Brodie and maybe Robbie, good luck finding any. Yikes…
BTW: What happened to Rowan? He was one of the original five to kick off this series, and now he's suddenly MIA? Maybe he had the good sense to get the hell out of there when he heard Porter was coming. Smart move.
As mentioned, there are still two days left of this "Winter Getaway," and it would be insane if they brought anyone else up to the cabin. So, expect to see different configurations of these nine guys over the next two updates. (I'm hoping for a Robbie/Brodie flip-fuck, but I'm definitely not holding my breath.)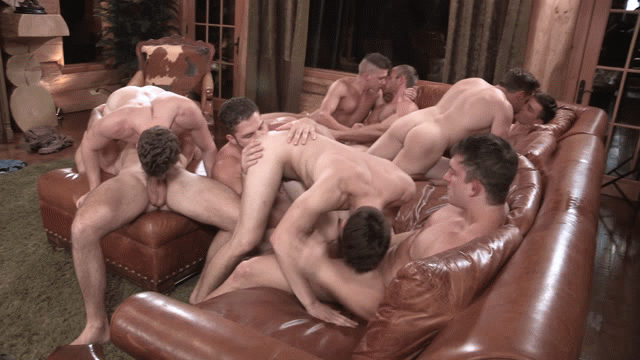 Group sex scenes like this are always way too busy and of no interest to me, as it's too hard to focus on anything or tell who's fucking whom half the time (I have no idea who Robbie is fucking at the end of the trailer, for example). But if you like watching a million people at once, enjoy.
Making this orgy even more pointless: There's no cum shot from Robbie. WTF? I don't think Lane came either, but I might have missed it. So, a nine-man orgy with seven cum shots. Great.
Trailer (watch full scene here):
[
Sean Cody Winter Getaway Day 5: Brodie, Tanner, Joey, Robbie, Atticus, Brendan, Lane, Blake, And Porter's Nine-Man Bareback Orgy
]