[UPDATED] Tegan Zayne Lashes Out At Str8UpGayPorn, After Previously Apologizing For Lashing Out At Str8UpGayPorn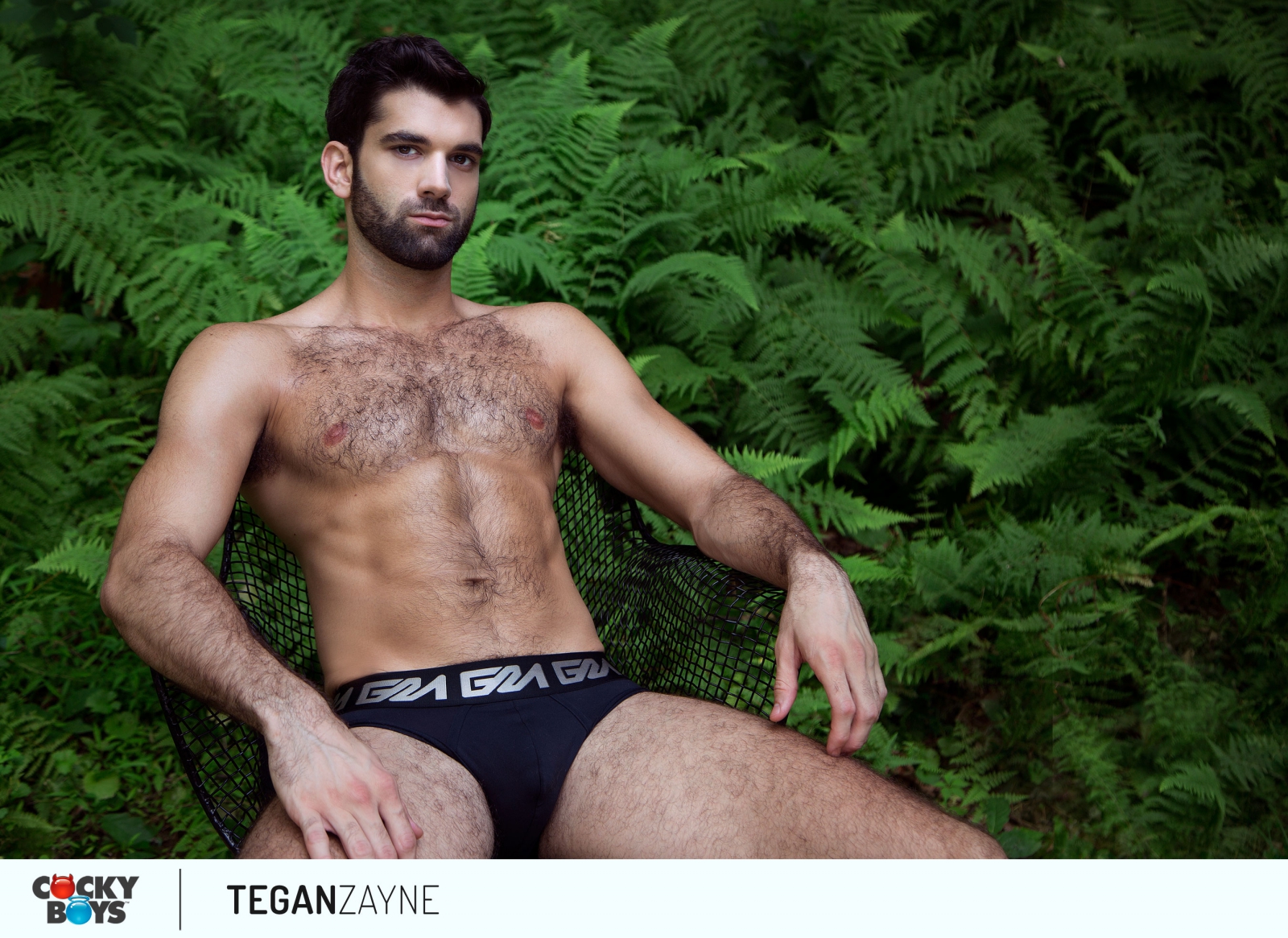 Str8UpGayPorn was always a fan and a supporter of Tegan Zayne, having covered his work at Raging Stallion and CockyBoys throughout 2016, and even nominating him as Best Gay Porn Star Of 2016 at the end of last year, in a poll voted on here by Str8UpGayPorn readers. That support continued through March of 2017 as Tegan Zayne continued to perform, and Str8Up continued to be a fan. Tegan Zayne and I exchanged friendly messages and tweets on social media regularly, but then in April of this year, Tegan Zayne decided he did not like me or Str8UpGayPorn.
Tegan Zayne had apparently taken issue with some of the nominees at the Str8UpGayPorn Awards (which is, of course, his right to do), and he posted several disparaging tweets about the event: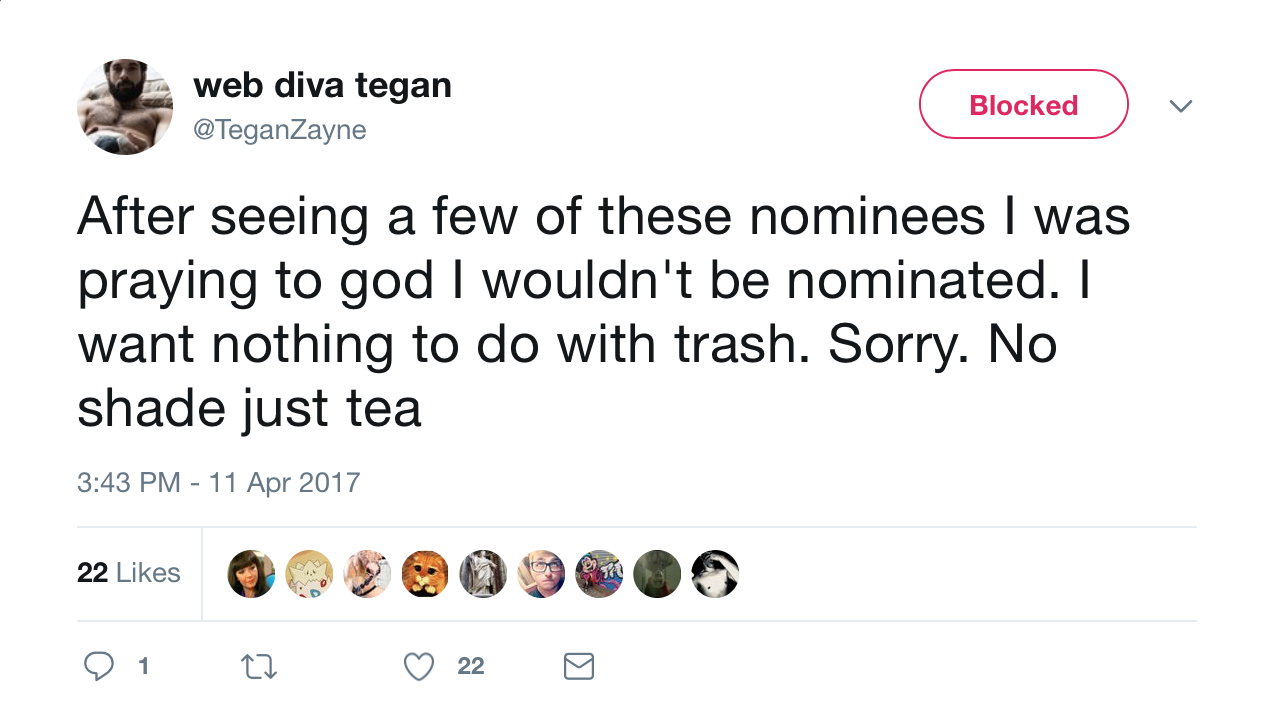 After seeing his tweets against the awards show and Str8UpGayPorn—which continued throughout April, May, and June—curiosity got the better of me, and I reached out to him to find out if there was something specific I had done to provoke his animosity. Below is our exchange of Twitter direct messages, in which Tegan Zayne explains his issue with the awards show. We had a civil discussion, which ended with Tegan Zayne actually asking to be a part of the show, then apologizing for "lashing out" against me, and then thanking me after subsequently attending the show in New York, where he was given a comped ticket and a VIP seat. Here is that complete exchange (one message, from me, has been redacted because it includes my phone number), with my messages in blue on the right, and Tegan's on the left:
And here was Tegan Zayne, who came to the Str8UpGayPorn Awards and walked the red carpet in drag:
I had no further contact with Tegan Zayne after his last message, in which he thanked me for having him at the Str8UpGayPorn Awards.
Then, on July 7th, Tegan Zayne again initiated a confrontation with me by making another false allegation, this time by responding to a story about racist gay porn producer Michael Lucas, who had been accused of abusing another one of his models. Tegan Zayne (as seen in his tweet below) responded to my tweet about that story by defending Michael Lucas and making a false statement about Str8UpGayPorn: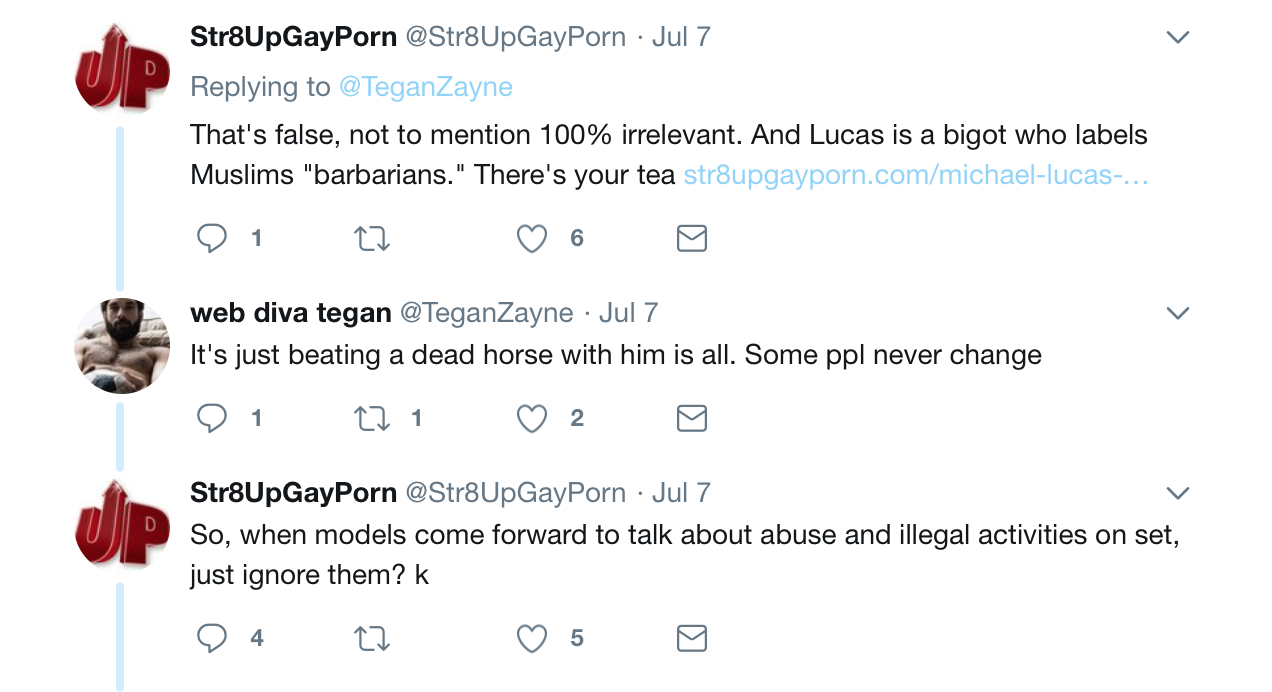 At this point, I blocked Tegan Zayne on Twitter and stopped engaging with him, as it was obviously pointless.
Which brings us to today. Yet again, Tegan Zayne has initiated another attack on me and Str8UpGayPorn, this time by making another false statement and tagging my personal Twitter account. Tegan Zayne responded to a tweet from Phillip Henry that linked to a Mic article in which I was interviewed about the recent controversy over the GayVN Awards "ethnic" category: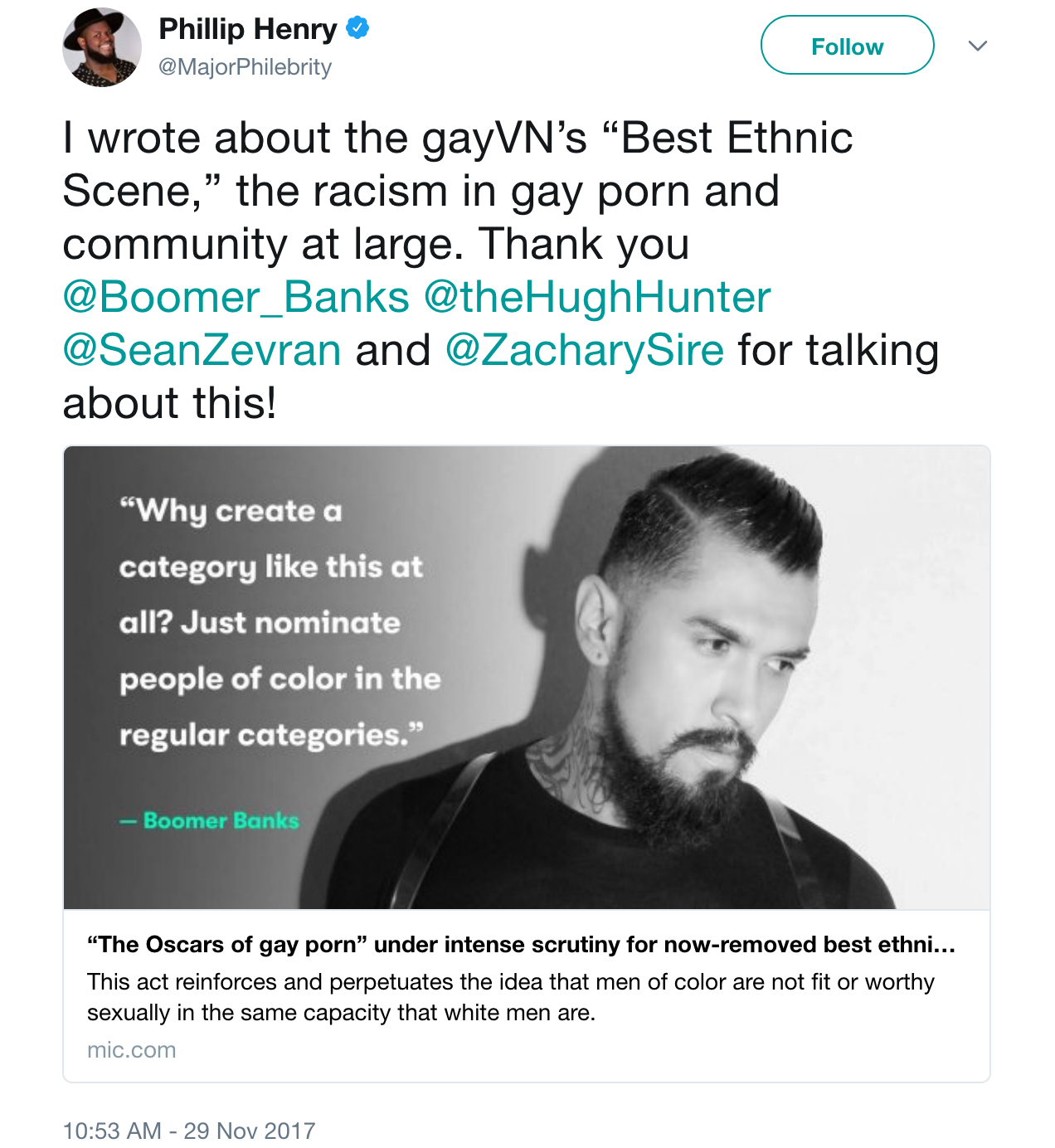 As a reminder, Str8UpGayPorn has never "defamed" Tegan Zayne, or anyone else. And, ironically, Tegan Zayne publicly making false statements about me and this website—by responding to a journalist's tweet that had literally nothing to do with him—is the only thing that could be considered actual defamation.
As necessary as it is to defend one's self against false accusations, Tegan Zayne's continued attacks are a reminder that there's ultimately no point in trying to make sense of someone who—for inexplicable reasons—just doesn't like you. And, while he won't be invited to the next Str8UpGayPorn Awards, I still wish him well.
UPDATE:
Tegan Zayne has responded to this post with more tweets, first by claiming that he does not care about this post, and then, in an additional tweet, by stating that Str8UpGayPorn is a "joke" that "doesn't deserve his energy." He also accuses Str8UpGayPorn of "trying to make me look crazy."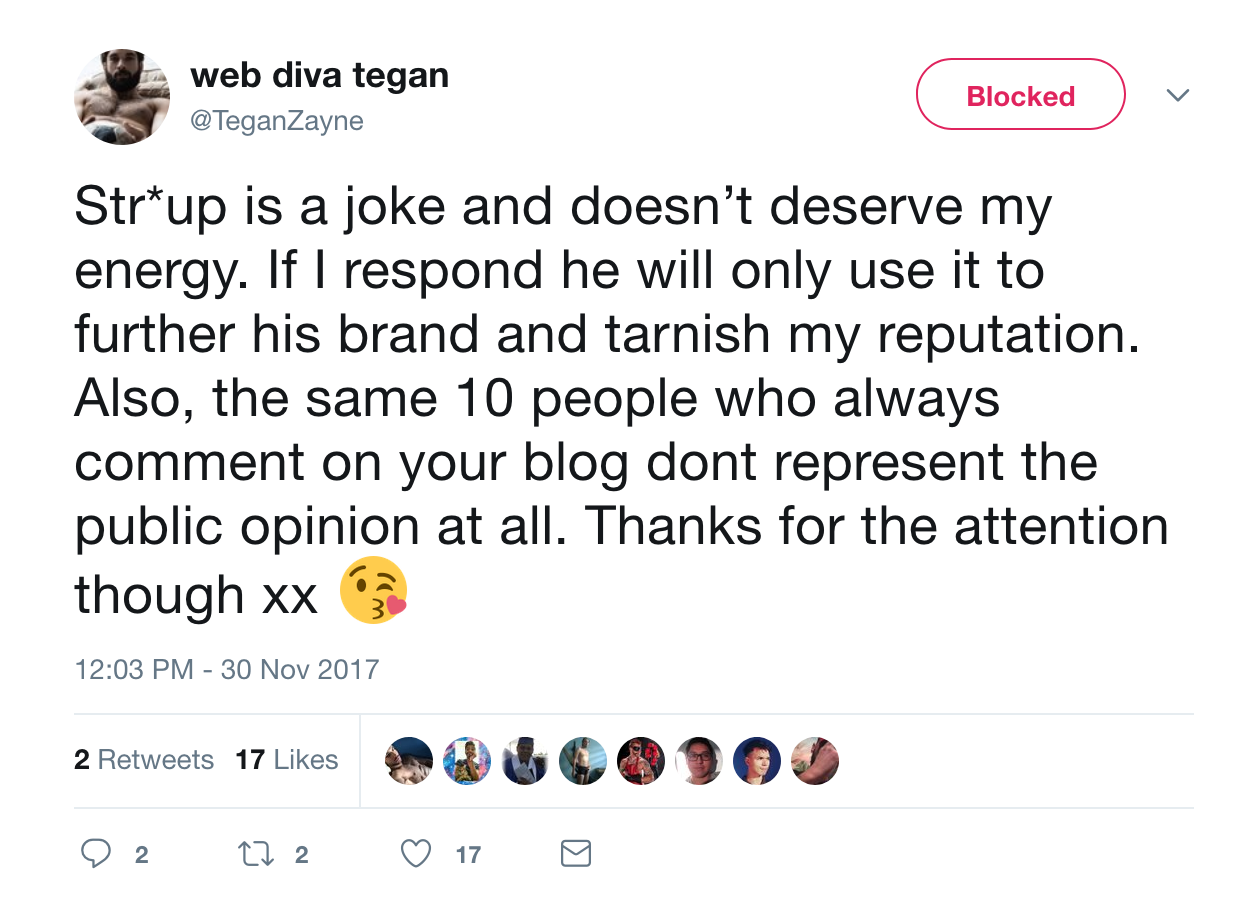 Then, in yet another tweet, Tegan Zayne says that Str8UpGayPorn "proved" that he is "reactionary," which he says is beneficial because it "starts debates about racism within the gay porn community."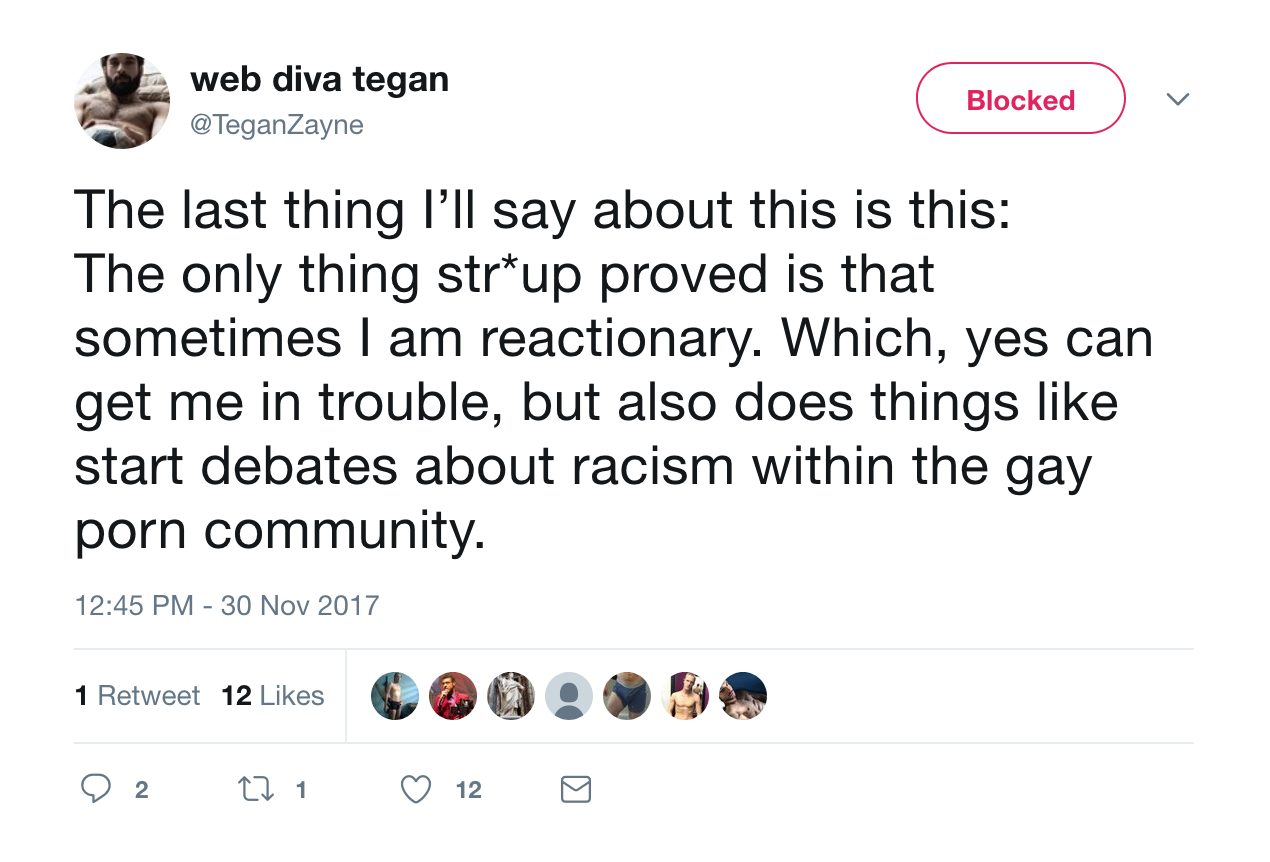 It's not clear what "debates" have been started by Tegan Zayne's so-called "reactionary" behavior, or what any of that has to do with his false statements about Str8UpGayPorn "defaming" him (which is what prompted this post).
Despite not caring or wanting to give any energy, Tegan Zayne went on to post another tweet, this time using an altered version of his red carpet photo from the Str8UpGayPorn Awards. He captioned it with statements that contradict his previous messages to Str8UpGayPorn last June (he appears to contradict himself in all of his communications, with everyone) by falsely claiming that he "didn't even want to go" to the ceremony:
Here again are Tegan Zayne's messages asking to be a presenter at the Str8UpGayPorn Awards, expressing interest in attending by telling me, "I still want to go," and then, hours after the show ended that night, thanking me for having him at the show.