Trenton Ducati And A Cam Site Vow To Support "Hero" White Supremacist Cameron Diggs: "We Stick Together"
Last week, gay porn actor Cameron Diggs launched a $5,000 GoFundMe to help pay for "medical and living expenses" following a motorcycle crash. According to a video Diggs released from the hospital, he'll be recovering from his injuries for several months. While the GoFundMe has raised just $445 of its goal, an obscure webcam site called "Supermen.com" has just announced that they'll be matching donations to the GoFundMe, up to $1,000.
In their press release below (via AVN), a rep for the cam site calls Diggs—who is covered in tattoos associated with white supremacist groups—a "hero":
ImLive-powered cam site Supermen.com announced Wednesday morning it will offer a donation match of up to the first $1,000 pledged to the GoFundMe campaign set up to assist model Cameron Diggs with the medical bills he faces after a motorcycle accident last week in Dallas, Texas.

"Supermen.com is proud to stand by their hero, who is truly in need of some desperate support," Supermen consultant Douglas Richter added.

Richter continued, "We are also going to set up a special free live event for him to check in with us to thank his fans via Supermen.com for their support. He is in the hospital so we won't expect too much from him. Perhaps just a sexy wink."
Earlier this year, gay porn scenes featuring Diggs were either pulled down from studio websites or not released at all after Diggs, while explaining his racist tattoos to Str8UpGayPorn, admitted, "I feel like we are suppose[d] to continue our race and our culture." He added, "[W]hen it comes to having kids I prefer to stay inside my race."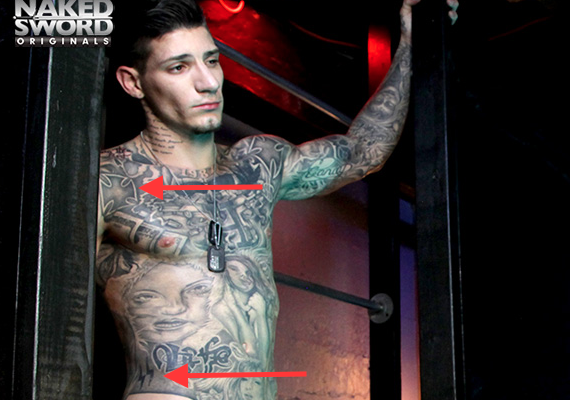 Joining Supermen in support of Diggs—whose "SS Bolts" tattoos represent Nazi Germany's police state, which included Gestapo agents and concentration camp guards—is gay porn star Trenton Ducati:
Commented Ducati Models owner Trenton Ducati, "Cameron and the Ducati Models team appreciate what our friends at Supermen.com are doing here. At Ducati Models we stick together and this is exactly the type of thing that makes us a family. Thank you Supermen.com. Cameron, his friends, family and fans all appreciate your support in his time of need. Cameron looks forward to coming online soon to thank you and all his friends in a live chat very soon."
It's great to see the gay porn industry coming together to support one of their own.