Year In Review: Here Were The 10 Best Gay Porn Scenes Of 2016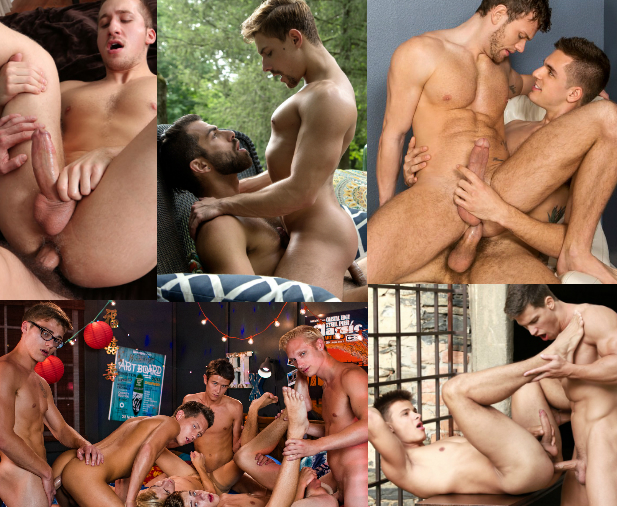 With the continuing rise of stolen porn on tube sites, horrible/unwatchable porn shot on cell phones, and buyouts of gay porn studios by straight porn conglomerates, it was a very bad year for gay porn scenes. But, the gay porn scenes that were good definitely stood out. In fact, there were a few more than 10 that I had trouble ranking, so it's worth giving an "honorable mention" to three in particular: Levi Karter's Double-Penetration, JJ Knight Fucks Brent Corrigan, and Austin Wilde Creampies Jack Hunter.
As you'll see below, two performers (Blake Mitchell and Carter Dane) actually appear twice in two different scenes, which has never happened before. Their performances and scenes were simply too good to pass up, and they each had incredible years.
Feel free to comment on your favorite scenes if they aren't listed here (you're all entitled to your opinions, even if you're wrong). Now, it's time for Str8UpGayPorn's 10 Best Gay Porn Scenes Of 2016. Click any image or link to watch the full scene.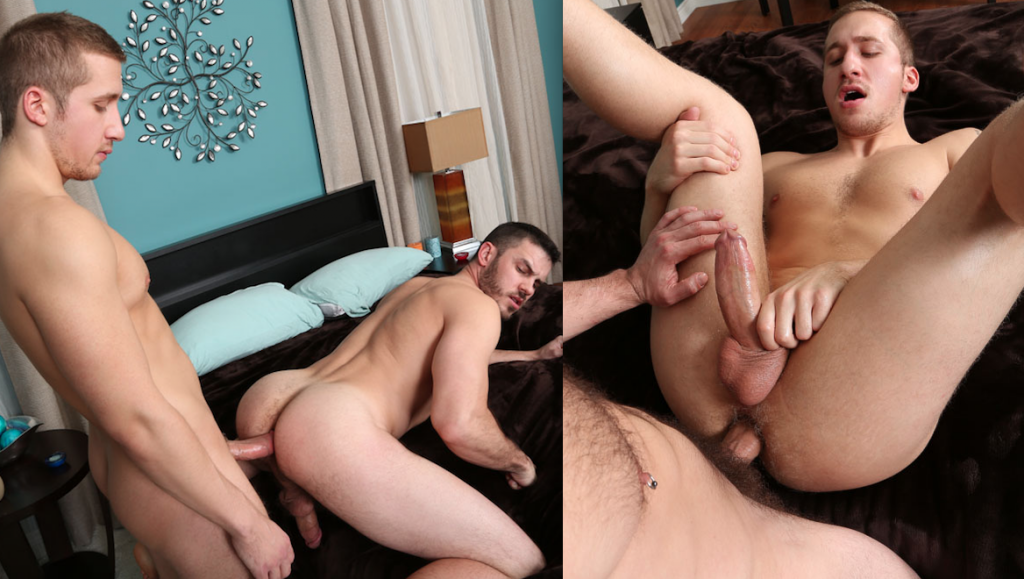 10. Vander And Rylan Bareback Each Other (ChaosMen)
ChaosMen's most iconic star and the studio's best discovery of 2016 (whom we haven't seen in months, so he could be retired, unfortunately) take turns fucking each other raw, with real chemistry and real internal creampies.
9. Ryan Rose Fucks Carter Dane (Falcon Studios)
Carter Dane's bubble butt was arguably the most valuable gay porn asset of 2016, and muscle jock Ryan Rose's dominance of it here was everything you could ask for in a gay porn scene.
8. Tarzan Finale, starring Diego Sans, Colton Grey, Luke Adams, Tobias (Men.com)
Flawlessly shot with a perfect cast, the Tarzan finale fourgy succeeds on every level. It's all the more impressive when you consider that it was filmed (by director Marc MacNamara) in a Costa Rica jungle—not exactly an optimal location for shooting gay porn.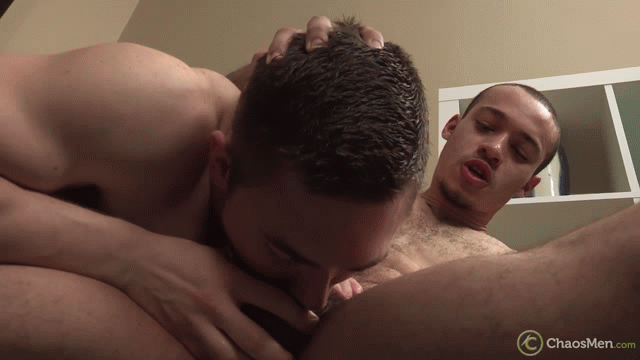 7. Griffin Barrows Sucks Gerard's Cock (ChaosMen)
Not just the best blowjob of 2016, but possibly one of the greatest blowjobs I've ever seen on film.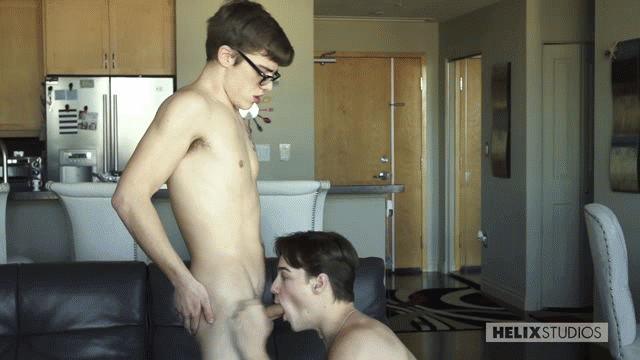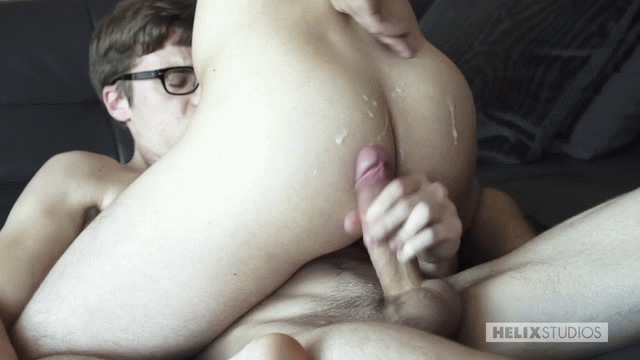 6. Blake Mitchell Fucks Justin Owen (Helix Studios)
Where to begin? Justin Owen's deep-throating? Blake Mitchell's balls-deep thrusts? Justin Owen's dirty mouth? Blake Mitchell's explosive cum shot? This scene has been re-watched so many times, I've lost count.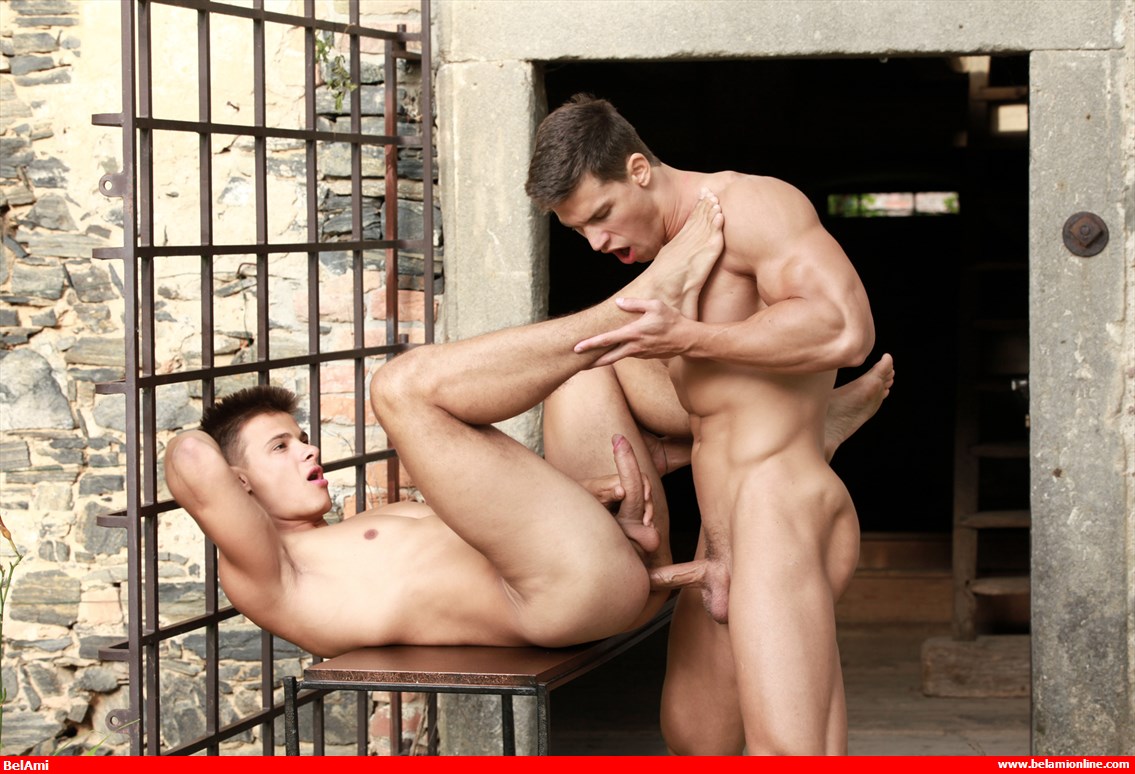 5. Kris Evans Fucks Andrei Karenin Bareback (BelAmi)
No matter how many times you've seen it, Kris Evans' body never feels "real." But it is, and watching it in action is almost breathtaking. Kris was at his powertopping (and load-spraying) best
here with Andrei Karenin
.
4. Jack Fucks Ollie Bareback (Sean Cody)
One of Sean Cody's best powertops with one of Sean Cody's best powerbottoms in one of the most intense bareback fuckfests of the year. No matter where they were standing or sitting, Jack's jackhammering of Ollie's butt was perfection in every position, and
the multiple creampies he delivered
indicates that Jack loved every second of this scene, as did I.
3. Adam Ramzi Fucks Carter Dane (CockyBoys)
The combined hotness of Carter Dane and Adam Ramzi in one scene was literally too much to handle, so much so that all I could do was try to joke about how this scene featured two "extremely ugly" and "hideously grotesque" performers. In reality, I was silently dying in a corner because of how beautiful they looked together. Then, I died again because of how beautifully their sex scene was filmed, capturing them from the very best positions and angles (as if they could look bad in any position or angle).
2. Lifeguard Finale, starring Blake Mitchell, Max Carter, Kyle Ross, Evan Parker, Tyler Hill, Joey Mills (Helix Studios)
In addition to being the best gay porn series of 2016, Helix's Lifeguards also includes the best group scene of 2016, and I normally hate gay porn orgies. Most orgies are a mess, but as I said back in September, we're given clear and sustained views of the action throughout the scene. This mostly bareback orgy features an A-list cast, with Blake Mitchell, Kyle Ross, Max Carter, Evan Parker, Tyler Hill, and breakout star Joey Mills—who gets double-penetrated bareback, then creampied, and then takes simultaneous loads in his mouth. There's an extended trailer (it's over five minutes long) for this scene, which you can watch here.
1. Jess Fucks Sean Bareback (Sean Cody)
A lot of Sean Cody models have been creampied on this white chair, but no creampie has been pumped so expertly as the creampie Jess serves to Sean midway through this scene. It's the best cum shot and the best creampie of 2016, in the best scene of 2016: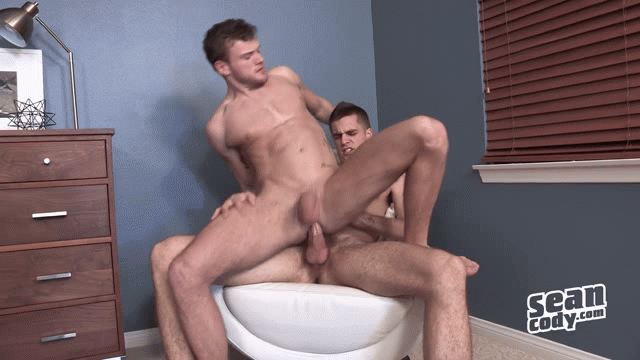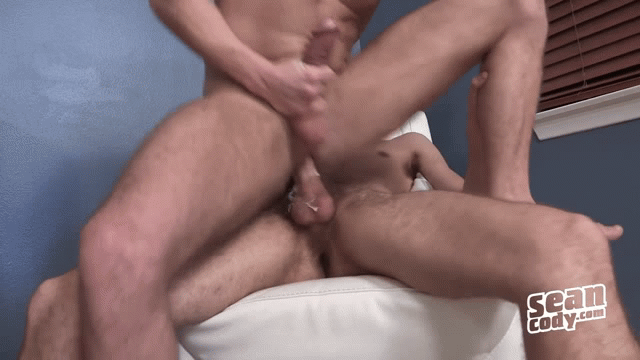 Jess, who has to be considered 2016's King Of Cum, actually creampies Sean twice more in this scene, and Sean shoots two enormous loads of his own while he's being barebacked by Jess. We've come to rely on Jess as one of Sean Cody's best performers, and he delivers in every regard here (I don't think his dick ever stops being hard or ever stops fucking, even after he's already shot multiple loads). An added bonus, however, is the fun surprise in watching Sean do such great work as a true powerbottom. He's an inconsistent performer, but he doesn't miss a single beat here. For one of his loads, he shoots a massive nut all over himself while being pummeled by Jess:
The giant cocks, the deep-throating, the fucking, the insane amount of cum, and the creampies in this scene are relentless, and much like
last year's #1 scene
, you won't be able to watch this in one sitting. So, if you haven't made your way through it yet, enjoy. It's the best gay porn scene of 2016. [
Sean Cody: Jess Fucks Sean Bareback
]