Billy Santoro Is Now Involved In The Deranged Michael Lucas War Over Josh Moore, Because Of Course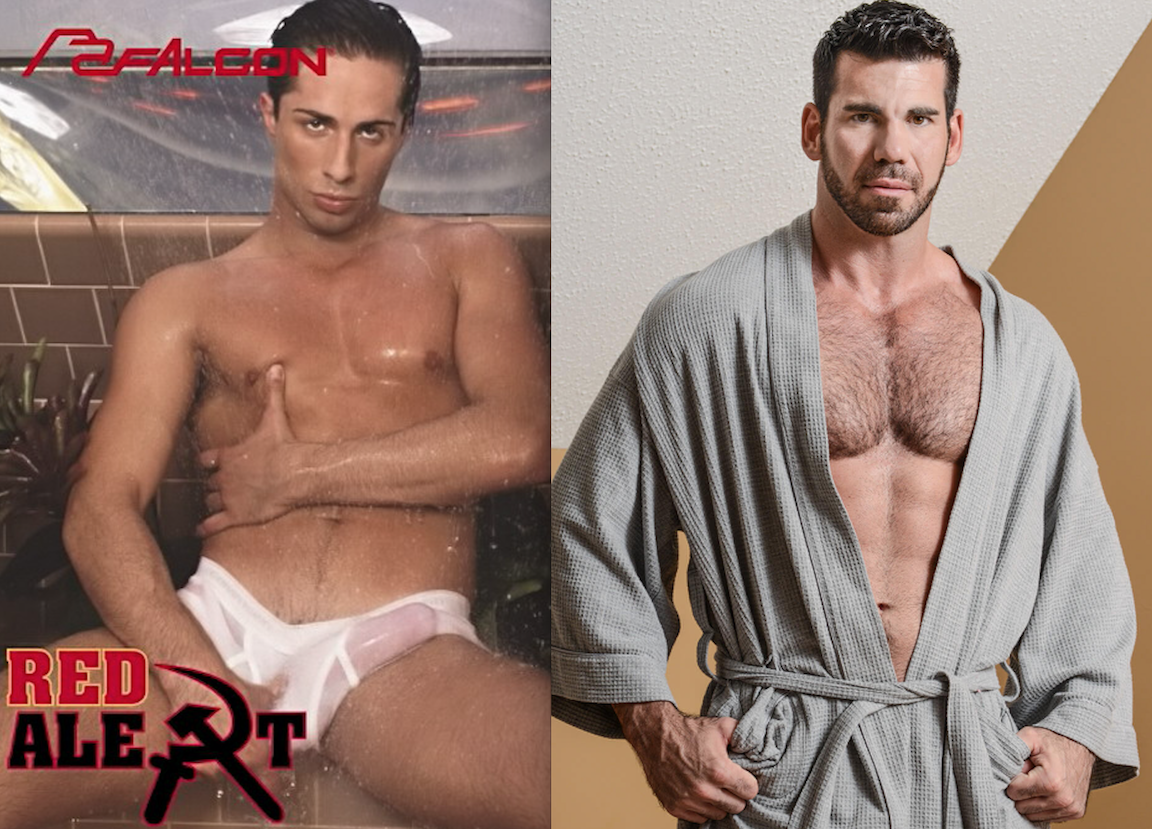 Billy Santoro dealt with obsessed psychopath Michael Lucas two years ago, when the deranged studio owner tried to claim ownership of Santoro's husband, Seth, after he contracted chlamydia on a Lucas film set and escaped Lucas Entertainment by working with other studios. Today, Billy Santoro is dealing with Duckface again.
As most know, Lucas is currently stalking another Lucas Entertainment escapee, Josh Moore, by threatening competing studios, threatening affiliate blogs who receive commission payments by promoting Lucas content, and threatening both Moore and his boyfriend, all via disturbing voicemails and emails obtained by Str8UpGayPorn. Thankfully, despite Lucas's threats and possibly illegal interference with other people's businesses, Moore has been able to find work with other studios, first with UKHotJocks and, as Billy Santoro revealed in a comment here last week, now with MenAtPlay:

Because Billy Santoro loves causing drama almost as much as he loves to pretend that he doesn't have anything to do with any drama, he took to Twitter to share this news, without tagging Michael Lucas ("ML"), of course: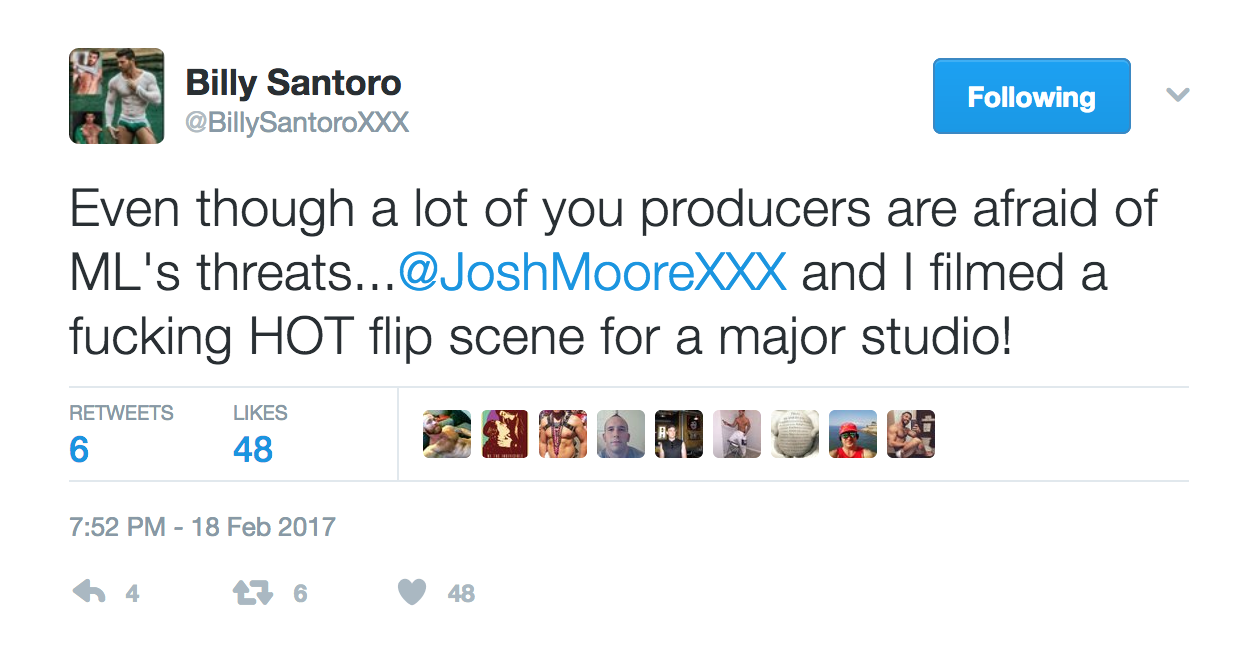 Thankfully, for all of us who enjoy watching porn people fight publicly, lunatic Lucas (who has actually started to make nutjob Nica Noelle appear moderately sane?) saw Santoro's subtweet, and he responded directly by bringing up that bogus, unenforceable contract: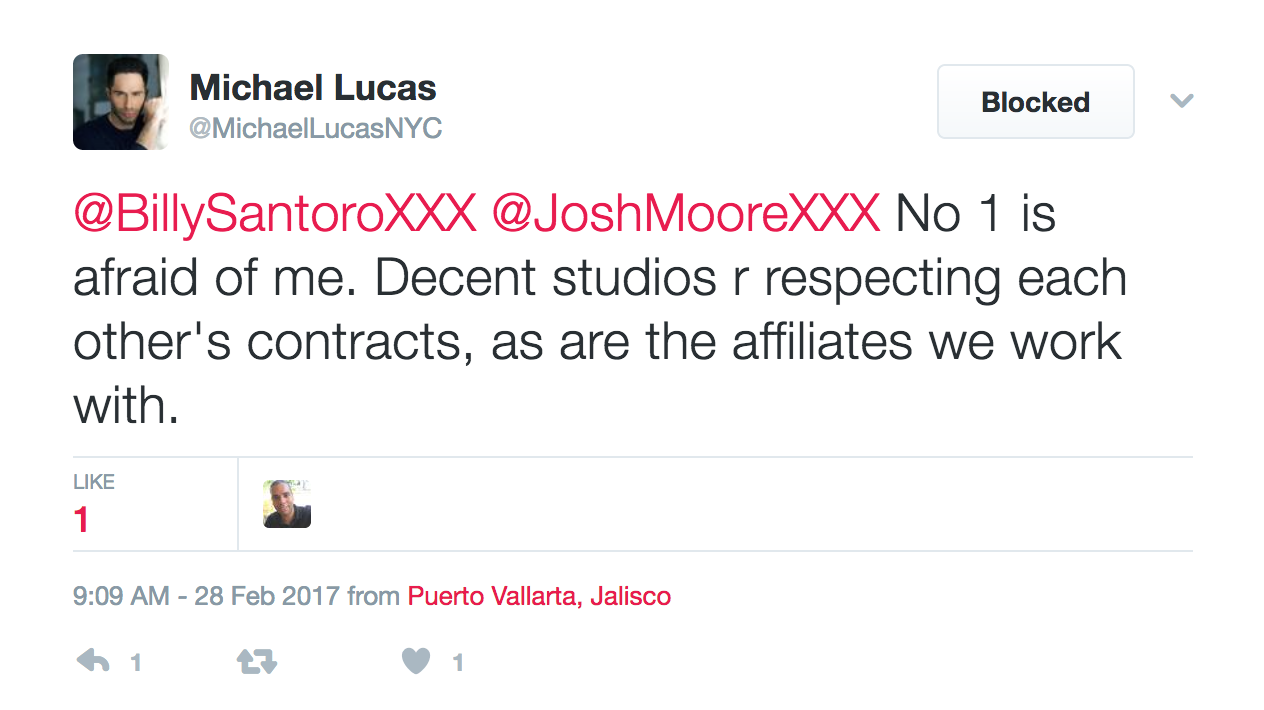 What's craziest here is that Michael Lucas has now publicly admitted that he has gay affiliate blogs (and that obviously means QueerMeNow, QueerFever, probably The Sword, and any other blog that doesn't cover Moore's work with MenAtPlay and UKHotJocks) doing his bidding. All these bloggers are tools, of course, but if Michael Lucas being able to control any blog coverage doesn't enrage other studios who have their own content to promote, they might as well just shut down their studios and give the fuck up.
The fight went on a little longer: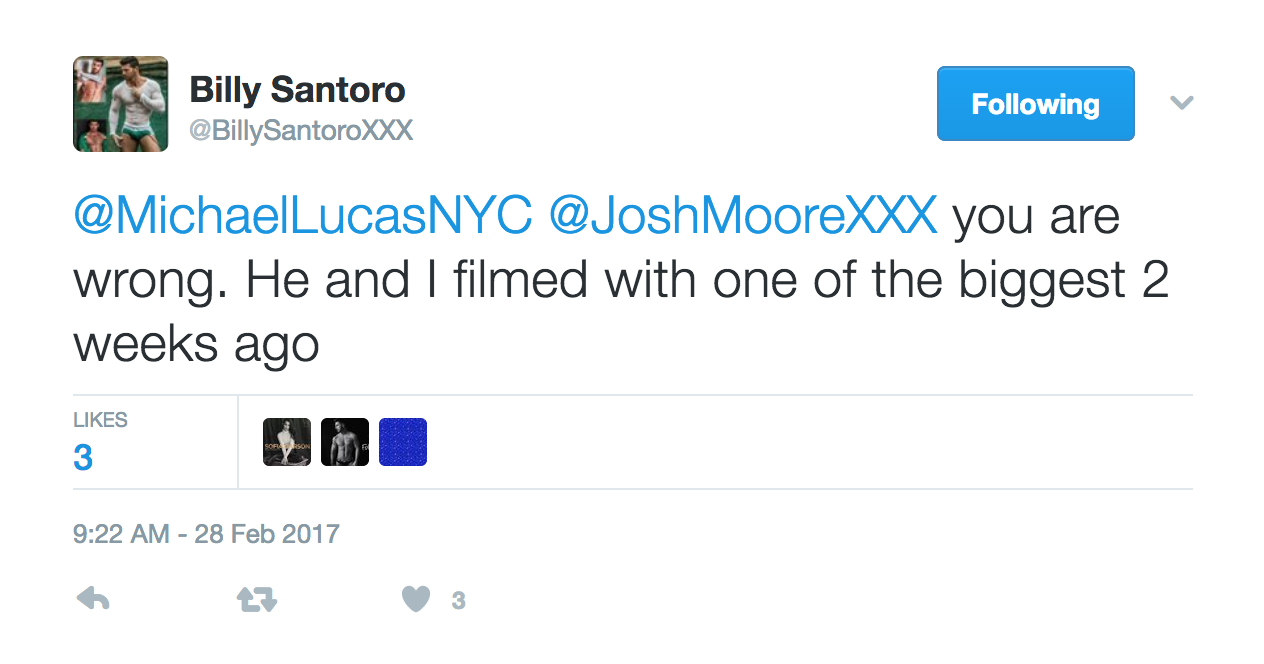 You know things are getting wild when Str8UpGayPorn is #TeamSantoro.