Exclusive: Michael Lucas Caught Threatening Gay Porn Studios Over Model Josh Moore—Despite Bogus Contract
Last November, performer Josh Moore (who, at the time, was using the name "Josh Rider") announced that he had quit working for Michael Lucas and his struggling bareback porn company due to the studio endangering Moore's health. Moore wrote on Twitter: "I will not be forced to work for a company who put my health at risk."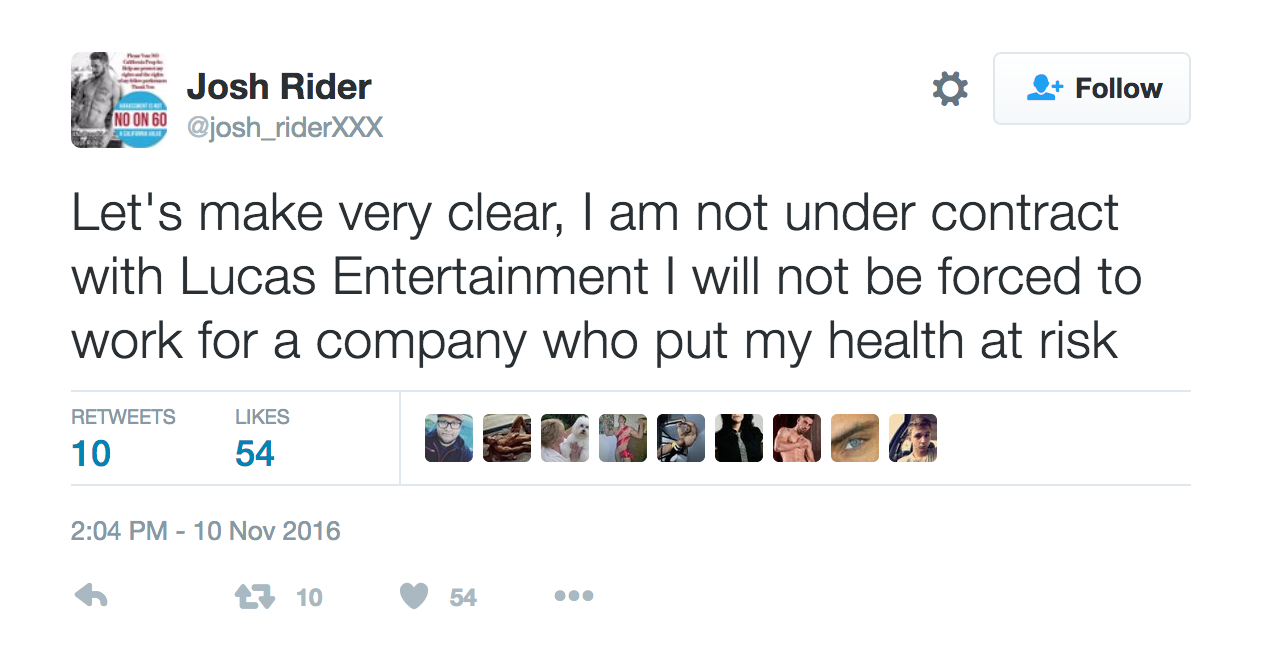 Weeks after Moore's announcement, several other performers spoke out against Lucas Entertainment—which doesn't test models for STDs, has been sued in federal court for leaving fraudulently rented homes covered in feces and drugs, has been accused of spreading chlamydia on set, and hires convicted murderers to work in sex scenes—to condemn the studio's repeated, apparently deliberate attempts to put models' lives in danger. Specifically, performer Mickey Taylor revealed allegations that Michael Lucas tells his bareback models to "take PrEP the day before and after your bareback scene, and you will be fine."
Josh Moore had clear and justified reasons for leaving Lucas Entertainment and seeking employment elsewhere. Unfortunately, getting out of the grips of a vengeful studio owner like Michael Lucas is not easy. Since early January of this year, Lucas has been sending the below email—obtained exclusively by Str8upGayPorn—to major gay porn studios here in the U.S. and in Europe, in an attempt to prevent Moore from being hired:
Lucas's depraved harassment and empty threats have been sent to multiple gay porn studios (some of which Moore never even applied to), and one of those studios, NakedSword, was so intimidated by Lucas, they even tweeted publicly that they would not hire Moore: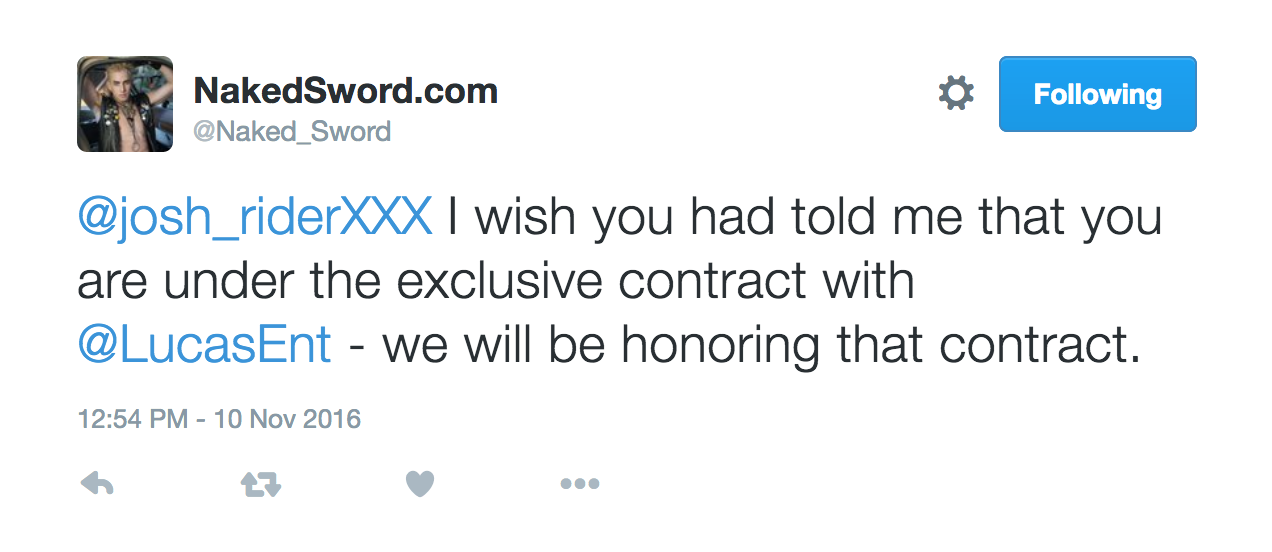 Unless NakedSword has a legal agreement with Michael Lucas to do whatever he tells them to do, they are not legally required to "honor" an alleged contract they have never seen and have nothing to do with. As some might remember, Lucas tried this blacklisting stunt back in 2014 with another model who quit on him, Seth Santoro, but some studios like Kink.com and Jake Cruise hired Santoro anyway and released his scenes. Studios, of course, can hire and release content with any model they want, and they have no way of knowing what a model might have signed with another studio. Any alleged "exclusive contract" with Lucas would be between Lucas and the model, and other studios are under no legal obligation to acknowledge it, or be aware of it. Even if studios do want to foolishly "honor" a contract between a model and Michael Lucas, they should at least check to make sure that the contract is legally valid. And in the case of Josh Moore and Lucas, that contract does not appear to be legally valid, making it completely unenforceable.
Here's the Josh Moore ("Josh Rider") contract with Lucas Entertainment as obtained exclusively by Str8UpGayPorn, which has redacted Moore/Rider's legal name and other personal information to protect privacy. Per Lucas's threatening emails, this contract was supposed to be in effect for a total of two years, but note that on the signature line where Michael Lucas has signed the contract, he's dated the contract as having gone into effect on February 20th—in the year 1993. That…is 24 years ago.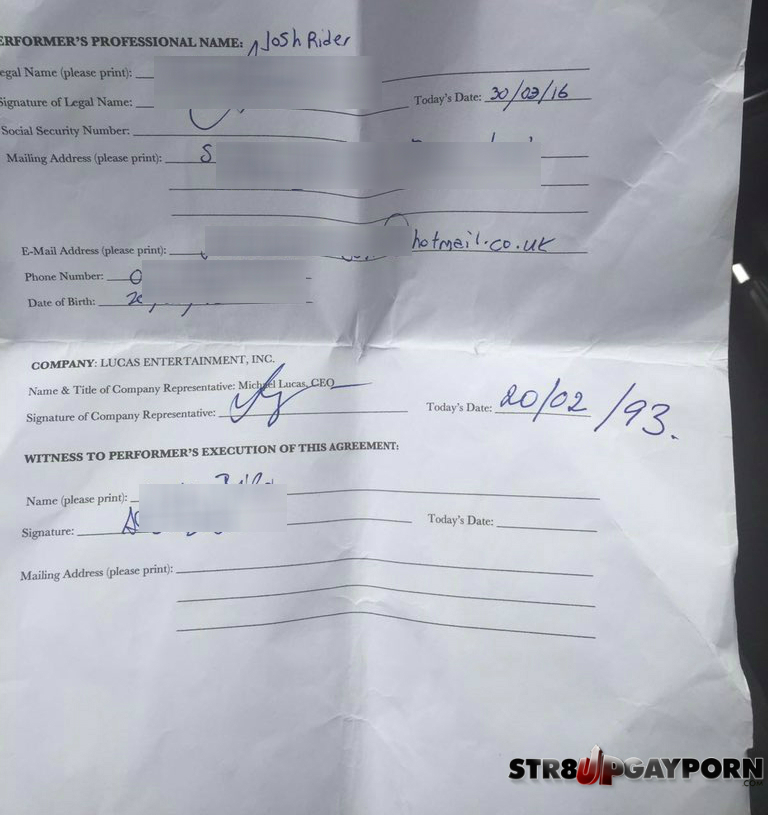 I'm not a mathematician, but if Josh Moore/Rider had a two-year contract that started in 1993 and ended in 1995, that means his "exclusivity" with Michael Lucas ended 22 years ago.
While Moore dated the contract 2016, Lucas was either living in an alternate reality or had taken a time machine when he signed the contract, and his 1993 signature calls into question the legality of his agreement with Moore. In any event, Str8UpGayPorn has learned that—due in part to Michael Lucas's error—lawyers have given Josh Moore the green light to proceed working at other studios. (And again, studios could've hired Moore previously without having to get lawyers involved, even if his contract with Lucas had been valid.) Moore's first post-Lucas scenes will be coming to UKHotJocks, and they've already set up a profile page/intro video for him. Seeing Michael Lucas being this publicly humiliated and looking this stupid almost makes you feel sorry for him. Almost.
At the end of the video, Moore reveals that his first scene will be with Kayden Gray, as seen in the first photo below. Stay tuned to
Moore's UKHotJocks page
for his first scenes.