LISTEN: Michael Lucas Says He'll "End" Porn Star Logan Moore's Career In Threatening Voicemails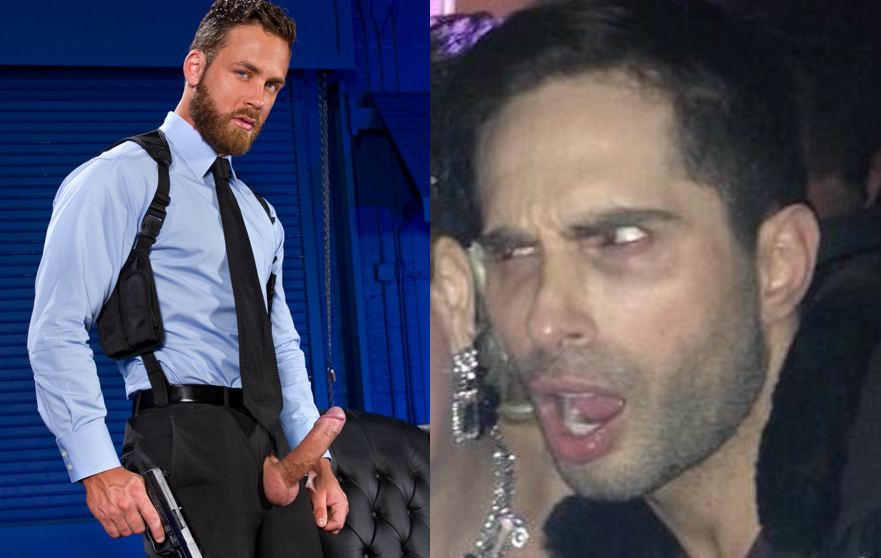 Last November, performer Josh Moore quit working for Michael Lucas and his struggling bareback porn company due to the studio endangering Moore's health. Moore wrote on Twitter: "I will not be forced to work for a company who put my health at risk." Since then, Lucas has waged war on the performer in an attempt to prevent him from working anywhere else, and he's sent threatening emails to studios that might hire him, as revealed here this week. Lucas's emails make the claim that Moore is under contract with Lucas Entertainment until 2018, and therefore he can't perform at any other studio. But, that bogus contract has been unenforceable, and Moore was hired to shoot new content with British studio UKHotJocks.
Michael Lucas's harassment continued throughout January, but it took a dark turn two weeks ago when the unhinged studio owner directed his threats to Josh Moore's boyfriend, Logan Moore. In two disturbing voicemails that were sent to Str8UpGayPorn, Michael Lucas eerily warns Logan Moore that he's "killing the career" of his boyfriend (Josh Moore) by letting him perform in scenes for another studio.
In this first voicemail, Michael Lucas tells Logan Moore that Josh Moore will never work for any "reputable" company again if his scene with UKHotJocks is released, warning "I just guarantee you that." Empty threat aside, Lucas blaming Logan Moore for Josh Moore's actions—as if it's Logan who is forcing Josh to work for other studios?—is as creepy as it is nonsensical. This voicemail was left on January 17th:
In a second voicemail to Logan Moore, Michael Lucas's rage intensifies, angrily shouting, "I guarantee you that you will not be working for large companies in the U.S.! Try to fuck with me once again like that, and that will be it." Lucas bizarrely blames Logan Moore for "perpetrating the behavior" of Josh Moore, but even if that were true (and even if there were anything wrong with Josh Moore's "behavior" of seeking employment), Lucas could do nothing to stop Logan Moore from working. Lucas concludes the voicemail, left last week, by ominously threatening, "Your career will end sooner than it's supposed to."
When reached for comment for some kind of theory as to why Michael Lucas is repeatedly harassing his boyfriend, Josh Moore tells Str8UpGayPorn, "He has this fantasy in his head that Logan has made all of this happen. For some reason, he refuses to blame me. I think he's in love with me."
Last year, Michael Lucas was sued in federal court for fraud and trespassing after filming porn in an Airbnb rental and leaving the home covered in feces and drugs. He's also been accused of not paying performers, sexually harassing a model, and encouraging employees to incorrectly take prescription drugs before filming scenes for him.
Josh Moore's first scene (trailer below) for UKHotJocks was released today.
[
UKHotJocks.com
]