Helix Studios Owner Keith Miller Inexplicably Cancels Joey Mills' Electric Soul Nationwide Book Tour
[Joey Mills at the launch of the Electric Soul book tour this week, via BoyCulture]
The launch of Joey Mills and Taylor Saracen's book tour promoting Electric Soul (the newly-released novel from Helix Studios' publishing house, 13 Red Media, based on Mills' life and written by Saracen) in New York City on Monday was a huge success, with fans lining up to meet Mills and get their books autographed at the Strand Bookstore. Here was coverage from BoyCulture, one of the media outlets that was there:
Joey Mills made a splash in NYC at the legendary Strand Bookstore, appearing Monday night with author Taylor Saracen. Her book Electric Soul (the third in her Rise Up LGBTQ youth series) is based on Joey's pre-porn life — and the two told a rapt audience it's about half true and half imagined. The pair chatted about how they collaborated, and Joey offered tidbits about his life in Missouri, his relationship with his parents, and said the warm reception was one of the nicest things that's ever happened to him.
Well, that was Monday. Today, Thursday (just three days before the next scheduled book signing in Santa Monica, California), Str8UpGayPorn has learned that Helix Studios/13 Red Media owner Keith Miller has just inexplicably and spontaneously canceled all remaining stops on the nationwide book tour. As seen on the 13 Red Media Facebook page tonight, the California, Illinois, and Missouri events have all been canceled:
Neither Keith Miller nor 13 Red Media has issued any sort of statement alerting fans of the cancellations, so hopefully those who are already in Los Angeles today ahead of this weekend's signing will get the news before heading to Book Monster on Sunday.
Str8UpGayPorn has received several tips and theories as to why Keith Miller ordered the tour canceled, but nothing can be confirmed as of post time, and Keith Miller has not responded to my request asking for an explanation. Joey Mills—who announced his resignation as a Helix performer earlier this month, but still planned to proceed with the full book tour for 13 Red Media as scheduled—did respond to my inquiry, writing only that I'd have to "ask Kieth [sic] about that":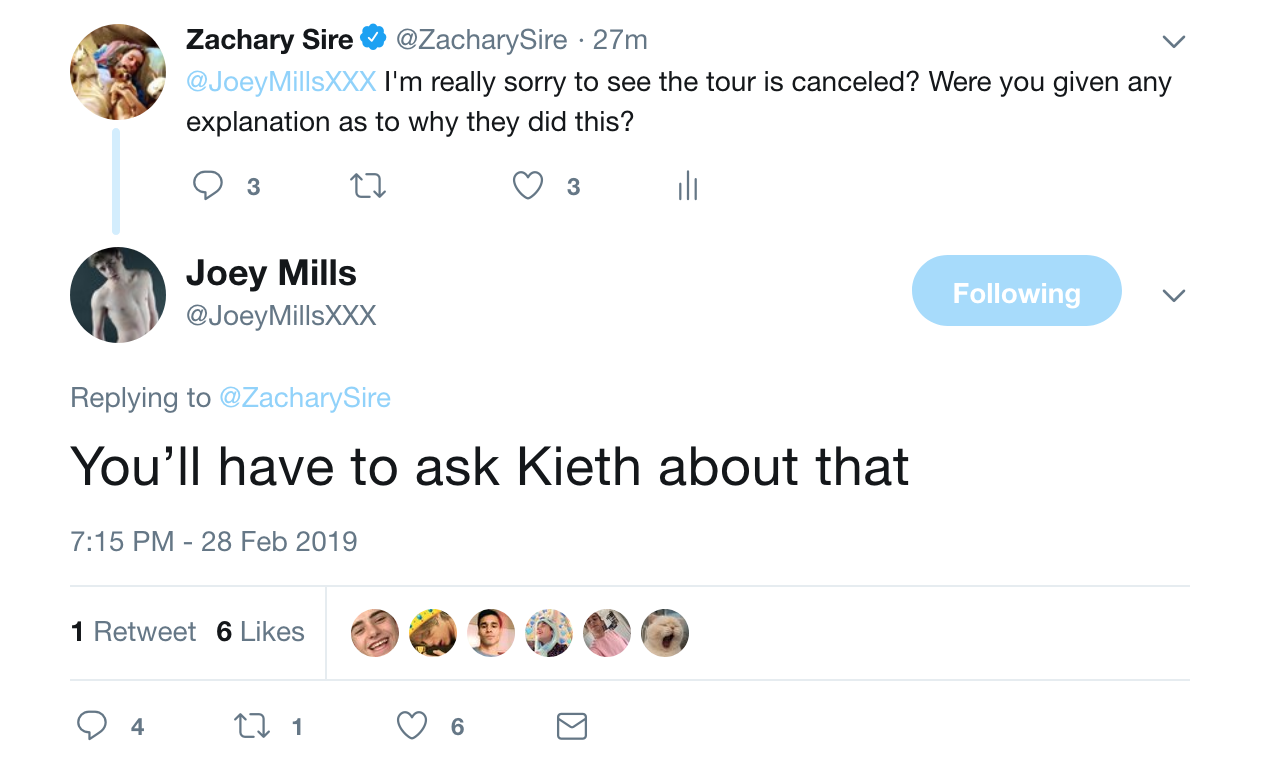 Rumors of confrontations and "poor management" have been swirling around Helix since the high profile departures of several models over the last month (Blake Mitchell, Julian Bell, Angel Rivera, Mills), and Mills' book tour being canceled is the latest in a series of events indicating behind the scenes turmoil at the studio. Str8UpGayPorn has had contact with several sources with direct knowledge and full details surrounding the cause of these events, but none have been willing to go on the record.
This is a developing story…