EXCLUSIVE: Sean Cody Porn Star And Male Escort "Feared For His Safety" Due To Relationship With David Geffen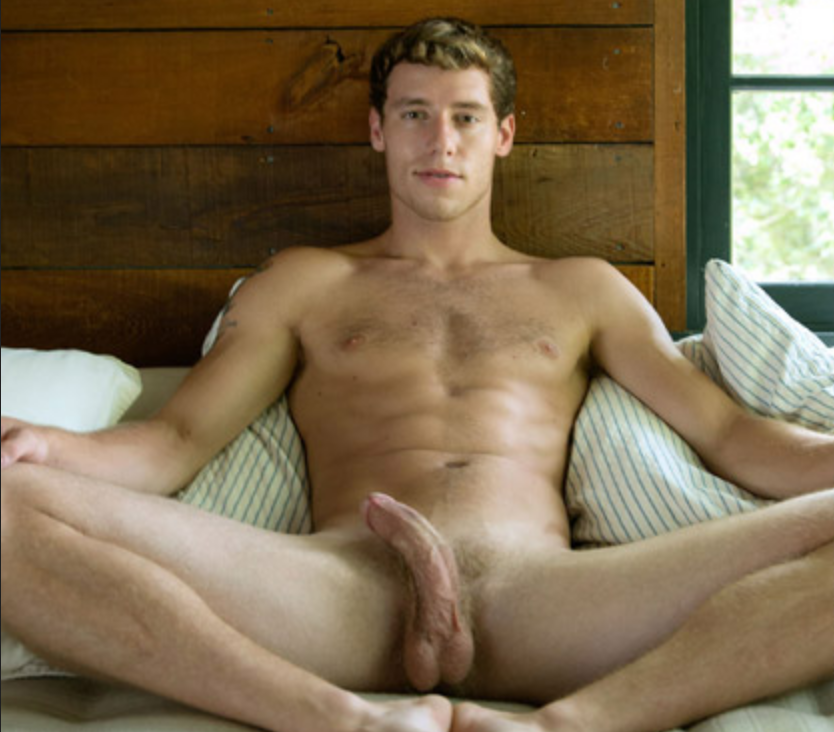 The Jarec Wentworth extortion trial (which will conclude tomorrow after two days of testimony) was expected to offer salacious details about the alleged victim in the case, Republican multimillionaire Donald Burns. And while that did happen to a certain extent (Day 1 Recap; Day 2 Recap Part 1 & Part 2), it was today's testimony from escort and Sean Cody porn star "Taylor" (a.k.a. Justin Griggs, a.k.a. Justin Matthews) that yielded the biggest bombshell of the entire trial: Griggs' "friendship" with billionaire entertainment mogul David Geffen, and how having to disclose details about that relationship made Griggs fear for his own safety.
Griggs started his adult entertainment career as a gay porn star with Sean Cody before participating in "pay-for-sex" prostitution meetings with telecommunications executive Donald Burns, and his testimony today—for the prosecution—was intended to help prove that the defendant, Jarec Wentworth, had posted a threatening tweet about Burns to his Twitter profile (according to the prosecution, Griggs screencapped Wentworth's tweet back in February before sending it to Burns, and it was entered into evidence today). Unfortunately for the prosecution, Griggs' testimony for the prosecution was completely overshadowed by what he told the defense during cross-examination about his "friendship" with David Geffen, the founder of Geffen Records and co-founder of DreamWorks Pictures with Steven Spielberg and Jeffrey Katzenberg.
What follows is the transcript from Griggs' cross-examination, picking up when the defense attorney (in bold text below) asks Griggs (in non-bold text) about dental work and other financial support that Griggs has received as a prostitute:
Q Okay. Now, in addition to the envelopes, the payments that you got after these overnight trips, Don also gave you some other money; is that right? Just gifts?
A Yeah. Yeah.
Q You mentioned some of those — he paid for some of your dental work; right?
A No.
Q Didn't you meet with FBI agents I believe on the — well, a couple days ago and talk to them about the things that Don had provided you?
A Yes.
Q Okay. And did they discuss some of the things Don had paid for for you?
A Not really.
Q Would it help — one moment. Do you recall statements about gifts that Don had given to you for dental work?
A That wasn't from Don.
Q Who was that from?
A That was from another friend of mine.
Q I see. Now, you also mentioned in this interview which was on the 6th — is that right? — with FBI agents on the phone, you mentioned that you didn't want to give details about an individual because he was very powerful and you feared for the safety if you disclose information. Who were you talking about there?
MR. JAUREGUI (Prosecution): Objection, Your Honor. Relevance.
THE COURT: Overruled.
THE WITNESS: It was — should I give you the name of the person?
Q: Yes.
MR. JAUREGUI (Prosecution): Your Honor, I don't understand how that's relevant.
THE COURT: Answer the question.
THE WITNESS: David Geffen.
Q: I see.
Obviously, the implications in Griggs' testimony are clear, and they reveal what many people in the adult and mainstream entertainment industries already know: Rich and famous people hire sex workers all the time. The only aspect of Griggs' testimony that's not clear is why he told FBI agents that revealing details about his "friendship" with Geffen made him fear for his safety. If, hypothetically, Geffen has made threats against him, hopefully Griggs would be given the same kind of protection and attention afforded to someone like, say, Donald Burns.
Griggs' full cross-examination testimony is below, which also reveals information about penis emojis sent to him by Sean Cody's Willis (Hayden), group fuckfests with up to four Sean Cody models and Donald Burns, and Griggs' own request to Burns that he be given $150,000 for "keeping his mouth shut" and being "a good guy."
[Update: An earlier version of the below court transcript obtained by Str8UpGayPorn contained a misspelling of David Geffen's last name ("Gaffen"). The court reporter has corrected the typo and provided a new transcript to Str8UpGayPorn below.]
Griggs Cross Geffen by on Scribd