Donald Trump Supporter And Gay-For-Pay Porn Star Owen Michaels Returns To Porn At IslandStuds
The last time we saw gay-for-pay porn star and Donald Trump supporter Owen Michaels, he was fucking Johnny Rapid all the way back in 2016 (although, you also might have seen him on national television admitting that he gave his girlfriend an STD; or, maybe you saw the GoFundMe he started to try and scam people out of $10,000?). Well, if you missed him, today is your lucky day, because Owen Michaels has returned to gay porn with an appearance at IslandStuds:
Given that Owen Michaels is straight, this scene must've been a welcome relief for him. It's a solo jerk off video, meaning that he didn't have to do anything gay or have any sexual contact with another man. Although, he does cum in his own mouth at the end of the scene, which is pretty damn gay.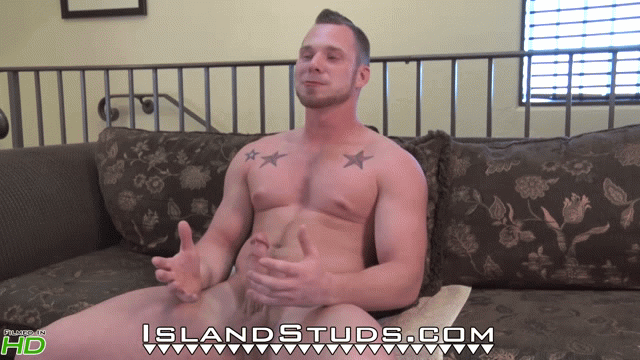 No word on whether or not Owen will be back to do anything gay at IslandStuds (or at any other studio), but here's the extremely long (and extremely grammatically incorrect) scene write-up for today:
Veteran Porn Star & Life Long Muscle Jock, Owen Michaels is back and Island Studs has got him – Totally Unplugged, revealing the REAL Owen Michaels: confident, smiling, joking and bluntly telling private personal stories, in his own words, about the nickname He was called in 5th Grade, His favorite body soap, His entry into the Adult Business at just 19, His Favorite Porn Star he fucked, His favorite cock he sucked, His painful Bottoming Gang Bang scene and who He likes to fuck privately, off camera in his real life. In this Exclusive new video, Island Studs delivers 4 things young Horny Owen has NEVER be filmed doing: Pissing not once but two times, Pumping Iron fully naked with a his throbbing boner slapping against his thick thighs and shooting Explosive streams of cum that land not only on his cute boyish face but also directly into his open mouth before cleaning and scrubbing his FEET in the shower for the first time on film! This special film of Bodybuilder Owen Michaels is a unique, spontaneous behind the scenes conversation and dirty nasty stroke session with masculine ripped former Porn Star in the sunny Pacific Northwest where he now lives a very private life. He arrives wearing a Big Fat wrist watch and his real street clothes: super tight skinny jeans that grip is thick athletic thighs and grab his BIG MUSCLE BUBBLE BUTT and a skin tight red gym tank top. Owen loves going to the gym and enjoys flexing and posing fully clothed, in this bulging HOT RED Diesel undies and fully naked with his throbbing rock hard cock standing at attention beside the Green Oregon Forest on the Balcony beside a River and mountains. Hear him take about the two famous STAR tattoos on his chest, why he has no children, his first guy on guy scene, barebacking girls and guys, why his is only 99% Straight and that he loves wearing clothes – getting naked reminds him of work! This is the very first time this horny Straight, Gay 4 Pay Porn Star has been filmed naked on camera exercising, posing, flexing and pumping iron in a full gym workout session. While he loves working out daily he has never pumped iron nude until today! Watch as Owen takes his First EVER pee on camera. He walks over to a bright orange 5 gallon bucket on the deck in the sun and releases a stream of solid yellow piss that splashing in the the plastic bin. What a great sight and sound! To see this Porn Star hold his cock whiling peeing is a real treat! With his boner fully erect, Owen grabs the barbell and begins to press the heavy weights against is stiff cock and heavy balls. What a fun guy! But wait, this young Porno Stud needs to pee again. This time he hangs his dong between the balcony and takes a piss in the forest while talking to the camera! Owen Michaels is very well hydrated and we got all the golden showers here to prove it, exclusively in the Members Only Area of Island Studs. After his sweaty work out, gaping hole and piss sessions, horny Owen sits down on a sofa in the Mountain House for a long stroke session. Watch as he both slow strokes and fasts strokes his beautiful cock! Proud of his ripped new body, this sexy young lad releases his cock and flexes in big biceps with a winning smile! But the best part of this video is Owen's explosive cum shot. that even surprised this seasoned Porn Veteran! Deep in total bliss and ecstasy, rubbing his throbbing red hot knob, Owen closes his eyes and opens his mouth in pleasure! Watch as 5 solid streams of thick creamy jizz, blast out of his swollen dick hair and land directly on to his face and into his open mouth and cover his sexy ripped furry torso! Wow! Another First: Horny Owen Michaels accidentally comes in his own mouth! Listen to him talk about his load as he sits there exhausted after this special a day at work in the woods.
Uhhh…you still here? Note that I actually removed almost half of the write-up, so the full version is nearly twice as long.
Here's the trailer (watch full scene here), in which Owen Michaels says that he's "99% straight—the reason why is cause, that 1%, I'd fuck the shit out of a tranny." Nice to see that this idiot still has no problem proving to be a complete douche.
[
IslandStuds: Owen Michaels
]