[UPDATED] Ruling On Jarec Wentworth Appeal Delayed As Ninth Circuit Judge Who Heard Case Resigns Over Sexual Misconduct Allegations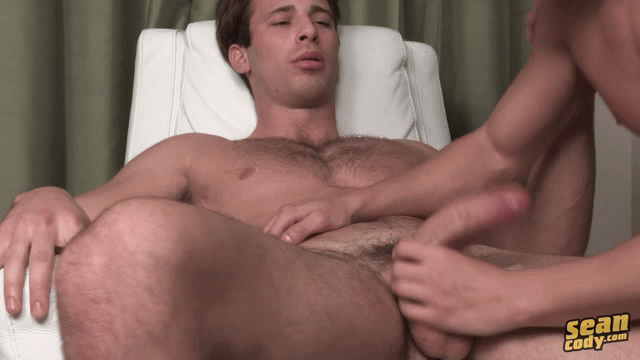 Note: This story has been updated below.
In 2015, gay porn star turned convicted felon Jarec Wentworth was sentenced to nearly six years in prison after being found guilty of attempting to extort over $1,000,000 from wealthy Republican telecom executive Donald Burns—with whom Wentworth, and several other Sean Cody gay porn stars, had an extensive sexual relationship—and Wentworth's federal appeal of that conviction was heard by the Ninth Circuit Court last June. Now, in a stunning (if not coincidental?) turn of events, one of the Ninth Circuit judges who heard Wentworth's appeal and had been scheduled to rule on the case has abruptly resigned following complaints of sexual misconduct by at least 15 different women who had worked with him. Judge Alex Kozinski—a Reagan appointee who was one of three circuit court judges who heard Wentworth's case in June—has immediately stepped down from the bench, and it's now entirely unclear when, if at all, the court will issue their ruling on Wentworth's appeal.
Wentworth (legal name Teofil Brank) has submitted a letter to the court inquiring about the status of his appeal's ruling, and has requested "additional time" to work on his appeal. It's not clear what he needs more time for (as noted, the appeal has already been heard), but he could be anticipating that he'll need to present further information to the court once Kozinski's successor is appointed by Donald Trump?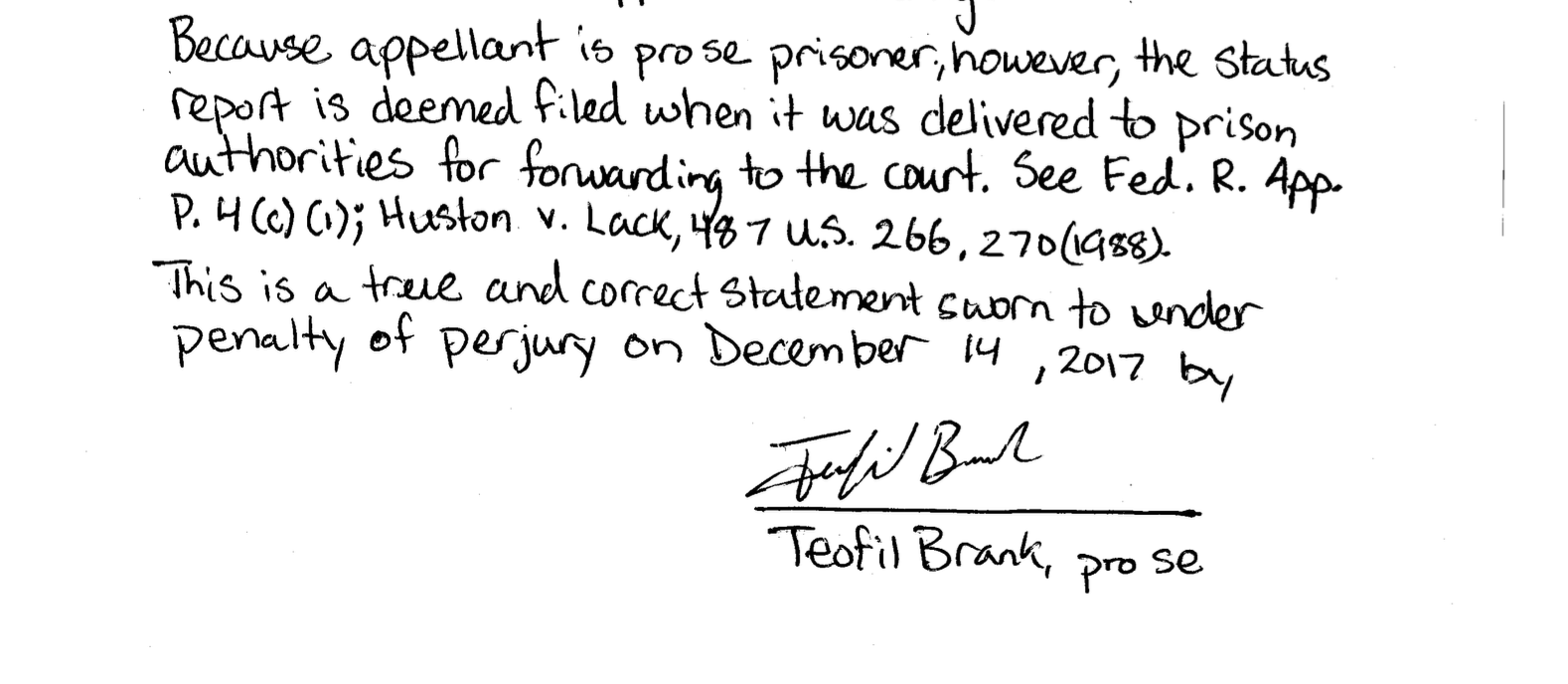 Again, the appeal has already been heard and the court may have already been writing the ruling, so it's unclear what happens with that incomplete ruling now, since Kozinski is no longer part of the court. Maybe the panel can still rule, regardless of Kozinski's retirement? According to a lawyer who argued a case in front of Kozinski, a replacement judge will be randomly drawn to complete working on the case:
For those of you on #appellatetwitter, who, like me, argued to a panel including Judge Kozinski, and were waiting for a decision, the Ninth Circuit rules provide for an assignment of a new judge. See 9th Cir. General Orders 3.2(h) pic.twitter.com/DemkhphLeV

— Bob Loeb (@BobLoeb) December 18, 2017
Whether the appeal is determined by the replacement judge temporarily joining the panel or by the permanent judge who Trump eventually appoints, the ruling will undoubtedly be delayed for several more months. As it stands now, Wentworth is set to be released from prison in April of 2020.
L.A. Times on Kozinski's resignation:
In his 35 years on the federal appeals bench, Judge Alex Kozinski had become known for his brilliant legal mind and stylish, provocative writing. A Kozinski clerkship at the Pasadena 9th Circuit courthouse was often seen as a ticket to a similar position at the U.S. Supreme Court.

But it was his alleged treatment of clerks and other women in the legal profession that brought his career careening to a halt. It had been the subject of whispers for years, and on Monday, Kozinski abruptly retired in the wake of more than a dozen complaints from former clerks, externs and others accusing him of sexual misconduct.

In interviews with the Washington Post and in blog posts, at least 15 women accused him of inappropriate behavior, from showing them pornography to improperly touching them.

"I cannot be an effective judge and simultaneously fight this battle," Kozinski, 67, said in a statement distributed by the U.S. 9th Circuit Court of Appeals. "Nor would such a battle be good for my beloved federal judiciary."
In addition to his apparent fondness for pornography and sex, the judge was coincidentally similar to Brank in another way: Kozinski, like Brank, was born in Romania and moved to the United States as a young boy:
Kozinski was born in Romania, and at age 12 he moved to the United States with his parents, who were Holocaust survivors. His family settled in Los Angeles, where his father ran a small grocery store. Kozinski received undergraduate and law degrees from UCLA. He described himself in Monday's statement as a "refugee from Communism."

"I firmly believe that a strong judiciary, free from political pressures, is vital to the preservation of this great nation," he wrote.

In the staid world of the law, Kozinski stood out. Kozinski punctuated his rulings with humor and words not seen in other court decisions. In one case, he wrote, "The parties are advised to chill."
UPDATE:
A drawing for a replacement judge has been made, with Circuit Judge Andrew Hurwitz taking over for Kozinski. There's no news on additional hearings, so Hurwitz will rule based on evidence already submitted and the recorded hearing last summer (as seen below). Hurwitz was nominated to the Ninth Circuit by President Obama in 2011, and he assumed office in 2012.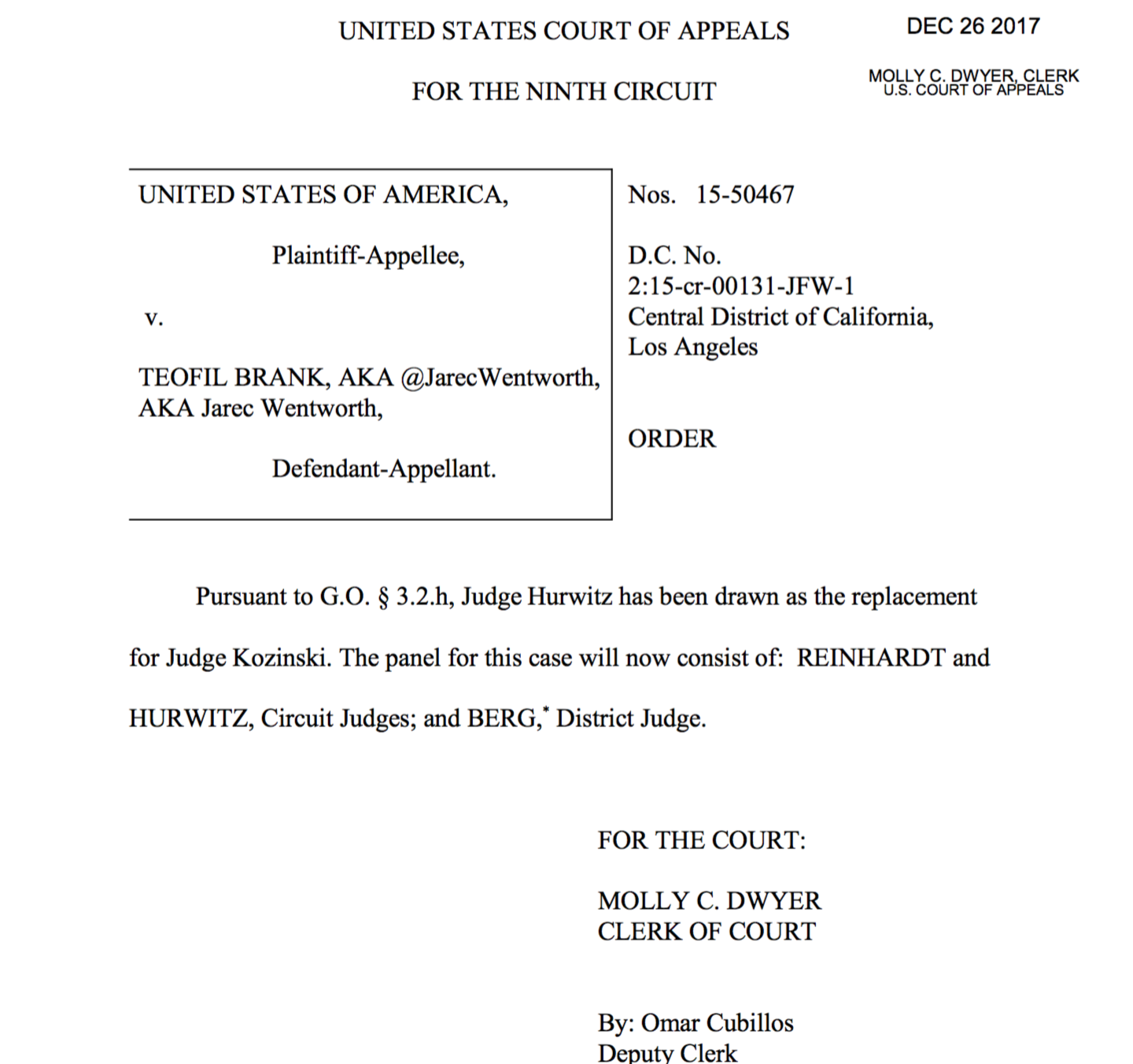 Jarec Wentworth has been given a deadline of March 22nd, 2018 to file any additional status reports or motions, which means a final ruling on the appeal should be issued around that time, if not sooner.
In case you missed it, here's the video of Wentworth/Brank's appeal as it was heard by Kozinski (on the far left) and two other Ninth Circuit judges in June. (Brank was not present for these proceedings, but for those who followed the case and the trial closely, some of the arguments in the video are interesting.)