Exclusive: Gay Porn Star Ty Mitchell On His Favorite Scenes, His Drag, Winning Best Newcomer, Monetized Sex Lives, And More
Award-winning performer Ty Mitchell launched his gay porn career in late 2016, and Str8UpGayPorn recently had the chance to catch up with him to discuss what he's been up to over the last two years, his outlook on the industry today, what he has planned for 2019, and a lot more. Thanks again to Ty for taking the time to talk!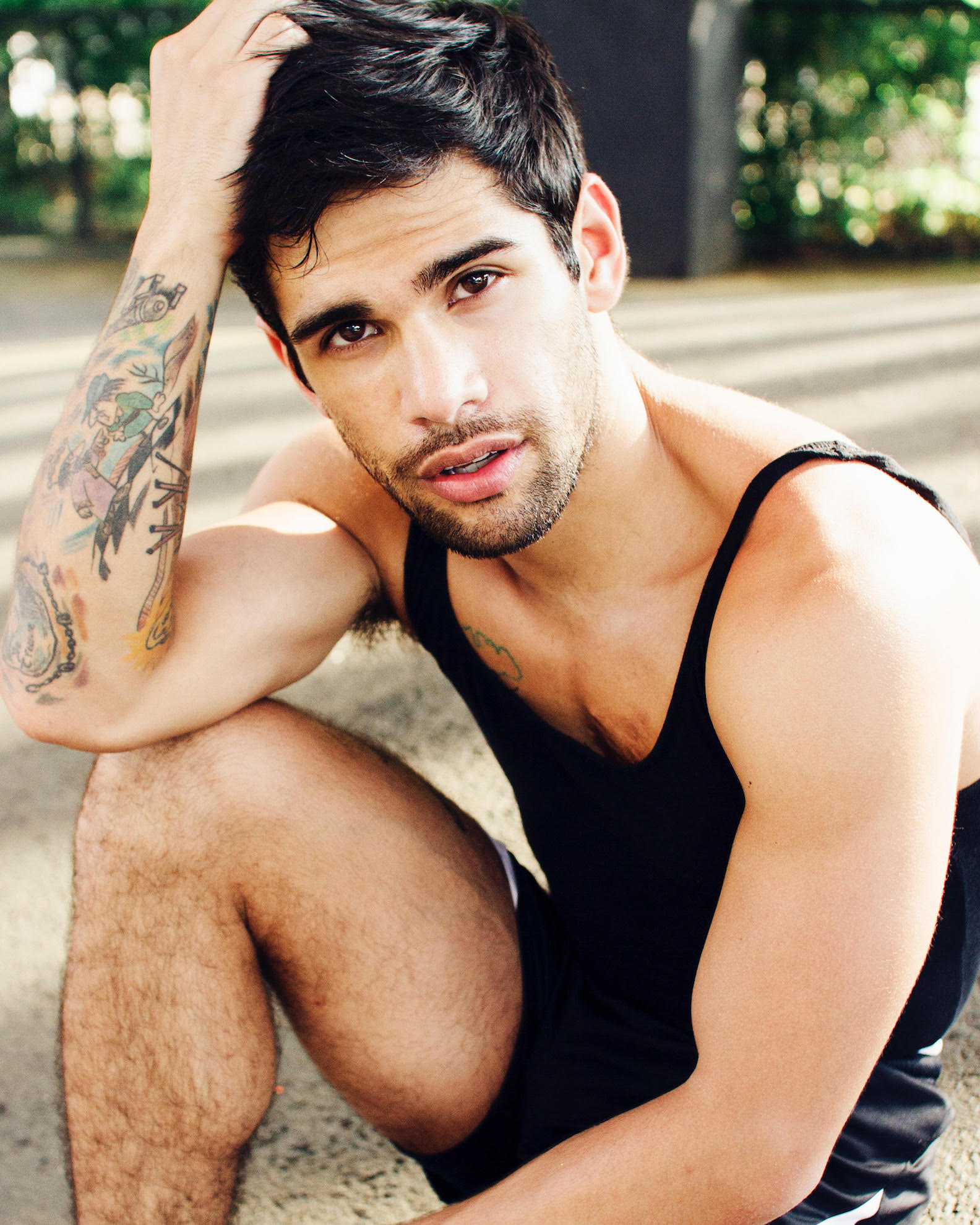 [photo by Marley Cumbee]
Str8UpGayPorn: Hello, Ty! I wanted to start by going back to when you filmed your first scene, and you mentioned that it was with RawCastings. Is that where you first applied, or do you remember how you ended up filming there?
Ty Mitchell: I don't remember how I found it, but I wound up applying to some model management site that probably forwards applications to a bunch of companies. Before that, I think I'd only applied to Helix and CockyBoys.
Who was your scene partner, and what was he like?
I popped my porn cherry with Dax Daniels, who had a great dick, and was really easy and professional to work with. And Austin Wilde was the videographer on the shoot, so that was cool, and it later led to working with GuysInSweatpants. I think of it as one of my best scenes.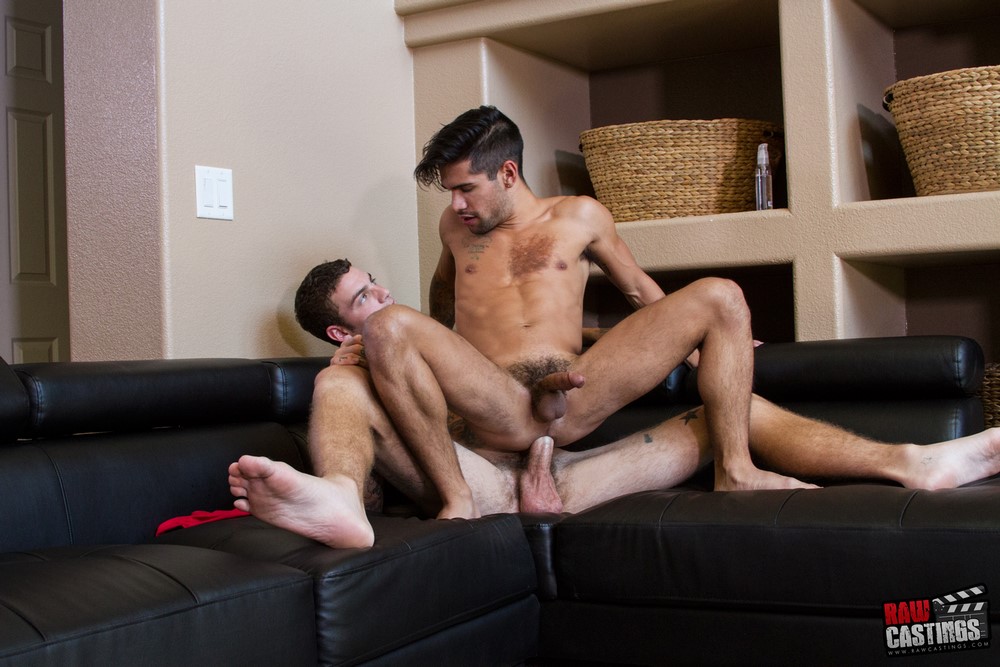 It was really good, especially considering it was your first time on camera.
There's this great moment where I'm riding him, and you can watch my dick get harder and start helicoptering. Also, I asked him to fuck me while stepping on my face, which is pretty iconic, in my opinion. I wish I'd asked for more money, but I really wanted a gig and had no idea there was some kind of premium on a "first time" scene, but maybe that's mostly for straight guys.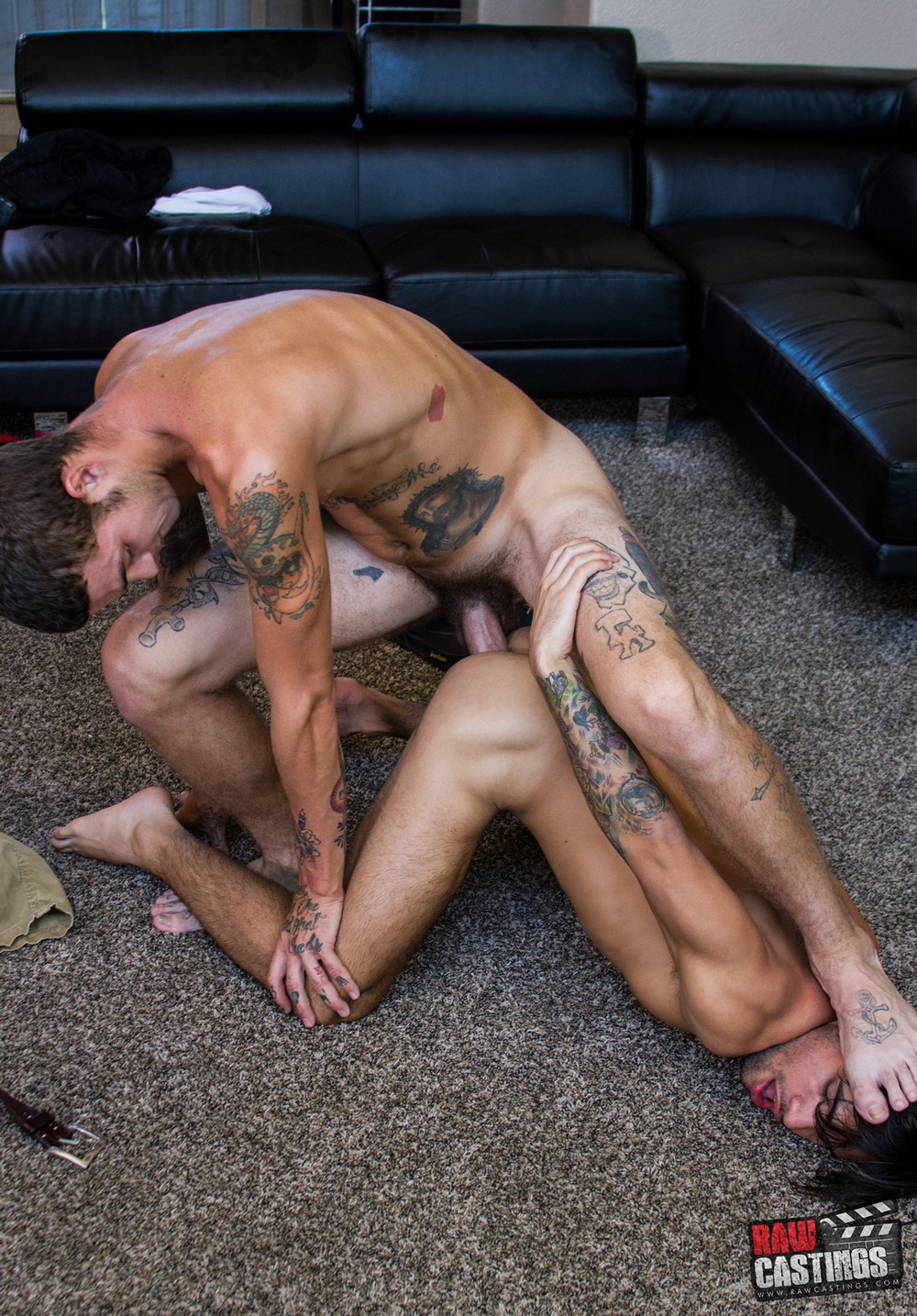 You've of course gone on to perform at so many different studios. What are some of the significant differences in the way they all shoot?
Yes, I have, since I've never had an exclusive contract. All the studios handle production differently, and I'm glad I've had a breadth of experience to know what's standard and what isn't, and what seems exploitative and what's just another day in the life. I love porn, but there are a lot of assholes who take advantage of young, inexperienced guys, and the semi-underground nature of the industry. And even among the more professional studios, the bar for our working conditions is abysmally low.
Have you experienced any of that firsthand?
I think I've avoided any truly terrible shoots through sheer luck, notwithstanding one particular person who pressured me into blowing him during a "casting interview."
Is this person someone we're familiar with?
I don't intend to specify who I'm talking about, because it should be obvious to your readership. But new models need to know that this is not standard, it's assault—even if you go along with it and even if you convince yourself that you're into it. This person leveraged his physical and financial power over me in a situation where I thought I had to prove something about my ability to perform under pressure. Sorry, I don't mean to grandstand.
No, you're not grandstanding at all. This is a real issue that continues to hurt a lot of people.
Assailants aside, every director is a different personality and might schedule the day differently, but they all generally follow the same main formula. Some scenes have taken just a few hours to film, and the environment is really sexy and relaxed. And some take all day, where I'm holding crazy poses with a dick in my ass, and everybody is desperately cracking jokes to dissociate from all the gay sex. Those are fine, too, just not as personally fulfilling.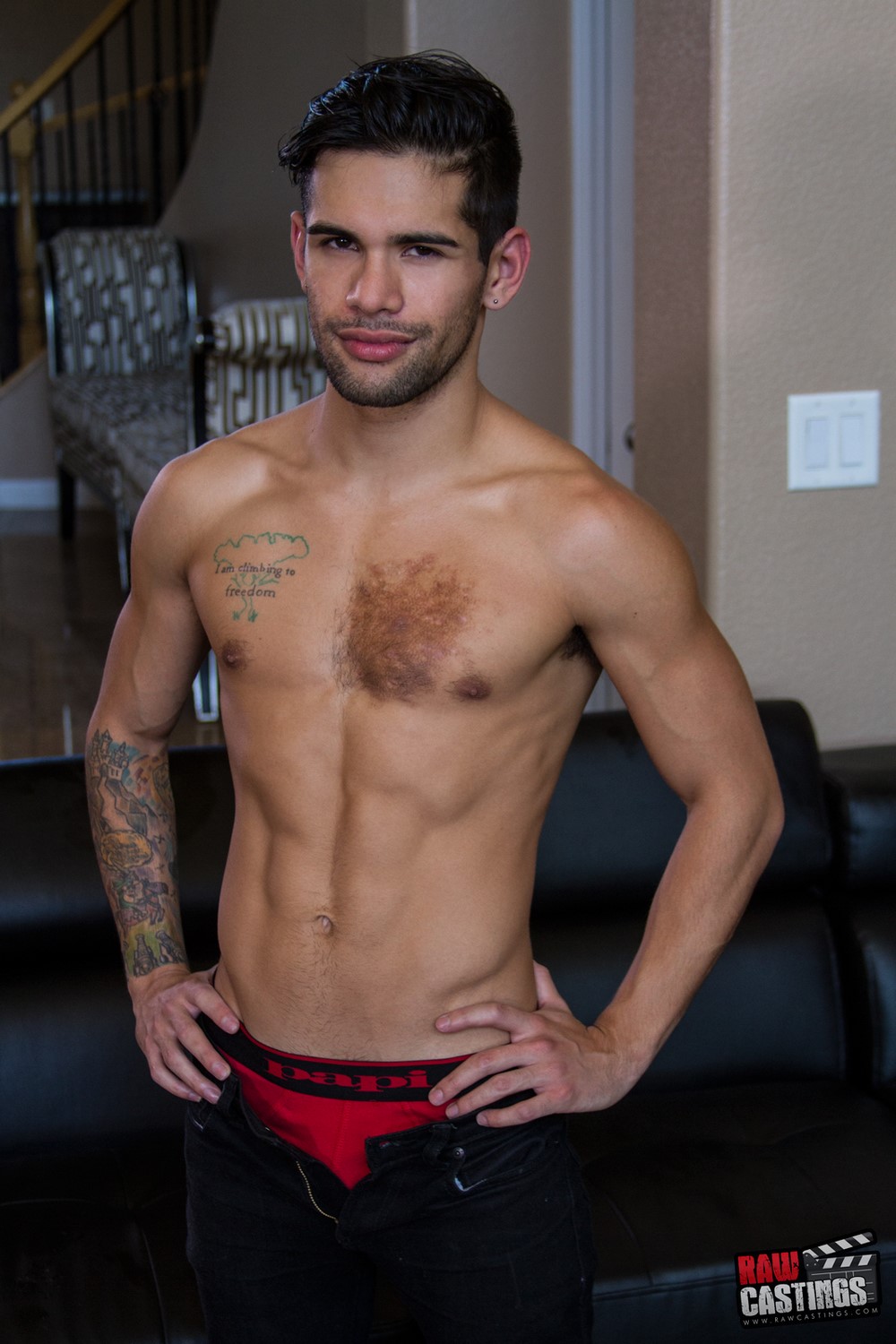 You've done both condom scenes and bareback scenes, which can probably either slow or speed things up?
Condoms always slow things down, but they definitely slow down some directors and studios more than others. I hope I don't compromise the brand by saying this, but Max Sohl at Treasure Island is the only director I've ever worked with who privately took me aside before a scene just to ask me, "How can we make this as comfortable an experience for you as possible?"
Which have been some of your favorite scenes you've filmed? And who has been the best to work with?
That's tough. I guess my favorite scenes have been the ones where I've connected the most with my scene partner. So, the second question answers the first, which is still tough, because I've worked with a lot of great guys. That being said: Taylor Reign. I don't know that I've ever been so attracted to somebody I've worked with before, physically and energetically.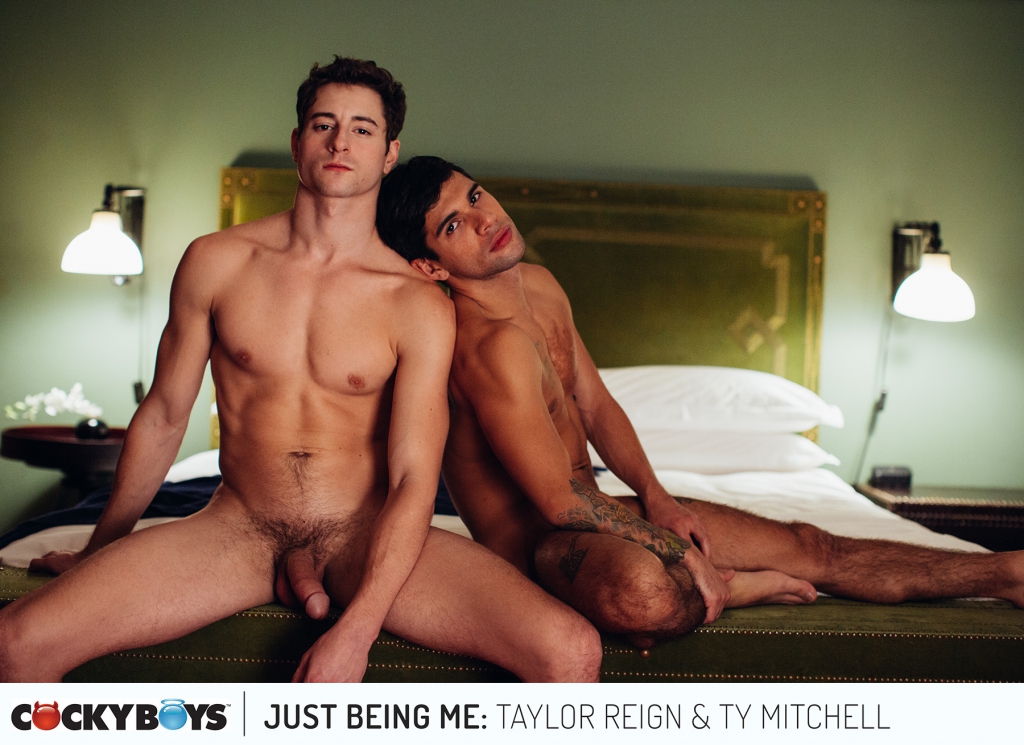 I can understand why—he's so gorgeous.
When we filmed "Just Being Me" for CockyBoys, we spent a nice chunk of time together. It was really intimate and memorable for me, and I'm really thankful for his support and friendship since then. That scene also involved an interview with Jake Jaxson, and I appreciated the opportunity he gave me to talk really openly about my queerness.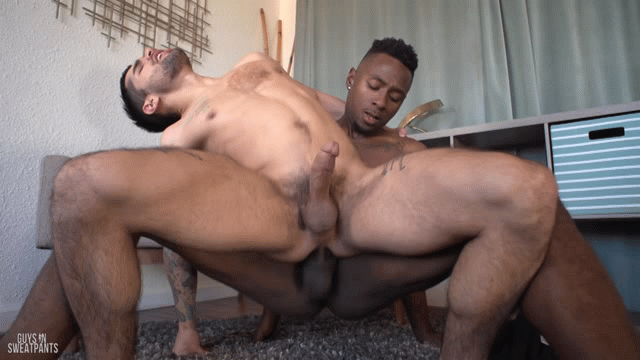 Any other scenes that come to mind?
My favorite shoots have all been with GuysInSweatpants and CockyBoys, with partners Miller Axton, Lucas Leon, JJ Knight, Cory Kane, and Ethan Slade—all really hot guys who I connected strongly with, and who I consider friends. I had a really sexy, fun time working with Wesley Woods for GayRoom's Shower Bait site, back in 2017. I've also improvised a lot of funny porn dialogue that I'm quite proud of for Men.com, like in "Pass the Bottom," which revolved around a bunch of straight guys worshiping me for being a great bottom.
As they should.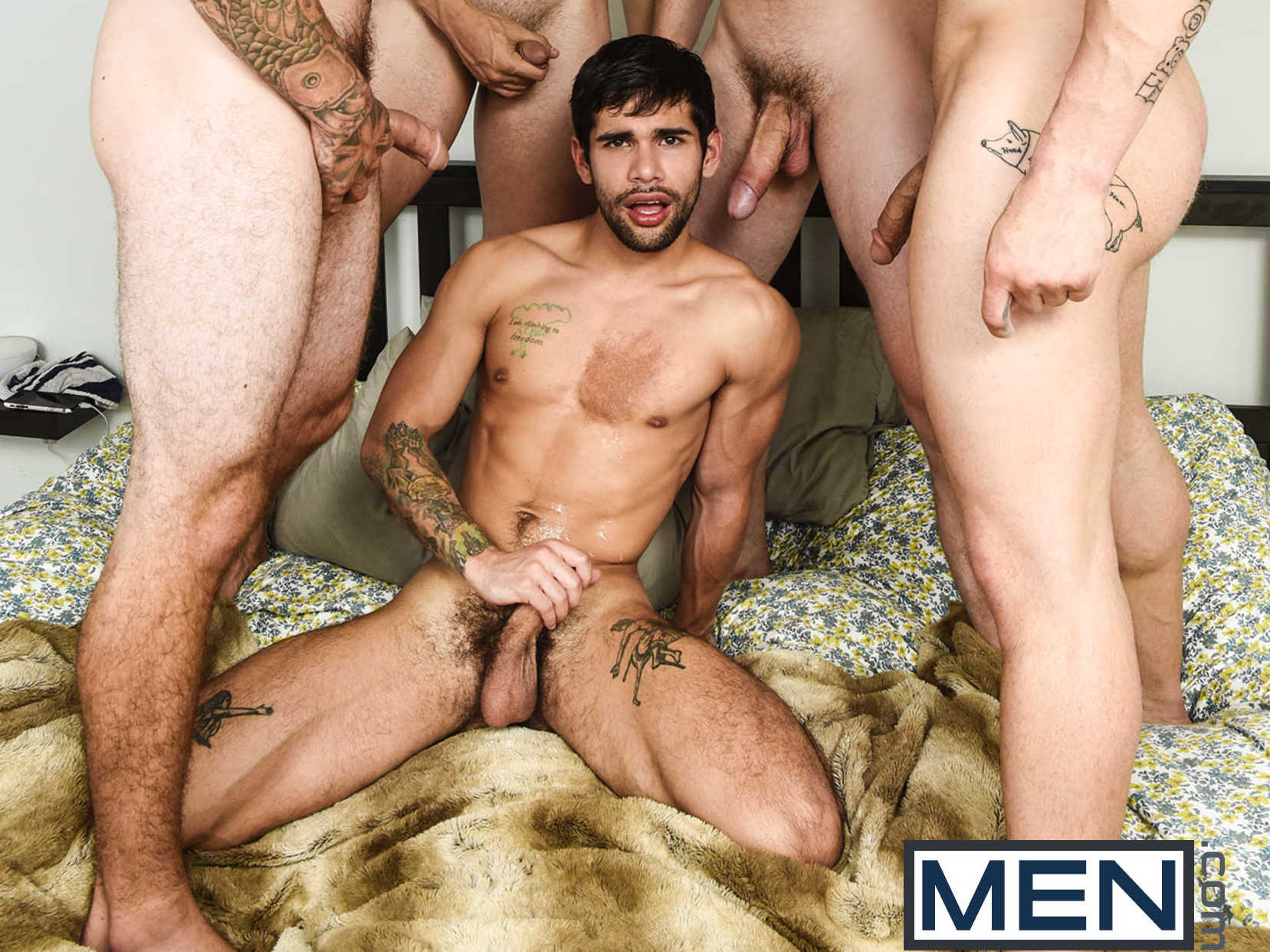 So do you watch your own porn? Or, do you look at clips and critique yourself?
Not really. I'll usually watch the dialogue to see if I did anything funny, but I don't really watch the sex. I don't really jerk off to home videos of myself either, to be honest. When I watch porn, I guess I get off on browsing through a bunch of clips for the right video that I haven't seen yet, instead of searching for something specific or turning on a full movie. With stuff I've been in, it's like I've already seen it. I mean, I was there. Also, when the actual shoot was difficult or took forever, it's hard to watch the finished product and forget all the un-sexy moments on the way there.
Do you remember the first porn you ever watched?
I've been looking at porn on the internet since I was like nine years old. I don't remember a specific first one, but I remember a Brent Corrigan and Brent Everett scene being an early favorite. I also was no stranger to Yaoi fanart, like Death Note or Kingdom Hearts.
Brent Corrigan is still performing today. Have you ever met him at any of the industry events?
Funny story: I met him at a Hustlaball a few years ago and nervously blurted out, "I've been jerking off to you since I was 14." Horrified, he looked me up and down and said, "How old are you now?" Later that night, I blacked out for an hour on whiskey and Klonopin. I remember commanding someone who was fucking me to piss on me, but also remember being dry when I took the subway home. A great night.
Nice.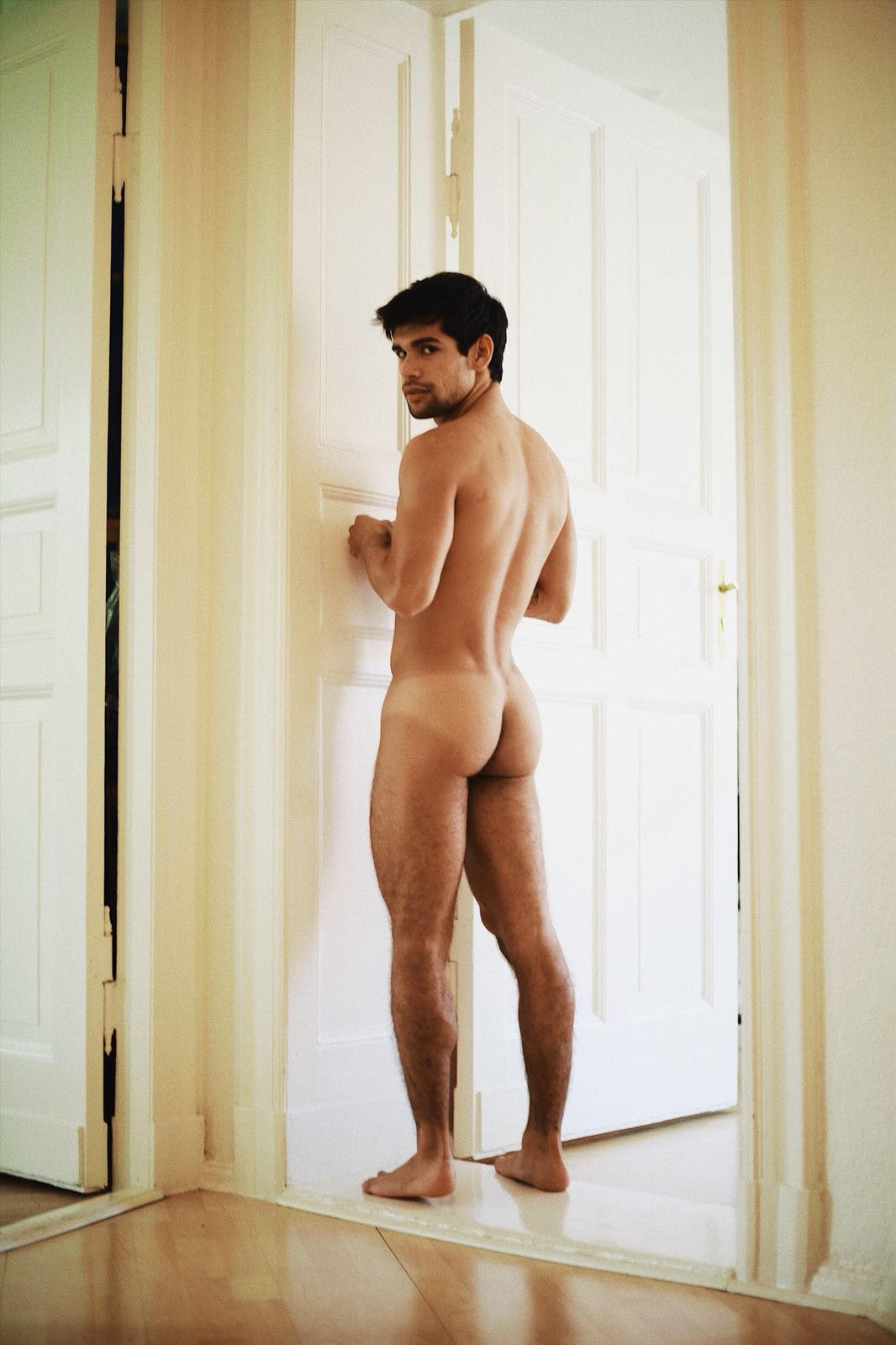 [photo by Sam Morris]
There's often drama or conflicts between performers and studios within the industry, but you've stayed out of that over the last couple years. When you see people arguing or fighting on Twitter, for example, do you ever feel like weighing in?
Thanks, I'll take that as a compliment. To be honest, I usually don't notice much of it, and when I do, I mostly find it funny. This sounds bad, but I don't follow a lot of porn stars online, and mute some of the ones who I do follow. It's not a personal thing, I just get insecure a lot, and seeing all these guys looking glamorous and hot and successful on my feed stresses me out. Plus, I'm not signed with anyone, so I'm pretty removed from any of the intra-studio stuff. So I find most of the drama kind of hard to follow.
Does it ever feel like a job, managing social media and your online presence?
I've been active on Twitter since before I started porn, and I use it more as my own little outlet than as the HQ of my porn brand. That's changing now, though, especially as people are migrating from Tumblr to Twitter to consume porn, and as I've been increasingly advertising my JustForFans page. So lately, I've been experimenting with focusing more on the XXX content, and using a separate SFW account for all of my shouting into the void.
How do you deal with all the responses and mentions you get when you tweet about your porn?
I really just retweet and mute most of the things that tag me to promote my scenes. I get really defensive and sensitive to the slightest disagreement, so I delete a lot of stuff when it starts to stress me out. I feel like my following is small compared to most models who work as much as me. And I know it's because I don't actually post all that much porn, and I mouth off a lot about other shit all the time. Or maybe I just suck, who knows.
No! I love your tweets, and I love how outspoken you are on everything from politics to Drag Race. What did you think of the recent so-called "tie" on All Stars 4?
All Stars began as a special event dedicated to crowning somebody who has demonstrated legendary potential, both after their initial season and within the All Stars competition. Between AS2 and AS3, this changed, and Drag Race began its contract with VH1. It is no longer "a place for legends," but simply a spin-off show offering a second chance at competing between contestants with established characters. I think a double-win demonstrates the changed nature of the title. All four of the finalists were competent at mostly everything, but none of them made you yell at your TV, "this girl needs a crown!"
True, I was sort of underwhelmed.
I did feel strongly about Valentina and Manila, and neither of their eliminations felt narratively earned to me, as a viewer. Of the four, Monet was my top pick, because her wardrobe improved a lot, and she was the only one who seemed to have smart, witty, and interesting things to say. I just wish she'd had more time between season 10 and All Stars 4 to show us what she can do creatively and entrepreneurially. But congrats to her, a win is a win.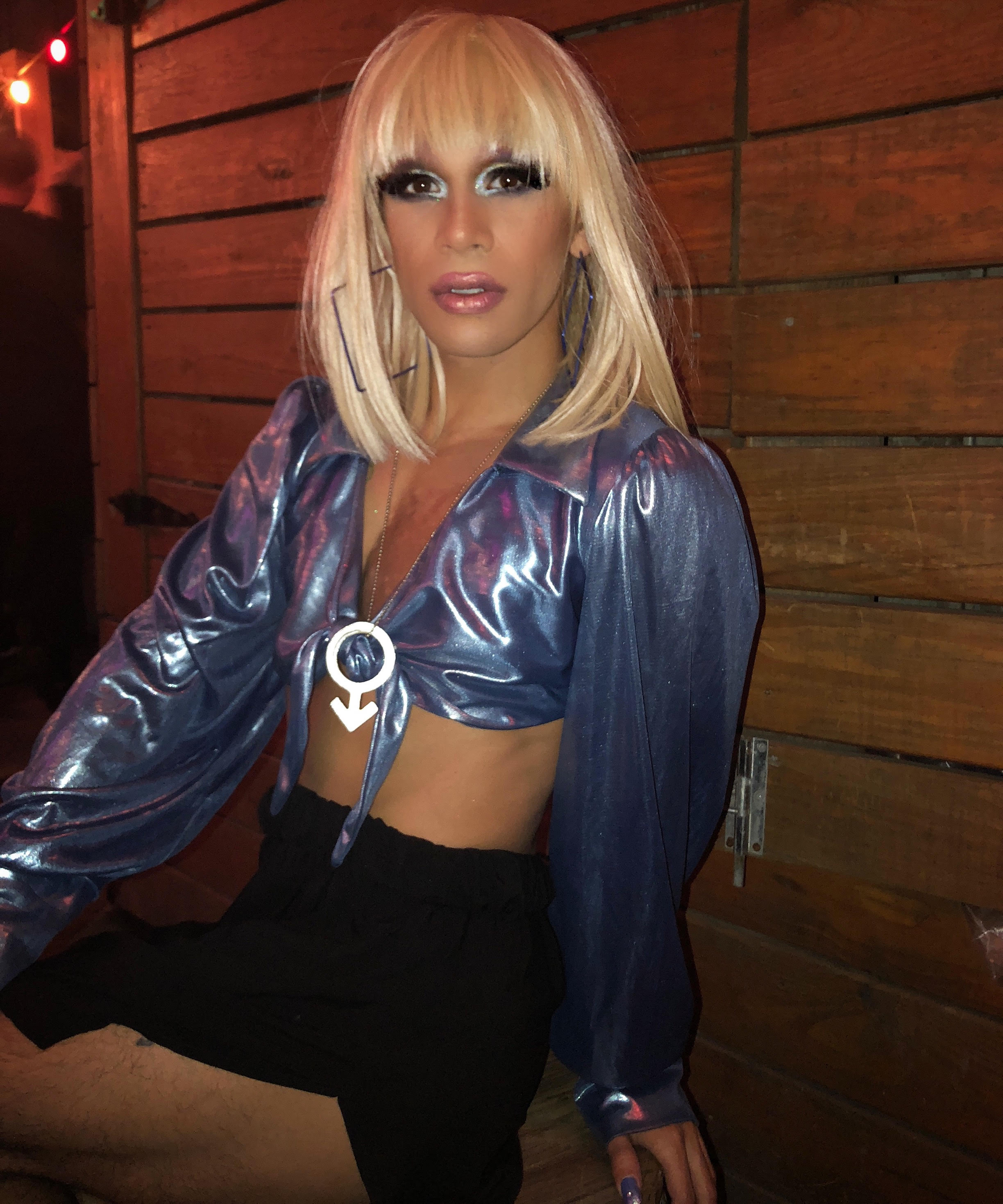 You yourself are a drag performer, and you perform as Kelsey Dagger. How, if at all, are the two personas of Kelsey and Ty different? Or, are they even "personas"? Which do you identify with more?
They're just my two names, really. I'm not particularly good at crafting an "alter ego," and it usually just comes off corny or pretentious when people try to play a character. When I meet people through drag or queer community stuff, I introduce myself as Kelsey. When I meet people through porn or in a sexual context, I introduce myself as Ty. They're both me, though. I don't act differently in those different spaces, and couldn't if I tried. To be totally honest, I've never really loved the full name "Kelsey Dagger," it just came about through a funny moment with friends. Lately, I've been performing using my IG handle as my drag name, Probottom.
How would you describe your drag?
I think my drag sort of confuses a lot of people because I'm such a hobbyist about it. I just want to dress up and perform with my friends, and feel connected to that community. I only really do it once a month or so, but if I go more than that without doing it, I feel a really bad itch to get dolled up. Lately, I've been writing and singing original music. I perform a lot at The Rosemont in Brooklyn, and like to bring an electric guitar and give a little soloist rock show in drag.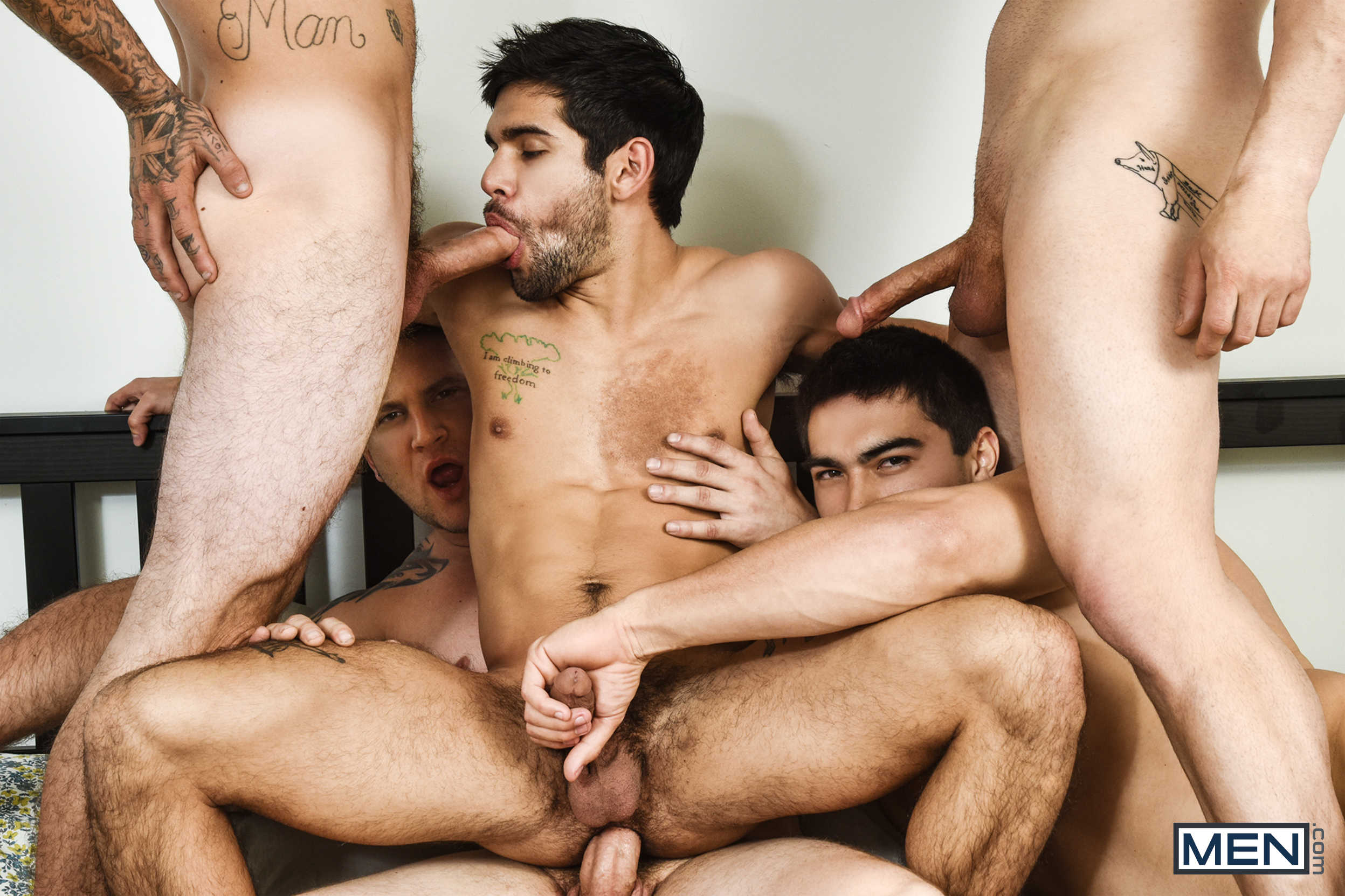 There's been a lot of debate lately over porn industry STI testing protocols, with many people asking the trade groups, studios, and testing centers to allow HIV-positive undetectable porn stars into the system. Should the industry reevaluate their standards?
I think the industry's testing standards are a joke, as far as gay porn goes. Maybe I'm biased because I'm openly gay and on PrEP, so I already get tested all the time and don't have to be secretive or ashamed when something comes back positive. But it's very obvious that it's a standard and procedure designed around protecting straight performers, and minimizing company liability, but I think there's very limited consideration of the contexts in which gay sex workers live.
I think some people still don't understand that undetectable = untransmittable.
HIV-positive people with an undetectable viral load cannot transmit the virus to a sexual partner. This has been empirically proven by over a decade of research on thousands of people in serodiscordant relationships. HIV prevention experts around the world, including the CDC, have reached a consensus on this. I think that much of the porn industry has chosen to dismiss this research, and insist on an impossibly high burden of proof, because there is not a sufficient legal protection that accounts for this research and could minimize liability if a performer accuses them of putting them at risk, even falsely. But that last part is just my conjecture.
Studios have been sued for alleged HIV transmissions on set, so in a legal and financial context, I can see why they're nervous. But at the same time, discriminating against poz performers is wrong.
I think an explicit, formal prohibition against undetectable HIV-positive performers is bad, and that performers should have the right to make an informed decision about whether they want to work with somebody who is undetectable. I think trade groups, testing centers, and studios should be proactively sharing the most up-to-date prevention information with performers, and correcting misinformation about how STIs spread and are treated. And I think that truly ending serophobia requires targeting legal and political institutions, as well.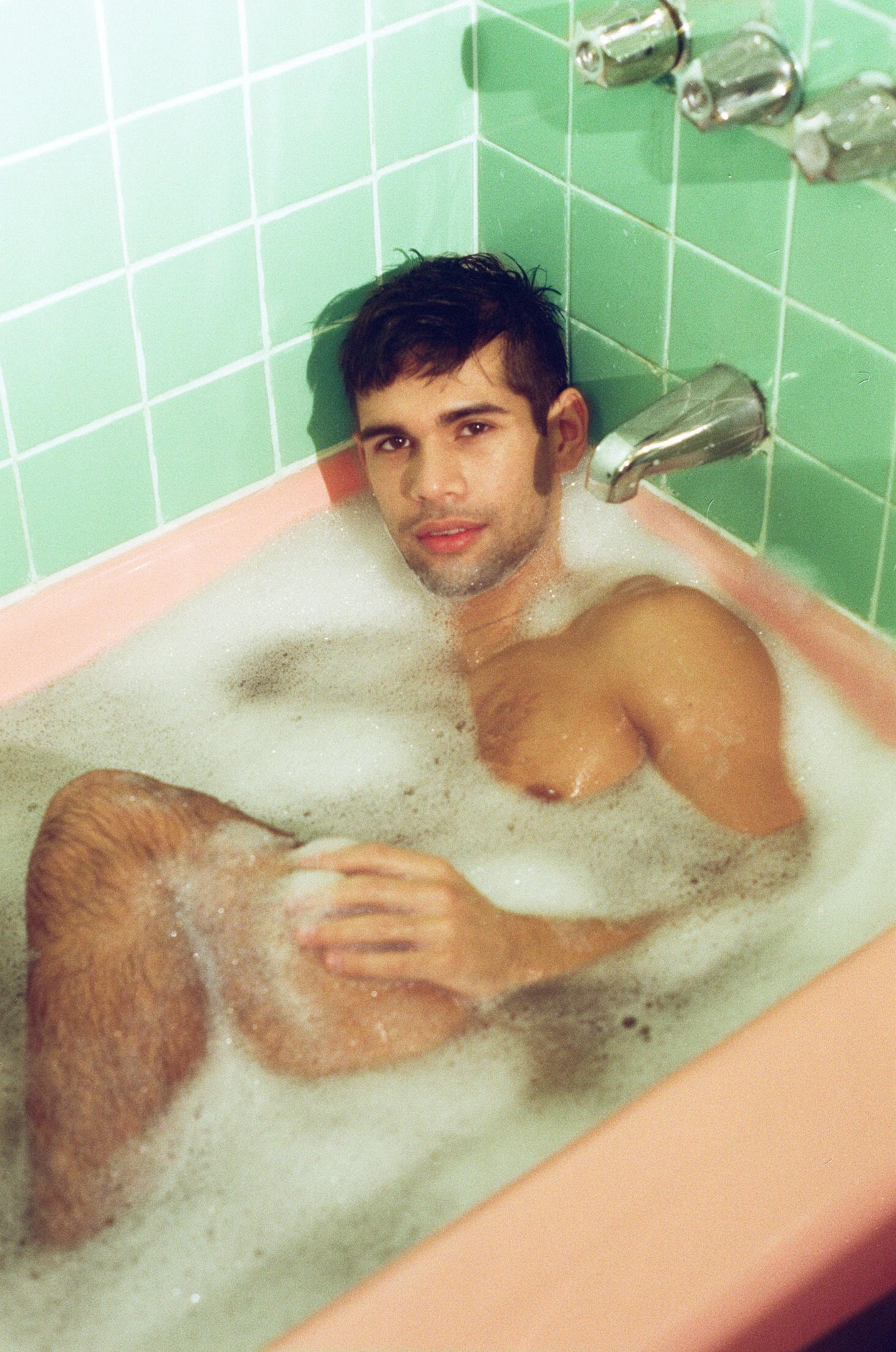 [photo by Ashley Armitage for Out Magazine]
You create your own content and film your own sex tapes. Is it ever a challenge to decide when you're going to record, and when you just want to have sex off-camera? Do you ever feel like your sex life has been monetized?
It was difficult at first. I felt like every hook-up was an opportunity to monetize that I couldn't pass up, and would turn off guys who I could've otherwise had a good time with. Or, I would agree to sex I might not be that into just to create content. I didn't want to take advantage of people, and I didn't want to have sex that I wasn't really into. And all the while, I was stressing about ensuring subscribers don't feel ripped off, not just because I wanted them to re-bill, but I was also scared they'd say I was a scammer on social media or something. I don't stress about it nearly as much now, because I had to create boundaries for myself, and because the whole game has started to level out a little. It felt like this kind of gold rush at first, and I kept comparing myself to other people who seemed to be striking a lot of gold.
You mentioned boundaries. Can you explain what some of them are, or how they come into play when you're hooking up with people?
I eventually set the boundaries for myself and decided that if people don't like those boundaries, then they don't have to subscribe, and I'll be fine. The main one is this: I only want to film with people with their own page—or who are collecting footage for a page—so that we can mutually own and profit off the footage, and have similar expectations about the hookup. I'll make an exception if somebody's, like, a hot fan who tells me they want to make a video with me, without their face. But, I don't want to push it on anyone. Lately, I've also just been wanting to make better videos that I'd want to jerk off to myself, so I've been picky about what and how I want to film.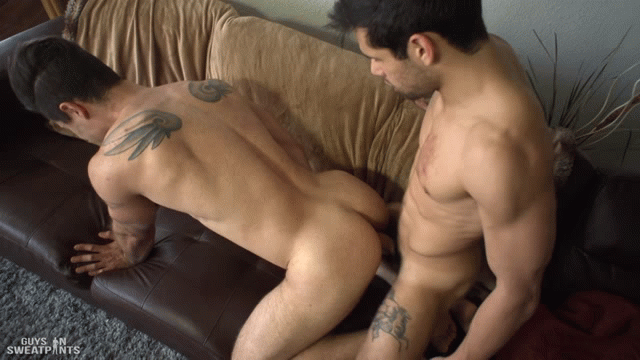 [via GuysInSweatpants]
You grew up in Las Vegas, so how did you end up in New York?
I moved to New York to go to college, where I got a Gender Studies degree, which I am more or less using doing porn and drag. I used to have a day job, but now I do sensual massage on call. Yes, it's usually nude; no, it's not a euphemism for escorting. It's a lot of deep tissue work, actually.
Before I let you go, which performers or studios do you think would be the most fun to work with in 2019?
I'm hoping to work as much this year as last year, or sign an exclusive contract with somebody. I get most of my bookings through my agent, Shane Frost, who periodically circulates my model sheet to his contacts. I've tried to get a little networked, though, and have secured a few other opportunities through contacts and friends. I'd love to do some work in Europe. I don't seem to be on Tim Kruger's radar yet, but doing a TimTales scene is sort of a dream of mine. But in general, I'm just hoping to keep getting booked at all.
You'd prefer to be exclusive with a studio?
If I get offered an exclusive contract this year, I'll probably take it. I'd like the security and promotional support even if it means working a little less. I'd say which studios I really want a contract with, but I don't want to jinx it.
Gotcha. Finally, congratulations again on winning the Best Newcomer award at the Str8UpGayPorn Awards back in October! Did you have any idea that you were going to win?
Thank you, it really meant the world to me. My impression of porn award shows is that they are largely designed to promote studios, and by extension, their exclusive models. So I went into it mostly as an excuse to visit L.A., maybe network a little, not expecting to win anything because I'm not signed with anyone. Plus, I was in a category with like nine other people who I admired a lot, and thought of as a way bigger deal than me.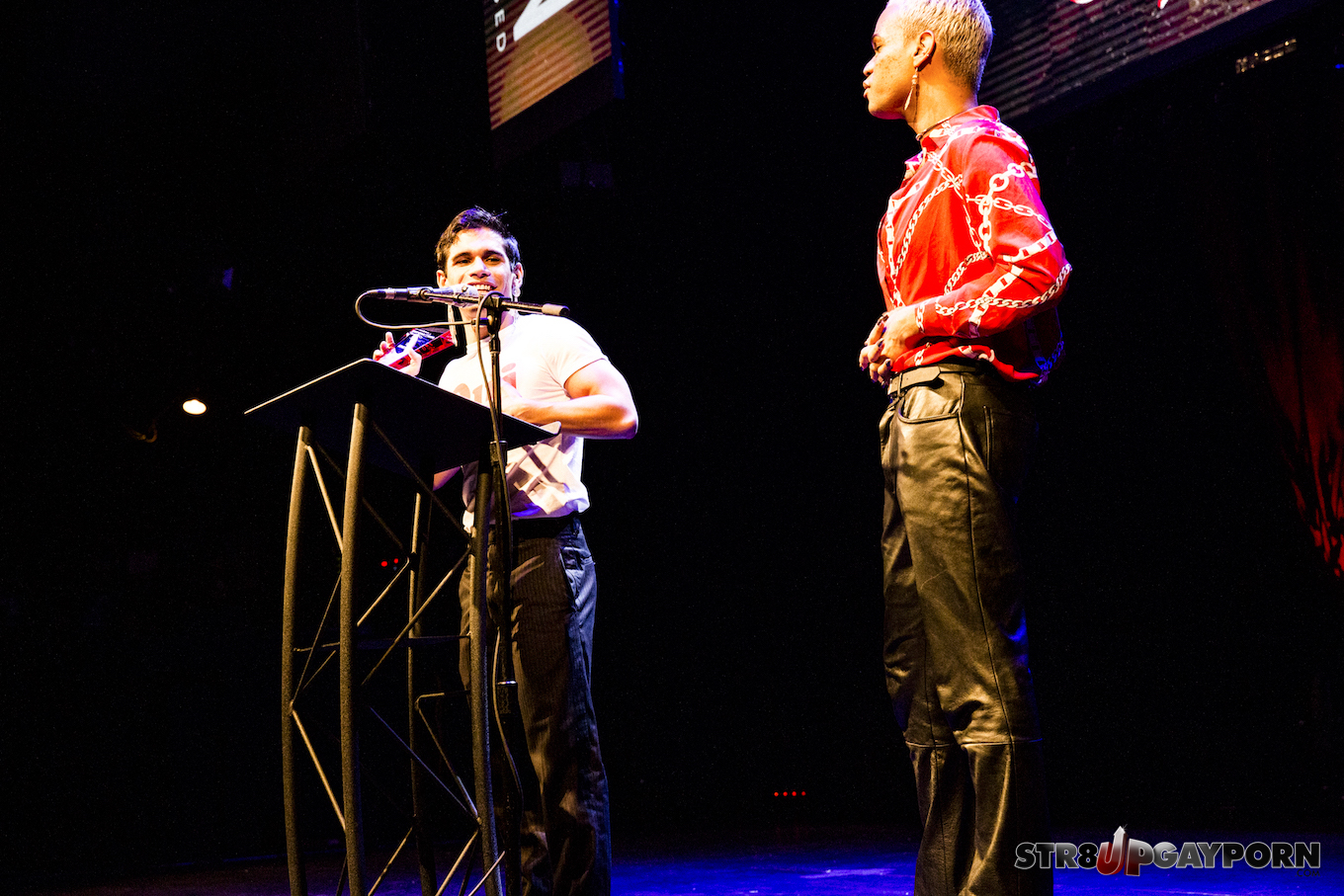 And then Sean Ford opened the envelope and called your name. What were you thinking right before and after the win?
I was very shocked to win. I was very grateful for the recognition of me as a person and performer. And I was really overwhelmed in that space, since I don't know a lot of people that well, and considered leaving. But I work in nightlife, so I knew how to deal, and I got really stoned instead. So it all felt really trippy, which was cool. I didn't believe in angels until I met Sean Ford.
Anyone you forgot to thank in your acceptance speech?
I wish I'd thanked my agent, Shane Frost. And I wish I'd turned an actual look.
You looked great! Thanks again for chatting, and I'm looking forward to seeing everything you do this year.