Andrew Christian Uses Photoshopped, Headless Images Of Alleged Rapist Topher DiMaggio To Sell New Underwear
Throughout January and February of this year, gay porn star and Andrew Christian underwear model Topher DiMaggio was accused of raping and/or sexually assaulting five different men, with each of the five men coming forward with similar allegations against DiMaggio over the course of several weeks. Two of those accusers brought their stories to Str8UpGayPorn, with one alleging that DiMaggio raped him in Sacramento back in 2016, and another who accused DiMaggio of sexually assaulting him in Seattle in 2014.
Str8UpGayPorn reached out to Andrew Christian for comment on the status of DiMaggio's employment with them as a "trophy boy," and a rep replied that DiMaggio was on "indefinite suspension" while they looked into the matter. A week later, in early February, reports surfaced that Andrew Christian had removed images of DiMaggio's face from their website, but images of his body (including the recognizable tattoo on his lower abdomen) remained on the site, advertising various pairs of underwear.
Removing DiMaggio's head was a temporary fix (around the same time, Fleshjack made the permanent decision to remove all Topher DiMaggio sex toys from their website completely, and gay porn studios stopped hiring him, too, as no new DiMaggio scenes have been filmed or released this year), but it soon became clear that despite the supposed "suspension," Andrew Christian and DiMaggio had not parted ways. In early April, DiMaggio appeared in an Andrew Christian promo video and a new Andrew Christian photo shoot, and Andrew Christian claimed they were still "investigating" the rape allegations. Today, it appears that new advertisements featuring DiMaggio have been added to Andrew Christian's website.
In addition to chopping off his head like they did last time, Andrew Christian has also photoshopped out the tattoo on DiMaggio's abdomen in the new images, apparently to try and conceal the fact that they're once again using an alleged rapist to market their underwear. Here's one of the new ads featuring a beheaded DiMaggio, with his tattoo photoshopped out:
For those who might not be able to tell that this is Topher DiMaggio, here's another new ad (below, left) next to an old ad (below, right) with a non-beheaded, tattooed DiMaggio. The three tiny moles on DiMaggio's arm, chest, and neck have been pointed out in each photo to prove that this is obviously the same person:
Another comparison, with a new ad and an old ad: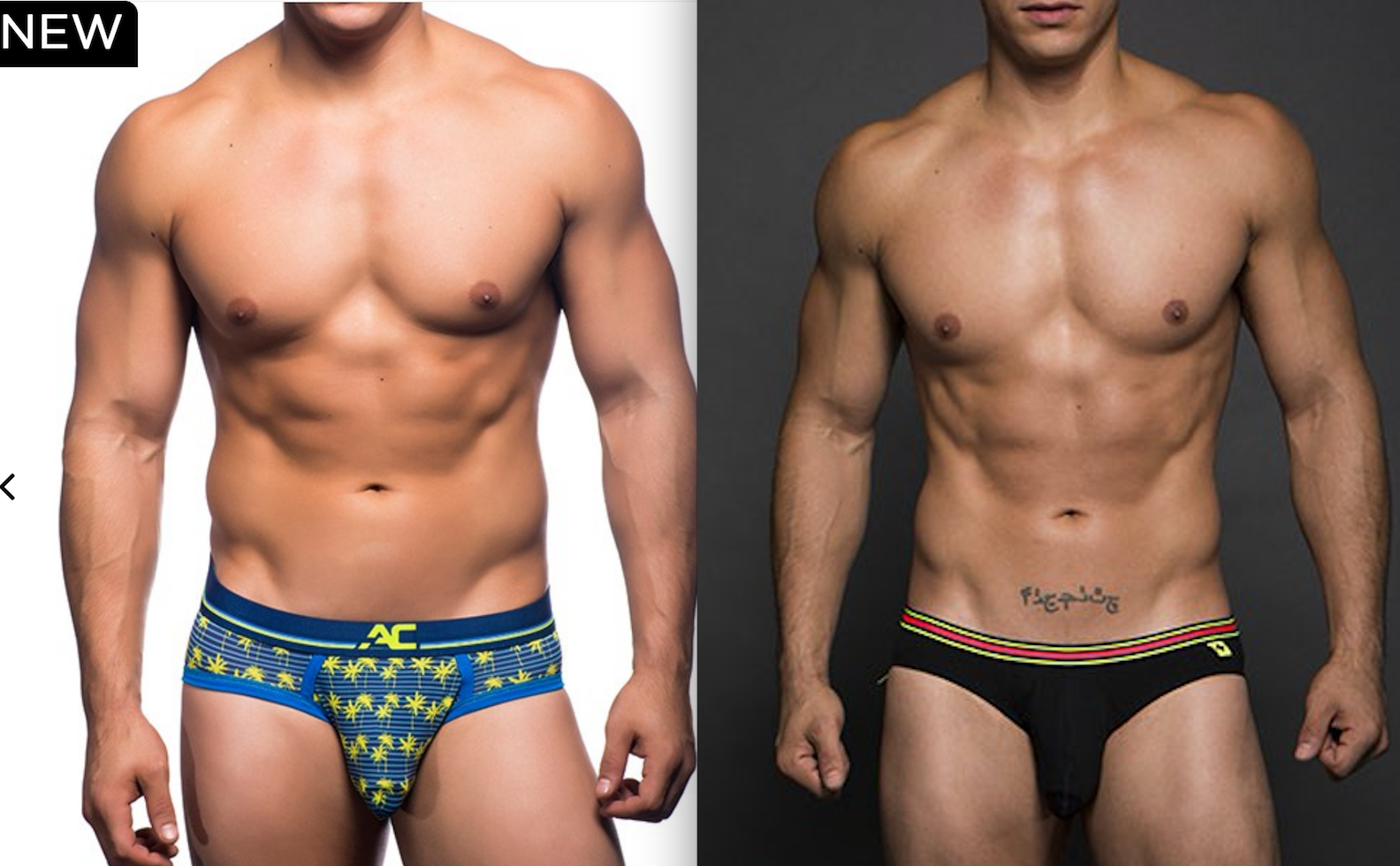 While the failure to adequately camouflage DiMaggio shows that Andrew Christian is either stupid or lazy (or probably both), it's even more egregious that they'd try to hide his identity in the first place, because it proves conclusively that Andrew Christian believes it's wrong to use him in their underwear ads. And yet, they're using him anyway (even if it means doing something bad that they feel they need to cover up?).
Note that literally every other model on the Andrew Christian website has a head, while the headless man in these images is Topher DiMaggio:
Another comparison, with an old Falcon photo and one of the new ads: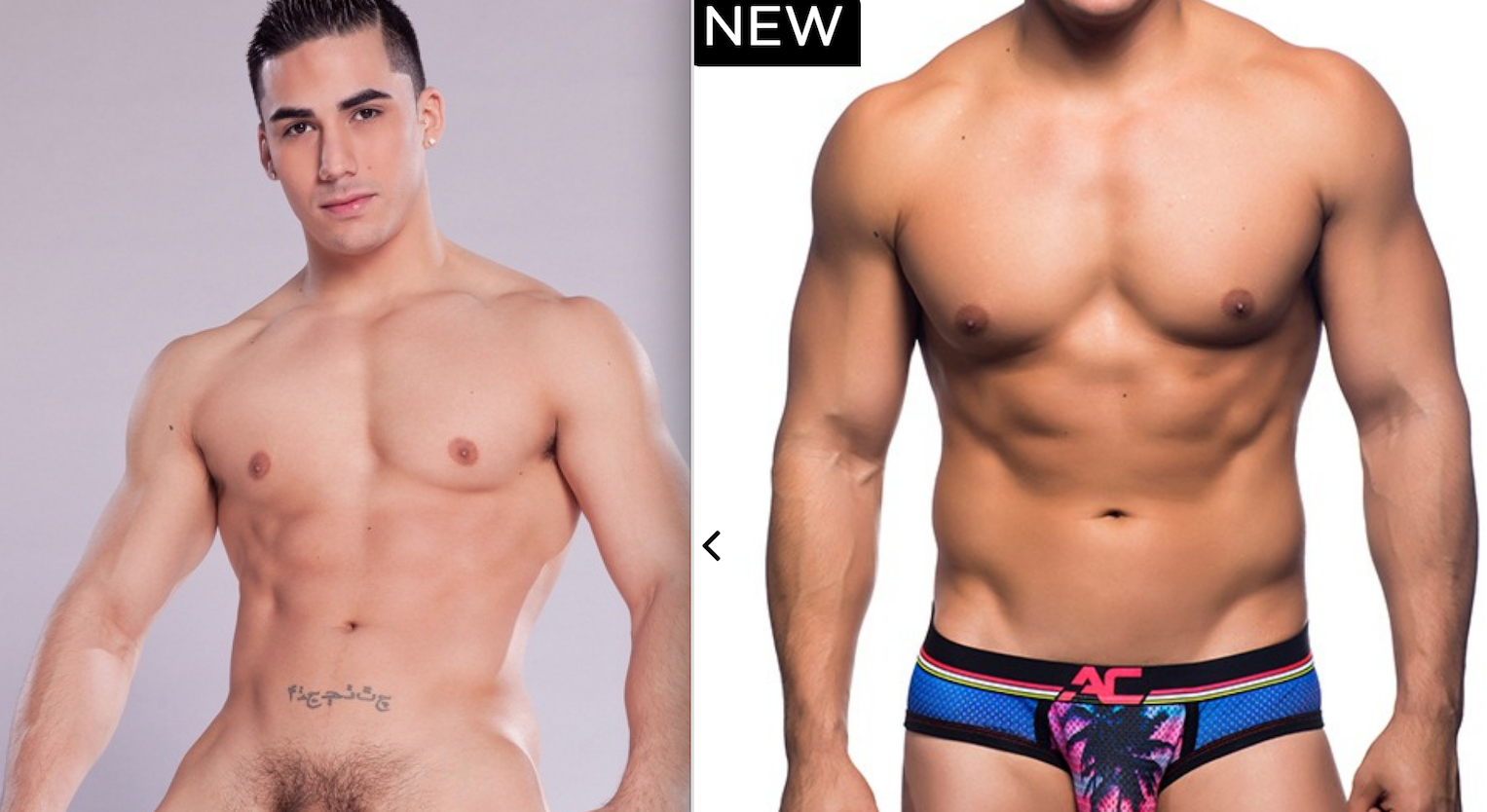 Because I'm on the internet all day every day, I have a tendency to suspect everybody of trolling somebody at one point or another, and it almost feels like that's what Andrew Christian is doing with the headless and tattoo-less photos of DiMaggio. They didn't get away with it when they only removed the head back in February, so now they've removed the tattoo, too, and they're trolling all of us to see who might notice? Whether or not that's true (and whatever anyone thinks of the claims against DiMaggio), Andrew Christian going out of their way to doctor images like this makes no sense. Are there no other headless men with nice bodies (or even average bodies, which can be photoshopped?) in WeHo who aren't alleged rapists, who'd be willing to pose for a picture while wearing some tacky underwear?