Surprise! Austin Armstrong Returns To FamilyDick, And Now He's Being Fucked Bareback By His Dad AND His Brother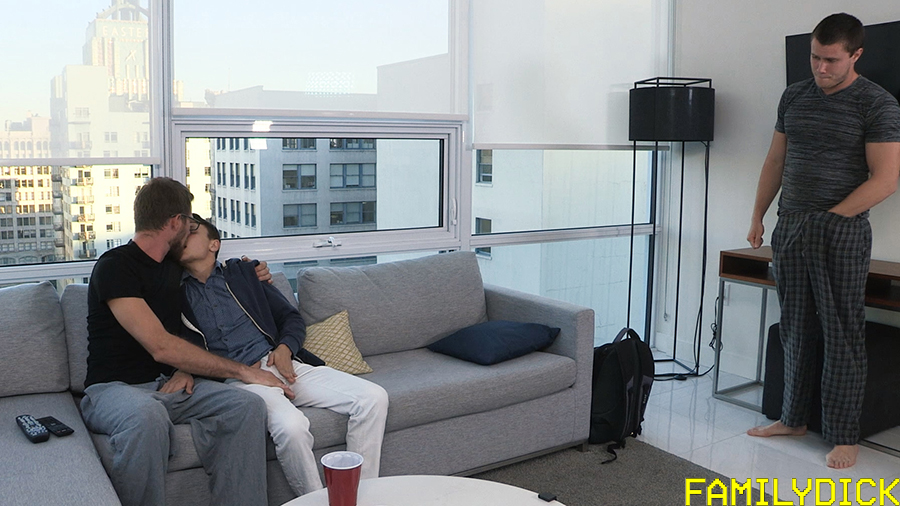 Retirement? What retirement? Austin Armstrong may have told fans he was leaving gay porn earlier this year to live a simple life off-camera with his new boyfriend, but fucking his dad and his brother is apparently just too hard to resist for Family Dick's prodigal son.
Austin has been fucked by his hunky brother, Jeff, and his dad, Jacob, separately before, but if anything could get him to make a gay porn comeback at Family Dick, it would be this: Being fucked by his dad and his brother—at the same time! It's the family threesome we've all been waiting for.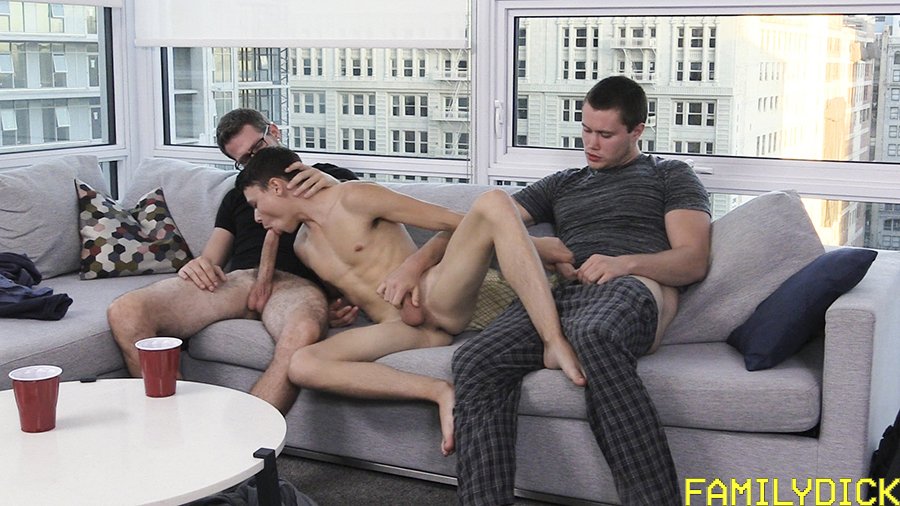 Family Dick always makes sure to point out that, in these fictional scenes, Austin and Jacob are step son and step father (not actual blood relatives):
The Armstrong family returns for another hot installment of their taboo family fun! Little boy Austin comes home to find his sexy step dad and older brother hanging out on the couch. When older brother Jeff steps out of the room, the two lovers can't resist making out and touching each other all over. And when Jeff catches them in the act, all he can think about is getting his mouth and cock on his little brother's hole again—with daddy there to fill him as well! Lucky Austin gets to take the raw cocks of his favorite family members, leaving his hole gaping and full of their seed!
They don't identify Jeff as Austin's step brother, but I'm assuming that's what he is, which would make him daddy Jacob's biological son?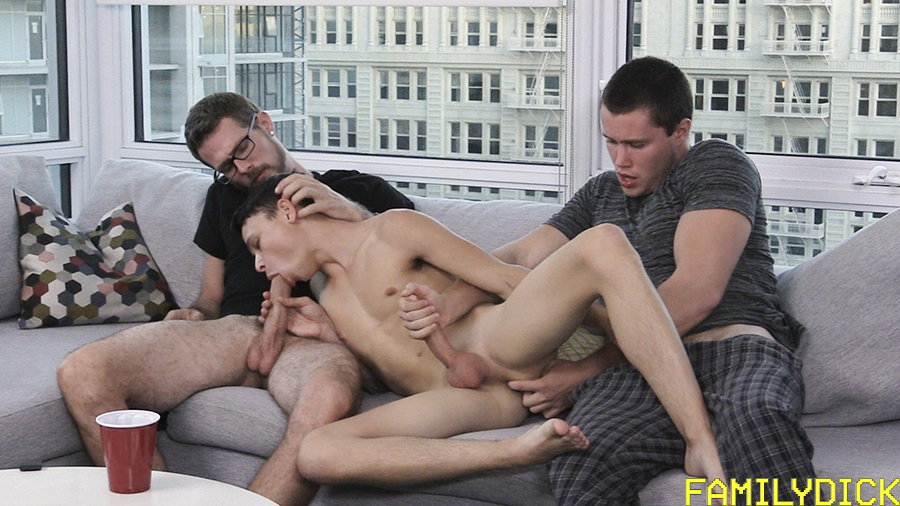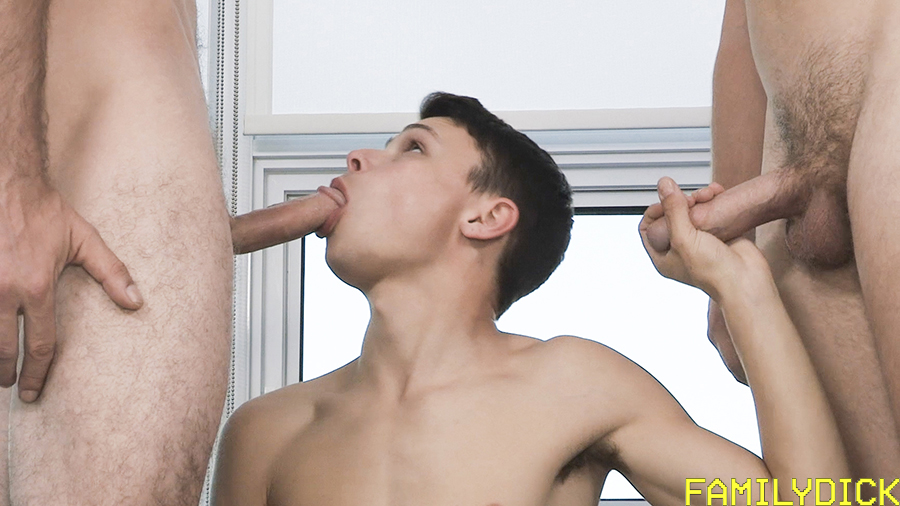 Because older brother Jeff and daddy Jacob are blood relatives (son/father) in this scene, we don't see them having direct sexual contact with each other. Although, Jeff does point out that his dad "used to fool around" with him in the past, which is…insane:
It looks like the Armstrong family has moved out of their house and into a high rise apartment building, so maybe the mom finally found out what the dad was doing, and she kicked everyone out?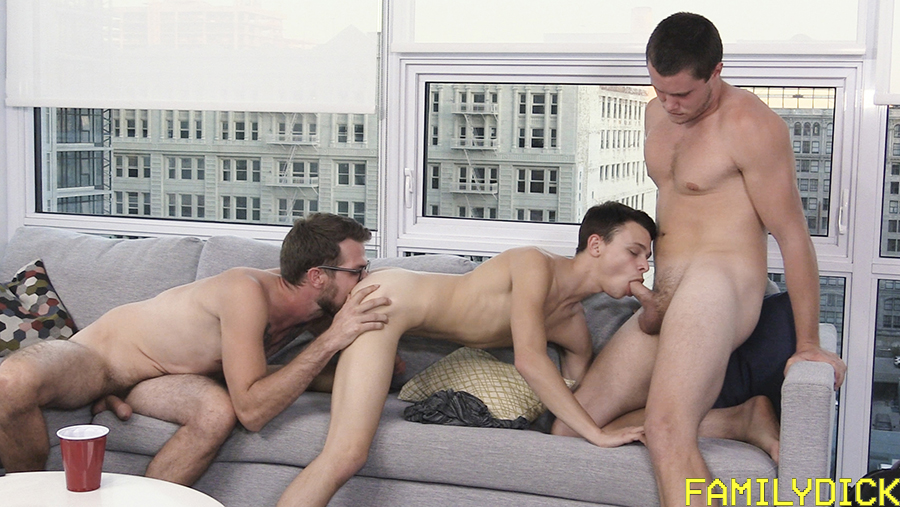 Also, while Austin is fucked bareback and creampied by his older brother and his step dad, someone in the family did eventually pull down the blinds, so as not to put on a show for the neighbors (unlike the previous FamilyDick scene, which took place outdoors and in full view of the neighbors).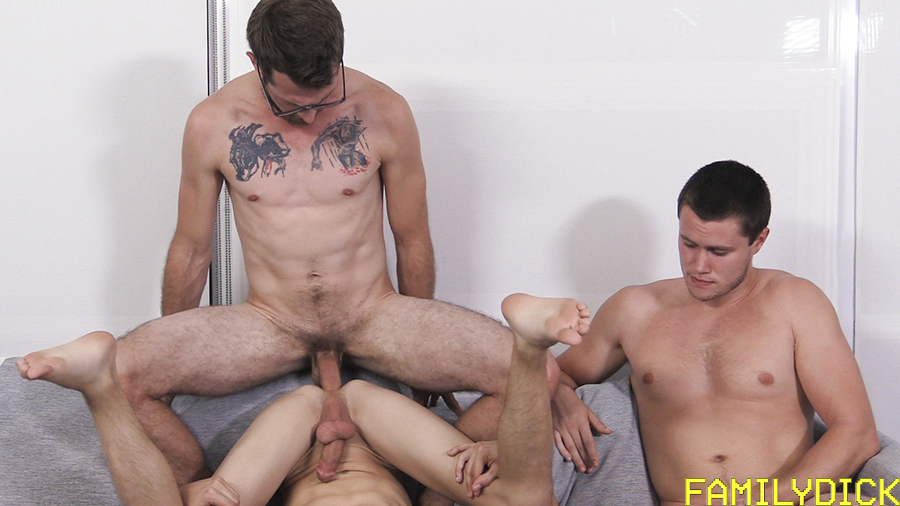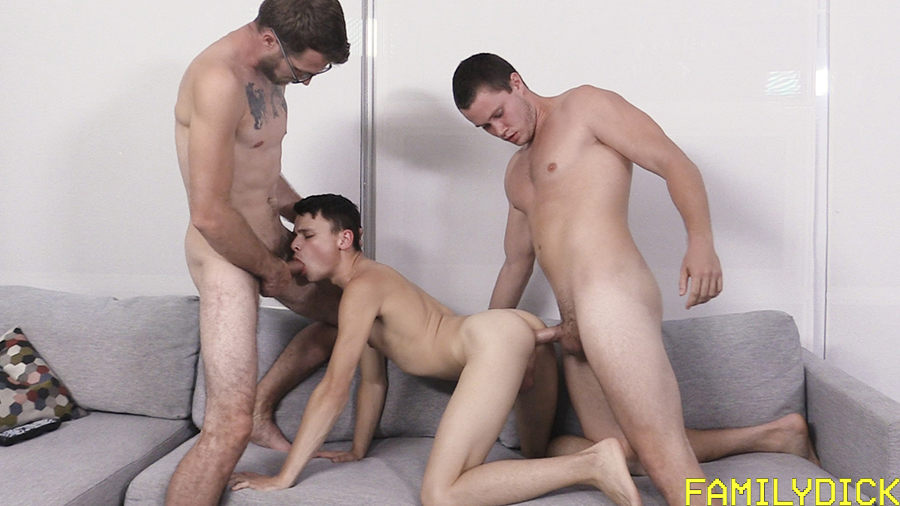 Now that Austin is having three-ways and enjoying a more open relationship with his father, it looks like he'll be back on Family Dick more regularly. I'm sure he has to have a cousin and/or an uncle (and maybe even a grandpa?) to bring into the mix at some point. Extended trailer (watch full scene here):
[
FamilyDick: Austin Armstrong Fucked By Father Jacob And Brother Jeff Armstrong
]