Exclusive: Michael Lucas Is Begging Gay Porn Stars To Say Nice Things About Him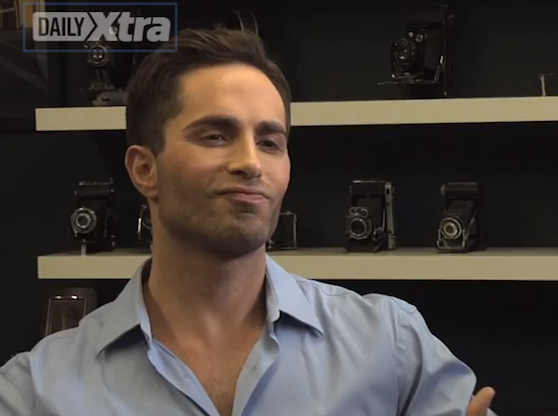 There's no denying that it's been a disastrous couple of years for Michael Lucas and his increasingly troubled, universally maligned bareback gay porn studio "Lucas Entertainment." Things started going downhill fast when several Lucas employees abandoned ship in late 2013, including director Marc MacNamara, production manager Chris Crisco, and models Trenton Ducati, Matthew Mason, and Vito Gallo, who went out in a blaze of glory after a violent confrontation with Lucas himself. Things really took a turn for the worse when Lucas was allegedly forced to live out of his midtown office after husband/sugar daddy Richard Winger divorced him amid rumors of extramarital affairs.
A common complaint against Lucas Entertainment is that the studio has not provided STD testing for models performing in bareback scenes, according to statements from Matthew Mason, Billy Santoro, and Seth Santoro, who claims to have contracted chlamydia on a Michael Lucas set. Santoro also accused Michael Lucas of sexual harassment and non-payment for work, and if those two allegations sound familiar, that's because Sebastian Young made the exact same claims about Michael Lucas just last month. Notice a pattern here?
And don't forget performer Fernando Torres, who accused Michael Lucas not only of non-payment, but also of attempting to pair him with an HIV-positive gay porn star in a bareback scene. Oh, and God only knows what happened to gay porn star Dato Foland, who mysteriously quit the business after his contract with Lucas Entertainment evaporated into thin air after less than three months.
So, with seemingly everyone in the gay porn industry turned against him, what is Michael Lucas left to do? Beg for people to say nice things about him, apparently. Str8UpGayPorn has obtained an email that Michael Lucas has been sending to the few remaining performers still willing to work with him, and to call it pathetic would be an understatement.
Here's the email, in which Lucas attempts to solicit kind words about himself and his studio: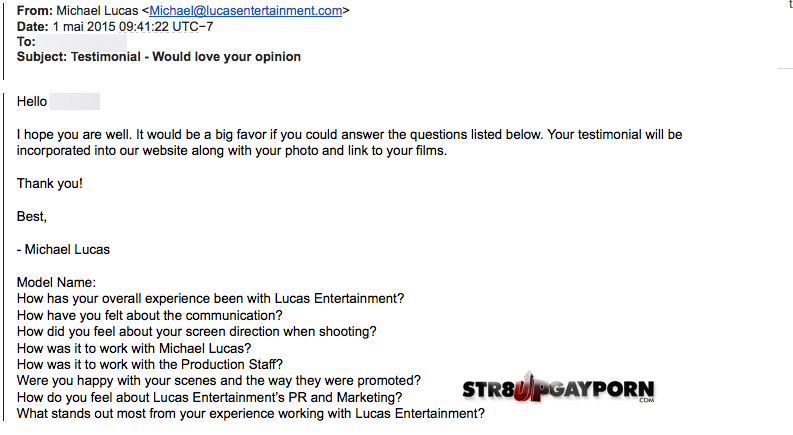 Given Michael Lucas and Lucas Entertainment's horrible reputation among consumers and peers, this email is clearly an attempt to do damage control, but it's probably way too late to undo all the negative attention they've (rightfully) received. And FYI, if you're reading this, Lucas (and I know you are), here's a tip: If you have to ask people to say nice things about you, you're doing it wrong.
Also, given Lucas Entertainment's penchant for simply making shit up, why don't they just write whatever they want and post it on their site? With all of Lucas Entertainment's fake cumming, fake fucking, and fake interviews, one more fake thing isn't going to make a difference.