Michael Lucas And Lucas Entertainment Accused Of Not Paying Performers AGAIN, This Time By Tyler Roberts And Jesse Santana
If a report about notoriously abusive bigot Michael Lucas and his disgraced gay porn studio not paying performers sounds familiar, that's because it's happened at least four times over the last three years (with a New York court issuing a judgment against Lucas last year for not paying performer Beau Reed). And it's happened again today, as performers Tyler Roberts and Jesse Santana are claiming that Michael Lucas failed to pay them for work they did last year for Lucas Entertainment in New York City. Making matters worse, Lucas actually agreed to pay the real-life couple for their work if Roberts agreed to delete a tweet he posted earlier this month alleging non-payment, but Lucas has now gone back on his word again—even after Roberts deleted the tweet—and he's still refusing to pay.
Here is the since-deleted tweet, which Roberts sent as a reply to Lucas Entertainment's advertisement of the scene that Roberts and Santana say they weren't paid for:
Hours after that tweet was posted, Roberts says that Michael Lucas agreed to pay him and Santana, so long as the tweet was deleted. Roberts deleted the tweet back on February 9th, and has been waiting for the promised payment for the last two weeks. Today, however, Roberts has revealed that Lucas went back on his word, and he won't be paying them for their work after all. Here was Roberts' tweet today: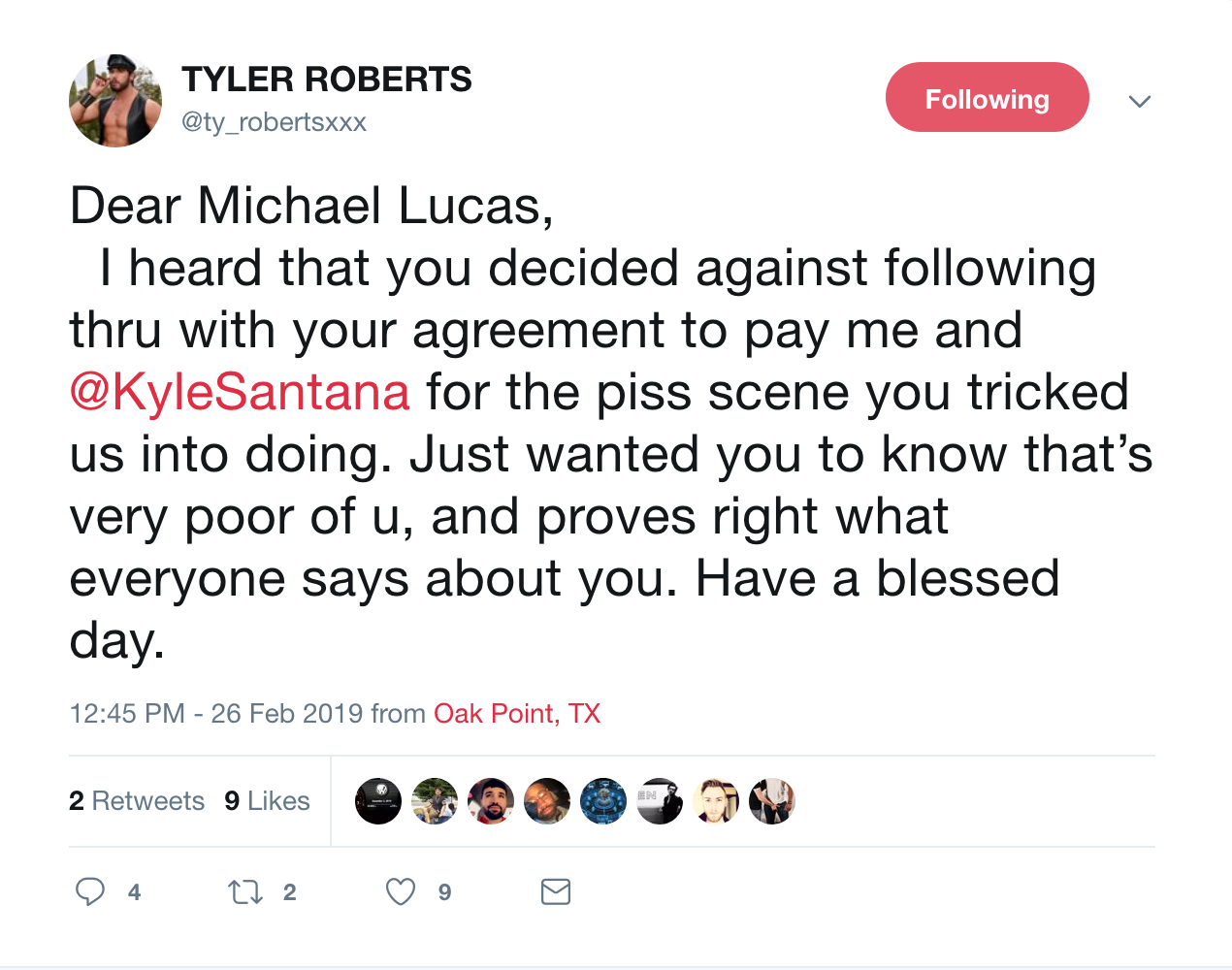 According to Roberts, Lucas tricked him and Santana into filming the piss scene in New York by telling them that it wasn't going to be released as a scene from Lucas Entertainment, but rather, it would be used as a quick promo video for toy company Fort Troff. Of course, Lucas was lying, and the scene was subsequently released by Lucas Entertainment's membership site.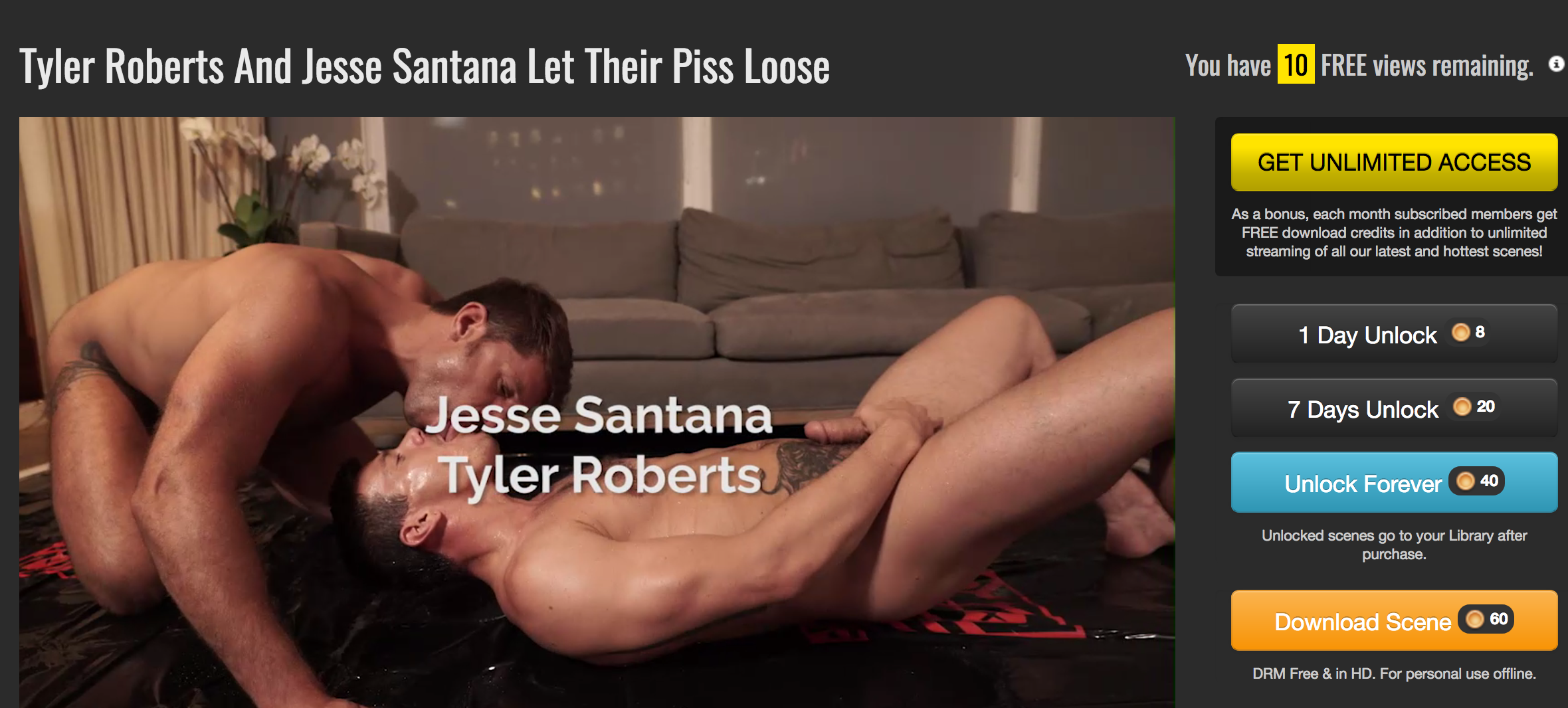 While in New York during the same visit, Roberts and Santana did film an additional and separate sex scene that they were paid for. Roberts explained to Str8UpGayPorn what happened when he was filling out paperwork in the Lucas office last year, after filming that sex scene and what he believed was the separate Fort Troff promo.
"When I was signing papers I asked what the extra signature was, and Brian [a Lucas employee] gave me the run around," Roberts said. "I even asked just before we filmed, is this a promo for Fort Troff, or is this going to go on y'all website?, and made it clear that if it wasn't a promo, then I needed to be paid for it. They all lied, and assured me it was a promo. Months later, this pops up, and I wasn't surprised. I should've listened to my gut and called my agent before I signed."
Roberts reiterated to Str8Up that he had no problem doing the free promo video.
"[Lucas] told us that it was a promo for Fort Troff, with whom we were going to be working with in the near future, so we had no problem doing that. We did a shout out for them and everything. I asked him in front of everyone to clarify that it was meant for Fort Troff, and not his site."
Today, Roberts explained more to Str8Up about Lucas going back on his word and once again refusing to pay.
"So after making an agreement to pay us for the scene—which was contingent on my agreement to not publicly speak out about his actions and removing my tweet—he has now changed his mind and is refusing to pay," Roberts said. He added, "Lucas says it was all part of the same scene, just shot on separate days in a separate location. Even though there was no continuity and the scenario was completely different. He says he does this with a lot of models, and that it deserves no separate pay."
After Roberts' February 9th tweet, Lucas agreed to pay Roberts and Santana $400 each for the separate piss scene, provided that Roberts delete the tweet. But, if Lucas did pay them the $800, Lucas told Roberts that he would not use him or Santana in upcoming Lucas scenes, which Roberts was fine with.
"Me and Jesse didn't really care to work for him anymore if he couldn't do right by us," Roberts said.
Str8UpGayPorn has obtained text messages from Michael Lucas sent to Roberts and Santana's agent, Howard Andrew, in which Lucas appears to agree to pay the $800, with the reminder that Roberts and Santana wouldn't be hired to work at Lucas again, and that they agreed to not discuss the non-payment with anyone else. Lucas wrote (as seen below), "Did they promise not to talk about it? They obviously understand that I will never give them work again."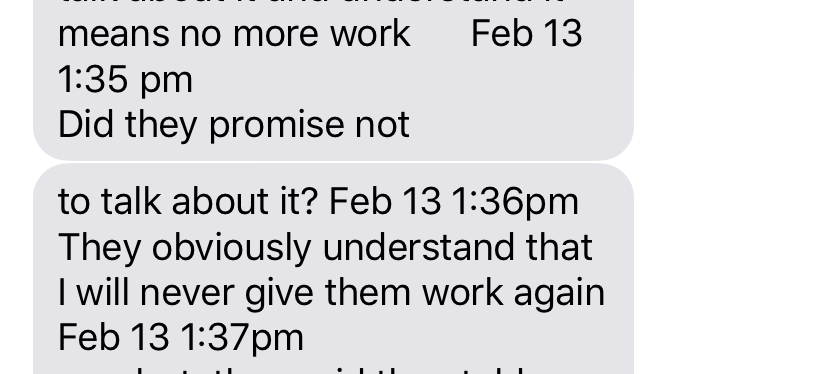 It's not clear why Michael Lucas rescinded his promise to pay Roberts and Santana the $800 for the work they did (Lucas Entertainment has not responded to my request for comment). But, whether he's releasing footage of people without their permission and trying to illegally sell it on OnlyFans (as he did with Ashton Summers), or not paying people for their work, it is clear that Lucas will never stop defrauding and harassing performers. Those who continue to work with or be supportive of Michael Lucas and Lucas Entertainment are, unfortunately, enablers of this fraud and harassment.