18th Employee Comes Forward To Accuse Michael Lucas And Lucas Entertainment Of Harassment And Non-Payment
The most complained about and legally challenged gay porn studio currently operating faces new accusations today, this time from a model who claims he was not paid for work he performed earlier this year. The model's name is Geordie Jackson (a newcomer from the U.K.), and the studio is, of course, Michael Lucas's "Lucas Entertainment."
Tweets from Jackson this morning allege that after he demanded payment for scenes he recently completed, he was blocked by Lucas's social media accounts. He went on to indicate that he might be speaking with Vice about his experience. (Str8UpGayPorn has reached out to Jackson for details on the non-payment, and will update this post when he responds).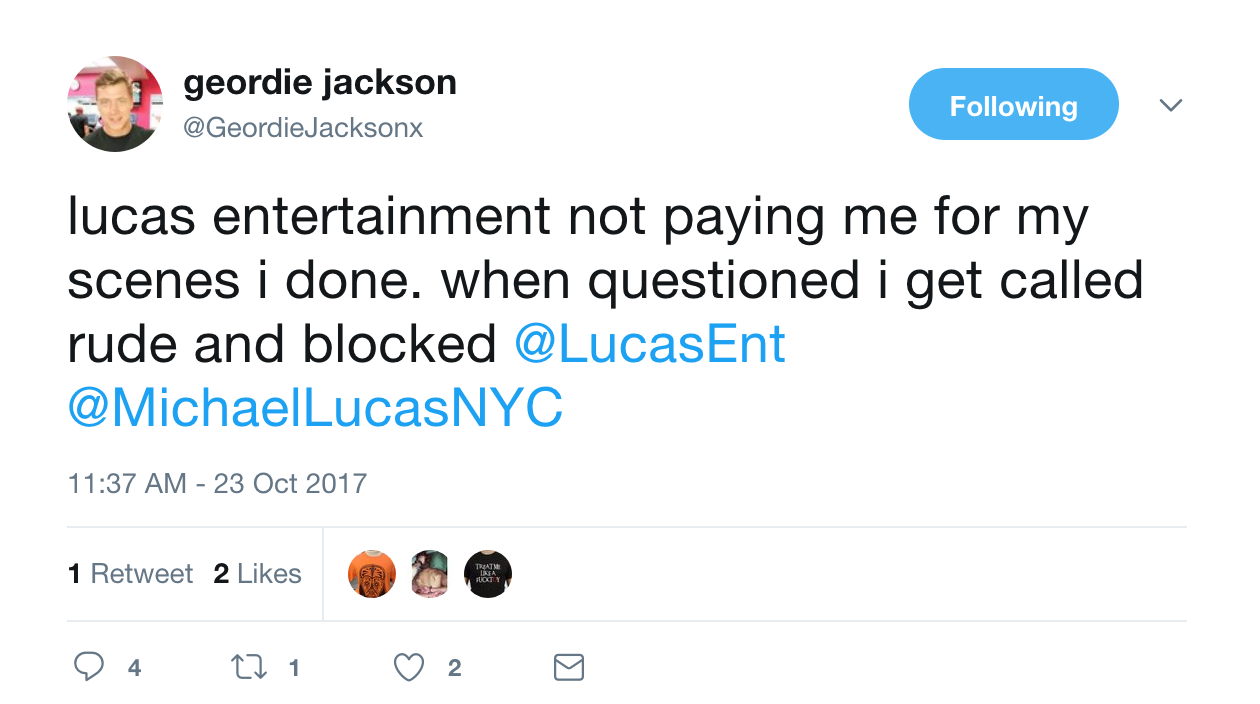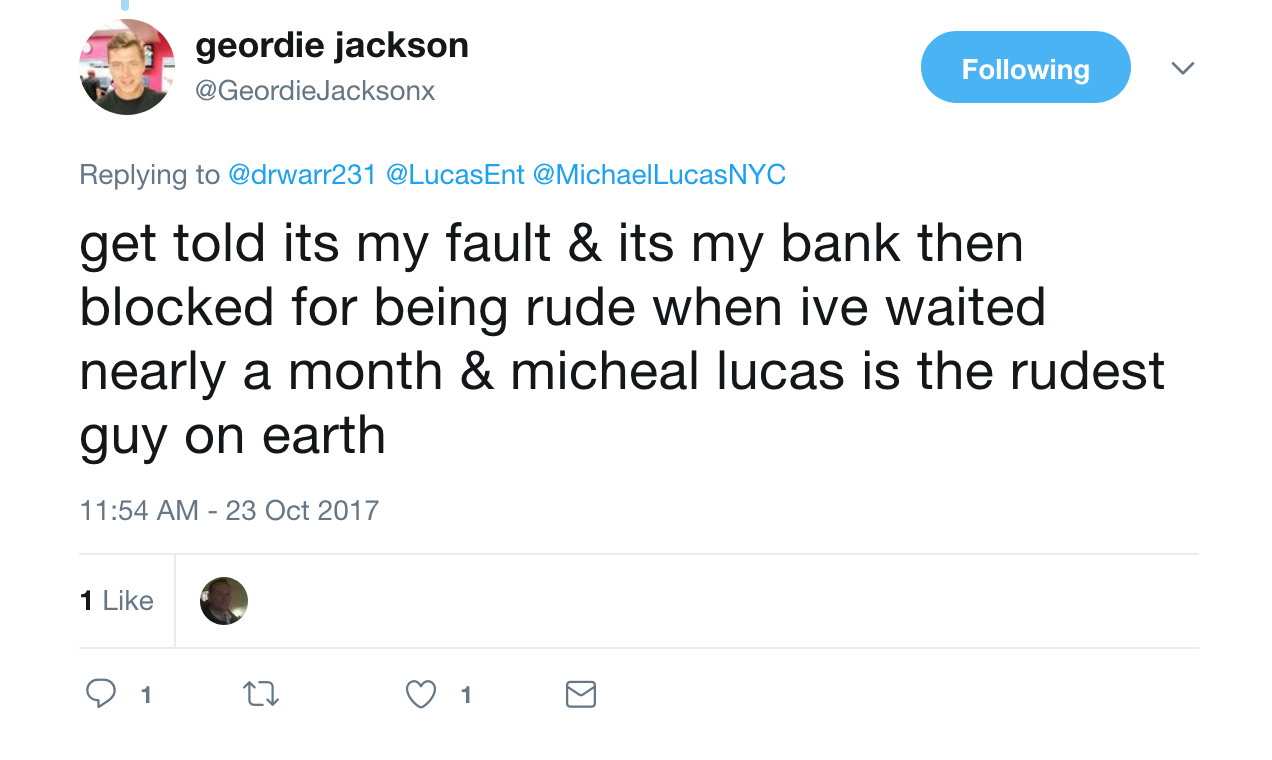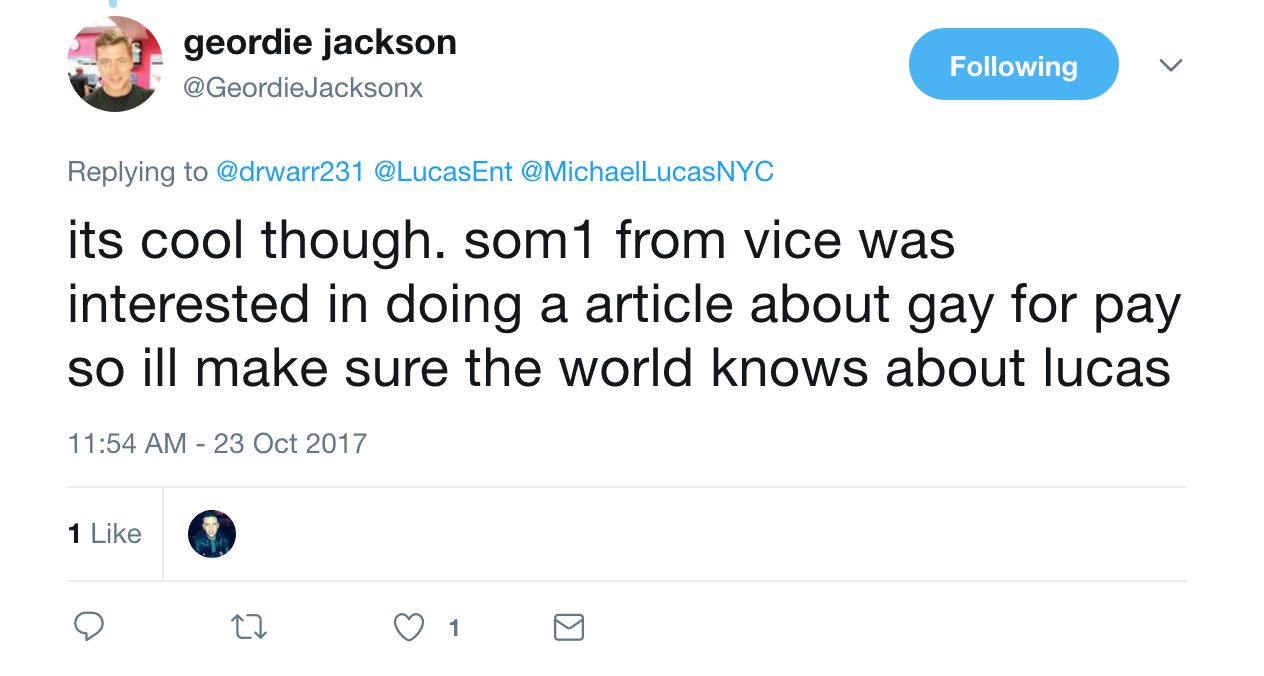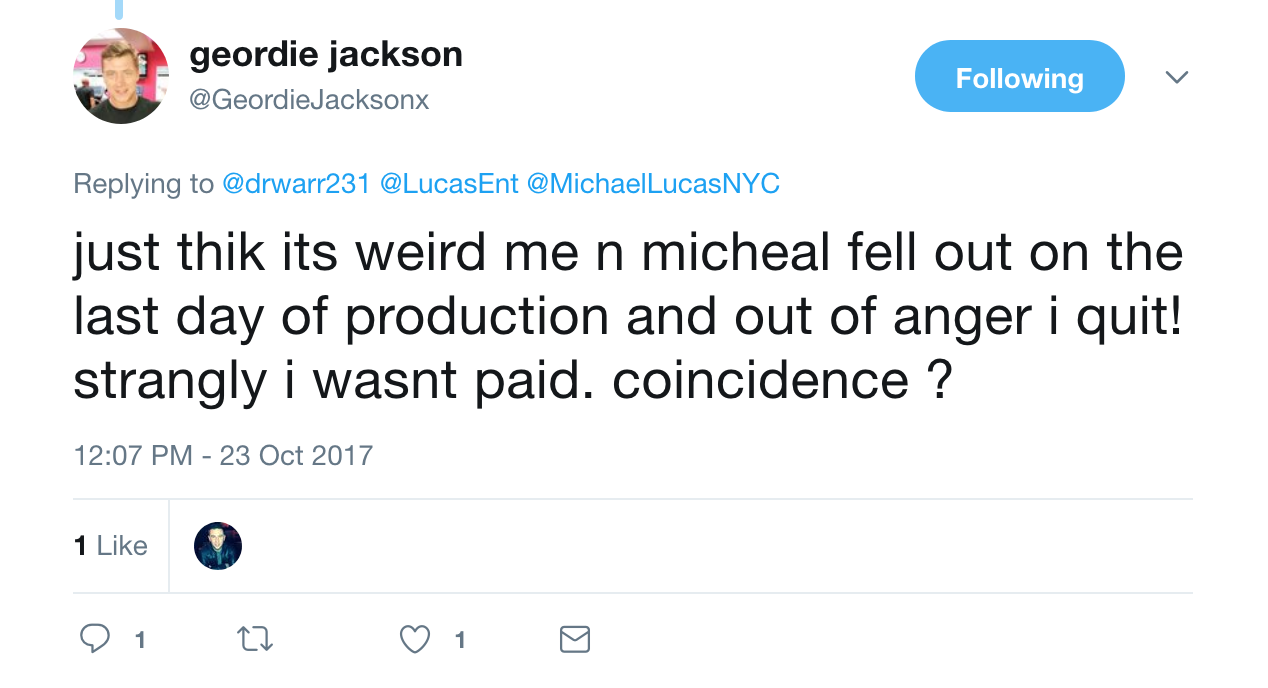 Geordie Jackson last tweeted positively about his Lucas work on October 14th, and the bulk of his scenes appear to have been filmed in Mexico. Since Michael Lucas and Lucas Entertainment were sued in 2015 for fraudulently filming scat porn in a California Airbnb rental home, Lucas routinely films internationally now, likely to avoid lawsuits or other legal issues when people like Jackson come forward.
Jackson joins the growing list of former performers and employees (at least 18 as of today) who've come forward over the last four years to accuse Michael Lucas and Lucas Entertainment of fraud, non-payment for work, verbal abuse and sexual harassment, transmission of STDs on sets, workplace violence, misrepresentation of STD testing procedures, and even illegal drug distribution, as performer Tom Faulk recently alleged that Michael Lucas injects the prescription drug Trimix into his employees' penises during filming. When performers have tried to quit Lucas Entertainment and speak out in the past, Lucas (who is known outside of the porn world for his bigoted hate speech against Muslims, making him a hero for racist right-wing media outlets like Breitbart) has been caught on tape making verbal threats against the performers, promising to destroy their careers. Lucas has also been caught threatening porn media outlets that advertise his content, telling them to not advertise other studios that feature models who've left his studio on bad terms.
There is no trade group, news site (other than Str8UpGayPorn), or union acting on reports that Lucas and Lucas Entertainment have mistreated or harassed employees, so if the company is ever going to be shut down for good, Lucas advertisers and Lucas retailers would need to stop promoting and selling his products, and consumers would obviously need to stop buying. The rights and well-being of sex workers (especially gay sex workers) have never been of any importance in American society—not even to many members of the sex industry itself, who happily do business with Michael Lucas today—so Lucas Entertainment continuing to operate while allegedly mistreating workers is not a surprise, unfortunately. Most people (including some members of the adult industry) will finish reading this article, shrug their shoulders, and say, "Oh well, that's just Michael Lucas."
See you back here next month when the next Lucas Entertainment performer comes forward to report abuse, harassment, non-payment, or something else.