[UPDATED] Nica Noelle And Icon Male Sued In Federal Court For Illegally Shooting Porn In Massachusetts Rental Home
This story is being continually updated below.
Well, here we go again. If you enjoyed reading about the "feces mansion" lawsuit against Michael Lucas and Lucas Entertainment after they were sued in 2016 for shooting porn in a fraudulently rented Airbnb, it's time for a similar lawsuit, and this one has been filed in federal court in Massachusetts against director Nica Noelle and Icon Male for filming porn illegally in a Martha's Vineyard rental home. Photo of the home: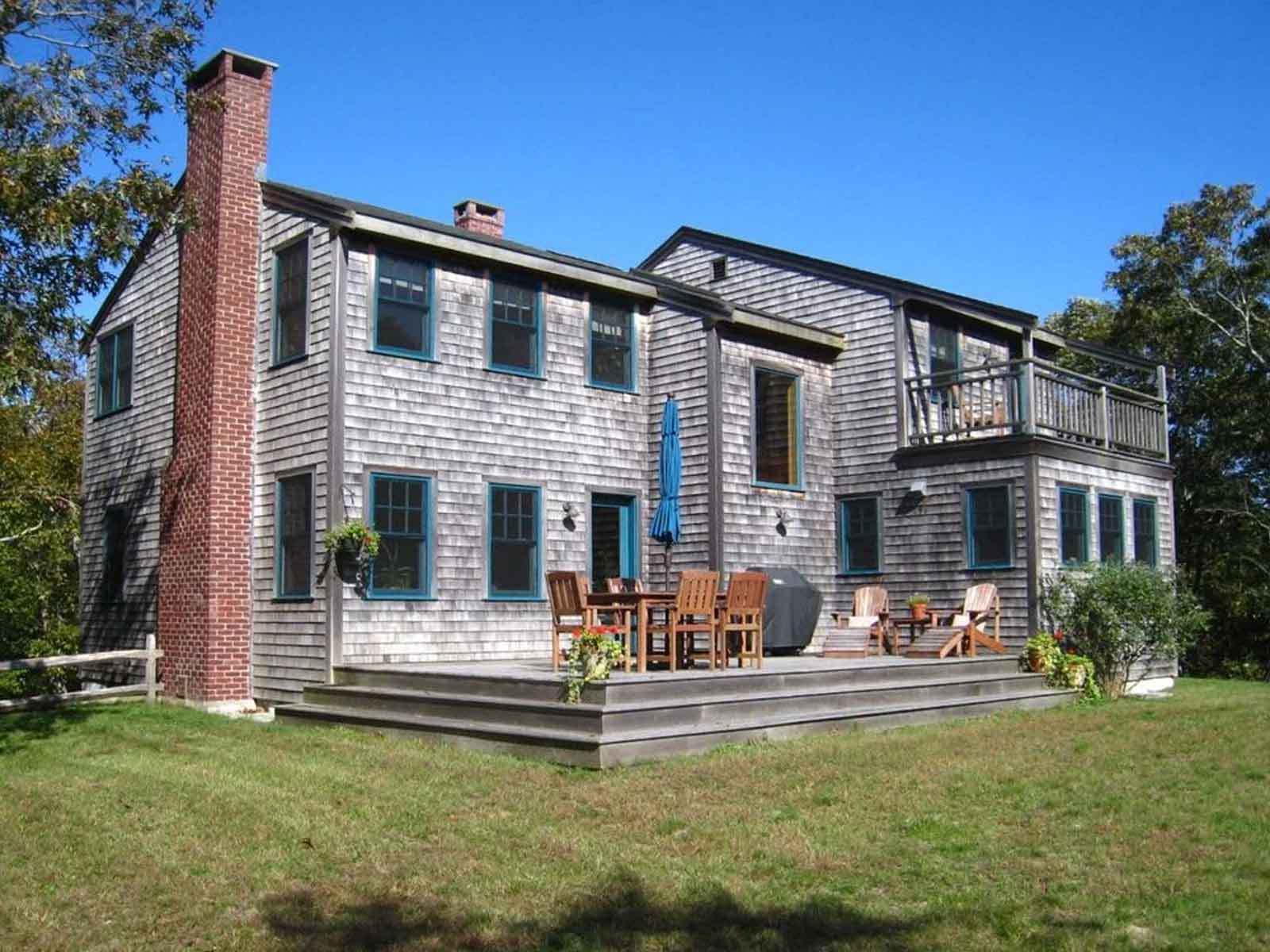 As first reported by The Blast today, Nica Noelle and her studio Icon Male are being sued by a Massachusetts woman whose home in Martha's Vineyard was rented by Noelle and Icon Male from October, 2014 through May, 2015, where it was used to shoot multiple pornographic films without the homeowner's knowledge or consent. Coincidentally, Noelle was accused of abusive behavior and creating unsafe working conditions by multiple performers on shoots around the same time at the same rental home, including one accusation from performer Nick Capra that Noelle left the home covered in rodent feces. Via The Blast:
A woman's Martha's Vineyard home was turned into a porn set without her knowledge after she rented it out online, and she claims nearly every room in her house was used for hardcore sex and even her clean linens and decorative pillows were defiled. According to a lawsuit filed in federal court in Massachusetts and obtained by The Blast, Leah Bassett says she rented her home in Aquinnah, MA to a guy named Joshua Spafford from October 4, 2014 through May 15, 2015. In reality, Bassett claims, Spafford was renting the home on behalf of a woman named Monica Jensen (aka Nica Noelle) and her company, Mile High Media, so they could "create a multitude of gay male and transsexual porn/videos." Bassett says at no time did Spafford mention that the home would be used "as a shooting locale for commercial porn."
Str8UpGayPorn has obtained a copy of the lawsuit, which includes details of Nica Noelle lying to the homeowner repeatedly, Noelle and Icon not paying the homeowner for damages, and the police being called to the home. Ironically, it was disgruntled performer Billy Santoro (who is now an employee of Icon Male and best friend to Noelle) who contacted a local newspaper to report that porn was being illegally shot at the home—as Str8Up first reported back in 2015, and as noted in the complaint below—which means that he could be partly to blame for alerting the homeowner to the illegal porn shoots, thus provoking this entire lawsuit.
Other details in the complaint, which was filed yesterday in Massachusetts, include Nica Noelle being kicked off the property, damages to the home that left it in a "deplorable" condition, unlawful break in to the homeowner's padlocked bedroom closet, the homeowner eventually seeing the porn movies filmed in her home, and the homeowner reading Noelle's tweets, in which Noelle lies to her Twitter followers about being able to legally produce porn in the fraudulently rented home. The complaint also mentions that letters have been sent to distributors of the Icon Male films, demanding that they stop marketing and selling the movies. There were multiple porn movies alleged to have been shot illegally at the home, with two of them being identified in the complaint as Schoolboy Fantasies 2 and His Son's Best Friend Volume 1.
The plaintiff is suing for 10 different counts, including civil violation of the RICO act (for racketeering and corruption), civil fraud, trespassing, infliction of emotional and mental distress, and even copyright infringement (the plaintiff's paintings in the home appear in the porn movies), and she has asked the court for a jury trial. The plaintiff is also asking the court to establish liability for each of the defendants, so the exact dollar amount she's suing for hasn't been determined yet, but it'll undoubtedly be a large amount. This is a long read, but trust me, it is absolutely fantastic from start to finish:
ADDED:
Here below is the original demand letter from the plaintiff sent to Nica Noelle and Mile High Media back in October of 2015. Like the lawsuit above, it's a lengthy read, but it goes into detail about how the house was rented, and everything that transpired between the plaintiff and the defendants over the six months that Icon Male was illegally shooting porn at the rental. Also, towards the end of the demand, the plaintiff gives Nica Noelle and Icon Male an option to settle the case for $3,000,000, which they obviously didn't do. That means the suit now will be asking for at least that much, and most likely a lot more, given sales of all the Icon Male movies filmed in the home over the last four years.
ADDED:
Str8UpGayPorn has obtained three photos taken inside the rental home, submitted by the plaintiff as Exhibit 2 (the demand letter above was Exhibit 1).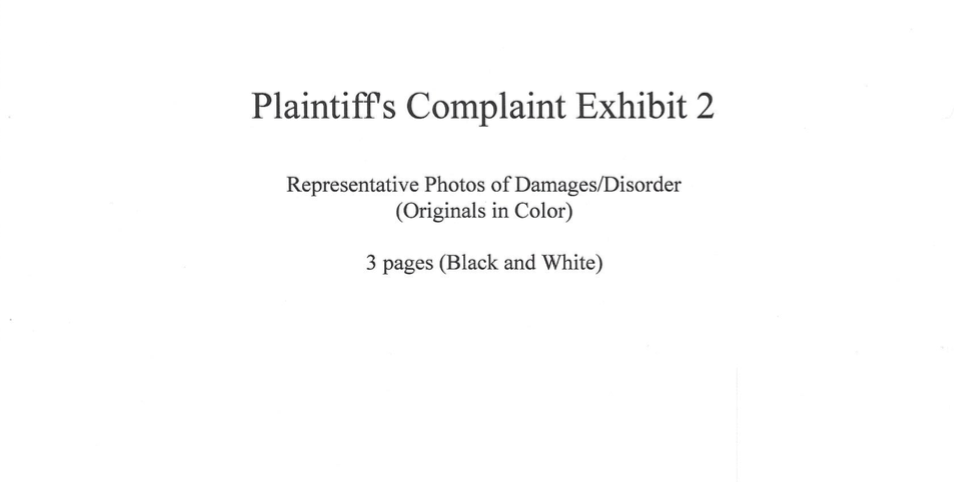 This first photo appears to show a tile floor inside the home that's been severely stained and/or damaged by water or some other liquid, as seen in the darkened circular portion of the floor below:
This next photo shows humongous piles of soiled laundry in front of a washer and dryer. Presumably, these are the homeowner's bed linens that were destroyed during production of the porn movies: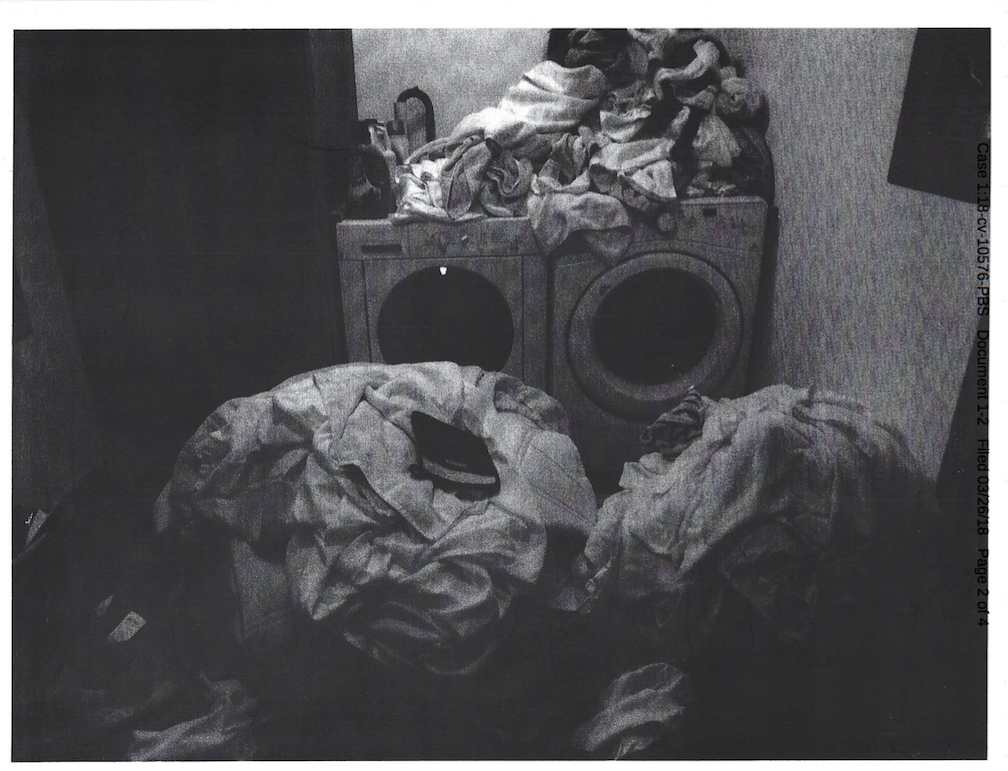 Finally, this last photo shows a pair of Fruit Of The Loom underwear (it's not clear if the underwear is male or female) that was pulled from one of the piles of laundry. Inside the underwear is a large dark smudge, which is presumably feces or blood: