[Updated] Incest Gay Porn Director Nica Noelle Threatens Str8Up Editor For Reporting Model Abuse: "You'll Never See It Coming, Bitch"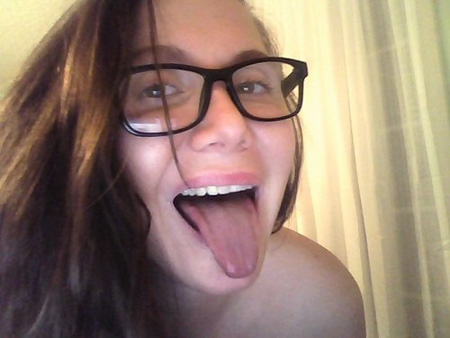 UPDATE 5/9/17: Nearly one year ago, disgraced director Nica Noelle had promised to retire from gay porn after nearly a dozen models complained about her abusive treatment on sets. Unfortunately, over the course of the last several months, it's become clear that Nica Noelle never actually left gay porn. Now, she's back on social media, and she's back to filming her disastrous incest movies in New England.
The post below (originally published in August of 2015) is being re-published to alert newcomers of Nica Noelle's repeated instances of alleged abuse on Icon Male sets (click any of the links in the below post to read all of the eerily similar abuse accusations made between 2014 and 2016, from performers Brent Corrigan, Colton Grey, Dirk Caber, Jessie Colter, Seth Santoro, Nick Capra, and several others), and to remind everyone else of the dangers that come from having any interaction with someone this disturbed. After over three years of consistent and repeated allegations of abuse, Nica Noelle has not publicly apologized to any of the models she's allegedly abused and demeaned, and the straight-owned studio she films gay porn for, Icon Male, continues to employ her, despite her multiple public meltdowns and her multiple violent threats, as thoroughly documented below.
***
Original story published on August 27th, 2015:
Nica Noelle has been repeatedly accused of creating horrific working conditions and verbally abusing at least eight different gay porn performers (update: that list has now jumped to at least 10) while directing movies for straight-owned porn studio Icon Male, but no one has alleged that she's ever committed an act of physical violence. Today, however, Nica Noelle has taken a step in that direction by making a clear threat of violence against the editor of Str8UpGayPorn (me), solely because I've reported on all of the abuse accusations against her.
When performers have been willing to come forward and share their stories of Nica Noelle's abuse (including forcing them to sleep and film in a house covered in rodent feces), I've published those stories. In response, an increasingly unhinged Nica Noelle (using "Little Miss Sunshine," one of at least three different Twitter accounts she operates) has just sent me the below threat:

That violent threat was in response to a Str8UpGayPorn story summarizing Noelle's latest tactic in deflecting accusations (the latest of which have come from her own so-called friend, performer Nick Capra), in which the troubled director revealed that her dying daughter was responsible for her "belligerent and erratic" behavior on set.
After reporting and blocking Nica Noelle on Twitter for making a violent threat, she followed up with yet another threat. This one is more cryptic, but it still indicates that she's planning (or wants to plan) something in "real life":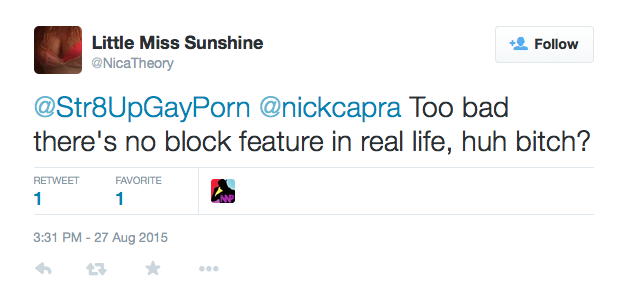 I've reached out to Nica Noelle's boss, Icon Male owner Jon Blitt, for a reaction to these threats, and I'll update this post if he responds.
UPDATE:
Nica Noelle continued to send several more tweets to Str8UpGayPorn late Thursday evening, many of which were in violation of Twitter's TOS. In one, she posted my personal telephone number (which I'm presuming she got through an industry peer, as I've never given it to her or spoken with her on the phone). Here's that tweet from Nica Noelle (I've pixelated out my phone number before posting Noelle's tweet here, obviously):

Then, Noelle jumped on her alternate Twitter account (it's unclear why, but perhaps she knew that Str8UpGayPorn had blocked her main account, and this was her way of ensuring I would see her tweets) to send another threat, this one referencing the straight porn conglomerate that owns Icon Male (Mile High Media) and how, apparently, they can't stop her from carrying out whatever she has planned for me: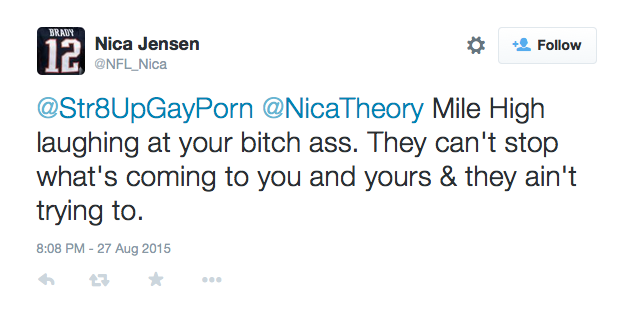 The "you and yours" in the above tweet is clearly a threat against me and, based on Nica Noelle's next tweet, my mother: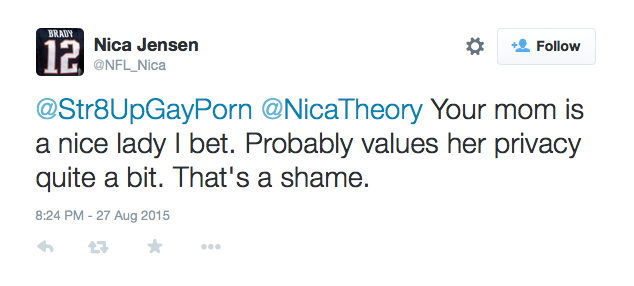 My mother is a retired school teacher who has absolutely nothing to do with the adult entertainment industry.
Both of Nica Noelle's Twitter accounts have been reported for TOS violations, and I've notified the local authorities of these threats. Given that the threats are being made over the internet, I was instructed to file a report with the FBI tomorrow.
This is, quite obviously, a dark reminder for any adult performer or aspiring adult performer: Do not, under any circumstances, work for Nica Noelle or Icon Male. Shoots for Nica Noelle regularly end in disaster (police have been called to her set at least once), and she'll clearly stop at nothing to try and silence anyone whom she abuses on her sets.