Year In Review: Ryan Rose's Best, Worst, And Most Shocking Moments Of 2014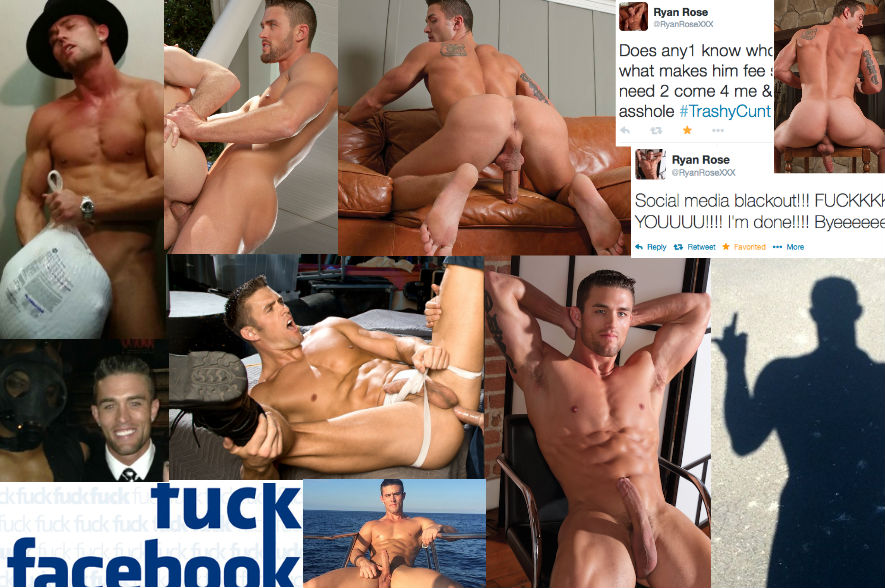 Ryan Rose is already nominated for 2014's Best Gay Porn Star, but he's had so much going on this year (live appearances, Twitter meltdowns, Twitter wars, Tumblr fights, Facebook fights, American Airlines fights, hot scenes), it's only fitting that we take a trip down memory lane and re-live each and every one of his best, worst, and most shocking moments of the year. Remember, Ryan Rose is the "busiest porn star" in the industry, so there's a lot to cover! Let's get to it.
Here, in chronological order, are Ryan Rose's Best, Worst, And Most Shocking Moments Of 2014. And don't forget to vote in the poll below!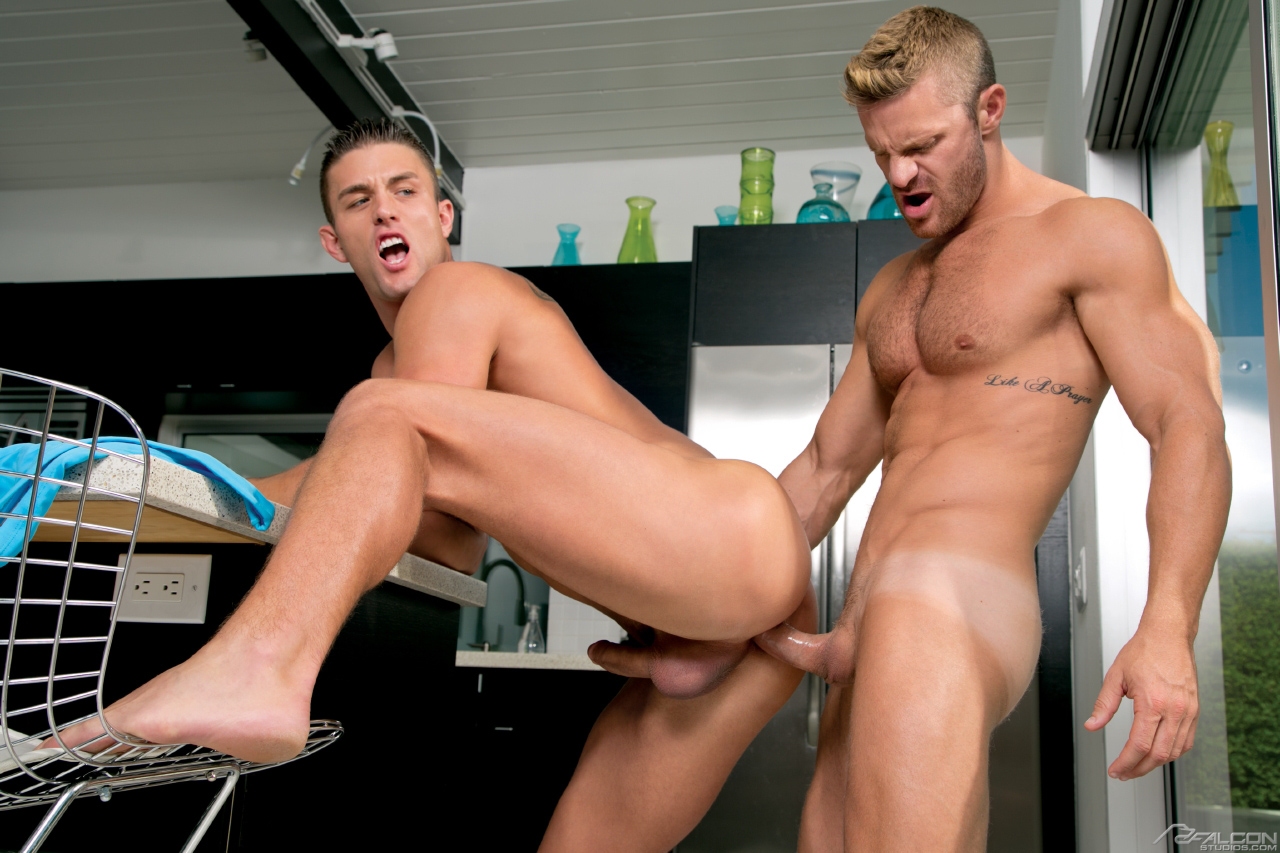 March 7th, 2014: Ryan Rose And Landon Conrad Flip-Fuck
Easily one of Ryan's best scenes ever, and probably one of the best flip-fucks in all of gay porn this year.
[
Falcon: Ryan Rose And Landon Conrad Flip-Fuck
]
March 12th, 2014: The Six Best Photos Of Ryan Rose's Ass
I tried to narrow it down to six, but there are now undoubtedly dozens more. Which is your fave?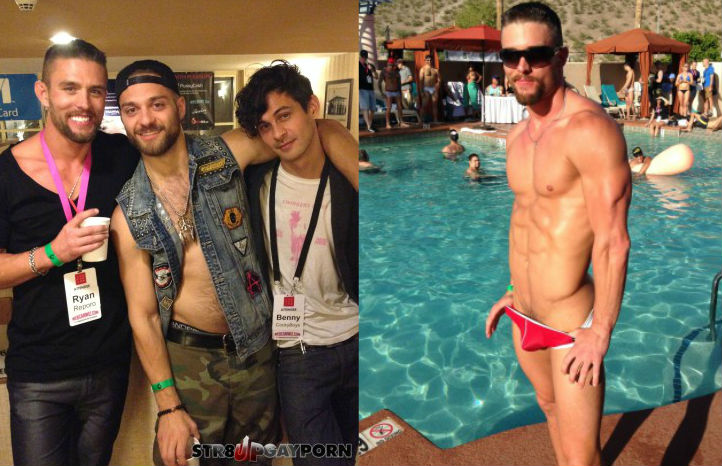 March 29th, 2014: Ryan Rose Relaxes At The Phoenix Forum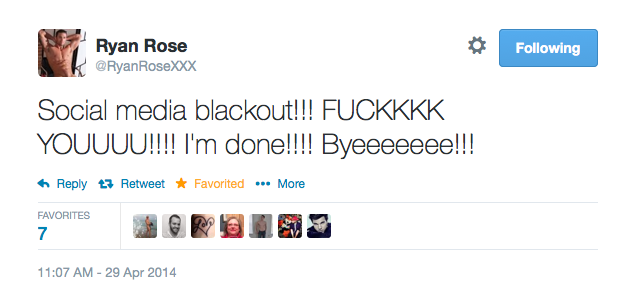 April 29th, 2014: Ryan Rose Has Epic Twitter Meltdown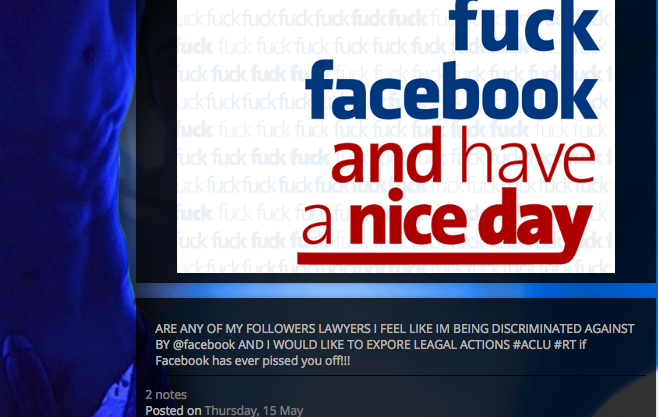 May 15th, 2014: Ryan Rose Seeks Legal Advice And Assistance From The ACLU In His Ongoing War With Facebook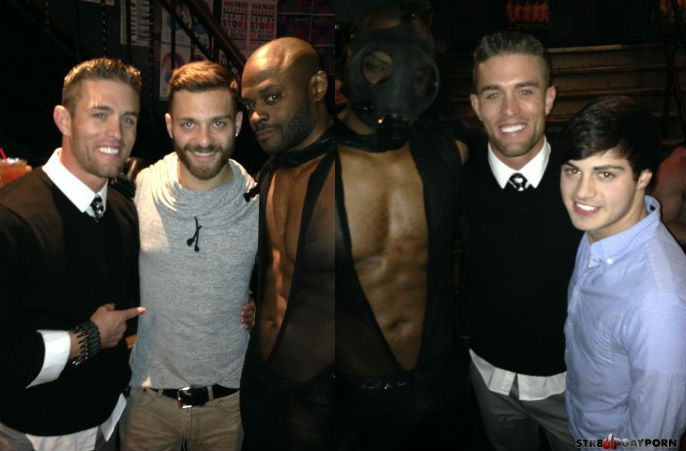 May 25th, 2014: Ryan Rose's Big Night At The Grabbys
Ryan had a great night at the 2014 Grabbys with friends Tommy Defendi, Diesel Washington, and Hunter Page. Watch his acceptance speech below, after winning the coveted Best Versatile Performer award.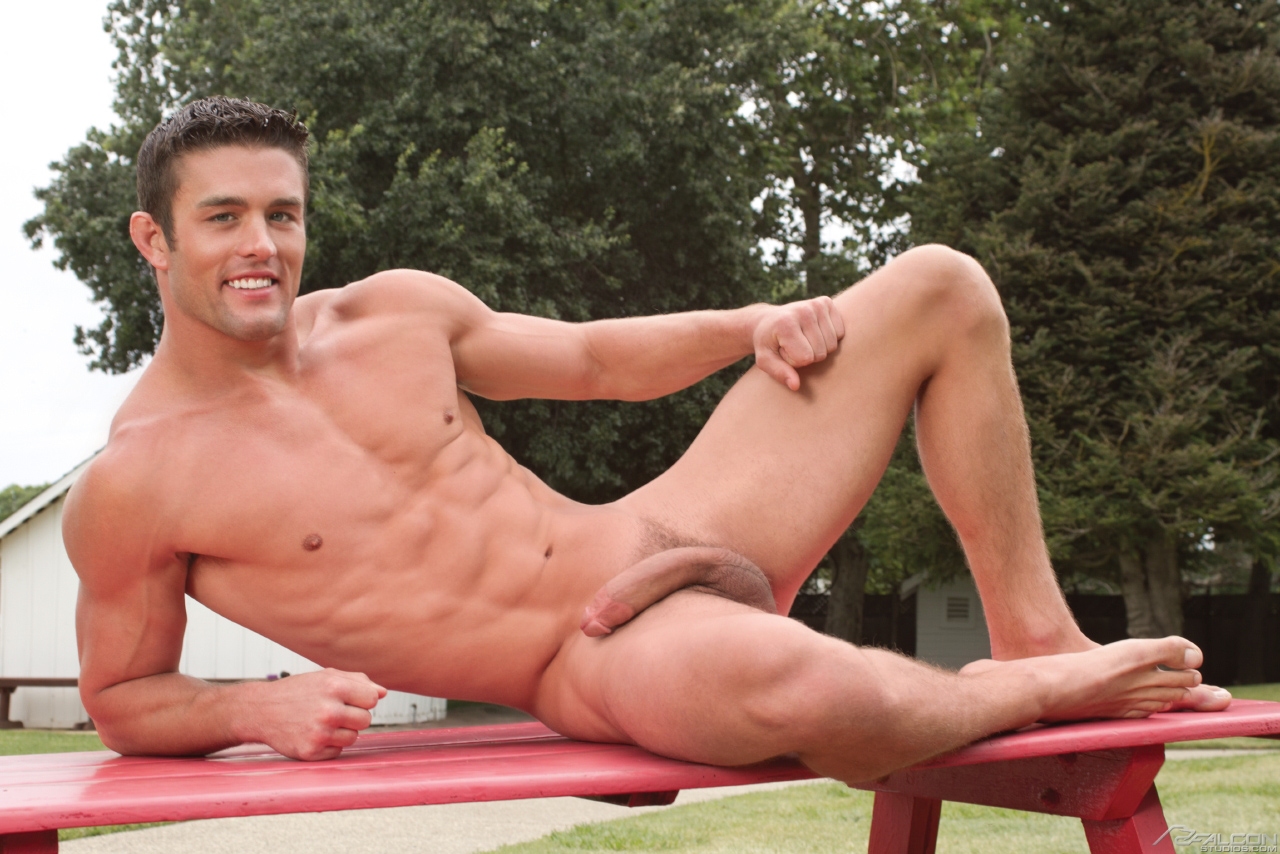 July 17th, 2014: Ryan Rose Insists That He's Not Racist
Seeking to set the record straight, Ryan Rose posted the below response to someone on his legendary ask.fm account:
Listen and listen very closely because this is something that I feel very strongly about. Just because I come from a wealthy caucasian family, or because I didn't vote for Barack Obama due to my finances and haven't just yet filmed with a model of African accent DOES NOT MEAN IM A RACIST!!! When in fact most of my boyfriends have been of different ethnic backgrounds and quite a few of my closest friends are In fact African-American yet I'm still a racist? […] Again I state loudly and clearly I Ryan fucking Rose am not a racist of any type and I hope that sinks in with you. Thank you for your time and please repost this for all to see!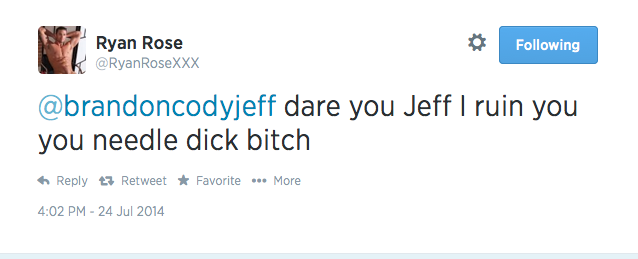 July 24th, 2014: Ryan Rose's Epic Twitter War With Sean Cody's Brandon
Who even remembers what this was about? But, it sure was fun seeing the stars of Sean Cody's first ever bareback scene, the infamous "Brandon & Pierce: Unwrapped," going at it one more time!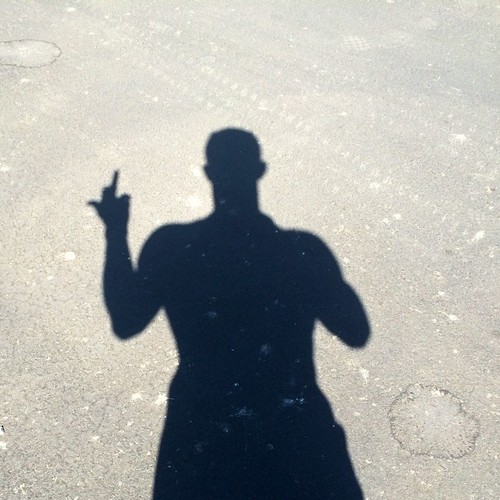 August 14th, 2014: Ryan Rose Sends A Special Message To Str8UpGayPorn
August 14th, 2014: Ryan Rose Makes Nick Sterling Spontaneously Cum!

September 21st, 2014: Ryan Rose Says "Fuck Everything!" At Folsom
Always a good sport, Str8UpGayPorn convinced Ryan Rose to go into one of his infamous diatribes on camera during a break from his live appearance at Raging Falcon's annual Folsom party.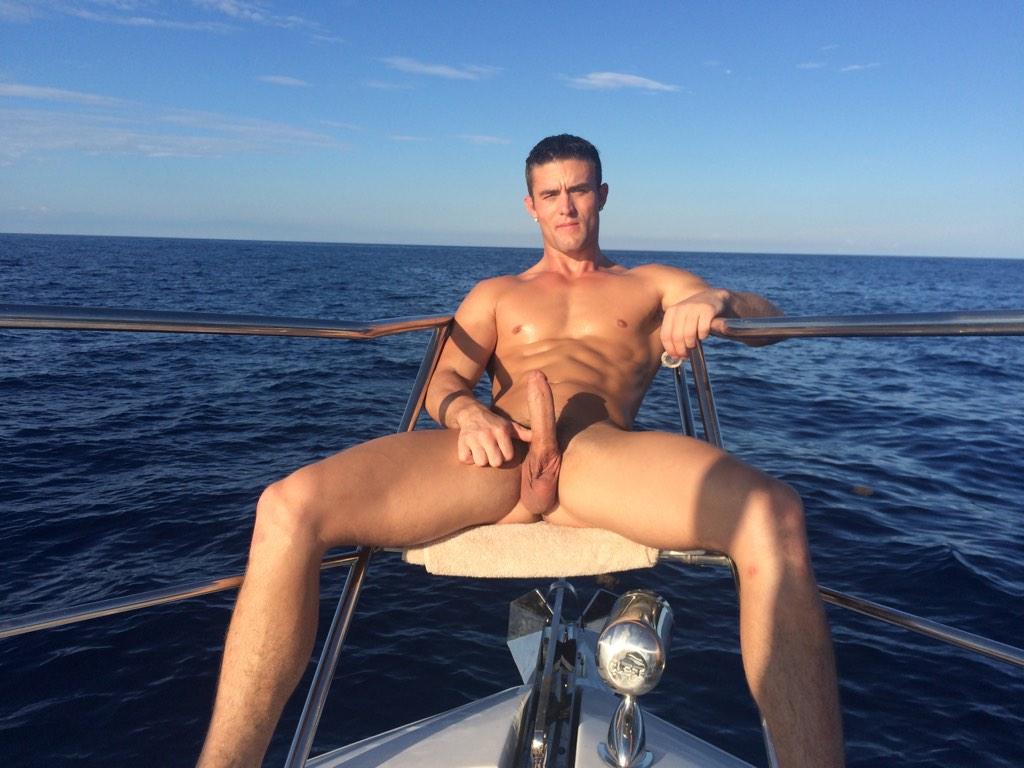 October 2nd, 2014: Ryan Rose Shows Off His Big Cock On A Big Boat
October 10th, 2014: Str8UpGayPorn Nominates Ryan Rose As 2014's Best Gay Porn Star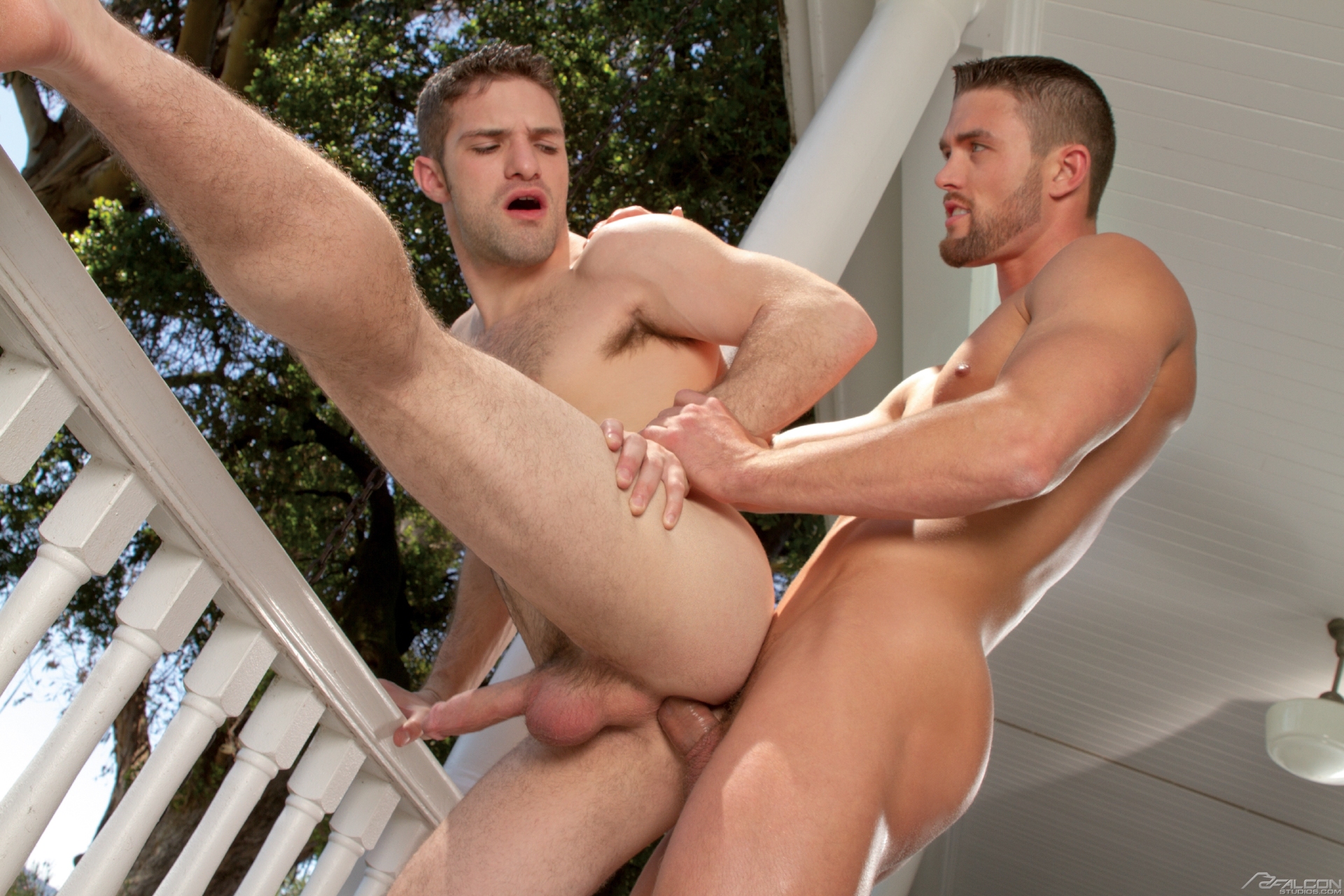 October 24th: Ryan Rose Grows A Beard And Goes Balls Deep Into Adam Wirthmore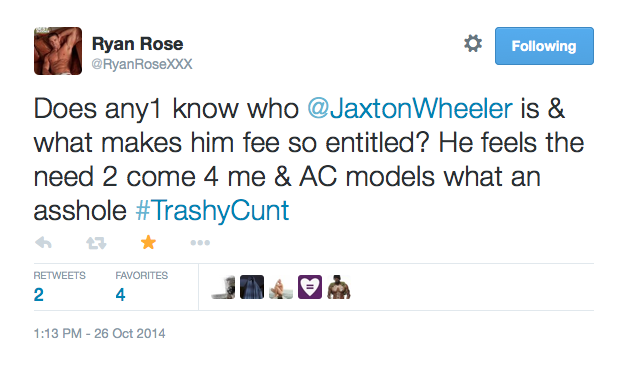 October 26th, 2014: Ryan Rose Calls Jaxton Wheeler A Trashy Cunt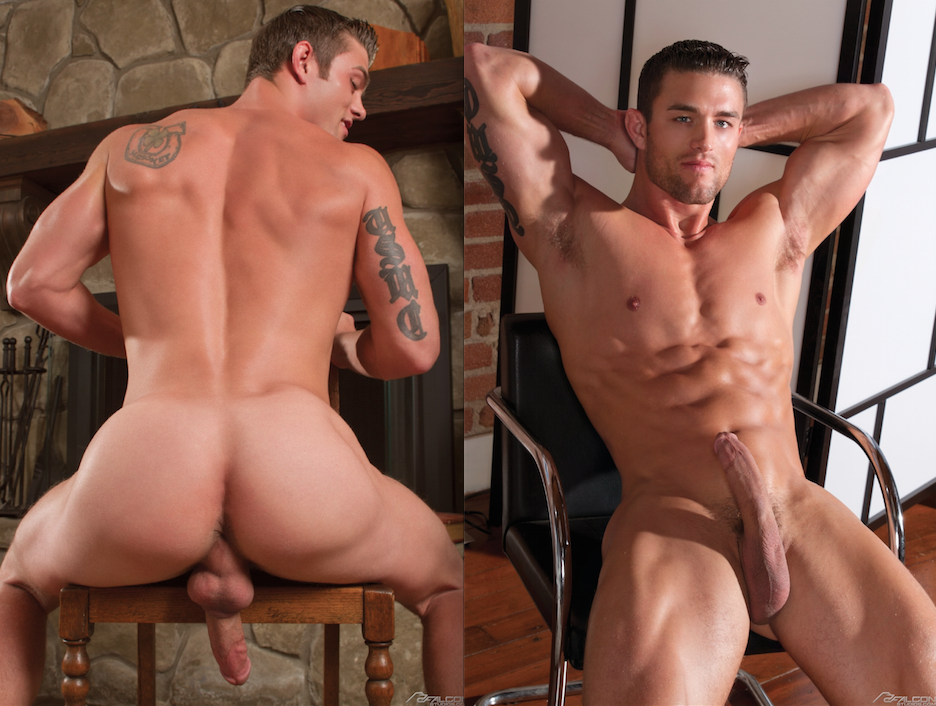 October 28th, 2014: Ryan Rose Addresses 2013 Arrest
In his most personal and revealing moment of 2014, Ryan wrote at length about the incident that changed his life forever. Excerpt (read in full here):
Shortly after signing with FalconStudios.com I totally fucked up. Actually fucked up is a huge understatement. I let alcohol, drugs, and my emotions get the best of me and I physically assaulted my boyfriend at the time @BobbyHartXXX leading to my arrest. Needless to say that was the last time I ever saw bobby. Upon my release from jail I went through a deep depression almost committing suicide. If it hadn't been for my best friends @CoolTomPix, @FabScoutHoward, @GioCaruso, and believe it or not @FabScoutMatt I would have went straight to my San Diego apartment and drank drano till either I was about to pass out or till I couldn't take the pain anymore when then I would have taken my 357 magnum snub nose and painted my walls with my brain…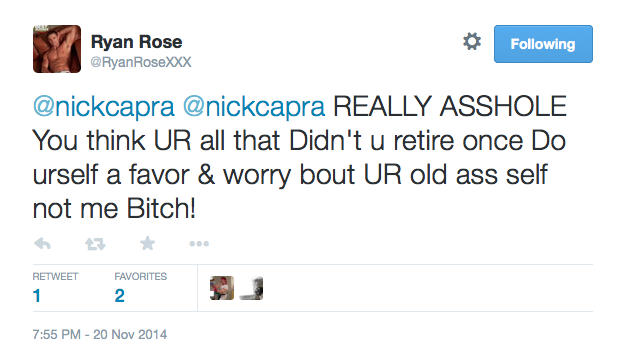 November 20th, 2014: Ryan Rose Calls Nick Capra An Old Bitch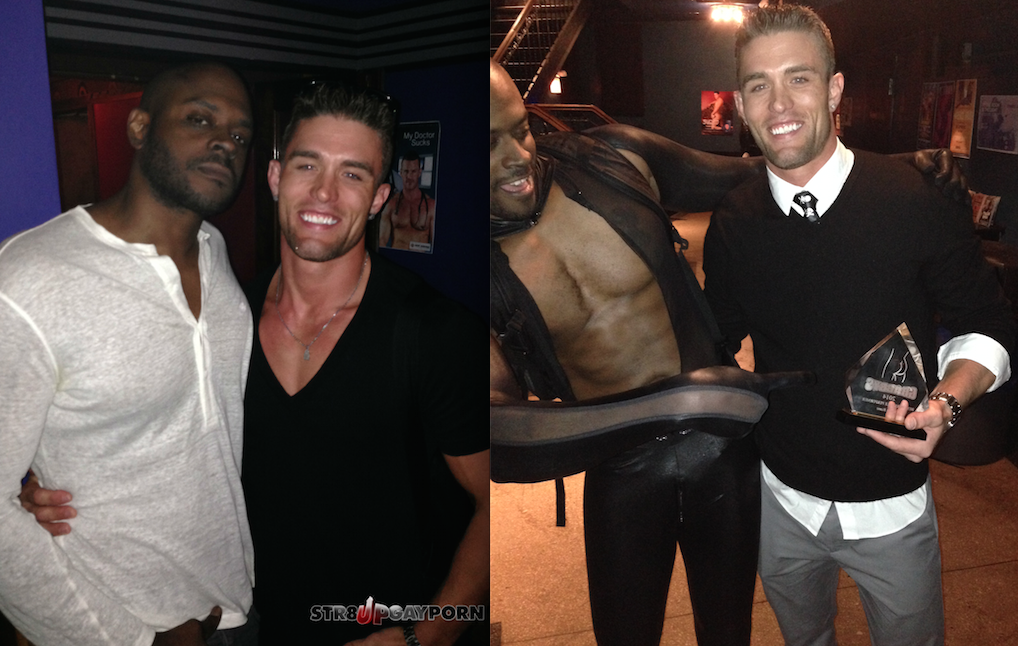 November 22nd, 2014: Ryan Rose And Diesel Washington's Falling Out
The most disappointing Ryan Rose moment of 2014, as he and Diesel were once great friends. What happened? Whose fault was it? That's not entirely clear, but here's the rundown of their entire fight, which played out across various social media sites.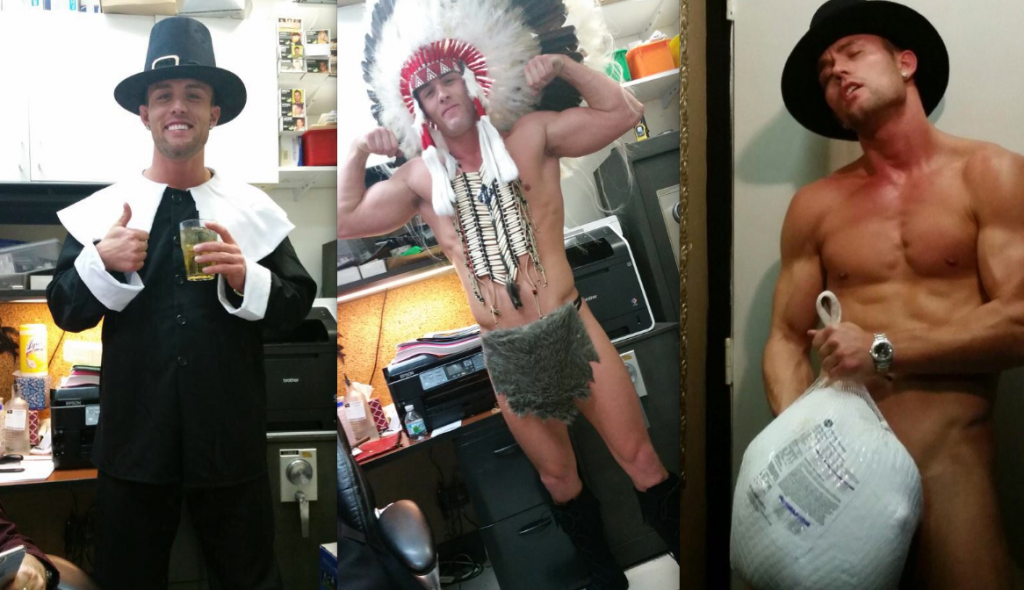 November 27th, 2014: Ryan Rose Celebrates Thanksgiving
December 5th: Christian Wilde Annihilates Ryan Rose's Perfect Hole In Guard Patrol
Ryan Rose closed out the year with one of his best scenes ever.
[
Falcon Studios: Ryan Rose's Complete Filmography
]