Exclusive: Gay Porn Star Sergeant Miles Arrested After Being Identified As Terrorist At January 6 Insurrection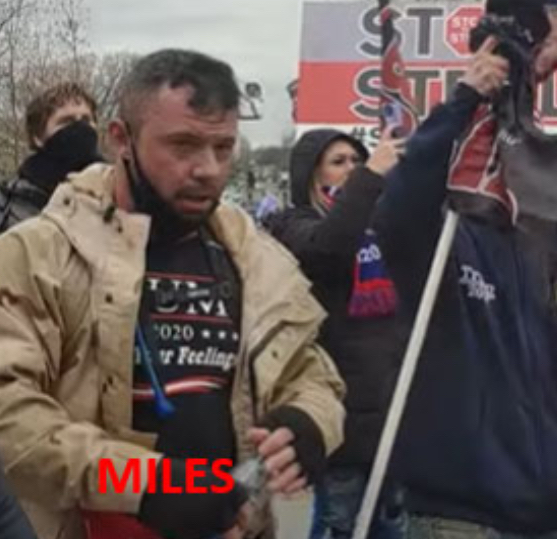 While his psychotic love for Donald Trump and all things MAGA was no secret, right-wing gay porn star Sergeant Miles was at least able to keep his role in the January 6th terror attack on the Capitol under wraps. That is, until today.
Str8Up can exclusively report that Sergeant Miles (legal name Steven Miles) was arrested in Florida yesterday for his violent role in the Washington D.C. insurrection on January 6th, 2021. The bigoted Lucas Entertainment gay-for-pay porn star has been charged with assaulting law enforcement officers, civil disorder, engaging in physical violence in a restricted building with a dangerous weapon, and several other offenses. The DOJ complaint includes CCTV screengrabs and other images from the Capitol on January 6th showing Miles and a co-defendant named Matthew Lebrun violently attacking law enforcement officers before smashing a window at the United States Senate and then storming the building. Here are some of those images, with the DOJ identifying Miles, Lebrun, and a handful of other defendants: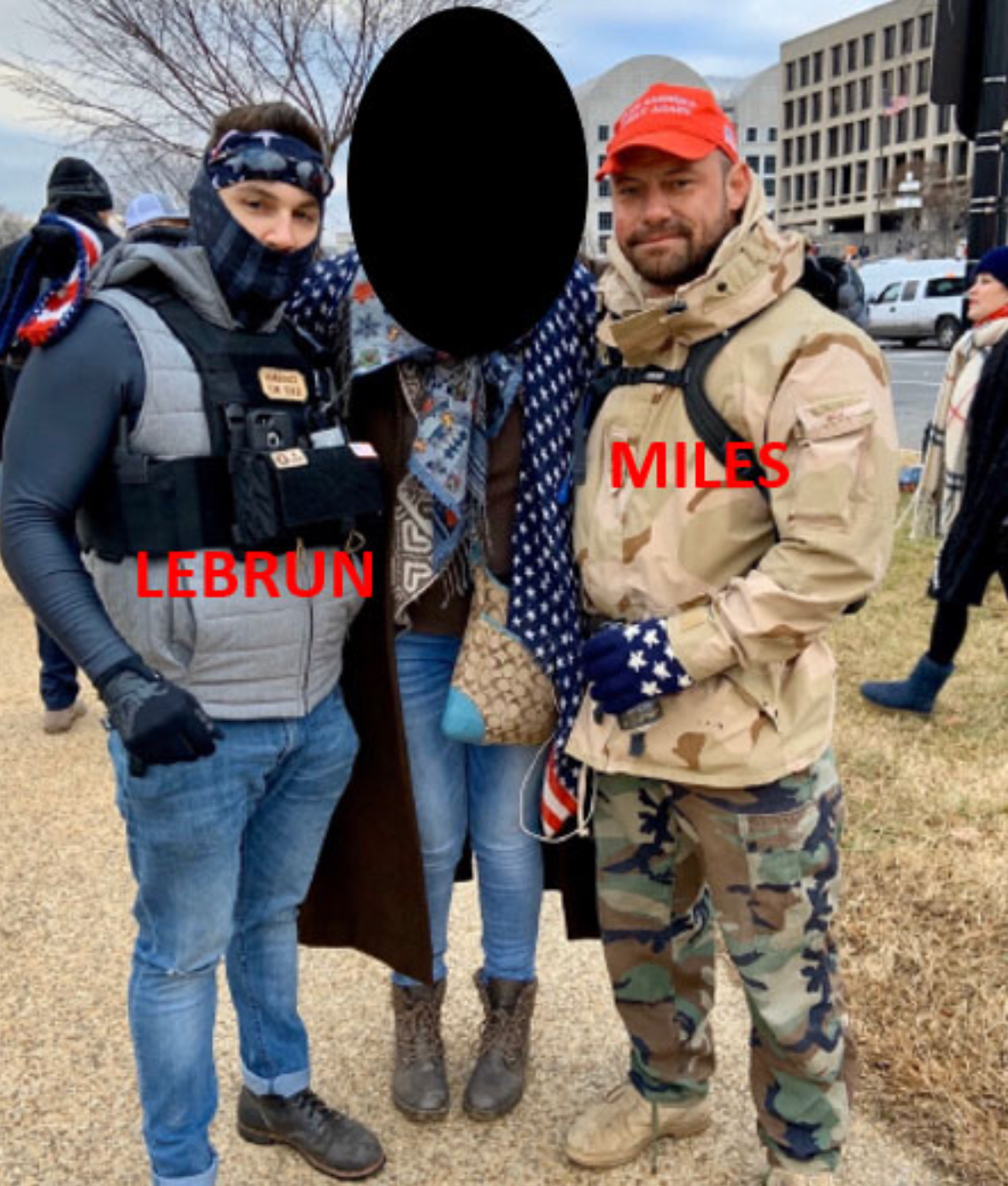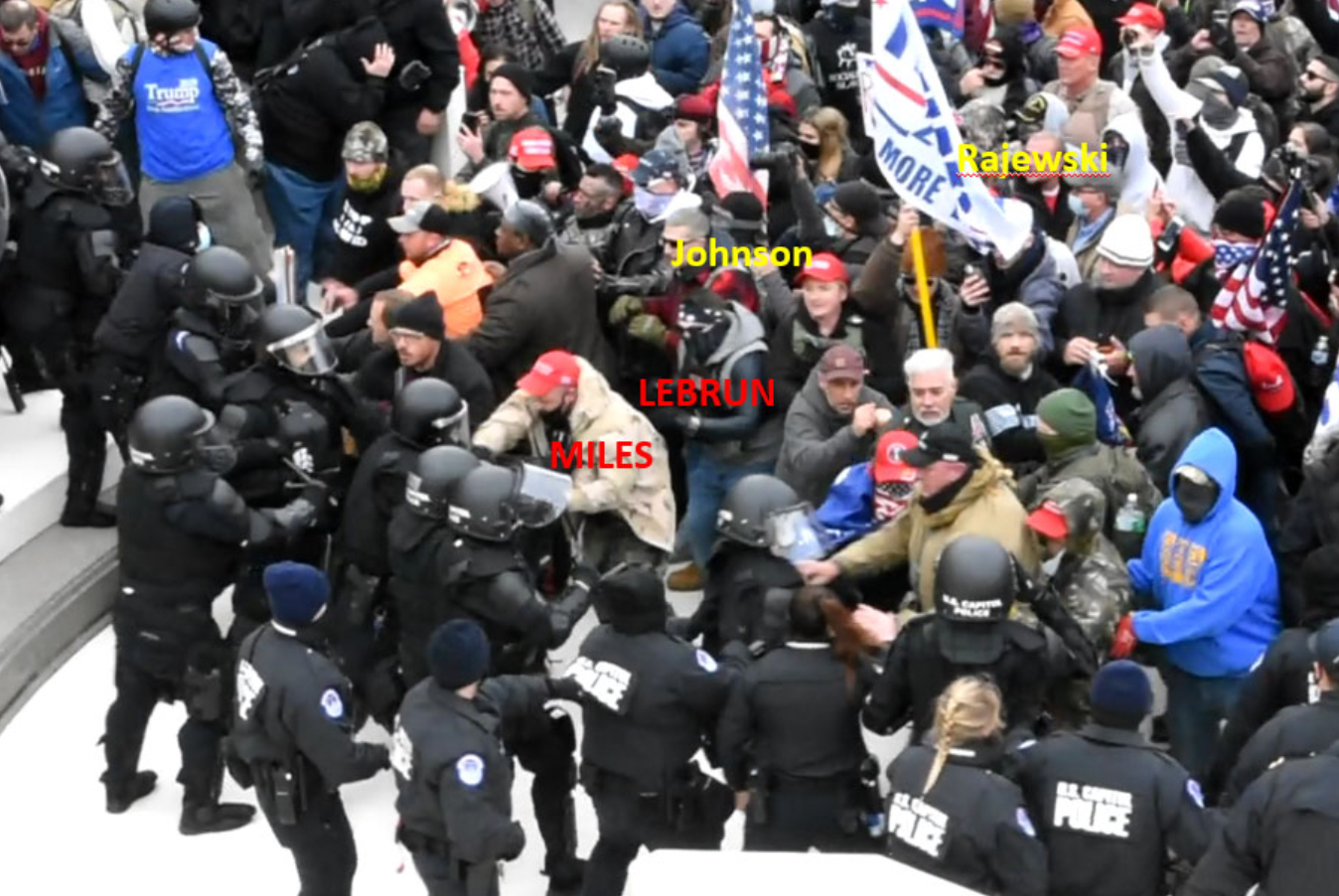 After his arrest yesterday in Zephyrhills, Florida, Miles was in court and then released pending further proceedings. It's not yet known how much prison time Miles is facing, but of the rioters who've been sentenced so far, those who've engaged in violence like Miles have received longer prison terms. The average prison sentence for January 6th rioters has been 45 days, according to the U.S. Attorney's Office for the District of Columbia. Here's the list of charges for Miles and co-defendant Lebrun (Miles has been charged with a lot more than Lebrun):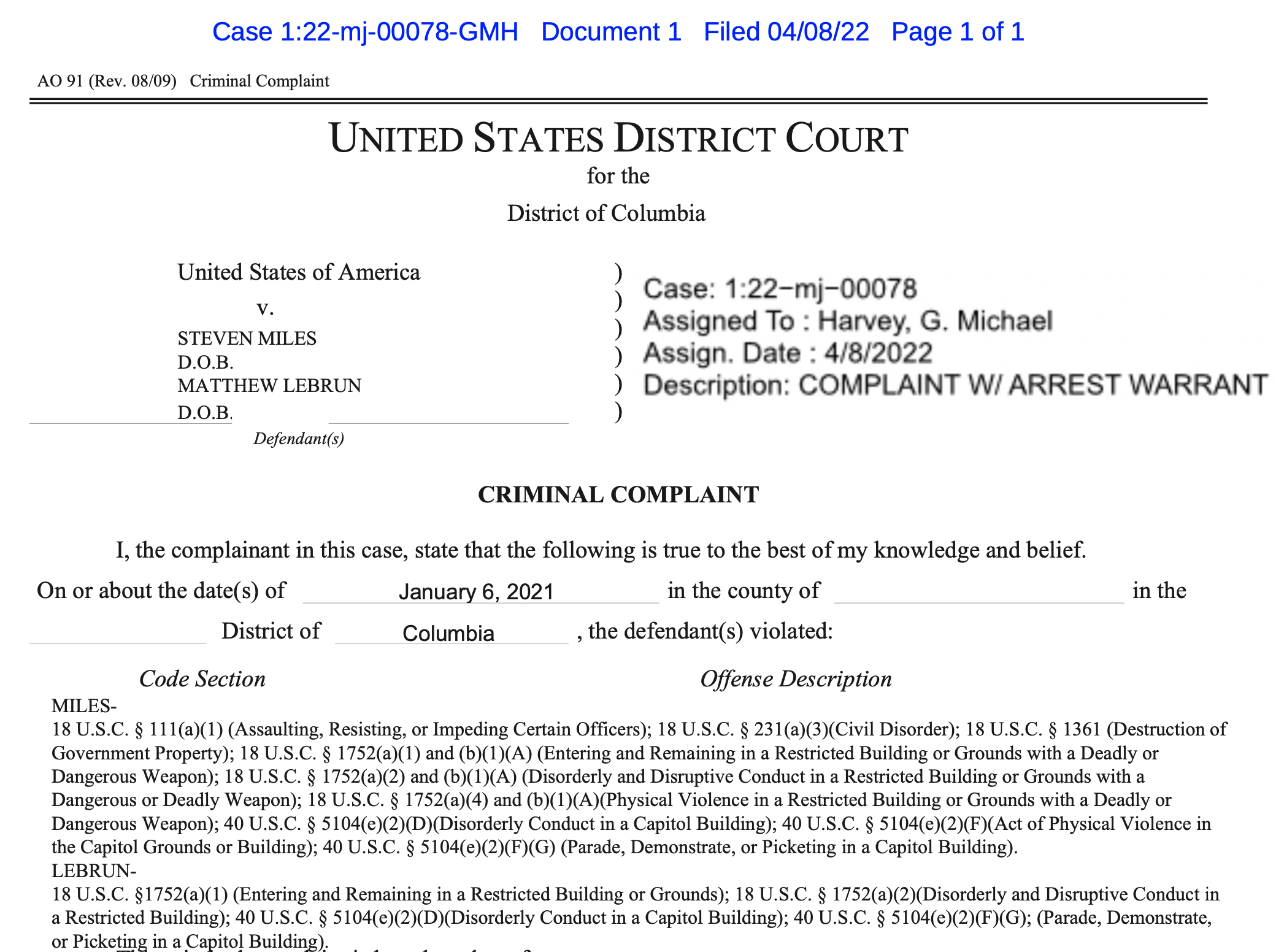 Proving just how mentally disturbed Sergeant Steven Miles is, one week after he committed the terror attack on D.C., he took to Twitter to claim that the insurrection was perpetrated by Black Lives Matter and Antifa: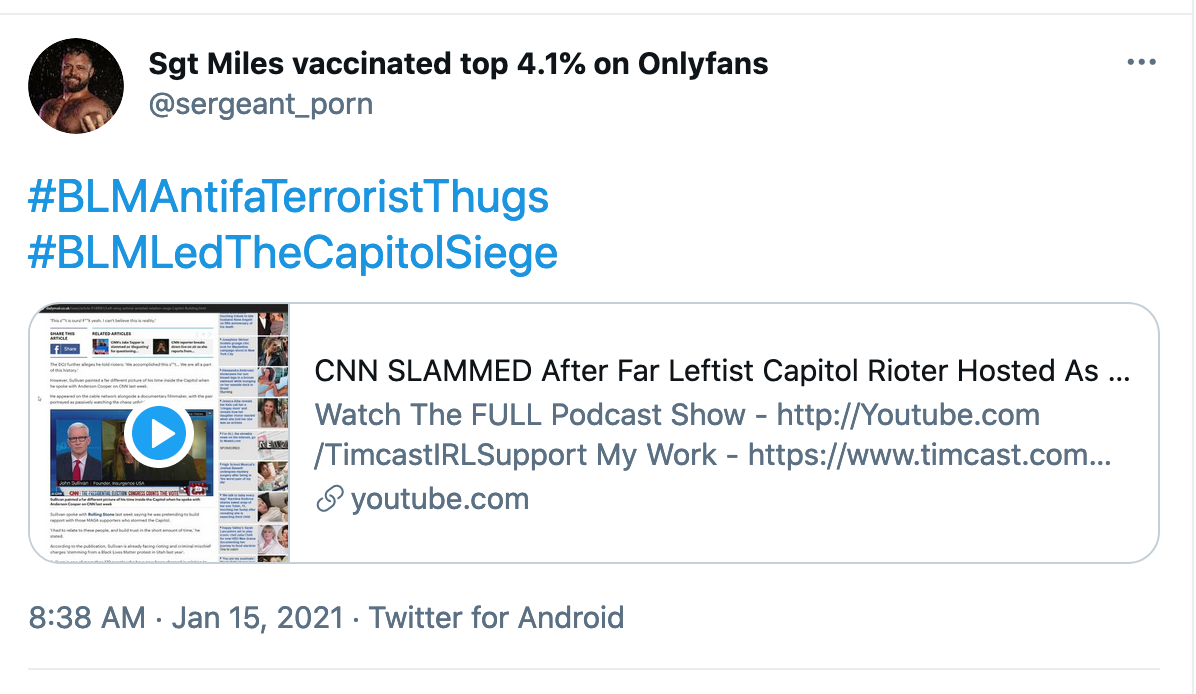 Was he attempting to shift the blame and deflect in an effort to hide his involvement, or does he believe that he had been misled by BLM and Antifa, and was operating as some sort of brainwashed rioter? Either way, it truly does not get any more insane than this.
Sergeant Steven Miles, who was just nominated by fellow right-wing bigot Michael Lucas and Chi Chi LaRue as gay porn's "Best Daddy" and "Hottest Top" at the disgraced Grabby Awards in Chicago, will be back in court in Washington D.C. in the coming weeks. Below, read a summary and then the full complaint from the DOJ. This is a developing story…
Steven Miles, 39, of Zephyrhills, Florida, is charged in a criminal complaint filed in the District of Columbia with assaulting, resisting, or impeding officers, civil disorder, engaging in physical violence in a restricted building or grounds with a dangerous weapon, and related offenses. He was arrested in Zephyrhills and made his initial appearance yesterday in the Middle District of Florida. He was released pending further proceedings in the District of Columbia.

According to court documents, on Jan. 6, Miles marched in a group to the Capitol, eventually making his way to the restricted grounds of the West Front of the building. While there, he and other rioters engaged in a confrontation with police officers who were protecting the Capitol. During this confrontation, Miles shoved and attempted to punch police officers. He then made his way up the staircase to the Upper West Terrace of the Capitol. At approximately 2:13 p.m., other rioters smashed in a window on one of the Senate Wing doors. A handful of people then entered the building through the broken window and opened the Senate Wing Door. Meanwhile, other rioters, including Miles, continued to smash the window on the other side of the Senate Wing Door. Miles smashed a plank of wood into the window and then entered the building through that broken window. He briefly walked through the building and then exited through another door.
Miles Steven and Lebrun Matthew – Statement of Facts Redacted by Zachary Sire on Scribd
Previously:
—Disgraced Bigot Michael Lucas Begs Gay Porn Studios Not To "Ban" Trump-Supporting Bigot Sergeant Miles
—Sergeant Miles Tells Fans He Won't Self-Isolate Unless The Government Enacts "Marshal" Law
—Trump Supporter Sergeant Miles Says He Contracted Gonorrhea On A Gay Porn Set
—Performers Speak Out Against Gay Porn Star Sergeant Miles For His Homophobic Interrogation Over Their STI Tests
—Falcon Director Steve Cruz Supports Sergeant Miles' Right To Be A Bigoted Trump Supporter, But What Do The Fans Think?
—Trump-Supporting Gay Porn Star Sergeant Miles Criticizes High School Shooting Victims For "Cowering In Closets"