FBI: Donald Burns Tried To Hire ELEVEN Gay Porn Stars Via Jarec Wentworth
Jarec Wentworth/Teofil Brank's extortion trial is set to begin in less than one week (Update: The trial has been delayed, with a new start date TBA), and both the prosecution and defense are filing multiple motions in the run-up to what many people (OK, it's just me) are predicting will be the Gay Porn Trial Of The Century. For starters, there was that last-minute superseding indictment filed over the weekend, in which the government charged Brank with six new counts, one of which (the weapons charge) carries a mandatory minimum sentence of five years. And despite the court's ruling on Monday granting the defense's motion to suppress evidence of the backpack search that led to the discovery of Brank's gun, the prosecution is still proceeding with that weapons charge. (They'll have to present evidence of the gun that doesn't involve the FBI's search.)
Meanwhile, the defense filed an intriguing motion yesterday asking the prosecution to hand over all their evidence pertaining to alleged victim Donald Burns' hiring of escorts, paying for sex acts, and "engaging in sex with minors." Yikes…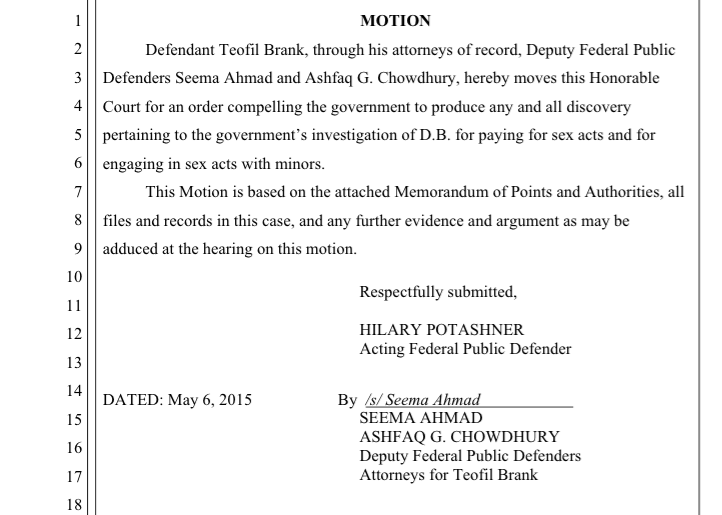 Why is the defense looking to obtain as much dirt as they can on Donald Burns when he's not the one on trial (even though, in my opinion, he could and should be on trial for his own admitted solicitation of and payment for prostitution across state lines!)? I'm not a lawyer (clearly), but if I had to guess, I'd say that the more damaging information the defense has on Burns, the more likely Burns is to pressure the prosecution to drop the case altogether (remember, Burns is a multimillionaire with clear connections to powerful people in government, and I wouldn't be surprised if he used his pull to get the feds to help him so expediently last March), or he'll at least push them to give Brank a plea deal. When all is said and done, the last thing Burns wants is to be called to the stand to answer questions about how many times he paid gay porn stars to fuck him in the ass at some gross orgy in La Jolla.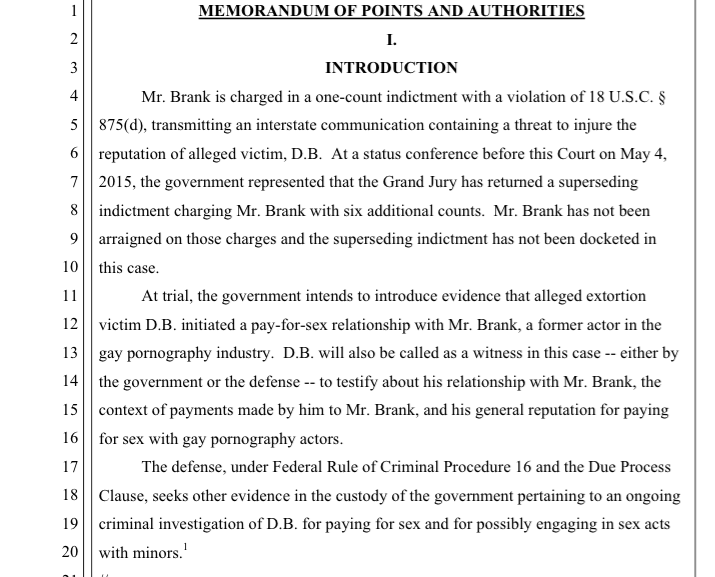 Here is where the defense's motion gets extremely juicy and highly salacious (i.e., fun!), as it reveals details of an FBI report on Donald Burns offering to pay Teofil Brank $22,000 in referral fees to fuck not one, not two, not three, not four, not five, not six, not seven, not eight, not nine, not ten, but ELEVEN different gay porn stars. I can only hope to have Don's stamina when I'm his age!
We already know about Donald Burns' ongoing relationship with Sean Cody gay porn star Ashton, which started as early as 2013, and it's safe to assume that the "Miles" mentioned above was Sean Cody gay porn star Miles—or, as one tipster has pointed out, it could be Sean Cody gay porn star Aidan, whose real name is Miles and who is now on Rentboy using the name "Tryp." But who were the other 11 gay porn stars that Donald Burns wanted to pay to fuck? That FBI report is unavailable, so all we can do is speculate, which is of course exactly what I'm going to do.
Since Donald Burns' email was sent to Brank in 2014 (when Brank was working with Men.com), let's presume that the 11 guys were all from Sean Cody and Men.com. Let's also presume that most of Don's "dream whores" were Brank's past scene partners and therefore easy for Brank to contact. And finally, given the evidence we've already seen indicating his type, let's presume that the 11 men on Daddy Don's "fucket list" were all very straight, very muscular, and very white.
1. Sean Cody's Randy
We know for a fact that Donald Burns expressed great interest in fucking Randy last February when he sent that text message to Curtis offering $2,500 if he could facilitate the fuckfest. Speaking of Curtis…
2. Sean Cody's Curtis
We also know for a fact that Burns sent multiple text messages to Curtis offering to pay him for sex. Was he ever successful?
3. Sebastian Young
Maybe for when Donald Burns was in the mood for a "bad boy"?
4. Sean Cody's Liev
Given the number of times he paid to fuck Teofil Brank, Donald Burns clearly had a thing for European men. Maybe he wanted to sample Liev's Soviet schlong, too?
5. Sean Cody's Taylor (a.k.a. Justin Matthews)
We know for a fact that Jarec Wentworth and Taylor/Justin were in Palm Beach, Florida in November, 2014 (after Burns sent his to-do list to Brank), so Taylor had to have fucked Don, right?
6. Johnny Rapid
Yes, he's a scrawny twink and not Don's type at all, but if Don ever fantasized about having the ultimate pass-around party bottom at his sex parties, surely Johnny Rapid would have come to mind.
7. Sean Cody's Brandon
Of all the guys on Sean Cody's roster, there's no way Don could have left Brandon off his list, no matter how boring he is.
8. Ricky Decker
Ricky was not only a scene partner of Brank's at Men.com, but he was also "Arthur" on Sean Cody. Plus, he's straight and has a great body. If anyone fit all of Don's requirements, it would be Ricky Decker.
9. Sean Cody's Jamie
Another one we already have proof of, as Donald Burns sent multiple emails and texts asking if he could pay to fuck Jamie.
10. Sean Cody's Stu
The last person Jarek ever had sex with on Sean Cody, and arguably one of the most physically flawless people to ever appear on the site.
11. Sean Cody's Calvin
In fairness to Don, who in their right mind wouldn't want to empty their bank accounts and risk being extorted if it meant you could have sex with Calvin?!
—Which 11 gay porn stars do you think Donald Burns tried to pay to fuck?
—Donald Burns was willing to pay $22,000 in referral fees, but how much was he offering, in total, to the 11 gay porn stars? $55,000? $175,000? $500,000?
—If you were a Republican multimillionaire like Donald Burns, which 11 gay porn stars would you try to pay to fuck?
—If you were a gay porn star, what is the minimum amount of money you would need in order to fuck Donald Burns?