Billy Santoro Uses Fake Commenter ID To Compliment Himself: "Billy Santoro Is Fucking Amazing!"
Billy Santoro, a gay porn star and the owner of the soon-to-be launched website LeakedAndLoaded.com (where he's promised to pay other gay porn stars $50 for their bareback home movies shot on iPhones), has been a frequent commenter on Str8UpGayPorn for the past two years. His commenter name, as many will recognize, has been "Porn Star," and this is his Disqus profile:

Of the dozens of comments that Billy Santoro has posted on Str8UpGayPorn since 2014, several have included his own insider knowledge of how the gay porn industry operates, as well as tidbits about his experiences within the business.
Here, for example, was Billy Santoro last July, calling for a boycott of Icon Male due to director Nica Noelle's abuse of model Colton Grey: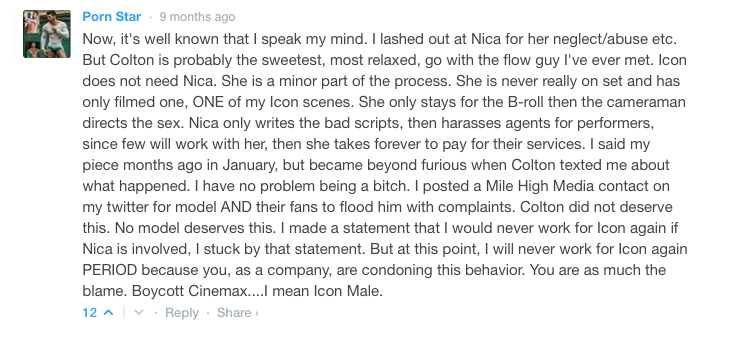 Here was Billy Santoro three months ago, telling Vadim Black that he has "1000 times more" impersonators than he does on Twitter:
Here was Billy Santoro two months ago, commenting on the success of gay porn studio FraternityX:

And here was Billy Santoro earlier this month, reminiscing on last year's Grabby Awards:
The screenshots above are how Billy Santoro's comments appear on Str8UpGayPorn. In the Disqus admin panel, however, Billy Santoro's email address and Washington D.C. IP address are included each time he leaves a comment:

Billy Santoro has been clearly comfortable commenting under his own name for years, but early this morning, something changed. Now, Billy Santoro is commenting under the fake name "Scott Rose," and while he's tried to mask his identity with a different user name and email address ("sxgsxg123@gmail.com"), his IP address (66.44.51.141) shows that it is still in fact the same Billy Santoro leaving these comments on Str8UpGayPorn.
Billy Santoro (posing as "Scott Rose") on Sean Cody:

Billy Santoro on not being able to "belief" [sic] what he reads on Str8UpGayPorn:
Billy Santoro on Sean Cody and BelAmi models:

Billy Santoro dismissing the power of gay porn power couple Calvin Banks and Troy Accola:
Billy Santoro on why he prefers another gay porn blog because it "actually reviews content":

Billy Santoro weighs in on the Diesel Washington/Billy Santoro feud…by announcing that he's just followed himself on Twitter:

And finally, Billy Santoro on how he would like to fuck himself, because he is a "dirty cumdump" (which, as he is quick to remind himself, is not an insult):
So, will Billy Santoro pay himself $50 when he fucks himself in one of his iPhone clips?