Logo's NewNowNext Runs Glowing Interview With Predatory Porn Producer Michael Lucas, Who Says He's Retiring From Performing In 2020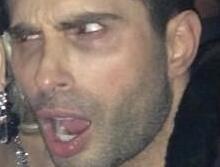 Logo's gay news site NewNowNext and its columnist Michael Musto have published a glowing interview today with disgraced gay porn star Michael Lucas, the producer and studio owner known for abusing and harassing models, potentially committing felonies by illegally selling sex tapes with men who have not signed 2257 documents, distributing illegal drugs on set, and having civil judgments issued against him for not paying his performers. The interview ignores all of that, of course, choosing to instead peddle a pointless story about Michael Lucas's upcoming "retirement" in 2020, while reminiscing on his grotesque career in gay porn.
Note that Lucas says he's retiring as a performer in 2020, not a producer, which means all of the abuse and harassment he's carried out behind the camera as a studio owner will no doubt continue. Via NewNowNext:
Why not stop right now instead of wait 'till 2020?
It's a nice year. It's round. It's a good year to stop. I think I will do more this year and then I will stop. I currently do lots of amateur videos for two platforms. I started doing it as a joke, just posting a couple of homemade videos, and I was surprised that it actually took off and now brings good money without much of an effort. So I decided to do it for another year. It's easy money and I can use it. But I am getting tired of filming myself having sex and looking all the time for partners who don't mind being filmed.

But you will still direct and produce?
Yes. My main achievement was not that I was a performer, but that I became a studio head. I opened a company that is very, very successful and I've managed to actually keep it since 1998.
Lucas's use of the word "successful" to describe his business is disingenuous at best, given the steady decline in traffic the studio has seen in 2018, per its Alexa ranking:
In addition to the drop in viewers, Lucas was also recently shut out of the annual GayVN Awards, as he and his studio received zero nominations. The GayVNs, essentially, saying to Lucas Entertainment: You do not exist.
Lucas also faced severe backlash over the summer by releasing an offensive, clueless, and racist gay porn movie titled "Black Cocks Matter":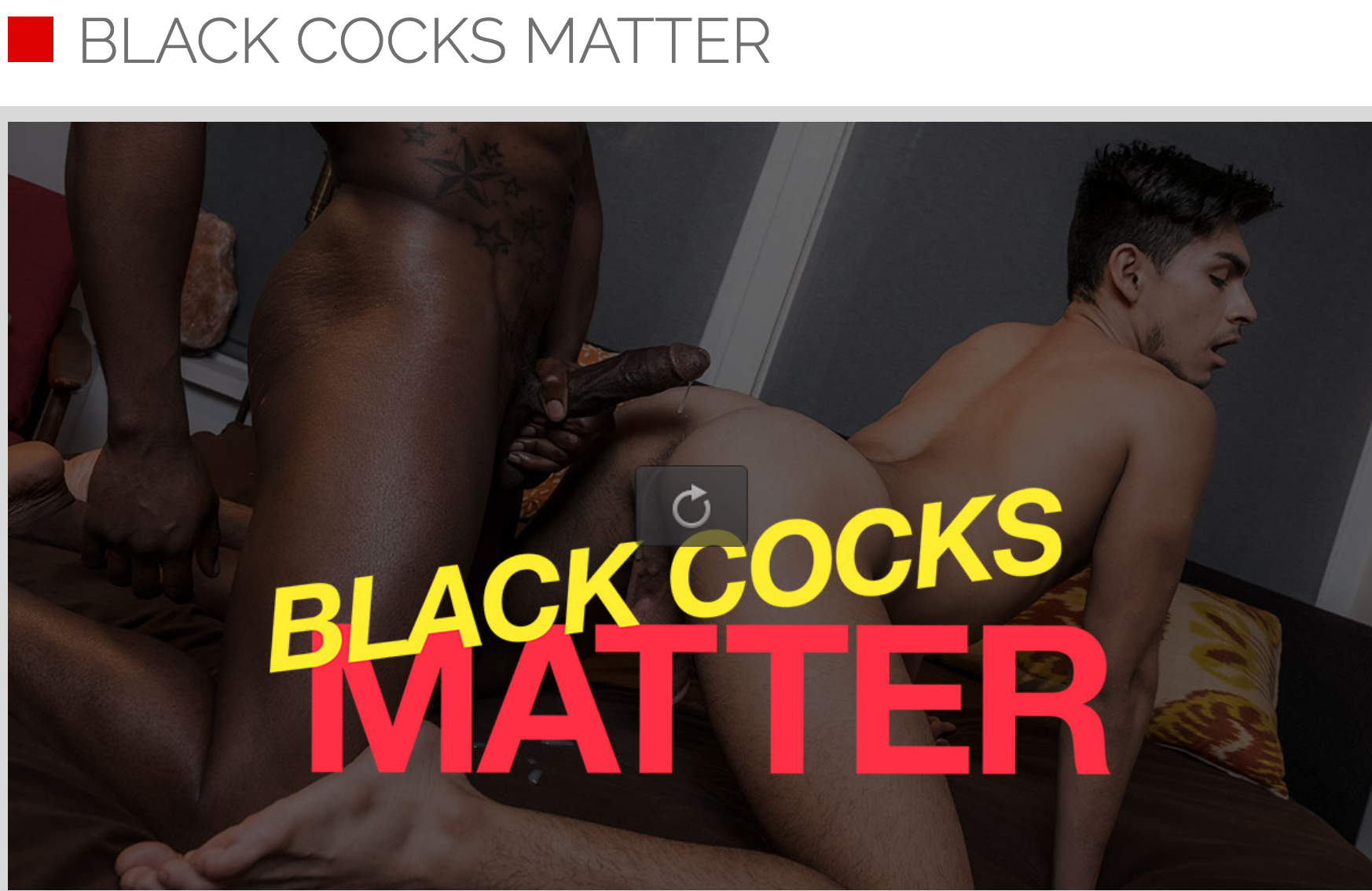 As if the title weren't bad enough, Lucas produced and released the movie without informing any of the black men who starred in it what the title of the movie would be:
NewNowNext isn't concerned with Michael Lucas's actual involvement with the gay community or gay sex workers, and they don't appear to be concerned with any form of reality at all. Instead, they let Lucas blatantly lie about what occurs on his sets, as he told Musto he would "never work with a model who is negative and not on PrEP":
Is it true that you only do barebacking films?
Yes. I started a year after PrEP came out.

But what if your actors already have HIV?
I would never discriminate.

I mean, how would you know if their onscreen partners are on PrEP?
I make sure they are. I will never work with a model who is negative and not on PrEP.
So, every single model who appears in a Lucas movie is on PrEP? Sure. Also, there is absolutely no way that Michael Lucas could (or should) be able to confirm who or who's not taking prescription drugs on his sets, unless of course he's referring to the times he randomly hands out someone else's PrEP to actors on set (and, spoiler alert, popping two Truvadas 15 minutes before filming will not protect you from contracting HIV, at all).
In other Michael Lucas revisionist history, he claimed to Musto that he's not a Republican:
Somehow, people perceive you as a gay Republican, and I think that's one of the reasons some people dislike you.
I saw that on the industry blogs. Of course I was pretty outspoken in the past about my support for Israel and opposition to radical Islam, both issues I used to associate more with the Republican party. But now both issues have become pretty mainstream while the Republican party has become a group of extremists with which I have nothing in common and want nothing to do with.
"Somehow" people perceive him as a gay Republican? Maybe that's because Lucas—a notorious bigot and xenophobe whose anti-Islamic hate speech has made headlines for over a decade—told Yahoo News in 2012 that he's a conservative who votes Republican, and that he was voting for Mitt Romney? Yeah, "somehow" that might be it. This is from Michael Lucas's Yahoo News interview in 2012:
[Michael] Lucas, by the way, considers himself a conservative, votes Republican and donates generously to several libertarian and right-wing causes. And when he casts a ballot in the November election, he hopes it will be for Mitt Romney.

"I would support Romney of course," the director of "Men in Stockings" and "Hunt & Plunge" told Yahoo News. "There is nobody else to support."

"I am not in love with him, but I like him," he added of Romney. "I don't see any danger coming from Romney when it comes to porn. It's just not there. And I think he will be much better than President Obama. Not that it will be difficult to be better than President Obama."
Political ideology aside (it's certainly plausible for Lucas to have left the Republican party at some point over the last six years, and if so, good for him), there have been dozens of other newsworthy stories about Michael Lucas that could've been published over the years to inform readers of his actual behavior in the gay porn industry. Instead, NewNowNext publishes a meaningless Q&A full of false statements about how, maybe, he won't be fucking anyone in a cell phone video two years from now? While Lucas's permanent retirement—not just from having sex in an Airbnb on OnlyFans in 2020, but in closing down his entire dying studio altogether—will eventually be welcome news, alternate reality fan fiction from Musto and NewNowNext is not.
Here below, for example, is a story that Str8UpGayPorn just received today about Michael Lucas. It comes to us from performer Gabriel Martin, who has been performing with Helix Studios for the last year. Prior to being cast at Helix, Martin applied to work at Lucas Entertainment, and here is his account of what happened to him during the application process:
When I first wanted to get into porn during my freshman year at Princeton University, I wasn't sure which company to go to or what the process for auditioning was even like. I decided to apply to the biggest studios that I had heard of and sent out maybe 10 applications. One of those was sent to Lucas Entertainment.

The next day, I was contacted via email to set up a FaceTime with Michael himself wherein I would be expected to "disrobe." I assumed this was normal, I mean they will shoot me having sex so having the owner see me naked seemed reasonable. I called him on FaceTime and he was seated in front of the camera and without small talk he ordered me to take off my clothes. He made me turn around for him and spread my ass cheeks which made me feel uncomfortable but I assumed it was standard procedure. Then he told me to look at him and jack off for him on camera until I came to him. I felt very uncomfortable at this point and asked if I could watch porn or something because I could not get hard. He allowed me to do so and I was able to cum. I felt so dirty and gross afterwards, I didn't even want to pursue porn anymore at that point.

Michael told me he would like to audition me further by making a home video with him bareback that would be posted on his OnlyFans, and I wouldn't get paid for it because it was "part of the process." I said OK, fully knowing I would not do it, and I would never speak to this predator ever again. I may have been a naive 18-year-old, but I was still sharp. What I found though was that as I spoke to other porn companies and mentioned Lucas, their first reaction was always one of horror. They all urged me not to proceed with Lucas. One studio told me that even if I didn't sign with them, I should go with literally ANY other studio, as Lucas has a history of pairing HIV positive and negative performers in bareback scenes. Performers aren't told until they're on set, and they're given one Truvada pill that Michael convinces them will prevent any transmission.

I ended up signing with Helix Studios and it was nothing like my process with Lucas Entertainment. I just sent the requested pictures and then texted with them about everything. They asked about my passions and dreams, my studying, my finals schedule (so they wouldn't shoot me when I was stressed or had school functions at Princeton). It felt like they actually cared and they do. They spend hundreds of thousands of dollars on STD testing alone. This is what a porn company should feel like. Not like I am being virtually molested by Michael Lucas and forced to fuck him bareback, just to shoot a video.
Gabriel Martin's story is identical to stories from dozens of other sex workers who've applied and/or been hired to work at Lucas Entertainment. Luckily, he was able to find work elsewhere and was not harmed by Lucas.